Abstract
The effect of particulate matter (PM) on health increases with exposure duration but the change from short to longer term is not well studied. We examined the exposure to PM smaller 10 μm (PM10) from short to longer duration and their associations with levels of inflammatory markers in the population-based CoLaus cohort in Lausanne, Switzerland. Baseline and follow-up CoLaus data were used to study the associations between PM10 exposure and inflammatory markers, including the high-sensitivity C-reactive protein (CRP), as well as interleukin 1-beta (IL-1β), interleukin 6 (IL-6), and tumor-necrosis-factor alpha (TNF-α) using mixed models. Exposure was determined for each participant's home address from hourly air quality simulations at a 5-m resolution. Short-term exposure intervals were 1 day, 1 week, and 1 month prior to the hospital visit (blood withdrawal); long-term exposure intervals were 3 and 6 months prior to the visit. In most time windows, IL-6, IL-1β, and TNF-α were positively associated with PM10. No significant associations were identified for CRP. Adjusted associations with long-term exposures were stronger and more significant than those for short-term exposures. In stratified models, gender, age, smoking status, and hypertension only led to small modifications in effect estimates, though a few of the estimates for IL-6 and TNF-α became non-significant. In this general adult cohort exposed to relatively low average PM10 levels, clear associations with markers of systemic inflammation were observed. Longer duration of elevated exposure was associated with an exacerbated inflammatory response. This may partially explain the elevated disease risk observed with chronic PM10 exposure. It also suggests that reducing prolonged episodes of high PM exposure may be a strategy to reduce inflammatory risk.
Access options
Buy single article
Instant access to the full article PDF.
US$ 39.95
Tax calculation will be finalised during checkout.
Subscribe to journal
Immediate online access to all issues from 2019. Subscription will auto renew annually.
US$ 79
Tax calculation will be finalised during checkout.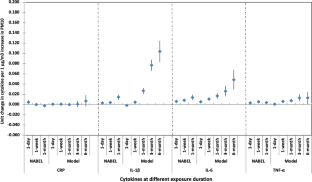 References
Becker S, Mundandhara S, Devlin R, Madden M (2005) Regulation of cytokine production in human alveolar macrophages and airway epithelial cells in response to ambient air pollution particles: further mechanistic studies. Toxicol Appl Pharmacol 207:269–275

Berchet A, Zink K, Muller C, Oettl D, Brunner J, Emmenegger L et al (2017) A cost-effective method for simulating city-wide air flow and pollutant dispersion at building resolving scale. Atmos Environ 158:181–196

Bermudez EA, Rifai N, Buring J, Manson JE, Ridker PM (2002) Interrelationships among circulating interleukin-6, C-reactive protein, and traditional cardiovascular risk factors in women. Arterioscler Thromb Vasc Biol 22:1668–1673

Brook RD, Rajagopalan S, Pope CA, Brook JR, Bhatnagar A, Diez-Roux AV et al (2010) Particulate matter air pollution and cardiovascular disease: an update to the scientific statement from the american heart association. Circulation 121:2331–2378

Chen JC, Schwartz J (2008) Metabolic syndrome and inflammatory responses to long-term particulate air pollutants. Environ Health Perspect 116:612–617

Chuang KJ, Yan YH, Chiu SY, Cheng TJ (2011) Long-term air pollution exposure and risk factors for cardiovascular diseases among the elderly in Taiwan. Occup Environ Med 68:64–68

Colbert LH, Visser M, Simonsick EM, Tracy RP, Newman AB, Kritchevsky SB et al (2004) Physical activity, exercise, and inflammatory markers in older adults: findings from the Health, Aging and Body Composition Study. J Am Geriatr Soc 52:1098–1104

Culyba AJ, Guo W, Branas CC, Miller E, Wiebe DJ (2018) Comparing residence-based to actual path-based methods for defining adolescents' environmental exposures using granular spatial data. Health Place 49:39–49

Diez-Roux A, Auchincloss A, Astor B, Barr R, Cushman M, Dvonch T et al (2006) Recent exposure to particulate matter and C-reactive protein concentration in the multi-ethnic study of atherosclerosis. Am J Epidemiol 164:437–448

Firmann M, Mayor V, Vidal PM, Bochud M, Pecoud A, Hayoz D et al (2008) The Colaus study: a population-based study to investigate the epidemiology and genetic determinants of cardiovascular risk factors and metabolic syndrome. BMC Cardiovasc Disord 8:6

Forbes LJL, Patel MD, Rudnicka AR, Cook DG, Bush T, Stedman JR et al (2009) Chronic exposure to outdoor air pollution and markers of systemic inflammation. Epidemiology 20:245–253

Grabiec AM, Hussell T (2016) The role of airway macrophages in apoptotic cell clearance following acute and chronic lung inflammation. Semin Immunopathol 38(4):409–423

Green R, Broadwin R, Malig B, Basu R, Gold EB, Qi L et al (2016) Long- and short-term exposure to air pollution and inflammatory/hemostatic markers in midlife women. Epidemiology 27:211–220

Hajat A, Allison M, Diez-Roux AV, Jenny NS, Jorgensen NW, Szpiro AA et al (2015) Long-term exposure to air pollution and markers of inflammation, coagulation, and endothelial activation: a repeat-measures analysis in the multi-ethnic study of atherosclerosis (MESA). Epidemiology 26:310–320

Hassanvand MS, Naddafi K, Kashani H, Faridi S, Kunzli N, Nabizadeh R et al (2017) Short-term effects of particle size fractions on circulating biomarkers of inflammation in a panel of elderly subjects and healthy young adults. Environ Pollut 223:695–704

Hennig F, Fuks K, Moebus S, Weinmayr G, Memmesheimer M, Jakobs H et al (2014) Association between source-specific particulate matter air pollution and hs-crp: local traffic and industrial emissions. Environ Health Perspect 122:703–710

Hertel S, Viehmann A, Moebus S, Mann K, Brocker-Preuss M, Mohlenkamp S et al (2010) Influence of short-term exposure to ultrafine and fine particles on systemic inflammation. Eur J Epidemiol 25:581–592

Hoffmann B, Moebus S, Dragano N, Stang A, Mohlenkamp S, Schmermund A et al (2009) Chronic residential exposure to particulate matter air pollution and systemic inflammatory markers. Environ Health Perspect 117:1302–1308

Imrich A, Ning Y, Lawrence J, Coull B, Gitin E, Knutson M et al (2007) Alveolar macrophage cytokine response to air pollution particles: oxidant mechanisms. Toxicol Appl Pharmacol 218:256–264

Kaptoge S, Seshasai SR, Gao P, Freitag DF, Butterworth AS, Borglykke A et al (2014) Inflammatory cytokines and risk of coronary heart disease: new prospective study and updated meta-analysis. Eur Heart J 35(9):578–589

Kofler S, Nickel T, Weis M (2005) Role of cytokines in cardiovascular diseases: a focus on endothelial responses to inflammation. Clin Sci 108:205–213

Lanki T, Hampel R, Tiittanen P, Andrich S, Beelen R, Brunekreef B et al (2015) Air pollution from road traffic and systemic inflammation in adults: a cross-sectional analysis in the European ESCAPE project. Environ Health Perspect 123(8):785–791

Lelieveld J, Evans JS, Fnais M, Giannadaki D, Pozzer A (2015) The contribution of outdoor air pollution sources to premature mortality on a global scale. Nature 525:367–371

McEvoy JW, Nasir K, DeFilippis AP, Lima JAC, Bluemke DA, Hundley WG et al (2015) Relationship of cigarette smoking with in ammation and subclinical vascular disease the multi-ethnic study of atherosclerosis. Arterioscler Thromb Vasc Biol 35:1002–1010

Miyata R, Bai N, Vincent R, Sin DD, Van Eeden SF (2013) Statins reduce ambient particulate matter-induced lung inflammation by promoting the clearance of particulate matter <10 μm from lung tissues. Chest 143(2):452–460

NABEL, the National Air Pollution Monitoring Network Switzerland (2019). Data query NABEL. Website: https://www.bafu.admin.ch/bafu/en/home/topics/air/state/data/data-query-nabel.html. Accessed 5 May 2019

Ostro B, Malig B, Broadwin R, Basu R, Gold EB, Bromberger JT et al (2014) Chronic pm2.5 exposure and inflammation: Determining sensitive subgroups in mid-life women. Environ Res 132:168–175

Panasevich S, Leander K, Rosenlund M, Ljungman P, Bellander T, de Faire U et al (2009) Associations of long- and short-term air pollution exposure with markers of inflammation and coagulation in a population sample. Occup Environ Med 66:747–753

Pope CA, Dockery DW (2006) Health effects of fine particulate air pollution: lines that connect. J Air Waste Manage Assoc 56:709–742

Rioux CL, Tucker KL, Mwamburi M, Gute DM, Cohen SA, Brugge D (2010) Residential traffic exposure, pulse pressure, and C-reactive protein: consistency and contrast among exposure characterization methods. Environ Health Perspect 118:803–811

Robb CT, Regan KH, Dorward DA, Rossi AG (2016) Key mechanisms governing resolution of lung inflammation. Semin Immunopathol 38:425–448

Shafran-Nathan R, Yuval LI, Broday DM (2017) Exposure estimation errors to nitrogen oxides on a population scale due to daytime activity away from home. Sci Total Environ 580:1401–1409

Steinvil A, Kordova-Biezuner L, Shapira I, Berliner S, Rogowski O (2008) Short-term exposure to air pollution and inflammation-sensitive biomarkers. Environ Res 106:51–61

Tsai D-H, Guessous I, Riediker M, Paccaud F, Gaspoz J-M, Theler J-M et al (2015) Short-term effects of particulate matter on pulse pressure in two general population studies. J Hypertens 33:1144–1152

Tsai D-H, Amyai N, Marques-Vidal P, Wang JL, Riediker M, Mooser V et al (2012) Effects of particulate matter on inflammatory markers in the general adult population. Part Fibre Toxicol 9:24

van Eeden SF, Tan WC, Suwa T, Mukae H, Terashima T, Fujii T et al (2001) Cytokines involved in the systemic inflammatory response induced by exposure to particulate matter air pollutants (PM10). Am J Respir Crit Care Med 164:826–830

World Health Organization. 2018. Ambient (outdoor) air quality and health. Website: http://www.who.int/news-room/fact-sheets/detail/ambient-(outdoor)-air-quality-and-health. Accessed 5 May 2019
Acknowledgments
We express our gratitude to participants in the CoLaus studies and to the healthcare professionals and collaborators who have contributed to the data collection. We thank MeteoSwiss for providing the meteorological data and the National Air Pollution Monitoring Network (NABEL) for providing air pollution data in Lausanne. We thank the Direction Générale du Canton de Vaud for providing in situ data and a pollution inventory for the city of Lausanne.
Funding
The CoLaus study was and is supported by research grants from GlaxoSmithKline, the Faculty of Biology and Medicine of Lausanne, and the Swiss National Science Foundation (grants 33CSCO-122661, 33CS30-139468, and 33CS30-148401). We also thank the funding from Nano-Tera.ch to support Dai-Hua Tsai for doing this work (grant RTD2013: 20NA20_150956).
Additional information
Publisher's note
Springer Nature remains neutral with regard to jurisdictional claims in published maps and institutional affiliations.
Responsible editor: Philippe Garrigues
Electronic supplementary material
About this article
Cite this article
Tsai, DH., Riediker, M., Berchet, A. et al. Effects of short- and long-term exposures to particulate matter on inflammatory marker levels in the general population. Environ Sci Pollut Res 26, 19697–19704 (2019). https://doi.org/10.1007/s11356-019-05194-y
Received:

Accepted:

Published:

Issue Date:
Keywords
Particulate matter

Inflammation

Short-term

Long-term

Modeling

Air pollution