Abstract
Although titanium dioxide nanoparticles (TDO-ns) are extensively used in the food, medicine, and cosmetic industries, discussions about the possible hazards of nanomaterials are just beginning to emerge. This study aimed to detect the inflammatory stress, oxidative stress, and apoptotic cell death induced in the livers of rats exposed to TDO-ns (600 mg/kg, particle size ≤ 100 nm). Furthermore, the modulation of these toxic effects by two potent naturally occurring antioxidants, carnosine (Carno) or melatonin (Melato), was evaluated. The co-administration of carnosine or melatonin to rats intoxicated with TDO-ns significantly attenuated the increases in serum tumor necrosis factor-alpha (TNF-α), interleukin-6 (IL-6), C-reactive protein (CRP), immunoglobulin G (IgG), vascular endothelial growth factor (VEGF), nitric oxide (NO), and alanine aminotransferase (ALT) levels. The two agents markedly ameliorated hepatic DNA damage and the alterations in hepatic malondialdehyde (MDA), glutathione (GSH), cytochrome P450, caspase-3, total phospholipid, phosphatidylcholine, phosphatidylethanolamine, phosphatidylserine, sphingomyelin, and triglyceride (TG) levels. These results support the use of Carno or Melato as prophylactic agents against TDO-ns-induced liver damage.
This is a preview of subscription content,
to check access.
Access this article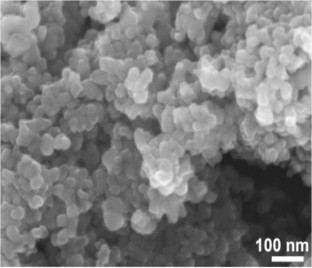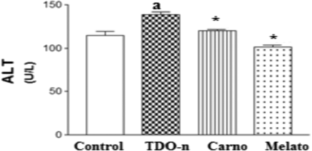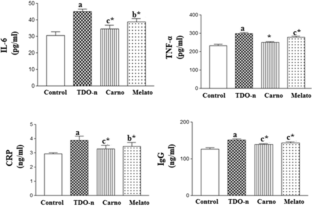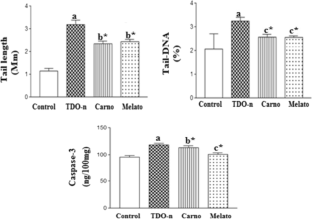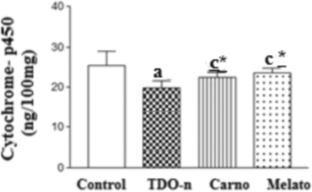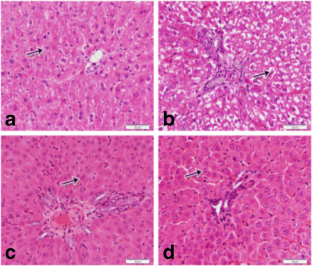 Similar content being viewed by others
References
Abdel-Razzak Z, Loyer P, Fautrel A, Gautier JC, Corcos L, Turlin B et al (1993) Cytokines down-regulate expression of major cytochrome P-450 enzymes in adult human hepatocytes in primary culture. Mol Pharmacol 44:707–715

Alhamdani MS, Al-Kassir AH, Abbas FK, Jaleelm NA, Al-Taee MF (2007) Antiglycation and antioxidant effect of carnosine against glucose degradation products in peritoneal mesothelial cells. Nephron Clin Pract 107:26–34

Ali S, Mann DA (2004) Signal transduction via the NF-κB pathway: a targeted treatment modality for infection, inflammation and repair. Cell Biochem Funct 22:67–79

Alonso M, Collado PS, González-Gallego J (2006) Melatonin inhibits the expression of the inducible isoform of nitric oxide synthase and nuclear factor kappa B activation in rat skeletal muscle. J Pineal Res 41:8–14

Amacher DE (2011) The mechanistic basis for the induction of hepatic steatosis by xenobiotics. Expert Opin Drug Metab Toxicol 7(8):949–965

Azim SA, Darwish HA, Rizk MZ, Ali SA, Kadry MO (2015) Amelioration of titanium dioxide nanoparticles-induced liver injury in mice: possible role of some antioxidants. Exp Toxicol Pathol 67(4):305–314

Baixauli F, Acín-Pérez R, Villarroya-Beltrí C, Mazzeo C, Nuñez-Andrade N, Gabandé-Rodriguez E, Ledesma MD, Blázquez A, Martin MA, Falcón-Pérez JM, Redondo JM, Enríquez JA, Mittelbrunn M (2015) Mitochondrial respiration controls lysosomal function during inflammatory T cell responses. Cell Metab 22(3):485–498

Borm PJ, Robbins D, Haubold S, Kuhlbusch T, Fissan H, Donaldson K et al (2006) The potential risks of nanomaterials: a review carried out for ECETOC. Part Fibre Toxicol 3:11

Bu Q, Yan G, Deng P, Peng F, Lin H, Xu Y et al (2010) NMR-based metabonomic study of the sub-acute toxicity of titanium dioxide nanoparticles in rats after oral administration. Nanotechnol 21(12):125105

Buege JA, Aust SD (1978) Microsomal lipid peroxidation. Methods Enzymol 52:302–315

Butun I, Ekmekci H, Ciftci O, Sonmez H, Caner M, Altug T, Kokoglu E (2013) The effects of different doses of melatonin on lipid peroxidation in diet-induced hypercholesterolemic rats. Bratisl Lek Listy 114(3):129–132

Cao X, Bi R, Song Y (2017) Toxic responses of cytochrome P450 sub-enzyme activities to heavy metals exposure in soil and correlation with their bioaccumulation in Eisenia fetida. Ecotoxicol Environ Saf 144:158–165

Choi H, Stathatos E, Dionysiou DD (2006) Sol–gel preparation of mesoporous photocatalytic TiO2 films and TiO2/Al2O3 composite membranes for environmental applications. Appl Catal B 63:60–67

Colvin VL (2003) The potential environmental impact of engineered nanomaterials. Nat Biotechnol 21(10):1166–1170

Davis GS, Pfeiffer LM, Hemenway DR (1998) Persistent overexpression of interleukin-1 beta and tumor necrosis factor-alpha in murine silicosis. J Environ Pathol Toxicol Oncol 17:99–114

Donato MT, Gómez-Lechón MJ (2012) Drug-induced liver steatosis and phospholipidosis: cell-based assays for early screening of drug candidates. Curr Drug Metab 13:1160–1173

El-Sokkary GH, Khidr BM, Younes HA (2006) Role of melatonin in reducing hypoxiainduced oxidative stress and morphological changes in the liver of male mice. Eur J Pharmacol 540:107–114

Eskiocak S, Tutunculer F, Basaran UN, Taskiran A, Cakir E (2007) The effect of melatonin on protein oxidation and nitric oxide in the brain tissue of hypoxic neonatal rats. Brain and Development 29:19–24

Esterkin CR, Negro AC, Alfano OM, Cassano AE (2005) Air pollution remediation in a fixed bed photocatalytic reactor coated with TiO2. AICHE J 51:2298–2310

Ferramosca A, Di Giacomo M, Zara V (2017) Antioxidant dietary approach in treatment of fatty liver: new insights and updates. World J Gastroenterol 23(23):4146–4157

Frank S, Stallmeyer B, Kampfer H, Schaffner C, Pfeilschifter J (1999) Differential regulation of vascular endothelial growth factor and its receptor fms-like-tyrosine kinase is mediated by nitric oxide in rat renal mesangial cells. Biochem J 338:367–374

Giriş M, Doğru-Abbasoğlu S, Kumral A, Olgaç V, Koçak-Toker N, Uysal M (2014) Effect of carnosine alone or combined with α-tocopherol on hepatic steatosis and oxidative stress in fructose-induced insulin-resistant rats. J Physiol Biochem 70(2):385–395

Gurkan OU, O'Donnell C, Brower R, Ruckdeschel E, Becker PM (2003) Differential effects of mechanical ventilatory strategy on lung injury and systemic organ inflammation in mice. Am J Physiol Lung Cell Mol Physiol 285:L710–L718

Gurr JR, Wang AS, Chen CH, Jan KY (2005) Ultrafine titanium dioxide particles in the absence of photoactivation can induce oxidative damage to human bronchial epithelial cells. Toxicol 213(1–2):66–63

Hasanein P, Kazemian-Mahtaj A, Khodadadi I (2016) Bioactive peptide carnosin protects against lead acetate-induced hepatotoxicity by abrogation of oxidative stress in rats. Pharm Biol 54(8):1458–1464

Horie M, Nishio K, Fujita K, Kato H, Endoh S, Suzuki M et al (2010) Cellular responses by stable and uniform ultrafine titanium dioxide particles in culture-medium dispersions when secondary particle size was 100 nm or less. Toxicol 24:1629–1638

Hu R, Gong X, Duan Y, Li N, Che Y, Cui Y, Zhou M, Liu C, Wang H, Hong F (2010) Neurotoxicological effects and the impairment of spatial recognition memory in mice caused by exposure to TiO2 nanoparticles. Biomaterials 31(31):8043–8050

Hu R, Zheng L, Zhang T, Gao G, Cui Y, Cheng Z, Cheng J, Hong M, Tang M, Hong F (2011) Molecular mechanism of hippocampal apoptosis of mice following exposure to titanium dioxide nanoparticles. J Hazard Mater 191:32–40

Jackson JR, Seed MP, Kircher CH, Willoughby DA, Winkler JD (1997) The codependence of angiogenesis and chronic inflammation. FASEB J 11:457–465

Kang JH (2010) Protective effects of carnosine and homocarnosine on ferritin and hydrogen peroxide-mediated DNA damage. BMB Rep 201043(10):683–687

Kerner A, Avizohar O, Sella R, Bartha P, Zinder O, Markiewicz W, Levy Y, Brook GJ, Aronson D (2005) Association between elevated liver enzymes and C-reactive protein: possible hepatic contribution to systemic inflammation in the metabolic syndrome. Arterioscler Thromb Vasc Biol 25:193–197

Kim DJ, Xun P, Liu K, Loria C, Yokota K, Jacobs DR Jr et al (2010) Magnesium intake in relation to systemic inflammation, insulin resistance, and the incidence of diabetes. Diabetes Care 33(12):2604–2610. https://doi.org/10.2337/dc10-0994

Liu Y, Yang X, Wang W, Wu X, Zhu H, Liu F (2017) Melatonin counteracts cobalt nanoparticle-induced cytotoxicity and genotoxicity by deactivating reactive oxygen species-dependent mechanisms in the NRK cell line. Mol Med Rep 16(4):4413–4420

Lu S, Duffin R, Poland C, Daly P, Murphy F, Drost E, MacNee W, Stone V, Donaldson K (2009) Efficacy of simple short-term in vitro assays for predicting the potential of metal oxide nanoparticles to cause pulmonary inflammation. Environ Health Perspect 117:241–247

Mannering GJ, Deloria LB, Abbot V (1988) Role of xanthine oxidase in the interferon-mediated depression of the hepatic cytochrome P-450 system in mice. Cancer Res 48:2107–2112

Mishin VM, Koivisto T, Lieber CS (1996) The determination of cytochrome P450 2E1-dependentp-nitrophenol hydroxylation by high-performance liquid chromatography with electrochemical detection. Anal Biochem 233:212–215

Moron MJ, Depierre JW, Mannlrvik B (1979) Levels of GSH and GST activities in rats lungs and liver. Biochem Biophys Acta 582(1):67–78

Moshage H, Kok B, Huizenga JR, Jansen PL (1995) Nitrite and nitrate determinations in plasma: a critical evaluation. Clin Chem 41(6 Pt 1):892–896

Mroz RM, Schins RP, Li H, Jimenez LA, Drost EM, Holownia A et al (2008) Nanoparticle-driven DNA damage mimics irradiation-related carcinogenesis pathways. Eur Res J 31(2):241–251

Nath AJ, Lal R, Das AK (2015) Managing woody bamboos for carbon farming and carbon trading. Global Ecology and Conservation 3:654–663

Olive PL, Banath JP, Durand RE (1990) Heterogeneity in radiation inducedDNAdamage and repair in tumor and normal cells using the "comet" assay. Radiat Res 122:86–94

Park EJ, Yoon J, Choi K, Yi J, Park K (2009) Induction of chronic inflammation in mice treated with titanium dioxide nanoparticles by intratracheal instillation. Toxicol 260:37–46

Rodriguez-Reynoso S, Leal C, Portilla E, Olivares N, Muniz J (2001) Effect of exogenous melatonin on hepatic energetic status during ischemia/reperfusion: possible role of tumor necrosis factor-[alpha] and nitric oxide. J Surg Res 100(2):141–149

Rui BB, Chen H, Jang L, Li Z, Yang JM, Xu WP, Wei W (2016) Melatonin upregulates the activity of AMPK and attenuates lipid accumulation in alcohol-induced rats. Alcohol 51(1):11–19

Sayes CM, Reed KL, Warheit DB (2007) Assessing toxicity of fine and nanoparticles: comparing in vitro measurements to in vivo pulmonary toxicity profiles. Toxicol Sci 97:163–180

Sharma V, Shukla RK, Saxena N, Parmar D, Das M, Dhawan A (2009) DNA damaging potential of zinc oxide nanoparticles in human epidermal cells. Toxicol Lett 185:211–218

Shukla RK, Sharma V, Pandey AK, Singh S, Sultana S, Dhawan A (2011) ROS mediated genotoxicity induced by titanium dioxide nanoparticles in human epidermal cells. Toxicology Vitro 25:231–241

Singh NP, McCoy MT, Tice RR, Schneider EL (1998) A simple technique for quantitation of low levels of DNA damage in individaul cells. Exp Cell Res 175:184–191

Sliwinski T, Rozej W, Bajda AM, Morawiec Z, Reiter R, Blasiak J (2007) Protective action of melatonin against oxidative DNA damage—chemical inactivation versus base-excision repair. Mut Res 634:220–227

Soliman KM, Abdul-Hamid M, Othman AI (2007) Effect of carnosine on gentamicin-induced nephrotoxicity. Med Sci Monit 13(3):BR73–BR83

Tiao MM, Huang LT, Chen CJ, Sheen JM, Tain YL, Chen CC et al (2014) Melatonin in the regulation of liver steatosis following prenatal glucocorticoid exposure. Biomed Res Int 2014:942172

Tonnesen MG, Feng X, Clark RA (2000) Angiogenesis in wound healing. J Investig Dermatol Symp Proc 5:40–46

Tsai SJ, Kuo WW, Liu WH, Yin MC (2010) Antioxidative and anti-inflammatory protection from carnosine in the striatum of MPTP-treated mice. J Agric Food Chem 58(21):11510–11516

Van Tassel KA, Goldman R (2011) The growing consumer exposure to nanotechnology in ever day product: regulating innovative technologies in light of lessons from the past. Conn L Rev 44(2):481–530

Velez S, Nair NG, Reddy VP (2008) Transition metal ion binding studies of carnosine and histidine: biologically relevant antioxidants. Colloids Surf B Biointerfaces 66(2):291–294

Wang JX, Zhou GQ, Chen CY, Yu HW, Wang TC, Ma TM et al (2007) Acute toxicity and biodistribution of different sized titanium dioxide particles in mice after oral administration. Toxicol Lett 168:176–185

Wang BWY, Feng W, Wang M, Wang T, Gu Y, Zhu M, Ouyang H, Shi J, Zhang F, Zhao Y, Chai Z, Wang H, Wang J (2008) Acute toxicological impact of nano-and submicro-scaled zinc oxide powder on healthy adult mice. J Nanopart Res 10(2):263–276

Wu XH, Ding MP, Zhu-Ge ZB, Zhu YY, Jin CL, Chen Z (2006) Carnosine, a precursor of histidine, ameliorates pentylenetetrazole-induced kindled seizures in rat. Neurosci Lett 400(1–2):146–149
Funding
This work was funded by the Deanship of Scientific Research at King Saud University through research group no. RG-1439-017.
Ethics declarations
The animal utilization protocols were performed in accordance with the guidelines provided by the College of Pharmacy, King Saud University.
Additional information
Responsible editor: Philippe Garrigues
Publisher's note
Springer Nature remains neutral with regard to jurisdictional claims in published maps and institutional affiliations.
About this article
Cite this article
Fadda, L.M., Ali, H.M., Mohamed, A.M. et al. Prophylactic administration of carnosine and melatonin abates the incidence of apoptosis, inflammation, and DNA damage induced by titanium dioxide nanoparticles in rat livers. Environ Sci Pollut Res 27, 19142–19150 (2020). https://doi.org/10.1007/s11356-019-05059-4
Received:

Accepted:

Published:

Issue Date:

DOI: https://doi.org/10.1007/s11356-019-05059-4
Keywords