Abstract
This paper for the first time aims to valorize the environmental and economic values of electronic waste recycling for member states of the Gulf Cooperation Council (GCC) from the year 2018 up to 2040. GCC countries have a unique situation due to the significant economic growth with the resulting urbanization and population growth accompanied by high standards of living that in turn increase all types of waste. A direct link among the living standards and quantity of electronic waste production is observed in the GCC states. The annual growth of electronic waste in GCC is 3–5% while the current estimated electronic waste generation exceeds 52.2 million metric tonnes (Mt). In 2018, GCC states generated 857 kilotonnes (kt) electronic waste that would be 1.094 Mt by 2040. KSA, among the GCC states, generated the highest amount of electronic waste (533 kt) in 2018 that would be 675 kt by 2040. GCC countries are on the right track of developing policies and regulations for managing electronic waste. However, more efforts are required to ensure the implementation of these regulations. The findings of this study would be a base for the future studies in the electronic waste sector in the GCC region and a novel initiative for GCC to develop a unified free zone for the electronic waste recycling that will meet the local, regional, and international standards and regulations. This unified GCC initiative has substantial economic and environmental benefits for the region.
This is a preview of subscription content, log in to check access.
Access options
Buy single article
Instant access to the full article PDF.
US$ 39.95
Tax calculation will be finalised during checkout.
Subscribe to journal
Immediate online access to all issues from 2019. Subscription will auto renew annually.
US$ 99
Tax calculation will be finalised during checkout.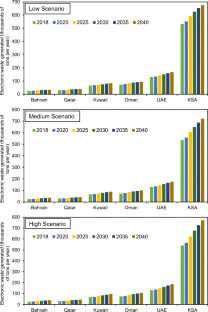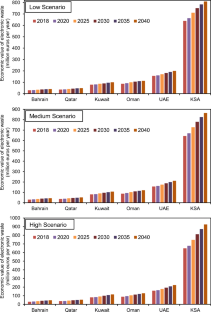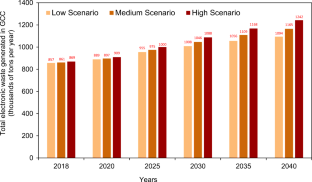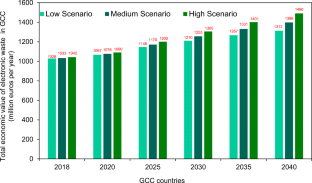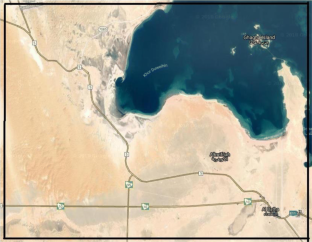 References
Ahluwalia PK, Nema AK (2007) A life cycle based multi-objective optimization model for the management of computer waste. Resour Conserv Recycl 51:792–826

Alameer, H. 2014. Assessment and evaluation of waste electric and electronic disposal system in the Middle East. Eur Sci J, 10 (12)

Alghazo, J., O.K.M. Ouda 2016. Electronic waste management and security in GCC countries: a growing challenge, ICIEM International Conference, Tunisia.

Allam, H., Inauen, S., 2009. E-waste management practices in the Arab region. Cairo, Egypt: Centre for Environment and Development for the Arab Region.

Apisitpuvakul W, Piumsomboon P, Watts DJ, Koetsinchai W (2008) LCA of spent fluorescent lamps in Thailand at various rates of recycling. J Clean Prod 16:1046–1061

Baldé, C.P., Forti V., Gray, V., Kuehr, R., Stegmann, P., 2017. The global E-waste monitor, United Nations University (UNU), International Telecommunication Union (ITU) & International Solid Waste Association (ISWA), Bonn/Geneva/Vienna.

Barba-Gutiérrez Y, Adenso-Díaz B, Hopp M (2008) An analysis of some environmental consequences of European electrical and electronic waste regulation. Resour Conserv Recycl 52:481–495

Bhada-Tata Perinaz, Hoornweg Daniel A., 2012. What a waste?: a global review of solid waste management (English). Urban development series knowledge papers; no. 15. Washington, DC : World Bank Group.

Bhata, N., 2016. GCC to produce 120 million tonnes of waste by 2020. Retrieved August 9, 2018, from http://www.constructionweekonline.com/article-40454-gcc-to-produce-120-million-tonnes-of-waste-by-2020/

Breivik JM, Armitage FW, Jones KC (2014) Tracking the global generation and exports of e-waste: do existing estimates add up? Environ Sci Technol 48:8735e43

Buchert, M., Schüler, D., Bleher, D., 2009. Critical metals for future sustainable technologies and their recycling potential; UNEP Report, Darmstadt, July 2009.

Buchert M, Manhart A, Bleher D, Pingel D (2012) Recycling critical raw material from waste electronic equipment. Oeko-Institut e.V., Freiburg, Darmstadt, Germany, p 2012

Chan JKY, Wong MH (2013) A review of environmental fate, body burdens, and human health risk assessment of PCDD/Fs at two typical electronic waste recycling sites in China. Sci Total Environ 463:1111–1123

Chi X, Streicher-Porte M, Wang MY, Reuter MA (2011) Informal electronic waste recycling: a sector review with special focus on China. Waste Manag 31(4):731–742

Cucchiella F, D'Adamo I, Koh SCL, Rosa P (2015) Recycling of WEEEs: an economic assessment of present and future e-waste streams. Renew Sust Energ Rev 51:263–272

Frazzoli C, Orisakwe OE, Dragone R, Mantovani A (2010) Diagnostic health risk assessment of electronic waste on the general population in developing countries' scenarios. Environ Impact Assess Rev 30(6):388–399

Guo X, Yana K (2017) Estimation of obsolete cellular phones generation: a case study of China. Sci Total Environ 1:321–329

Hassanin, L., 2016. Regional report Middle East and North Africa, Arab Dev Retrieved December 9, 2017, Available from www.arabdev.org

Herat S, Agamuthu P (2012) E-waste: a problem or an opportunity? Review of issues, challenges and solutions in Asian countries. Waste Manag Res 30:1113–1129

Hischier R, Wäger P, Gauglhofer J (2005) Does WEEE recycling make sense from an environmental perspective?: the environmental impacts of the Swiss takeback and recycling systems for waste electrical and electronic equipment (WEEE). Environ Impact Assess Rev 25:525–539

Khatib IA (2011) Municipal solid waste management in developing countries: future challenges and possible opportunities. In: Kumar S (ed) Integrated waste management, vol 2

Kiddee P, Ravi N, Wong MH (2013) Electronic waste management approaches: an overview. Waste Manag 33:1237–1250

Mayers CK, France CM, Cowell SJ (2005) Extended producer responsibility for waste electronics: an example of printer recycling in the United Kingdom. J Ind Ecol 9:169–189

Meenakshisundaram, S., Sinha, S., 2011. E-waste management in the United Arab Emirates, 1st world sustainability forum, 1–3 November, 2011. Available from www.wsforum.org

Nakamura S, Kondo Y (2006) A waste input-output life-cycle cost analysis of the recycling of end-of-life electrical home appliances. Ecol Econ 57:494–506

Needhidasan S, Samuel M, Chidambaram R (2014) Electronic waste–an emerging threat to the environment of urban India. J Environ Health Sci Eng 12(1):36

Nizami AS, Rehan M, Ouda OKM, Shahzad K, Sadef Y, Iqbal T, Ismail IMI (2015) An argument for developing waste-to-energy technologies in Saudi Arabia. Chem Eng Trans 45:337–342

Nizami AS, Shahzad K, Rehan M, Ouda OKM, Khan MZ, Ismail IMI, Almeelbi A, Demirbas A (2016) Developing waste biorefinery in Makkah: a way forward to convert urban waste into renewable energy. Appl Energy 186:189–196

Nizami AS, Rehan M, Waqas M, Naqvi M, Ouda OKM, Shahzad K, Miandad R, Khan MZ, Syamsiro M, Ismail IMI, Pant D (2017) Waste biorefineries: enabling circular economies in developing countries. Bioresour Technol 241:1101–1117

Ouda, O.K.M., Raza, S.A., Al-Waked, R., Al-Asad, J. F., 2015. Waste-to-energy potential in the Western Province of Saudi Arabia. King Saud Journal for Science and Engineering Retrieved December 01, 2017, from https://doi.org/10.1016/j.jksues.2015.02.002

Ouda OKM, Raza SA, Nizami AS, Rehan M, Al-Waked R, Korres NE (2016) Waste to energy potential: a case study of Saudi Arabia. Renew Sust Energ Rev 61:328–340

Polák M, Drápalová L (2012) Estimation of end of life mobile phones generation: the case study of the Czech Republic. Waste Manag 32:1583–1591

Premalatha M, Tabassum-Abbasi A, Abbasi T, Abbasi SA (2014) The generation, impact, and management of E-waste: state of the art. Crit Rev Environ Sci Technol 44(14):1577–1678

Roychowdhury P, Alghazo JM, Debnath B, Chatterjee S, Ouda OKM (2016) Security threat analysis and prevention techniques in electronic waste. 6th International Conference on Solid Waste Management. India

Saoji A (2012) E-waste management: an emerging environmental and health issue in India. National Journal of Medical Research 2(1):107–110

Scharnhorst W, Althaus H-J, Classen M, Jolliet O, Hilty LM (2005) The end of life treatment of second generation mobile phone networks: strategies to reduce the environmental impact. Environ Impact Assess Rev 25:540–566

Tsydenova O, Bengtsson M (2011) Chemical hazards associated with treatment of waste electrical and electronic equipment. Waste Manag 31(1):45–58

UN Data, 2017. United Nations Population Forecast. Available at: (http://data.un.org/Data.aspx?q=population&d=PopDiv&f=variableID%3a12.

UN-DESA: United Nations-Department of Economic and Social Affairs, Population Division (2012) World population prospects: the 2012 revision. ST/ESA/SER.A/ 345. United Nations, New York

UNEP-United Nations Environment Programme 2013. Metal recycling: opportunities, limits, infrastructure

Wäger PA, Hischier R, Eugster M (2011) Environmental impacts of the Swiss collection and recovery systems for waste electrical and electronic equipment (WEEE): a follow-up. Sci Total Environ 409:1746–1756

World Bank (2012) Wasting no opportunity: the case for managing Brazil's electronic waste, project report, Washington DC

Yu J, Williams E, Ju M, Yang Y (2010) Forecasting global generation of obsolete PCs. Environ Sci Technol 44(9):3232–3237

Zeng X, Gong R, Chen WQ, Li J (2016) Uncovering the recycling potential of 'new' WEEE in China. Environ Sci Technol 50:1347–1358
Additional information
Publisher's note
Springer Nature remains neutral with regard to jurisdictional claims in published maps and institutional affiliations.
Responsible editor: Philippe Garrigues
About this article
Cite this article
Alghazo, J., Ouda, O., Alanezi, F. et al. Potential of electronic waste recycling in Gulf Cooperation Council states: an environmental and economic analysis. Environ Sci Pollut Res 26, 35610–35619 (2019). https://doi.org/10.1007/s11356-019-04956-y
Received:

Accepted:

Published:

Issue Date:
Keywords
Electronic waste

Gulf Cooperation Council (GCC)

Environment and economic values

Electronic waste regulations

Waste valorization