Abstract
This study aimed to explore the nitrogen and phosphorus removal performance of the horizontal submerged constructed wetland (HSCW) with Ti-bearing blast furnace slag (T). Another two HSCWs, with the converter steelmaking slag (G) and the stone (S) as wetland substrates, respectively, were simultaneously running as control. The results showed that the nitrogen and phosphorus removal capacities of the T-HSCW were generally better than those of another two HSCWs. When the hydraulic retention time (HRT) was 6 days, the effluent concentrations of ammonia nitrogen (NH4+-N) and total nitrogen (TN) were 6.66 mg L−1 and 14.02 mg L−1, respectively, and the removal rates of NH4+-N and TN reached 77.54% and 71.07%, respectively. The T-HSCW had better removal efficiency of phosphorus. The effluent concentration of total phosphorus (TP) was lower than 0.3 mg L−1, and the maximum removal rate could reach 98%. Through the characterization of the three substrates before and after experiments, it was found that the removal of nitrogen and phosphorus by T and G mainly relied on chemical adsorption, while S mainly relied on physical adsorption. Ti could also promote the absorption of nitrogen by plants and increase the nitrogen removal capacity of T-HSCWs.
This is a preview of subscription content, log in to check access.
Access options
Buy single article
Instant access to the full article PDF.
US$ 39.95
Price includes VAT for USA
Subscribe to journal
Immediate online access to all issues from 2019. Subscription will auto renew annually.
US$ 99
This is the net price. Taxes to be calculated in checkout.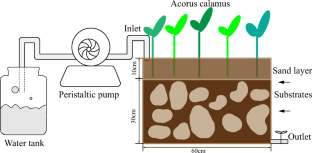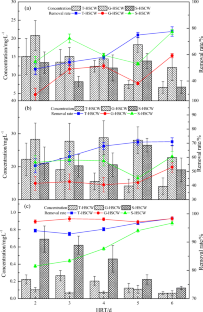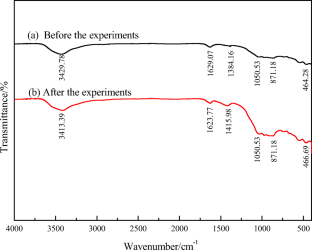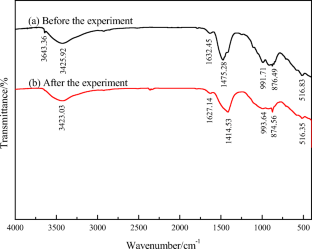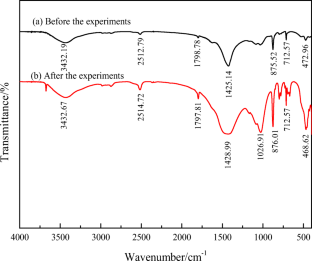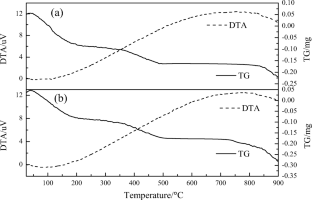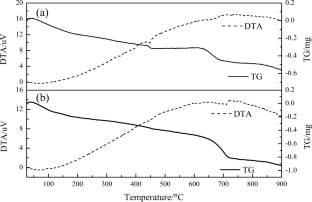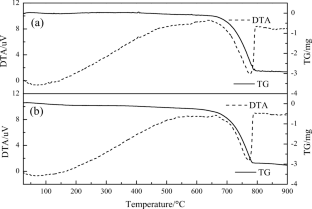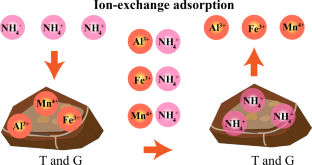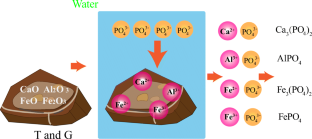 References
Albuquerque A, Oliveira J, Semitela S, Amaral L (2009) Influence of bed media characteristics on ammonia and nitrate removal in shallow horizontal subsurface flow constructed wetland. Bioresour Technol 100:6269–6277

Bowden LI, Jarvis AP, Younger PL, Johnson KL (2009) Phosphorus removal from waste waters using basic oxygen steel slag. Environ Sci Technol 43:2476–2481

Bueno E, Mania D, Frostegard A, Bedmar EJ, Bakken LR, Delgado MJ (2015) Anoxic growth of Ensifer meliloti 1021 by N2O-reduction, a potential mitigation strategy. Front Microbiol 6:537–547

Dixit S, Dixit A, Kumar P (2014) Nonsurgical treatment of two periapical lesions with calcium hydroxide using two different vehicles. Case Rep Dent 2014:1–4

Donoso MV, Bates F, Montiel J, Huidobro-Toro JP (2015) Modelling the continuous calcination of CaCO3 in a ca-looping system. Chem Eng J 215:174–181

Dordio AV, Carvalho AJP (2013) Organic xenobiotics removal in constructed wetlands, with emphasis on the importance of the support matrix. J Hazard Mater 10:252–253 272–292

Drizo A, Forget C, Chapuis RP, Comeau Y (2006) Phosphorus removal by electric arc furnace steel slag and serpentinite. Water Res 40:1547–1554

Gaspard M, Neveu A, Martin G (1983) Utilisation de la clinoptilolite en potabilisation deseaux—elimination de l'ion NH4 +. Water Res 17:279–288

Gautier M, Muller F, Forestier LL, Beny JM, Guegan R (2010) NH-smectite: characterization, hydration properties and hydro mechanical behavior. Appl Clay Sci 49:247–254

Giergiczny E, Giergiczny Z (1988) Hydration studies on the system pulverized fly ash—ca(OH)2-CaCl2 using DTA and TG. J Therm Anal 33:821–825

Guo ZY, Martucci NJ, Olivas FM, Tako E, Mahler GJ (2017) Titanium dioxide nanoparticle ingestion alters nutrient absorption in an in vitro model of the small intestine. Nanolmpact 5:70–82

Hamdan R, Razi MAM, Zulkafli NF (2017) The effect of HLRs on nitrogen removal by using a pilot-scale aerated steel slag system. Matec Web of Conferences:1–6

Jiang FY, Wang XD, Wu DZ (2014) Design and synthesis of magnetic microcapsules based on n -eicosane core and Fe3O4 /SiO2 hybrid shell for dual-functional phase change materials. Appl Energy 134:456–468

Karageorgiou K, Paschalis M, Anastassakis GN (2007) Removal of phosphate species from solution by adsorption onto calcite used as natural adsorbent. J Hazard Mater 139:447–452

Kleiber T (2012) Effect of titanium application on lettuce growth under Mn stress. J Elem 22:329–337

Koon JH, Kaufman WJ (1975) Ammonia removal from municipal wastewaters by ion exchange. J Water Pollut Control Feder 47:448–465

Liu L (2011) Study on wet process of steel slag. Dissertation, Northeast University. (in Chinese)

Liu HW, Dong YH, Wang HY, Liu Y (2010) Ammonium adsorption from aqueous solutions by strawberry leaf powder: equilibrium, kinetics and efficiencys of coexisting ions. Desalination 263:70–75

Liu SH, Wei XY, Chen JJ, Wang C, Wang XM, Pan DM (2017) Titanium as a beneficial element for crop production. Front Plant Sci 8:597–615

Ma XG, Liu JM, Han C (2009) Experiment of titanium-bearing blast furnace slag adsorbing phosphorus in water. J N Univer 9:1286–1290 (in Chinese)

Mihailova B, Gasharova B, Konstantinov L (2015) Influence of non-tetrahedral cations on Si-O vibrations in complex silicates. J Raman Spectrosc 27:829–833

Miller RL, Jensen BJ, Munns BT, Cardon GE (2011) Use of steel slag to remove dissolved phosphorus from lagoon supernatant. Trans Asae Am Soc Agricul Eng 54:191–196

Mou Z (2005) Preparation and characterization of pillared hydrotalcite and its composite oxide catalysts. Dissertation, Shandong University. (in Chinese)

Pai A, Mccarthy B (2010) Suitability of the medicinal plant, acorus calamus L., for wetland restoration. Nat Areas J 30:380–386

Qiu RF, Cheng FQ, Gao R, Li JF (2014) Ammonia nitrogen removal from micro-polluted river by permeable reactive barriers: lab-scale study with steel slag and fly ash brick in combination as reactive media. Desalin Water Treat 52:365–374

Qu HQ, Wu WH, Wu HJ, Xie JX, Xu JZ (2011) Study on the effects of flame retardants on the thermal decomposition of wood by TG–MS. J Therm Anal Calorim 103:935–942

Sakadevan K, Bavor HJ (1998) Phosphate adsorption characteristics of soils, slags and zeolite to be used as substrates in constructed wetland systems. Water Res 32:393–399

Seyedahmadian M, Houshyarazar S, Amirshaghaghi A (2013) Synthesis and characterization of nanosized of spinel LiMn2O4 via sol-gel and freeze drying methods. Bull Kor Chem Soc 34(2):622–628

Stefanakis AI, Akratos CS, Gikas GD, Tsihrintzis VA (2009) Effluent quality improvement of two pilot-scale, horizontal subsurface flow constructed wetlands using natural zeolite (Clinoptilolite). Microporous Mesoporous Mater 124:131–143

Sui ZT, Zhang PX (1997) Selective precipitating behavior of the boron components from the boron stags. Acta Metall Sin 33:943–951

Tietz A, Kirschner A, Langergraber G, Sleytr K, Haberl R (2007) Characterisation of microbial biocoenosis in vertical subsurface flow constructed wetlands. Sci Total Environ 380:163–172

Wang R, Korboulewsky N, Prudent P, Domeizel M, Rolando C, Bonin G (2014a) Feasibility of using an organic substrate in a wetland system treating wastewater sludge: impact of plant species. Bioresour Technol 101:51–57

Wang XG, Lü SY, Gao CM, Xu XB, Zhang XJ, Bai X, Liu MZ, Wu L (2014b) Highly efficient adsorption of ammonium onto palygorskite nanocomposite and evaluation of its recovery as a multifunctional slow-release fertilizer. Chem Eng J 252:404–414

Wang M, Zhao T, Wang G, Zhou J (2014c) Blend films of human hair and cellulose prepared from an ionic liquid. Text Res J 84:1315–1324

Wu JM, He F, Xu D, Wang R, Zhang XL, Xiao ER, Wu ZB (2011) Phosphorus removal by laboratory-scale unvegetated vertical-flow constructed wetland systems using anthracite, steel slag and related blends as substrate. Water Sci Technol 63(11):2719–2724

Yamauchi S, Nagata K, Sato S (2009) Hydrogen absorption of titanium heat exchanger tubes in MSF desalination plants. Zairyo Kankyo 32:311–317

Yang J, Ren J, Jia G, Tao T, Song F (2011) Characterization of modified Hβ zeolite and its application to catalytic modification of methanol gasoline. Petrochem Technol 40:146–150 (in Chinese)

Yang N, Kuang S, Yue Y (2015) Infrared spectra analysis of several common anhydrous carbonate minerals. J Mineral Petrol 35:37–42

Zhu XZ, Cui LH, Wen XL, Tuo X (2003) Removal efficiency of different substrates used in vertical flow constructed wetlands for treating municipal wastewater. J Agro-Environ Sci 22:454–457 (in Chinese)
Funding
This work is supported by National Water Pollution Control and Treatment Science and Technology Major Project (2017ZX07203-003) and Natural Science Foundation of Jiangsu Province of China (BK20171478).
Additional information
Publisher's note
Springer Nature remains neutral with regard to jurisdictional claims in published maps and institutional affiliations.
Responsible editor: Philippe Garrigues
About this article
Cite this article
Xu, R., Zhang, Y., Liu, R. et al. Effects of different substrates on nitrogen and phosphorus removal in horizontal subsurface flow constructed wetlands. Environ Sci Pollut Res 26, 16229–16238 (2019). https://doi.org/10.1007/s11356-019-04945-1
Received:

Accepted:

Published:

Issue Date:
Keywords
Ti-bearing blast furnace slag

Substrate

Horizontal subsurface flow constructed wetland

Adsorption

Nitrogen and phosphorus removal