Abstract
Stillage is the main by-product of bioethanol production and the cost of its treatment significantly affects the economy of bioethanol production. A process of thermal sterilization before lactic acid fermentation (LAF) is energy demanding and is causing deterioration of valuable compounds in stillage. In this study, ultrasound (UT) and plasma (PT) treatments were used for microbial inactivation, and a significant reduction in the number of viable microorganisms in the stillage after PT and UT was observed. After application of treatment, LAF by Lactobacillus rhamnosus ATCC 7469 was initiated. The concentration of LA is used to quantify the efficiency of the stillage revalorization. The highest LA productivity of 1.21 g/Lh and yield of 0.82 g/g were obtained after PT, while UT of 10 min provided productivity of 1.02 g/Lh and LA yield of 0.69 g/g. The results were benchmarked against closed LAF. Around 20% better revalorization of stillage by PT was achieved when compared with conventional sterilization. In addition, an excellent L (+) LA stereoselectivity of 95.5% was attained after PT. From the aspect of energy efficiency, that of PT was three times lower than UT and almost ten times lower than thermal sterilization, but it is the most expensive due to the high consumption of gas which could reduce application of closed Ar atmosphere on larger scales. This way, a simpler and energy efficient process for LA production on stillage was accomplished by "open" fermentation.
Access options
Buy single article
Instant access to the full article PDF.
US$ 39.95
Tax calculation will be finalised during checkout.
Subscribe to journal
Immediate online access to all issues from 2019. Subscription will auto renew annually.
US$ 79
Tax calculation will be finalised during checkout.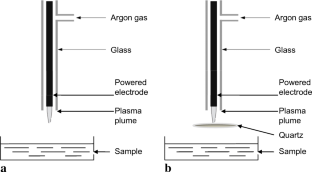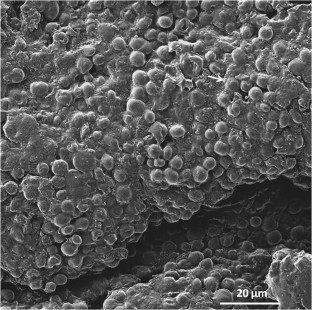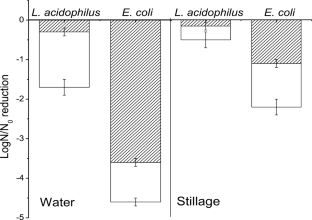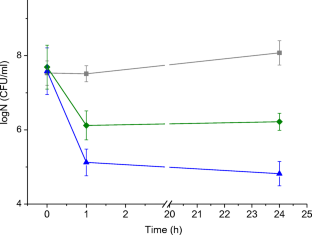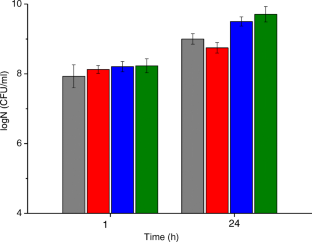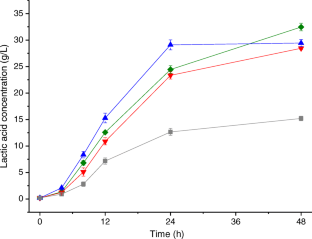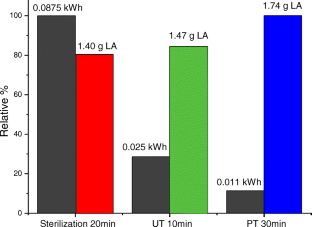 References
Abdel-Rahman MA, Tashiro Y, Sonomoto K (2013a) Recent advances in lactic acid production by microbial fermentation processes. Biotechnol Adv 31:877–902. https://doi.org/10.1016/j.biotechadv.2013.04.002

Abdel-Rahman MA, Tashiro Y, Zendo T, Sonomoto K (2013b) Improved lactic acid productivity by an open repeated batch fermentation system using Enterococcus mundtii QU 25. RSC Adv 3:8437–8445. https://doi.org/10.1039/c3ra00078h

Anwar Saeed M, Ma H, Yue S, Wang Q, Tu M (2018) Concise review on ethanol production from food waste: development and sustainability. Environ Sci Pollut Res 25:28851–28863. https://doi.org/10.1007/s11356-018-2972-4

Baral NR, Shah A (2017) Techno-economic analysis of utilization of stillage from a cellulosic biorefinery. Fuel Process Technol 166:59–68. https://doi.org/10.1016/j.fuproc.2017.05.017

Boudam MK, Moisan M, Saoudi B, Popovici C, Gherardi N, Massines F (2006) Bacterial spore inactivation by atmospheric-pressure plasmas in the presence or absence of UV photons as obtained with the same gas mixture. J Phys D Appl Phys 39:3494–3507. https://doi.org/10.1088/0022-3727/39/16/S07

Caderby E, Baumberger S, Hoareau W, Fargues C, Decloux M, Maillard M-N (2013) Sugar cane stillage: a potential source of natural antioxidants. J Agric Food Chem 61:11494–11501. https://doi.org/10.1021/jf4039474

Djukić-Vuković AP, Mojović LV, Jokić BM, Nikolić SB, Pejin JD (2013) Lactic acid production on liquid distillery stillage by Lactobacillus rhamnosus immobilized onto zeolite. Bioresour Technol 135:454–458. https://doi.org/10.1016/j.biortech.2012.10.066

Djukić-Vuković AP, Mojović LV, Semenčenko VV, Radosavljević MM, Pejin JD, Kocić-Tanackov SD (2015) Effective valorisation of distillery stillage by integrated production of lactic acid and high quality feed. Food Res Int 73:75–80. https://doi.org/10.1016/j.foodres.2014.07.048

Djukić-Vuković A, Mladenović D, Radosavljević M, Kocić-Tanackov S, Pejin J, Mojović L (2016) Wastes from bioethanol and beer productions as substrates for l(+) lactic acid production - a comparative study. Waste Manag 48:478–482. https://doi.org/10.1016/j.wasman.2015.11.031

Du J, Chen L, Li J, Zuo R, Yang X, Chen H, Zhuang X, Tian S (2018) High-solids ethanol fermentation with single-stage methane anaerobic digestion for maximizing bioenergy conversion from a C4 grass (Pennisetum purpereum). Appl Energy 215:437–443. https://doi.org/10.1016/J.APENERGY.2018.02.021

ePURE, 2017. EU ethanol in 2017. https://www.epure.org/media/1763/180905-def-data-epure-statistics-2017-designed-version.pdf Accessed 5 February 2019

European Parliament (2015) Directive (EU) 2015/1513. https://eur-lex.europa.eu/legal-content/EN/TXT/?uri=celex%3A32015L1513 Accessed 5 February 2019

Fuess LT, Garcia ML (2014) Implications of stillage land disposal: a critical review on the impacts of fertigation. J Environ Manag 145:210–229. https://doi.org/10.1016/j.jenvman.2014.07.003

Gorbanev Y, O'Connell D, Chechik V (2016) Non-thermal plasma in contact with water: the origin of species. Chem Eur J 22:3496–3505. https://doi.org/10.1002/chem.201503771

Graves DB (2012) The emerging role of reactive oxygen and nitrogen species in redox biology and some implications for plasma applications to medicine and biology. J Phys D Appl Phys 45:263001–263042. https://doi.org/10.1088/0022-3727/45/26/263001

Herceg Z, Jambrak AR, Vukušić T, Stulić V, Stanzer D, Milošević S (2015) The effect of high-power ultrasound and gas phase plasma treatment on Aspergillus spp. and Penicillium spp. count in pure culture. J Appl Microbiol 118:132–141. https://doi.org/10.1111/jam.12692

Hulsmans A, Joris K, Lambert N, Rediers H, Declerck P, Delaedt Y, Ollevier F, Liers S (2010) Evaluation of process parameters of ultrasonic treatment of bacterial suspensions in a pilot scale water disinfection system. Ultrason Sonochem 17:1004–1009

International Council on Clean Transportation (ICCT) (2018) Final recast RED II: Renewable Energy Directive for 2021–2030 in the European Union. https://www.theicct.org/sites/default/files/publications/EU_Fuels_Policy_Update_20180719.pdf Accessed 5 February 2019

Issa-Zacharia A, Kamitani Y, Miwa N, Muhimbula H, Iwasaki K (2011) Application of slightly acidic electrolyzed water as a potential non-thermal food sanitizer for decontamination of fresh ready-to-eat vegetables and sprouts. Food Control 22:601–607. https://doi.org/10.1016/j.foodcont.2010.10.011

Jake N, Kwik J, Franko M (2016) System and process for clarifying thin stillage. US patent no. US 20170114293A1. https://patentimages.storage.googleapis.com/eb/e9/ee/3436bb354f66c4/US20170114293A1.pdf Accessed 5 February 2019

Jovanović JR, Stefanović AB, Žuža MG, Jakovetić SM, Šekuljica NŽ, Bugarski BM, Knežević-Jugović ZD (2016) Improvement of antioxidant properties of egg white protein enzymatic hydrolysates by membrane ultrafiltration. Hem Ind 70:419–428. https://doi.org/10.2298/HEMIND150506047J

Kang TS, Korber DR, Tanaka T (2014) Bioconversion of glycerol to 1,3-propanediol in thin stillage-based media by engineered Lactobacillus panis PM1. J Ind Microbiol Biotechnol 41:629–635. https://doi.org/10.1007/s10295-014-1403-x

Kasmi M, Hamdi M, Trabelsi I (2017) Processed milk waste recycling via thermal pretreatment and lactic acid bacteria fermentation. Environ Sci Pollut Res 24:13604–13613. https://doi.org/10.1007/s11356-017-8932-6

Koutinas A, Vlysidis A, Pleissner D, Kopsahelis N, Lopez Garcia I, Kookos IK, Papanikolaou S, Kwan TH, Lin CSK (2014) Valorization of industrial waste and by-product streams via fermentation for the production of chemicals and biopolymers. Chem Soc Rev 43:2587–2627. https://doi.org/10.1039/c3cs60293a

Krásný I, Lapčík L, Lapčíková B, Greenwood RWR, Šafářová K, Rowson NA (2014) The effect of low temperature air plasma treatment on physico-chemical properties of kaolinite/polyethylene composites. Compos Part B Eng 59:293–299. https://doi.org/10.1016/j.compositesb.2013.12.019

Leonelli C, Mason TJ (2010) Microwave and ultrasonic processing: now a realistic option for industry. Chem Eng Process Process Intensif 49:885–900. https://doi.org/10.1016/J.CEP.2010.05.006

Li T, Chen X, Chen J, Wu Q, Chen G-Q (2014) Open and continuous fermentation: products, conditions and bioprocess economy. Biotechnol J 9:1503–1511. https://doi.org/10.1002/biot.201400084

Liao X, Liu D, Xiang Q, Ahn J, Chen S, Ye X, Ding T (2017) Inactivation mechanisms of non-thermal plasma on microbes: a review. Food Control 75:83–91. https://doi.org/10.1016/j.foodcont.2016.12.021

Liu B, Yang M, Qi B, Chen X, Su Z, Wan Y (2010) Optimizing l-(+)-lactic acid production by thermophile Lactobacillus plantarum As. 1.3 using alternative nitrogen sources with response surface method. Biochem Eng J 52(2–3):212–219

Ma R, Wang G, Tian Y, Wang K, Zhang J, Fang J (2015) Non-thermal plasma-activated water inactivation of food-borne pathogen on fresh produce. J Hazard Mater 300:643–651. https://doi.org/10.1016/j.jhazmat.2015.07.061

Mai-Prochnow A, Clauson M, Hong J, Murphy AB (2016) Gram positive and gram negative bacteria differ in their sensitivity to cold plasma. Sci Rep 6:38610. https://doi.org/10.1038/srep38610

Mladenović D, Pejin J, Kocić-Tanackov S, Djukić-Vuković A, Mojović L (2018) Enhanced lactic acid production by adaptive evolution of Lactobacillus paracasei on agro-industrial substrate. Appl Biochem Biotechnol. https://doi.org/10.1007/s12010-018-2852-x

Moestedt J, Påledal S, Schnürer A, Nordell E (2013) Biogas production from thin stillage on an industrial scale—experience and optimisation. Energies 6:5642–5655. https://doi.org/10.3390/en6115642

Noukeu NA, Gouado I, Priso RJ, Ndongo D, Taffouo VD, Dibong SD, Ekodeck GE (2016) Characterization of effluent from food processing industries and stillage treatment trial with Eichhornia crassipes (Mart.) and Panicum maximum (Jacq). Water Resour Ind 16:1–18. https://doi.org/10.1016/j.wri.2016.07.001

Ouyang J, Ma R, Zheng Z, Cai C, Zhang M, Jiang T (2013) Open fermentative production of l-lactic acid by Bacillus sp. strain NL01 using lignocellulosic hydrolyzates as low-cost raw material. Bioresour Technol 135:475–480. https://doi.org/10.1016/j.biortech.2012.09.096

Pejin J, Radosavljević M, Kocić-Tanackov S, Mladenović D, Djukić-Vuković A, Mojović L (2017) Fed-batch l-(+)-lactic acid fermentation of brewer's spent grain hydrolysate. J Inst Brew 123:537–543. https://doi.org/10.1002/jib.452

Pleissner D, Demichelis F, Mariano S, Fiore S, Navarro Gutiérrez IM, Schneider R, Venus J (2017) Direct production of lactic acid based on simultaneous saccharification and fermentation of mixed restaurant food waste. J Clean Prod 143:615–623. https://doi.org/10.1016/j.jclepro.2016.12.065

Puač N, Miletić M, Mojović M, Popović-Bijelić A, Vuković D, Miličić B, Maletić D, Lazović S, Malović G, Petrović ZL (2015) Sterilization of bacteria suspensions and identification of radicals deposited during plasma treatment. Open Chem 13:332–338. https://doi.org/10.1515/chem-2015-0041

Purevdorj D, Igura N, Hayakawa I, Ariyada O (2002) Inactivation of Escherichia coli by microwave induced low temperature argon plasma treatments. J Food Eng 53:341–346. https://doi.org/10.1016/S0260-8774(01)00174-1

Ramazzina I, Berardinelli A, Rizzi F, Tappi S, Ragni L, Sacchetti G, Rocculi P (2015) Effect of cold plasma treatment on physico-chemical parameters and antioxidant activity of minimally processed kiwifruit. Postharvest Biol Technol 107:55–65. https://doi.org/10.1016/j.postharvbio.2015.04.008

Research Grand View (2017) Lactic acid market & polylactic acid (PLA) market, industry report 2025, Market research report. https://www.grandviewresearch.com/industry-analysis/lactic-acid-and-poly-lactic-acid-market . Accessed 5 February 2019

Sakai K, Murata Y, Yamazumi H, Tau Y, Mori M, Moriguchi M, Shirai Y (2000) Selective proliferation of lactic acid bacteria and accumulation of lactic acid during open fermentation of kitchen refuse with intermittent pH adjustment. Food Sci Technol Res 6:140–145. https://doi.org/10.3136/fstr.6.140

Sangave PC, Pandit AB (2004) Ultrasound pre-treatment for enhanced biodegradability of the distillery wastewater. Ultrason Sonochem 11:197–203. https://doi.org/10.1016/j.ultsonch.2004.01.026

Sayedin F, Kermanshahi-pour A, He S(Q) (2018) Anaerobic digestion of thin stillage of corn ethanol plant in a novel anaerobic baffled reactor. Waste Manag 78:541–552. https://doi.org/10.1016/J.WASMAN.2018.06.015

Shan L, Liu J, Yu Y, Ambuchi JJ, Feng Y (2016) Characterization of persistent colors and decolorization of effluent from biologically treated cellulosic ethanol production wastewater. Environ Sci Pollut Res 23:10215–10222. https://doi.org/10.1007/s11356-016-6220-5

Srivastava A, Poonia A, Tripathi AD, Singh RP, Srivastava SK (2014) Optimization of nutritional supplements for enhanced lactic acid production utilizing sugar refinery by-products. Ann Microbiol 64:1211–1221. https://doi.org/10.1007/s13213-013-0761-3

Surowsky B, Schlüter O, Knorr D (2015) Interactions of non-thermal atmospheric pressure plasma with solid and liquid food systems: a review. Food Eng Rev 7:82–108. https://doi.org/10.1007/s12393-014-9088-5

Tang J, Wang X, Hu Y, Zhang Y, Li Y (2016) Lactic acid fermentation from food waste with indigenous microbiota: effects of pH, temperature and high OLR. Waste Manag 52:278–285. https://doi.org/10.1016/j.wasman.2016.03.034

Tresp H, Hammer MU, Winter J, Weltmann KD, Reuter S (2013) Quantitative detection of plasma-generated radicals in liquids by electron paramagnetic resonance spectroscopy. J Phys D Appl Phys 46:435401. https://doi.org/10.1088/0022-3727/46/43/435401

Uchiyama H, Zhao QL, Hassan MA, Andocs G, Nojima N, Takeda K, Ishikawa K, Hori M, Kondo T (2015) EPR-spin trapping and flow cytometric studies of free radicals generated using cold atmospheric argon plasma and X-ray irradiation in aqueous solutions and intracellular milieu. PLoS One 10:e0136956. https://doi.org/10.1371/journal.pone.0136956

Vhangani LN, Van Wyk J (2016) Antioxidant activity of Maillard reaction products (MRPs) in a lipid-rich model system. Food Chem 208:301–308. https://doi.org/10.1016/J.FOODCHEM.2016.03.100

West TP (2011) Malic acid production from thin stillage by Aspergillus species. Biotechnol Lett 33:2463–2467. https://doi.org/10.1007/s10529-011-0720-7

Wilkie AC, Riedesel KJ, Owens JM (2000) Stillage characterization and anaerobic treatment of ethanol stillage from conventional and cellulosic feedstocks. Biomass Bioenergy 19:63–102. https://doi.org/10.1016/S0961-9534(00)00017-9

Wu JM, Liu RH (2013) Cost-effective production of bacterial cellulose in static cultures using distillery wastewater. J Biosci Bioeng 115:284–290. https://doi.org/10.1016/j.jbiosc.2012.09.014

Yusaf T, Al-Juboori RA (2014) Alternative methods of microorganism disruption for agricultural applications. Appl Energy 114:909–923. https://doi.org/10.1016/j.apenergy.2013.08.085

Zaplotnik R, Bišćan M, Kregar Z, Cvelbar U, Mozetič M, Milošević S (2015) Influence of a sample surface on single electrode atmospheric plasma jet parameters. Spectrochim Acta B At Spectrosc 103–104:124–130. https://doi.org/10.1016/j.sab.2014.12.004
Acknowledgements
The authors want to acknowledge Milica Carević, PhD and Prof. Dejan Bezbradica, PhD, Faculty of Technology and Metallurgy, University of Belgrade, for their help in HPLC analysis of samples and Stevan Jovanović, ing., Insitute of Physics Belgrade, University of Belgrade, for his help in calculation of capital costs.
Funding
This work was supported by Serbian Ministry of Education, Science and Technological Development, project number TR 31017, project no. I-1/2018 of Scientific and Technological Collaboration of Republic of Serbia and PR China and III 43007.
Ethics declarations
Conflict of interest
The authors declare that they have no conflict of interest.
Additional information
Publisher's note
Springer Nature remains neutral with regard to jurisdictional claims in published maps and institutional affiliations.
Responsible editor: Ta Yeong Wu
About this article
Cite this article
Djukić-Vuković, A., Lazović, S., Mladenović, D. et al. Non-thermal plasma and ultrasound-assisted open lactic acid fermentation of distillery stillage. Environ Sci Pollut Res 26, 35543–35554 (2019). https://doi.org/10.1007/s11356-019-04894-9
Received:

Accepted:

Published:

Issue Date:
Keywords
Biorefinery

Pretreatments

Microbial inactivation

Sterilization

Lactic acid bacteria