Abstract
An enrichment process was employed by applying high ibuprofen concentration in an immobilized cell bioreactor in order to favor the ibuprofen-degrading community present in activated sludge. Experimental data showed the ability of the immobilized cell bioreactor to achieve high ibuprofen removal efficiencies (98.4 ± 0.3%), the tendency of the enriched biomass to acidify the treated liquor, and the inhibition of the nitrification process. Illumina sequencing revealed a massive increase in the relative abundance of Alphaproteobacteria and Gammaproteobacteria (from 29.1 to 80.8%) and a dramatic decrease in the proportion of Bacteroidetes, Planctomycetes, and Verrucomicrobia (from 42.7 to 2.1%) when pure ibuprofen served as the sole carbonaceous feeding substrate. This shift in the feeding conditions resulted in the predominance of Novosphingobium and Rhodanobacter (25.5 ± 10.8% and 25.2 ± 3.0%, respectively) and demonstrated a specialized ibuprofen-degrading bacterial community in activated sludge, which possessed the selective advantage to cope with its degradation. To the best of our knowledge, this bioreactor system was capable of effectively treating the highest ibuprofen concentration applied in wastewater treatment plants.
This is a preview of subscription content, log in to check access.
Access options
Buy single article
Instant access to the full article PDF.
US$ 39.95
Price includes VAT for USA
Subscribe to journal
Immediate online access to all issues from 2019. Subscription will auto renew annually.
US$ 99
This is the net price. Taxes to be calculated in checkout.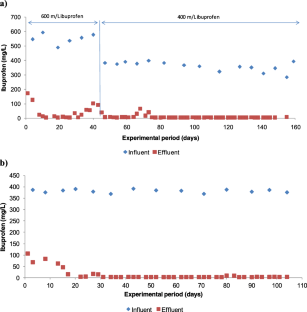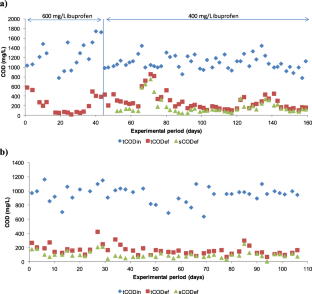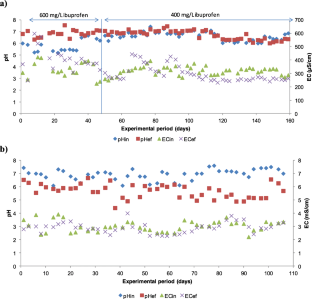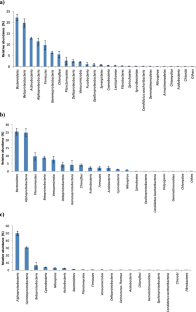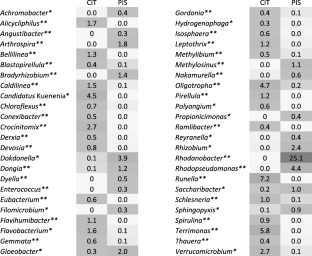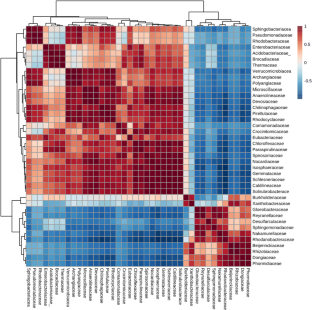 References
Arriaga S, Jonge N, Nielsen ML, Andersen HR, Borregaard V, Jewel K, Ternes TA, Nielsen JL (2016) Evaluation of a membrane bioreactor system as post-treatment in waste water treatment for better removal of micropollutants. Water Res 107:37–46

Atlas RM (2010) Handbook of microbiological media, 4th edn. CRC Press, Taylor & Francis group, Boca Raton, Florida, p 63

Bácsi I, B-Béres V, Kókai Z, Gonda S, Novák Z, Nagy SA, Vasas G (2016) Effects of non-steroidal anti-inflammatory drugs on cyanobacteria and algae in laboratory strains and in natural algal assemblages. Environ Poll 212:508–518

Bray RJ, Curtis JT (1957) An ordination of the upland forest communities of southern Wisconsin. Ecol Monogr 27(4):325–349

Candido JP, Andrade SJ, Fonseca AL, Silva FS, Silva MRA, Kondo MM (2016) Ibuprofen removal by heterogeneous photocatalysis and ecotoxicological evaluation of the treated solutions. Environ Sci Poll Res 23(19):19911–19920

Chow J, Kovacic F, Dall Antonia Y, Krauss U, Fersini F, Schmeisser C, Lauinger B, Bongen P, Pietruszka J, Schmidt M, Menyes I, Bornscheuer UT, Eckstein M, Thum O, Liese A, Mueller-Dieckmann J, Jaeger KE, Streit WR (2012) The metagenome-derived enzymes LipS and LipT increase the diversity of known lipases. PLoS One 7(10):e47665

Clesceri LS, Greenberg AE, Eaton AD (1998) Standard methods for the examination of water and wastewater, 20th edn. American Public Health Association (APHA), Washington DC

Cole JR, Wang Q, Fish JA, Chai B, McGarrell DM, Sun Y, Brown CT, Porras-Alfaro A, Kuske CR, Tiedje JM (2014) Ribosomal database project: data and tools for high throughput rRNA analysis. Nucleic Acids Res 42(D1):D633–D642

Corcoll N, Acuña V, Barceló D, Casellas M, Guasch H, Huerta B, Petrovic M, Ponsatí L, Rodríguez-Mozaz S, Sabater S (2014) Pollution-induced community tolerance to non-steroidal anti-inflammatory drugs (NSAIDs) in fluvial biofilm communities affected by WWTP effluents. Chemosphere 112:185–193

Cox MAA, Cox TF (2008) Multidimensional scaling. In: Chen C-H, Hardle W, Unwin A (eds) Handbook of data visualization. Springer, New York, pp 315–347

Davarnejad R, Soofi B, Farghadani F, Behfar R (2018) Ibuprofen removal from a medicinal effluent: a review on the various techniques for medicinal effluents treatment. Environ Technol Innov 11:308–320

Dhariwal A, Chong J, Habib S, King I, Agellon LB, Xia J (2017) MicrobiomeAnalyst—a web-based tool for comprehensive statistical, visual and meta-analysis of microbiome data. Nucleic Acids Res 45(W1):W180–W188

Edgar RC, Haas BJ, Clemente JC, Quince C, Knight R (2011) UCHIME improves sensitivity and speed of chimera detection. Bioinformatics 27(16):2194–2200

Fortunato MS, Fuentes Abril NP, Martinefski M, Trípodi V, Papalia M, Rádice M, Gutkind G, Gallego A, Korola SE (2016) Aerobic degradation of ibuprofen in batch and continuous reactors by an indigenous bacterial community. Environ Technol 37(20):2617–2626

Iasur-Kruh L, Hadar Y, Minz D (2011) Isolation and bioaugmentation of an estradiol-degrading bacterium and its integration into a mature biofilm. Appl Environ Microbiol 77(11):3734–3740

Islas-Flores H, Manuel Gómez-Oliván L, Galar-Martínez M, Michelle Sánchez-Ocampo E, SanJuan-Reyes N, Ortíz-Reynoso M, Dublán-García O (2017) Cyto-genotoxicity and oxidative stress in common carp (Cyprinus carpio) exposed to a mixture of ibuprofen and diclofenac. Environ Toxicol 32(5):1637–1650

Jallouli N, Pastrana-Martínez LM, Ribeiro AR, Moreira NFF, Faria JL, Hentati O, Silva AMT, Ksibi M (2018) Heterogeneous photocatalytic degradation of ibuprofen in ultrapure water, municipal and pharmaceutical industry wastewaters using a TiO2/UV-LED system. Chem Eng J 334:976–984

Jeffries KM, Brander SM, Britton MT, Fangue NA, Connon RE (2015) Chronic exposures to low and high concentrations of ibuprofen elicit different gene response patterns in a euryhaline fish. Environ Sci Poll Res 22(22):17397–17413

Jiang C, Geng J, Hu H, Ma H, Gao X, Ren H (2017) Impact of selected non-steroidal anti-inflammatory pharmaceuticals on microbial community assembly and activity in sequencing batch reactors. PLoS One 12(6):e0179236

Katsou E, Alvarino T, Malamis S, Suarez S, Frison N, Omil F, Fatone F (2016) Effects of selected pharmaceuticals on nitrogen and phosphorus removal bioprocesses. Chem Eng J 295:509–517

Kimura K, Hara H, Watanabe Y (2010) Elimination of selected pharmaceuticals by biosolids from municipal wastewater treatment plants: importance of modest pH change and degree of mineralization. Water Sci Technol 62(5):1084–1089

Kraigher B, Kosjek T, Heath E, Kompare B, Mandic-Mulec I (2008) Influence of pharmaceutical residues on the structure of activated sludge bacterial communities in wastewater treatment bioreactors. Water Res 42(17):4578–4588

Langenhoff A, Inderfurth N, Veuskens T, Schraa G, Blokland M, Kujawa-Roeleveld K, Rijnaarts H (2013) Microbial removal of the pharmaceutical compounds ibuprofen and diclofenac from wastewater. BioMed Res Int. https://doi.org/10.1155/2013/325806

Li WC (2014) Occurrence, sources, and fate of pharmaceuticals in aquatic environment and soil. Environ Poll 187:193–201

Li Z, Cheng K, Teng X, Ma X, Hou Y, Wei Y (2015) Degradation spectrum of ibuprofen degrading strains. Acta Sci Circumst 35(1):177–183

Magurran AE (1988) Ecological diversity and its measurement. Princeton University Press, Princeton

Masella AP, Bartram AK, Truszkowski JM, Brown DG, Neufeld JD (2012) PANDAseq: paired-end assembler for illumina sequences. BMC Bioinformatics 13(31). https://doi.org/10.1186/1471-2105-13-31

Moro I, Matozzo V, Piovan A, Moschin E, Dalla Vecchia F (2014) Morpho-physiological effects of ibuprofen on Scenedesmus rubescens. Environ Toxicol Pharmacol 38(2):379–387

Murdoch RW, Hay AG (2005) Formation of catechols via removal of acid side chains from ibuprofen and related aromatic acids. Appl Environ Microbiol 71(10):6121–6125

Murdoch RW, Hay AG (2015) The biotransformation of ibuprofen to trihydroxyibuprofen in activated sludge and by Variovorax Ibu-1. Biodegradation 26(2):105–113

Muter O, Perkons I, Selga T, Berzins A, Gudra D, Radovica-Spalvina I, Fridmanis D, Bartkevics V (2017) Removal of pharmaceuticals from municipal wastewaters at laboratory scale by treatment with activated sludge and biostimulation. Sci Total Environ 584-585:402–413

Nalin R, Simonet P, Vogel TM, Normand P (1999) Rhodanobacter lindaniclasticus gen. nov., sp. nov., a lindane-degrading bacterium. Int J Syst Evol Microbiol 49(1):19–23

Nawrocki EP, Kolbe DL, Eddy SR (2009) Infernal 1.0: inference of RNA alignments. Bioinformatics 25(10):1335–1337

Nojiri H, Tsuda M, Fukuda M, Kamagata Y (2014) Biodegradative bacteria—how bacteria degrade, survive, adapt, and evolve. Springer, Tokyo

Proia L, Osorio V, Soley S, Köck-Schulmeyer M, Pérez S, Barceló D, Romaní AM, Sabater S (2013) Effects of pesticides and pharmaceuticals on biofilms in a highly impacted river. Environ Poll 178:220–228

Ragugnetti M, Adams ML, Guimarães ATB, Sponchiado G, Carvalho de Vasconcelos E, Ribas de Oliveira CM (2011) Ibuprofen genotoxicity in aquatic environment: an experimental model using Oreochromis niloticus. Water Air Soil Poll 218(1–4):361–364

Rainsford KD (2009) Ibuprofen: pharmacology, efficacy and safety. Inflammopharmacology 17(6):275–342

Tadkaew N, Sivakumar M, Khan SJ, McDonald JA, Nghiem LD (2010) Effect of mixed liquor pH on the removal of trace organic contaminants in a membrane bioreactor. Bioresour Technol 101(5):1494–1500

Tran NH, Urase T, Ngo HH, Hu J, Ong SL (2013) Insight into metabolic and cometabolic activities of autotrophic and heterotrophic microorganisms in the biodegradation of emerging trace organic contaminants. Bioresour Technol 146:721–731

Urasa T, Kikuta T (2005) Separate estimation of adsorption and degradation of pharmaceutical substances and estrogens in the activated sludge process. Water Res 39(7):1289–1300

Vuono DC, Regnery J, Li D, Jones ZL, Holloway RW, Drewes JE (2016) rRNA gene expression of abundant and rare activated-sludge microorganisms and growth rate induced micropollutant removal. Environ Sci Technol 50(12):6299–6309

Wang X-C, Shen J-M, Chen Z-L, Zhao X, Xu H (2016) Removal of pharmaceuticals from synthetic wastewater in an aerobic granular sludge membrane bioreactor and determination of the bioreactor microbial diversity. Appl Microbiol Biotechnol 100(18):8213–8223

Xia Z, Xiao-chun W, Zhong-lin C, Hao X, Qing-fang Z (2014) Microbial community structure and pharmaceuticals and personal care products removal in a membrane bioreactor seeded with aerobic granular sludge. Appl Microbiol Biotechnol 99(1):425–433

Zhang TC, Bishop PL (1996) Evaluation of substrate and pH effects in a nitrifying biofilm. Water Environ Res 68(7):1107–1115

Zhou JL, Zhang ZL, Banks E, Grover D, Jiang JQ (2009) Pharmaceutical residues in wastewater treatment works effluents and their impact on receiving river water. J Hazard Mater 166(2–3):655–661

Zhou NA, Lutovsky AC, Andaker GL, Gough HL, Ferguson JF (2013) Cultivation and characterization of bacterial isolates capable of degrading pharmaceutical and personal care products for improved removal in activated sludge wastewater treatment. Biodegradation 24(6):813–827
Ethics declarations
Conflict of interest
The authors declare that they have no conflict of interest.
Additional information
Publisher's note
Springer Nature remains neutral with regard to jurisdictional claims in published maps and institutional affiliations.
Responsible editor: Gerald Thouand
About this article
Cite this article
Navrozidou, E., Melidis, P. & Ntougias, S. Biodegradation aspects of ibuprofen and identification of ibuprofen-degrading microbiota in an immobilized cell bioreactor. Environ Sci Pollut Res 26, 14238–14249 (2019). https://doi.org/10.1007/s11356-019-04771-5
Received:

Accepted:

Published:

Issue Date:
Keywords
Ibuprofen-degrading bacteria

Immobilized cell bioreactor

Acidification

Novosphingobium
Rhodanobacter

Non-steroidal anti-inflammatory drug (NSAID) degradation