Abstract
Secondary aluminum smelting industry, as an important source of polychlorinated naphthalene (PCN) in environment, has been concerned in recent years. To figure out the emission characteristics of PCNs and the potential influence on surrounding environment, two typical secondary aluminum smelting plants were selected and PCNs were determined in flue gas, fly ash, aluminum slag, soil, and air samples collected at and around the plants by GC-MS coupled with DFS. PCN emission factors from the flue gas of the two plants (mean 0.006 ng toxic equivalents/t) were found obviously decreased compared with similar smelting process detected in 2010. The stage of feeding material was still the major PCNs discharge period during the whole smelting process. The total PCN concentrations in air were found to be ranked as following: workshops (290–1917 pg/m3), the area near the workshops (62.3–697 pg/m3), and the surrounding areas (29.9–164 pg/m3, mean 64.5 pg/m3). Similar high concentrations of PCNs were found in soil from by the workshop door (983 ng/g dry weight). Soil-air exchange calculations indicated that mono-CN to tetra-CN would volatilize but hepta-CN and octa-CN would be deposited to the soil. Exposure of plant workers and local inhabitants to PCNs through inhalation was found to be acceptable but higher (especially for workers in the workshops) than living areas. The workshop and the nearby area are potential PCNs polluted areas and should be paid attention during the practical operation.
This is a preview of subscription content, log in to check access.
Access options
Buy single article
Instant access to the full article PDF.
US$ 39.95
Price includes VAT for USA
Subscribe to journal
Immediate online access to all issues from 2019. Subscription will auto renew annually.
US$ 99
This is the net price. Taxes to be calculated in checkout.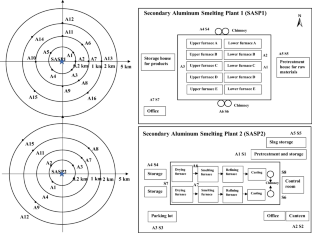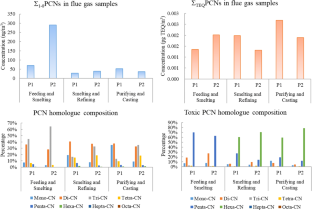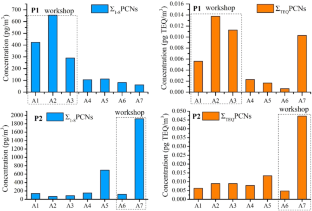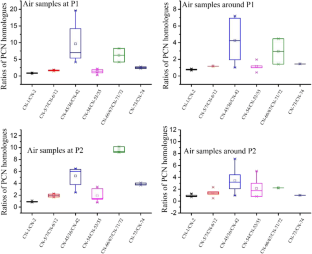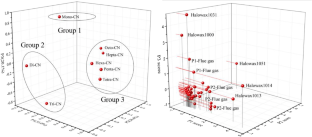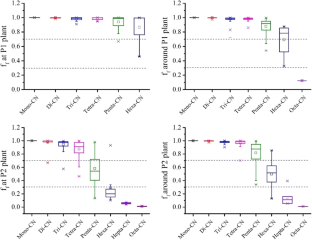 References
Ba T, Zheng M, Zhang B, Liu W, Su G, Liu G, Xiao K (2010) Estimation and congener-specific characterization of polychlorinated naphthalene emissions from secondary nonferrous metallurgical facilities in China. Environ Sci Technol 44:2441–2446

Die Q, Nie Z, Fang Y, Yang Y, Gao X, Tian Y, Jie H, Feng L, Huang Q, Tian S (2016) Seasonal and spatial distributions of atmospheric polychlorinated naphthalenes in Shanghai, China. Chemosphere 144:2134–2141

Falandysz J (1998) Polychlorinated naphthalenes: an environmental update. Environ Pollut 101:77–90

Falandysz J (2003) Chloronaphthalenes as food-chain contaminants: a review. Food Addit Contam 20:995–1014

Falandysz J, Chudzynski K, Takekuma M, Yamamoto T, Noma Y, Hanari N, Yamashita N (2008) Multivariate analysis of identity of imported technical PCN formulation. J Environ Sci Health A 43:1381–1390

Falandysz J, Fernandes A, Gregoraszczuk E, Rose M (2014) The toxicological effects of halogenated naphthalenes: a review of aryl hydrocarbon receptor-mediated (dioxin-like) relative potency factors. J Environ Sci Health Part C Environ Carcinog Rev 32:239–272

Fang Y, Nie Z, Die Q, Tian Y, Liu F, He J, Huang Q (2016) Spatial distribution, transport dynamics, and health risks of endosulfan at a contaminated site. Environ Pollut 216:538–547

Harner T, Bidleman TF, Jantunen LM, Mackay D (2001) Soil—air exchange model of persistent pesticides in the United States cotton belt. Environ Toxicol Chem 20:1612–1621

Herbert BM, Halsall CJ, Villa S, Fitzpatrick L, Jones KC, Lee RG, Kallenborn R (2005) Polychlorinated naphthalenes in air and snow in the Norwegian Arctic: a local source or an Eastern Arctic phenomenon? Sci Total Environ 342:145–160

Hogarh JN, Seike N, Kobara Y, Habib A, Nam JJ, Lee JS, Li Q, Liu X, Li J, Zhang G (2012a) Passive air monitoring of PCBs and PCNs across East Asia: a comprehensive congener evaluation for source characterization. Chemosphere 86:718–726

Hogarh JN, Seike N, Kobara Y, Masunaga S (2012b) Atmospheric polychlorinated naphthalenes in Ghana. Environ Sci Technol 46:2600–2606

Hu J, Zheng M, Liu W, Nie Z, Li C, Liu G, Xiao K (2014) Characterization of polychlorinated dibenzo- p -dioxins and dibenzofurans, dioxin-like polychlorinated biphenyls, and polychlorinated naphthalenes in the environment surrounding secondary copper and aluminum metallurgical facilities in China. Environ Pollut 193:6–12

Jiang X, Liu G, Wang M, Liu W, Tang C, Li L, Zheng M (2015) Case study of polychlorinated naphthalene emissions and factors influencing emission variations in secondary aluminum production. J Hazard Mater 286:545–552

Krauss M, Wilcke W (2003) Polychlorinated naphthalenes in urban soils: analysis, concentrations, and relation to other persistent organic pollutants. Environ Pollut 122:75–89

Lee SC, Harner T, Pozo K, Shoeib M, Wania F, Muir DC, Barrie LA, Jones KC (2007) Polychlorinated naphthalenes in the Global Atmospheric Passive sampling (GAPS) study. Environ Sci Technol 41:2680–2687

Li G (2008) Analysis of typical pollution sources and regional distribution of polychloronaphthalene in China. Doctoral thesis, Ecological and Environmental Research Center of Chinese Science Research Academy (in Chinese)

Lin Y, Zhao Y, Qiu X, Ma J, Yang Q, Shao M, Zhu T (2013) Spatial distribution of polychlorinated naphthalenes in the atmosphere across North China based on gridded field observations. Environ Pollut 180:27–33

Liu G, Zheng M, Du B, Nie Z, Zhang B, Hu J, Xiao K (2012a) Identification and characterization of the atmospheric emission of polychlorinated naphthalenes from electric arc furnaces. Environ Sci Pollut Res 19:3645–3650

Liu G, Zheng M, Du B, Nie Z, Zhang B, Liu W, Li C, Hu J (2012b) Atmospheric emission of polychlorinated naphthalenes from iron ore sintering processes. Chemosphere 89:467–472

Liu G, Cai Z, Zheng M (2014) Sources of unintentionally produced polychlorinated naphthalenes. Chemosphere 94:1–12

Nie Z, Zheng M, Liu G, Liu W, Lv P, Zhang B, Su G, Gao L, Xiao K (2012) A preliminary investigation of unintentional POP emissions from thermal wire reclamation at industrial scrap metal recycling parks in China. J Hazard Mater 215–216:259–265

Noma Y, Ishikawa Y, Falandysz J, Jecek L, Gulkowska A, Miyaji K, Sakai S (2004) By-side impurities in chloronaphthalene mixtures of the Halowax series: all 209 chlorobiphenyls. J Environ Sci Health A 39:2035–2058

Odabasi M, Bayram A, Elbir T, Dumanoglu Y, Kara M, Altiok H, Cetin B (2012) Investigation of seasonal variations and sources of atmospheric polychlorinated naphthalenes (PCNs) in an urban area. Atmos Pollut Res 3:477–484

Odabasi M, Dumanoglu Y, Kara M, Altiok H, Elbir T, Bayram A (2016) Polychlorinated naphthalene (PCN) emissions from scrap processing steel plants with electric-arc furnaces. Sci Total Environ 574:1305–1312

Orlikowska A, Hanari N, Wyrzykowska B, Bochentin I, Horii Y, Yamashita N, Falandysz J (2009) Airborne chloronaphthalenes in Scots pine needles of Poland. Chemosphere 75:1196–1205

Park H, Kang JH, Baek SY, Chang YS (2010) Relative importance of polychlorinated naphthalenes compared to dioxins, and polychlorinated biphenyls in human serum from Korea: contribution to TEQs and potential sources. Environ Pollut 158:1420–1427

Schuhmacher M, Nadal M, Domingo JL (2004) Levels of PCDD/Fs, PCBs, and PCNs in soils and vegetation in an area with chemical and petrochemical industries. Environ Sci Technol 38:1960–1969

Syed JH, Malik RN, Li J, Zhang G, Jones KC (2013) Levels, distribution and air–soil exchange fluxes of polychlorinated biphenyls (PCBs) in the environment of Punjab Province, Pakistan. Ecotoxicol Environ Saf 97:189–195

Vilavert L, Nadal M, Schuhmacher M, Domingo JL (2014) Seasonal surveillance of airborne PCDD/Fs, PCBs and PCNs using passive samplers to assess human health risks. Sci Total Environ 466-467:733–740

Wang Y, Cheng Z, Li J, Luo C, Xu Y, Li Q, Liu X, Zhang G (2012) Polychlorinated naphthalenes (PCNs) in the surface soils of the Pearl River Delta, South China: distribution, sources, and air-soil exchange. Environ Pollut 170:1–7

Wang Y, Wang S, Luo C, Li J, Ming L, Zhang G, Li X (2015) The effects of rice canopy on the air–soil exchange of polycyclic aromatic hydrocarbons and organochlorine pesticides using paired passive air samplers. Environ Pollut 200:35–41

Wyrzykowska B, Hanari N, Orlikowska A, Bochentin I, Rostkowski P, Falandysz J, Taniyasu S, Horii Y, Jiang Q, Yamashita N (2007) Polychlorinated biphenyls and -naphthalenes in pine needles and soil from Poland--concentrations and patterns in view of long-term environmental monitoring. Chemosphere 67:1877–1886

Wyrzykowska B, Hanari N, Orlikowska A, Yamashita N, Falandysz J (2009) Dioxin-like compound compositional profiles of furnace bottom ashes from household combustion in Poland and their possible associations with contamination status of agricultural soil and pine needles. Chemosphere 76:255–263

Xu Y, Li J, Chakraborty P, Syed JH, Malik RN, Wang Y, Tian C, Luo C, Zhang G, Jones KC (2014) Atmospheric polychlorinated naphthalenes (PCNs) in India and Pakistan. Sci Total Environ 467:1030–1036

Xu Y, Li J, Zheng Q, Pan S, Luo C, Zhu H, Nizzetto L, Zhang G (2015) Polychlorinated naphthalenes (PCNs) in Chinese forest soil: will combustion become a major source? Environ Pollut 204:124–132

Xue L, Zhang L, Yan Y, Liang D, Huang Y, Li X (2016) Concentrations and patterns of polychlorinated naphthalenes in urban air in Beijing, China. Chemosphere 162:199–207

Yamashita N, Taniyasu S, Hanari N, Horii Y, Falandysz J (2003) Polychlorinated naphthalene contamination of some recently manufactured industrial products and commercial goods in Japan. J Environ Sci Health A 38:1745–1759

Yang B, Han B, Xue N, Zhou L, Li F (2015) Air–soil exchange of organochlorine pesticides in a sealed chamber. J Environ Sci 27:241–250

Yang L, Liu G, Zheng M, Rong J, Zhu Q, Zhao Y, Xian Z, Yang X (2016) Atmospheric occurrence and health risks of PCDD/Fs, polychlorinated biphenyls, and polychlorinated naphthalenes by air inhalation in metallurgical plants. Sci Total Environ 580:1146

Zhu Q, Zhang X, Dong S, Gao L, Liu G, Zheng M (2016) Gas and particle size distributions of polychlorinated naphthalenes in the atmosphere of Beijing, China. Environ Pollut 212:128–134
Acknowledgments
We thank Gareth Thomas, PhD, from Liwen Bianji, Edanz Group China (www.liwenbianji.cn/ac), for editing the English text of a draft of this manuscript.
Funding
This study is financially supported by the National Key Research and Development Program of China (2018YFC1900103), the National Natural Science Foundation of China (grant nos. 21407137 and 51778592), Beijing Municipal Natural Science Foundation (grant no. 8172048) and the Chinese Central Public Welfare Research Project (2018YSKY-009).
Additional information
Publisher's note
Springer Nature remains neutral with regard to jurisdictional claims in published maps and institutional affiliations.
Responsible editor: Constantini Samara
Electronic supplementary material
About this article
Cite this article
Fang, Y., Nie, Z., Yang, J. et al. Polychlorinated naphthalene emissions to the atmosphere from typical secondary aluminum smelting plants in southwestern China: concentrations, characterization, and risk evaluation. Environ Sci Pollut Res 26, 12731–12740 (2019). https://doi.org/10.1007/s11356-019-04744-8
Received:

Accepted:

Published:

Issue Date:
Keywords
Polychlorinated naphthalene

Secondary aluminum smelting

Flue gas

Air

Fugacity

Risk evaluation