Abstract
Colouring agents are highly present in diverse products in the human environment. We aimed to elucidate the fibrogenic cascade triggered by the food dyes tartrazine and chlorophyll. Rats were orally given distilled water, tenfold of the acceptable daily intake of tartrazine, or chlorophyll for 90 consecutive days. Tartrazine-treated rats displayed a significant rise (p < 0.05) in the mRNA levels and immunohistochemical localization of the renal and hepatic fibrotic markers collagen 1-α, TGFβ-1, and fibronectin and the apoptotic marker caspase-3. Moreover, a significant increment (p < 0.05) in the levels of AST, ALP, creatinine, and urea was evident in both experimental groups but more significant differences were noticed in the tartrazine group. Furthermore, we found a marked increment in the MDA level and significant declines (p < 0.05) in the levels of the SOD, CAT, and GSH enzymes in the kidney and liver from tartrazine-treated rats. The histological investigation reinforced the aforementioned data, revealing hepatocytes with fibrous connective tissue proliferation, apoptotic hepatocytes and periportal fibrosis with tubular necrosis, and shrunken glomeruli and interstitial fibrous tissue proliferation. We concluded that, even at the exposure to high concentrations for long durations, chlorophyll exhibited a lower propensity to induce fibrosis, apoptosis, and histopathological perturbations than tartrazine.
This is a preview of subscription content, log in to check access.
Access options
Buy single article
Instant access to the full article PDF.
US$ 39.95
Price includes VAT for USA
Subscribe to journal
Immediate online access to all issues from 2019. Subscription will auto renew annually.
US$ 99
This is the net price. Taxes to be calculated in checkout.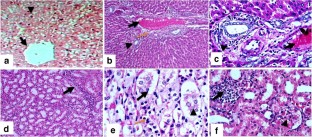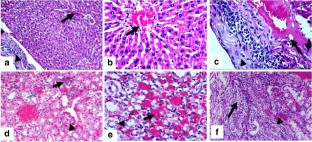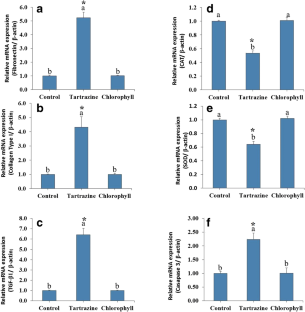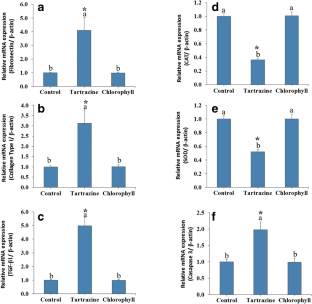 References
Abd-Elhakim YM, Hashem MM, Anwar A, el-Metwally AE, Abo-el-Sooud K, Moustafa GG, Mouneir SM, Ali HA (2018a) Effects of the food additives sodium acid pyrophosphate, sodium acetate, and citric acid on hemato-immunological pathological biomarkers in rats: relation to PPAR-α, PPAR-γ and tnfα signaling pathway. Environ Toxicol Pharmacol 62:98–106. https://doi.org/10.1016/j.etap.2018.07.002

Abd-Elhakim YM, Hashem MM, El-Metwally AE, Anwar A, Abo-El-Sooud K, Moustafa GG, Ali HA (2018b) Comparative haemato-immunotoxic impacts of long-term exposure to tartrazine and chlorophyll in rats. Int Immunopharmacol 63:145–154. https://doi.org/10.1016/j.intimp.2018.08.002

Abo-EL-Sooud K, Hashem MM, Badr YA, Eleiwa MME, Gab-Allaha AQ, Abd-Elhakim YM, Bahy-EL-Dien A (2018) Assessment of hepato-renal damage and genotoxicity induced by long-term exposure to five permitted food additives in rats. Environ Sci Pollut Res 25:26341–26350. https://doi.org/10.1007/s11356-018-2665-z

Aboel-Zahab H, El-Khyat Z, Sidhom G, Awadallah R, Abdel-Al W, Mahdy K (1997) Physiological effects of some synthetic food colouring additives on rats. Boll Chim Farm 136:615–627

Amin K, Hameid IIHA, Elsttar AA (2010a) Effect of food azo dyes tartrazine and carmoisine on biochemical parameters related to renal, hepatic function and oxidative stress biomarkers in young male rats. Food Chem Toxicol 48:2994–2999

Amin KA, Abdel Hameid H, Abd Elsttar AH (2010b) Effect of food azo dyes tartrazine and carmoisine on biochemical parameters related to renal, hepatic function and oxidative stress biomarkers in young male rats. Food Chem Toxicol 48:2994–2999. https://doi.org/10.1016/j.fct.2010.07.039

Barham D, Trinder P (1972) Enzymatic determination of uric acid. Analyst 97:142–145

Beutler E (1969) Effect of flavin compounds on glutathione reductase activity: in vivo and in vitro studies. J Clin Invest 48:1957–1966

Bhatt D, Vyas K, Singh S, John PJ, Soni I (2018) Tartrazine induced neurobiochemical alterations in rat brain sub-regions. Food Chem Toxicol 113:322–327. https://doi.org/10.1016/j.fct.2018.02.011

Chung K-T, Stevens SE, Cerniglia CE (1992) The reduction of azo dyes by the intestinal microflora. Crit Rev Microbiol 18:175–190

Coulombe J, Favreau L (1963) A new simple semimicro method for colorimetric determination of urea. Clin Chem 9:102–108

Dhandayuthapani S, Marimuthu P, Hörmann V, Kumi-Diaka J, Rathinavelu A (2013) Induction of apoptosis in HeLa cells via caspase activation by resveratrol and genistein. J Med Food 16:139–146

El-Wahab HMFA, Moram GSE-D (2013) Toxic effects of some synthetic food colorants and/or flavor additives on male rats. Toxicol Ind Health 29:224–232

Escobar J, Rubio M, Lissi E (1996) SOD and catalase inactivation by singlet oxygen and peroxyl radicals. Free Radic Biol Med 20:285–290

Farrington C, Novak D, Liu C, Haafiz AB (2010) Immunohistochemical localization of transforming growth factor β-1 and its relationship with collagen expression in advanced liver fibrosis due to biliary atresia. Clin Exp Gastroenterol 3:185

FDA (2002) Listing of color additives exempt from certification; sodium copper chlorophyllin. Fed Regist 67(97)

Hashem MM, Abd-Elhakim YM, Abo-EL-Sooud K, Eleiwa MME (2019) Embryotoxic and teratogenic effects of tartrazine in rats. Toxicol Res 35:75–81

Inoue K, Yoshida M, Takahashi M, Shibutani M, Takagi H, Hirose M, Nishikawa A (2009) Induction of kidney and liver cancers by the natural food additive madder color in a two-year rat carcinogenicity study. Food Chem Toxicol 47:184–191

Issa N, El-Sherif N (2015) Histological and immunohistochemical study on the toxic effects of Anthracene on the lung and liver of adult male albino rats and the possible protective role of Ocimum gratissimum extract. J Cell Biol Histol 1:103

JECFA (1996) Joint FAO/WHO Expert Committee on Food Additives [JECFA] 1996. Summary of evaluations performed by the joint FAO/WHO expert committee on food additives (JECFA) 1956–1995 (first through 44th meetings). International Life Sciences Institute (ILSI) Press, WHO, Washington, DC, p T-3

Kojima S, Nara K, Rifkin DB (1993) Requirement for transglutaminase in the activation of latent transforming growth factor-beta in bovine endothelial cells. J Cell Biol 121:439–448

Lausen K (1972) Creatinine assay in the presence of protein with LKB 8600 Reaction Rate Analyser. Clin Chim Acta 38:475–476

Mak KM, Chen LL, Lee TF (2013) Codistribution of collagen type IV and laminin in liver fibrosis of elderly cadavers: immunohistochemical marker of perisinusoidal basement membrane formation. Anat Rec 296:953–964

Mehedi N, Ainad-Tabet S, Mokrane N, Addou S, Zaoui C, Kheroua O, Saidi D (2009) Reproductive toxicology of tartrazine (FD and C Yellow No. 5) in Swiss albino mice. Am J Pharmacol Toxicol 4:130–135

Misra HP, Fridovich I (1972) The role of superoxide anion in the autoxidation of epinephrine and a simple assay for superoxide dismutase. J Biol Chem 247:3170–3175

Mohammadzadeh-Aghdash H, Sohrabi Y, Mohammadi A, Shanehbandi D, Dehghan P, Dolatabadi JEN (2018) Safety assessment of sodium acetate, sodium diacetate and potassium sorbate food additives. Food Chem 257:211–215

Moutaouakkil A, Zeroual Y, Dzayri FZ, Talbi M, Lee K, Blaghen M (2003) Purification and partial characterization of azoreductase from Enterobacter agglomerans. Arch Biochem Biophys 413:139–146

Mpountoukas P, Pantazaki A, Kostareli E, Christodoulou P, Kareli D, Poliliou S, Mourelatos C, Lambropoulou V, Lialiaris T (2010) Cytogenetic evaluation and DNA interaction studies of the food colorants amaranth, erythrosine and tartrazine. Food Chem Toxicol 48:2934–2944

Mustafa HN, El Awdan SA, Hegazy GA, Jaleel GAA (2015) Prophylactic role of coenzyme Q10 and Cynara scolymus L on doxorubicin-induced toxicity in rats: biochemical and immunohistochemical study. Indian J Pharmacol 47:649

Nair V, Turner GA (1984) The thiobarbituric acid test for lipid peroxidation: structure of the adduct with malondialdehyde. Lipids 19:804–805

NRC (2011) National Research Council Committee for the Update of the Guide for the, Care Use of Laboratory, Animals. The National Academies Collection: reports funded by National Institutes of Health. In: th (ed) Guide for the Care and Use of Laboratory Animals. National Academies Press (US) National Academy of Sciences., Washington (DC). https://doi.org/10.17226/12910

Ozaki A, Kitano M, Furusawa N, Yamaguchi H, Kuroda K, Endo G (2002) Genotoxicity of gardenia yellow and its components. Food Chem Toxicol 40:1603–1610

Paget GE, Barnes GM (1964) Evaluation of drug activities, vol 1. Academic Press, London

Poul M, Jarry G, Elhkim MO, Poul J-M (2009) Lack of genotoxic effect of food dyes amaranth, sunset yellow and tartrazine and their metabolites in the gut micronucleus assay in mice. Food Chem Toxicol 47:443–448

Rafati A, Nourzei N, Karbalay-Doust S, Noorafshan A (2017) Using vitamin E to prevent the impairment in behavioral test, cell loss and dendrite changes in medial prefrontal cortex induced by tartrazine in rats. Acta Histochem 119:172–180. https://doi.org/10.1016/j.acthis.2017.01.004

Raposa B et al (2016) Food additives: sodium benzoate, potassium sorbate, azorubine, and tartrazine modify the expression of NFκB, GADD45α, and MAPK8 genes. Physiol Int(Acta Physiologica Hungarica) 103:334–343

Reitman S, Frankel S (1957) A colorimetric method for the determination of serum glutamic oxalacetic and glutamic pyruvic transaminases. Am J Clin Pathol 28:56–63

Saxena B, Sharma S (2015) Food color induced hepatotoxicity in Swiss albino rats, Rattus norvegicus. Toxicol Int 22:152

Sherif IO, Al-Gayyar MM (2013) Antioxidant, anti-inflammatory and hepatoprotective effects of silymarin on hepatic dysfunction induced by sodium nitrite. Eur Cytokine Netw 24:114–121

Sinha AK (1972) Colorimetric assay of catalase. Anal Biochem 47:389–394

Suvarna KS, Layton C, Bancroft JD (2012) Bancroft's theory and practice of histological techniques E-book. Elsevier Health Sciences

Tietz N et al (1983) A reference method for measurement of alkaline phosphatase activity in human serum. Clin Chem 29:751–761

Toyoda T, Cho Y-M, Mizuta Y, Akagi J-i, Nishikawa A, Ogawa K (2014) A 13-week subchronic toxicity study of sodium iron chlorophyllin in F344 rats. J Toxicol Sci 39:109–119

Van der Oost R, Beyer J, Vermeulen NP (2003) Fish bioaccumulation and biomarkers in environmental risk assessment: a review. Environ Toxicol Pharmacol 13:57–149

Yilmaz S, Atessahin A, Sahna E, Karahan I, Ozer S (2006) Protective effect of lycopene on adriamycin-induced cardiotoxicity and nephrotoxicity. Toxicology 218:164–171

Zhang Z-F, Fan S-H, Zheng Y-L, Lu J, Wu D-M, Shan Q, Hu B (2009) Purple sweet potato color attenuates oxidative stress and inflammatory response induced by d-galactose in mouse liver. Food Chem Toxicol 47:496–501
Funding
This work was financially supported by Cairo University in a project entitled "Assessment of Residual Patterns and Genotoxicity of Some Food Additives using LMRS (laser molecular Raman spectroscopy)".
Ethics declarations
The experimental procedures were done in accordance with the National Institutes of Health Guide for the Care and Use of Laboratory Animals in scientific investigations (NRC 2011) and were accepted by the Ethics of Animal Use in Research Committee of Cairo University, Egypt.
Conflict of interest
The authors declare that they have no conflicts of interest.
Additional information
Publisher's note
Springer Nature remains neutral with regard to jurisdictional claims in published maps and institutional affiliations.
Responsible editor: Philippe Garrigues
About this article
Cite this article
Abd-Elhakim, Y.M., Moustafa, G.G., Hashem, M.M. et al. Influence of the long-term exposure to tartrazine and chlorophyll on the fibrogenic signalling pathway in liver and kidney of rats: the expression patterns of collagen 1-α, TGFβ-1, fibronectin, and caspase-3 genes. Environ Sci Pollut Res 26, 12368–12378 (2019). https://doi.org/10.1007/s11356-019-04734-w
Received:

Accepted:

Published:

Issue Date:
Keywords
Tartrazine

Chlorophyll

Collagen 1-α

TGFβ-1

Fibronectin

Caspase-3