Abstract
Advanced oxidation processes, including UV/H2O2, are methods able to remove diverse classes of organic contaminants and disinfect water and wastewater. However, the variation in the matrix composition can influence the inactivation of microorganisms due to the presence of competing reactive material, which consumes the available oxidants. This problem can lead to the use of inadequate oxidant/radiation dose and disturb a correct treatment. The aim of this study was to assess the efficiency of UV/H2O2 to inactivate microbiological indicators in secondary effluents in the presence of high concentration of carbonate, nitrate, metals, and industrial organic contaminants. Metals had a positive influence on inactivation acting as catalysts. Zn, Fe, and all metals simultaneously presented toxic effects to the indicator organisms in the higher concentrations before the treatment. Even in metals presence, the negative effect of carbonate and the industrial organic contaminants on indicators inactivation was very important. Bacteria regrowth after 72 h was also affected by the same inhibiting substances, but the metals acted positively inhibiting it. The disinfection indicators had different sensibilities to the spiked substances. Escherichia coli inactivation was more affected than total coliforms by the presence of the industrial contamination, which can lead to different interpretation of inhibition degree depending of the used disinfection indicator.
This is a preview of subscription content, log in to check access.
Access options
Buy single article
Instant access to the full article PDF.
US$ 39.95
Tax calculation will be finalised during checkout.
Subscribe to journal
Immediate online access to all issues from 2019. Subscription will auto renew annually.
US$ 99
Tax calculation will be finalised during checkout.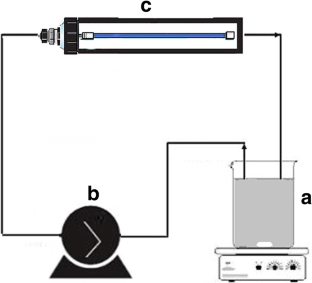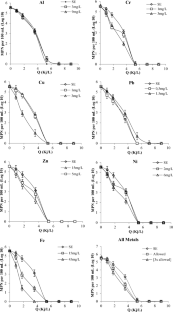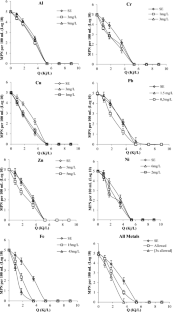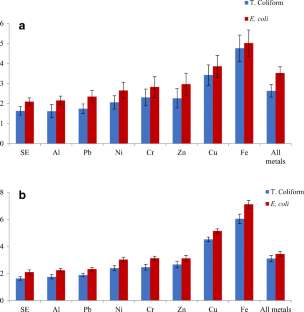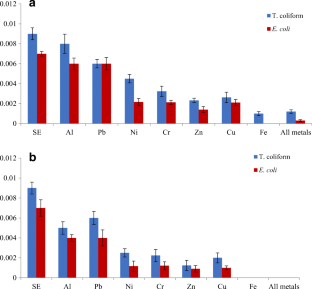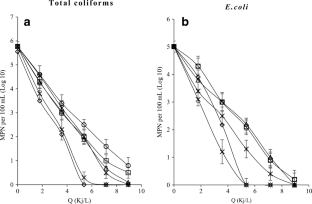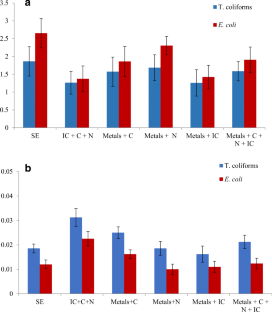 References
Abdel-Raouf N, Al-Homaidan AA, Ibraheem IBM (2012) Microalgae and wastewater treatment. Saudi J Biol Sci 19:257–275

ABNT (1997) Brazilian association of technical standards—NBR 13969/97—septic tank—units for treatment and disposal of liquid effluents—project, construction and operation. Brazil. pp 60

Anipsitakis GP, Dionysiou DD (2004) Radical generation by the interaction of transition metals with common oxidants. Environ Sci Technol 38:3705–3712

APHA, AWWA,WEF (2012) Standard methods for the examination of water and wastewater, 22nd edn. American Public Health Association, Washington, DC

Asif N, Ali SS, Bhatti Z, Zafar R (2013) Chemically enhanced primary wastewater treatment (CEPT) in conjunction with H2O2/UV technology in controlled atmosphere. Res J Environ Earth Sci 5(3):153–159

Bokare AD, Choi W (2011) Advanced oxidation process based on the Cr(III)/Cr(VI) redox cycle. Environ Sci Technol 45:9332–9338

Buthiyappan A, Aziz ARA, Daud WMAW (2015) Recent advances and prospects of catalytic advanced oxidation process in treating textile effluents. Rev Chem Eng 32:1–47. https://doi.org/10.1515/revce-2015-0034

Cohn CA, Pak A, Schoonen MA, Strongin DR (2005) Quantifying hydrogen peroxide in iron-containing solutions using leuco crystal violet. Geochem Trans 6(3):47–52

Conde A, Vilella L, Balcells D, Díaz-Requejo MM, Lledos A, Perez PJ (2013) Introducing copper as catalyst for oxidative alkane dehydrogenation. J Am Chem Soc 135:3887–3896

de Abreu P, Pereira EL, Campos CMM, Naves FL (2013) Photocatalytic oxidation process (UV/H2O2/ZnO) in the treatment and sterilization of dairy wastewater. Acta Scientiarum Technol 35(1):75–81

Deguillaume L, Leriche M, Desboeufs K, Mailhot G, George C, Chaumerliac N (2005) Transition metals in atmospheric liquid phases: sources, reactivity, and sensitive parameters. Chem Rev 105(9):3388–3431 [PubMed]

Dehghani MH, Heibati B, Asadi A, Tyagi I, Agarwal S, Gupta VK (2016) Reduction of noxious Cr(VI) ion to Cr(III) ion in aqueous solutions using H2O2 and UV/H2O2 systems. J Ind Eng Chem 33:197–200

Domek MJ, Lechevallier MW, Cameron SC, McFETERS GA (1984) Evidence for the role of copper in the injury process of coliform bacteria in drinking water. Appl Environ Microbiol 48(2):289–293

Domènech X, Peral J, Pérez M, Torrades F (2002) Fenton and photo-Fenton oxidation of textile effluents. Water Res 36:2703–2710

Dupont CL, Grassb G, Rensing C (2011) Copper toxicity and the origin of bacterial resistance—new insights and applications. Metallomics 3(11):1109–1118

Fricker EJ, Fricker CR (1996) Use of defined substrate technology and a novel procedure for estimating the numbers of enterococci in water. J Microbiol Methods 27(2–3):207–210

Glorias-Garcia F, Arriaga-Merced JM, Roa-Morales G, Varela-Guerrero V, Barrera-Díaz CE, Bilyeu B (2014) Fast reduction of Cr(VI) from aqueous solutions using alumina. J Ind Eng Chem 20:2477–2483

Gonzales S, Peña A, Rosario-Ortiz FL (2012) Examining the role of effluent organic matter components on the decomposition of ozone and formation of hydroxyl radical in wastewater. Ozone Sci Eng 34:42–48

Ho YC, Show KY, Guo XX, Norli I, Alkarkhi Abbas FM, Morad N. (2012) Industrial discharge and their effect to the environment, Industrial Waste, Show K-Y (Ed.), InTech, pp. 32

Hoff JC, Akin EW (1986) Microbial resistance to disinfectants: mechanisms and significance. Environ Health Perspect 69:7–13

Hosseini SS, Bringas E, Tan NR, Ortiz I, Ghahramani M, Shahmirzadi MAA (2016) Recent progress in development of high performance polymeric membranes and materials for metal plating wastewater treatment: a review. J Water Proc Eng 9:78–110

Idexx Laboratories (2018) Colilert®: A simple 24-hour test for coliforms and E. coli. https://www.idexx.com/pdf/en_us/water/6406300l.pdf. (Accessed 30 Jul 2018)

Ikai H, Nakamura K, Shirato M, Kanno T, Iwasawa A, Sasaki K, Niwano Y, Kohno M (2010) Photolysis of hydrogen peroxide, an effective disinfection system via hydroxyl radical formation. Antimicrob Agents Chemother 54:5086–5091

Imlay JA (2008) Cellular defenses against superoxide and hydrogen peroxide. Annu Rev Biochem 77:755–776

Khuntia S, Majumder SK, Ghosh P (2015) Quantitative prediction of generation of hydroxyl radicals from ozone microbubbles. Chem Eng Res Des 98:231–239

Koivunen J, Heinonen-Tanski H (2005) Inactivation of enteric microorganisms with chemical disinfectants, UV irradiation and combined chemical/UV treatments. Water Res 39(8):1519–1526

Krishnan S, Rawindran H, Sinnathambi CM, Lim JW (2017) Comparison of various advanced oxidation processes used in remediation of industrial wastewater laden with recalcitrant pollutants. IOP Conf Ser: Mater Sci Eng 206:012089

Liu J, Qu W, Kadiiska MB (2009) Role of oxidative stress in cadmium toxicity and carcinogenesis. Toxicol Appl Pharmacol 238(3):209–214

Long C, Wei M, Huang L, Fei P, Xia D, Li X, Xu A (2014) Efficient H2O2 oxidation of organic dyes catalyzed by simple copper(II) ions in bicarbonate aqueous solution. Ind Eng Chem Res 53:3478–3485

Malvestiti JA, Dantas RF (2017) Disinfection of secondary effluents by O3, O3/H2O2 and UV/H2O2: influence of carbonate, nitrate, industrial contaminants and regrowth. J Environ Chem Eng 6:560–567

Malvestiti JA, Fagnani E, Simão D, Dantas RF (2018) Optimization of UV/H2O2 and ozone wastewater treatment by the experimental design methodology. Environ Technol 12:1–13

Mierzwa JC, Rodrigues R, Teixeira ACSC (2018) UV-hydrogen peroxide processes. In: Ameta R, Solanki SM, Surbhi B, Ameta SC (eds) Advanced oxidation processes for waste water treatment. Publisher, Elsevier, pp 13–48

Moncayo-Lasso A, Rincon AG, Pulgarin C, Benitez N (2012) Significant decrease of THMs generated during chlorination of river water by previous photo-Fenton treatment at near neutral pH. J Photochem Photobiol A Chem 229(1):46–52

Mondal B, Adak A, Datta P (2017) Effect of operating conditions and interfering substances on photochemical degradation of a cationic surfactant. Environ Technol 23:1–10

Monteiro GS, Staggemeier R, Klauck CR, Bernardes AM, Rodrigues MAS, Spilki FR (2015) Degradation and inactivation of adenovirus in water by photo-electro-oxidation. Braz J Biol 75(4, Suppl. 2):37–42

Moreira S, Fazza EV (2008) Evaluation of water and sediment of the Graminha and Águas da Serra streams in the city of Limeira (Sp-Brazil) by synchrotron radiation total reflection X-ray fluorescence. Spectrochim Acta B 63:1432–1442

Morrison KD, Misra R, Williams LB (2016) Unearthing the antibacterial mechanism of medicinal clay: a geochemical approach to combating antibiotic resistance. Sci Rep 6:19,043

Munter R (2001) Advanced oxidation processes – current status and prospects. Proc Estonian Acad Sci Chem 50(2):59–80

Muruganandham M, Suri RPS, Jafari S, Sillanpää M, Gang-Juan L, Wu JJ, Swaminathan M (2014) Recent developments in homogeneous advanced oxidation processes for water and wastewater treatment. Int J Photoenergy 2014:1–21

Ng TW, An T, Li G, Ho WK, Yip HY, Zhao H, Wong PK (2015) The role and synergistic effect of the light irradiation and H2O2 in photocatalytic inactivation of Escherichia coli. J Photochem Photobiol B 149:164–171

Nidheesh P, Khatri J, Anantha ST, Gandhimathi R, Ramesh S (2018) Review of zero-valent aluminium based water and wastewater treatment methods. Chemosphere 200:621–631

Niki E, Yoshida Y, Saito Y, Noguchi N (2005) Lipid peroxidation: mechanisms, inhibition, and biological effects. Biochem Biophys Res Commun 338:668–676

Nogueira RFP, Oliveira MC, Paterlini WC (2005) Simple and fast spectrophotometric determination of H2O2 in photo-Fenton reactions using metavanadate. Talanta 66:86–91

Olstadt J, Schauer J, Standridge J, Kluender S (2007) A Comparison of ten USEPA approved total coliform/E. coli tests. J Water Health 5(2):267–282

Omburo GA, Kuo JM, Mullins LS, Raushel FM (1992) Characterization of the zinc binding site of bacterial phosphotriesterase. J Biol Chem 267(19):13278–13283

Paphane BD, Ramirez LL (2013) Chemical pre-treatment of anionic surfactants contaminated waste water at enaspol as using H2O2/UV light waste water pretreatment method. J Environ Anal Toxicol 3:181

Peng L, Lifang R, Hongyu X, Xi L, Chaocan Z (2007) Study on the toxic effect of lead (II) ion on Escherichia coli. Biol Trace Elem Res 115(2):195–202

Pozdnyakova I, Guidry J, Wittung-Stafshede P (2000) Copper triggered β-hairpin formation. Initiation site for azurin folding? J Am Chem Soc 122:6337–6338

Prasse C, Ford B, Nomura D, Sedlak D (2018) Unexpected transformation of dissolved phenols to toxic dicarbonyls by hydroxyl radicals and UV light. Proc Natl Acad Sci U S A 115(10):2311–2316

Qi F, Xu B, Li S, Chen Z, Zhang L, Sun D (2012) Catalyzed ozonation decomposition of taste and odor-causing substances in water and simultaneous control of aldehyde generation. Environ Eng Sci 29(7):580–589

Qi F, Xu B, Chen Z, Feng L, Zhang L, Sun D (2013) Catalytic ozonation of 2-isopropyl-3-methoxypyrazine in water by gAlOOH and g-Al2O3: comparison of removal efficiency and mechanism. Chem Eng J 219:527–536

Radović MD, Mitrović JZ, Kostić MM, Bojić DV, Petrović MM, Najdanović SM, Lj Bojić A (2015) Comparison of ultraviolet radiation/hydrogen peroxide, Fenton and photo-Fenton processes for the decolorization of reactive dyes. Hem Ind 69(6):657–665

Raffellini S, Schenk M, Guerrero S, Alzamora SM (2011) Kinetics of Escherichia coli inactivation employing hydrogen peroxide at varying temperatures, pH and concentrations. Food Control 22:920–932

Rehman MSU, Ahmad N, Yasar A, Sarwar M, Muhammad A (2006) Application of H2O2, UV & UV/H2O2 systems for the post treatment of bio-treated industrial wastewater. Elec J Env Agricult Food Chem Title 5:1575–1582

Ribeiro A, Nunes O, Pereira M, Silva A (2015) An overview on the advanced oxidation processes applied for the treatment of water pollutants defined in the recently launched Directive 2013/39/EU. Environ Int 75:33–51

Rosario-Ortiz F, Wert E, Snyder S (2010) Evaluation of UV/H2O2 treatment for the oxidation of pharmaceuticals in wastewater. Water Res 44(5):1440–1448

Rubio D, Nebot E, Casanueva JF, Pulgarin C (2013) Comparative effect of simulated solar light, UV, UV/H2O2 and photo-Fenton treatment (UV-Vis/H2O2/Fe2D,3D) in the Escherichia coli inactivation in artificial seawater. Water Res 47:6367–6379

Sani RK, Rastogi G, Moberly JG, Dohnalkova A, Ginn TR, Spycher N, Shende RV, Peyton BM (2010) The toxicity of lead to Desulfovibrio desulfuricans G20 in the presence of goethite and quartz. J Basic Microbiol 50:160–170

Schoonen MA, Cohn CA, Roemer E, Laffers R, Simon SR, O'Riordan T (2006) Mineral-induced formation of reactive oxygen species. Rev Mineral Geochem 64(1):179–221

Semitsoglou-Tsiapou S, Mous A, Templeton MR, Graham NJD, Hernández Leal L, Kruithof JC (2016) The role of natural organic matter in nitrite formation by LP-UV/H2O2 treatment of nitrate-rich water. Water Res 106:312–319

Shin GA, Linden KG, Arrowood MJ, Sobsey MD (2001) Low-pressure UV inactivation and DNA repair potential of Cryptosporidium parvum oocysts. Appl Environ Microbiol 67:3029–3032

Sire's I, Garrido JA, Rodrıguez RM, Cabot PL, Centellas C, Arias C, Brillas E (2006) Electrochemical synthesis and engineering-electrochemical degradation of paracetamol from water by catalytic action of Fe2+, Cu2+, and UVA light on electrogenerated hydrogen peroxide. J Electrochem Soc 153:1–9

Škodič L, Vajnhandl S, Valh JV, Željko T, Vončina B, Lobnik A (2017) Comparative study of reactive dyes oxidation by H2O2/UV, H2O2/UV/Fe2+ and H2O2/UV/Fe° Processes. Ozone Sci Eng 39(1):14–23

Sugarman B (1983) Zinc and infection. Rev Infect Dis 5:137–147

Sun Y, Fenster M, Yu A, Berry RM, Argyropoulos DS (1999) The effect of metal ions on the reaction of hydrogen peroxide with Kraft lignin model compounds. Can J Chem Vol 77:667–675

Teixeira ACSC, Mendes L, Stollar G, Guardani R, do Nascimento CAO (2005) Photo-fenton remediation of wastewaters containing agrochemicals. Braz Arch Biol Technol 48(spe):207–218

USEPA (2012) Guidelines for water reuse. Office of Water US Environmental Protection Agency, Washington, DC. EPA/600/R-12/618, p 643

Wagner M, Brumelis D, Gehr R (2002) Disinfection of wastewater by hydrogen peroxide or peracetic acid: development of procedures for measurement of residual disinfectant and application to a physicochemically treated municipal effluent. Water Environ Res 74(1):33–50

Watts RJ, Washington D, Howsawkeng J, Loge FJ, Teel AL (2003) Comparative toxicity of hydrogen peroxide, hydroxyl radicals, and superoxide to Escherichia coli. Adv Environ Res 7:961–968

Yao J, Liu Y, Liang HG, Zhang C, Zhu JZ, Qin X, Sun M, Qu SS, Yu ZN (2005) The effect of zinc(II) on the growth of E. coli studied by microcalorimetry. J Therm Anal Calorim 79(1):39–43

Yerkinova A, Balbayeva G, Inglezakis VJ, Poulopoulos SG (2018) Photocatalytic treatment of a synthetic wastewater. IOP Conf. Series. Mater Sci Eng 301(1):012143

Zhang A, Li Y (2014) Removal of phenolic endocrine disrupting compounds from waste activated sludge using UV, H2O2, and UV/H2O2 oxidation processes: effects of reaction conditions and sludge matrix. Sci Total Environ 493C:307–323

Zhou YM, Zhong CY, Kennedy IM, Leppert VJ, Pinkerton KE (2003) Oxidative stress and NF kappa B activation in the lungs of rats: a synergistic interaction between soot and iron particles. Toxicol Appl Pharmacol 190(2):157–169

Zotesso JP, Cossich ES, Janeiro V, Tavares CRG (2017) Treatment of hospital laundry wastewater by UV/H2O2 process. Environ Sci Pollut Res 24(7):6278–6287

Zuorro A, Lavecchia R (2014) Evaluation of UV/H2O2 advanced oxidation process (AOP) for the degradation of diazo dye Reactive Green 19 in aqueous solution. Desalin Water Treat 52:1571–1577
Funding
Financial support was provided by the Sao Paulo Research Foundation (FAPESP) grants [2014/17774-1 and 2016/07911-7] and the Brazilian National Council for Scientific and Technological Development (CNPq) grants [424395/2016-9 and 308914/2017-1].
Ethics declarations
Conflict of interest
The authors declare that they have no conflict of interest.
Additional information
Publisher's note
Springer Nature remains neutral with regard to jurisdictional claims in published maps and institutional affiliations.
Highlights
• The transition metals acted as catalysts of the disinfection.
• Carbonate, nitrate, and organic industrial contaminants inhibited disinfection.
• Regrowth was also increase by disinfection inhibitors.
• Escherichia coli was more inhibited than total coliforms.
• Industrial contamination caused 50% of cost increase in disinfection.
Responsible editor: Vítor Pais Vilar
Electronic supplementary material
About this article
Cite this article
A. Malvestiti, J., F. Dantas, R. Influence of industrial contamination in municipal secondary effluent disinfection by UV/H2O2. Environ Sci Pollut Res 26, 13286–13298 (2019). https://doi.org/10.1007/s11356-019-04705-1
Received:

Accepted:

Published:

Issue Date:
Keywords
Secondary effluent

Matrix composition

Industrial contamination

Toxicity

Disinfection

Regrowth