Abstract
In this work, a new type of advanced 3D mesoporous carbon nanocomposites derived from Zn dust/PET bottle mixed waste with a high surface area is created. Interestingly, simultaneous transformation of Zn metal into ZnO nanoparticles and PET bottle waste to porous carbon materials occurred upon thermal treatment at 700 °C. The effect of the amount of Zn metal on the prepared materials has been studied. The carbon material-based waste presented very large surface area (up to 684.5 m2/g) with pore size distribution (18.47–16.88 nm). The SEM and TEM analysis revealed that the produced carbon materials have 3D porous dense layers with a gradient pore structure. The created waste-based nanocomposite exhibited an enhanced photocatalytic performance for the degradation of organic dyes (methylene blue and malachite green). It is believed that the presented work not only provides a sustainable approach to the creation of new nanocomposites of ZnO-mesoporous carbon materials for the application in photocatalysis but also introduces a new way of upcycling of mixed waste materials.
Access options
Buy single article
Instant access to the full article PDF.
USD 39.95
Price includes VAT (USA)
Tax calculation will be finalised during checkout.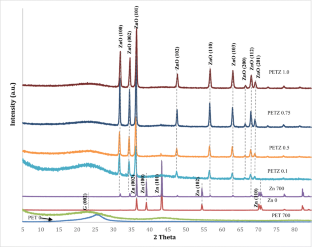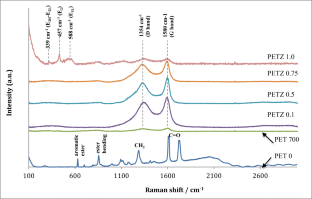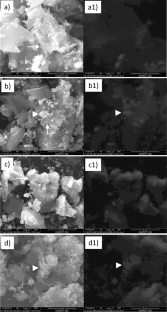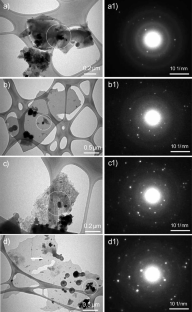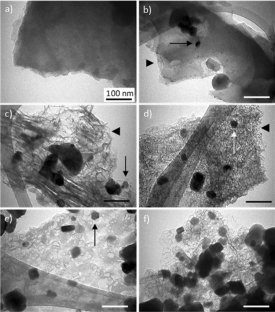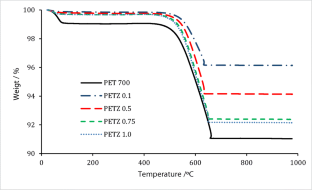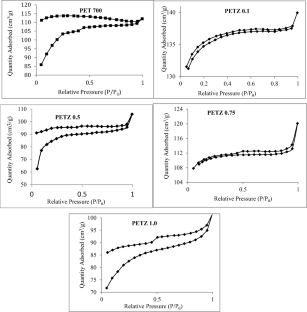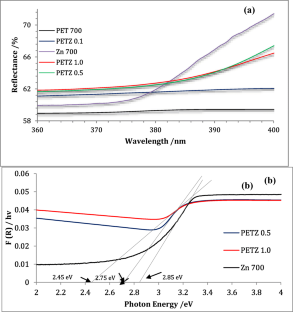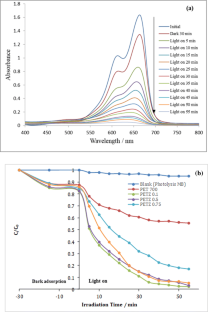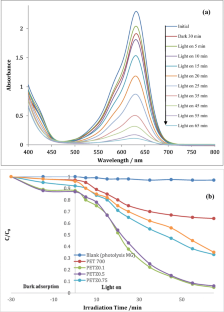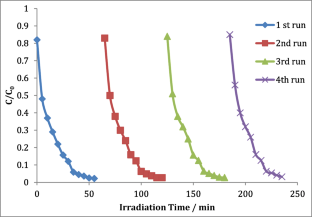 References
Ajji A et al (1995) Amorphous orientation of poly (ethylene terephthalate) by X-ray diffraction in combination with Fourier transform infra-red spectroscopy. Polymer Elsevier 36(21):4023–4030

Akhavan O, Bijanzadm K, Mirsepah A (2014) Synthesis of graphene from natural and industrial carbonaceous wastes. RSC Adv 4:20441–20448

Anene AF et al (2018) Experimental study of thermal and catalytic pyrolysis of plastic waste components. Sustainability 10:3979

Buekens AG, Huang H (1998) Catalytic plastics cracking for recovery of gasoline-range hydrocarbons from municipal plastic wastes. Resour Conserv Recycl Elsevier 23(3):163–181

Chen J-C, Tang C-T (2007) Preparation and application of granular ZnO/Al2O3 catalyst for the removal of hazardous trichloroethylene. J Hazard Mater Elsevier 142(1–2):88–96

Chen D et al (2015) Reprint of: pyrolysis technologies for municipal solid waste: a review. Waste Manag Elsevier 37:116–136

Dai H (2002) Carbon nanotubes: opportunities and challenges. Surf Sci Elsevier 500(1–3):218–241

De Volder MFL et al (2013) Carbon nanotubes: present and future commercial applications. Sci Am Assoc Adv Sci 339(6119):535–539

Dědková K et al (2015) ZnO/graphite composites and its antibacterial activity at different conditions. J Photochem Photobiol B 151:256–263

Dervishi E et al (2009) Carbon nanotubes: synthesis, properties, and applications. Part Sci Technol Taylor & Francis 27(2):107–125

Ding Y et al (2016) Cellulose tailored Anatase TiO2 nanospindles in three-dimensional graphene composites for high-performance supercapacitors. ACS Appl Mater Interfaces 8(19):12165–12175

Ding J et al (2017) Hydroxylated graphene-based flexible carbon film with ultrahigh electrical and thermal conductivity. Nanotechnology 28:395404

Dong Y et al (2015) Graphene/acid assisted facile synthesis of structure-tuned Fe3O4 and graphene composites as anode materials for lithium ion batteries. Carbon Elsevier 86:310–317

Dvorak P, Jandova J (2005) Hydrometallurgical recovery of zinc from hot dip galvanizing ash. Hydrometallurgy Elsevier 77(1–2):29–33

Esfandiari A, Kaghazchi T, Soleimani M (2012) Preparation and evaluation of activated carbons obtained by physical activation of polyethyleneterephthalate (PET) wastes. J Taiwan Inst Chem Eng Elsevier 43(4):631–637

Fu H et al (2017) Characteristics of pore structure and fractal dimension of low-rank coal: a case study of lower Jurassic Xishanyao coal in the southern Junggar Basin, NW China. Fuel 193:254–264

Geim AK, Novoselov KS (2007) The rise of graphene. Nat Mater. Nature Publishing Group 6(3):183

Goodman I, Nesbitt BF (1960) The structures and reversible polymarization of cyclic oligomers from poly(ethylene terphthalte). Polymer 1:384–396

Gottardi S et al (2014) Self-assembly: cyano-functionalized triarylamines on au(111): competing intermolecular versus molecule/substrate interactions. Adv Mater Interfaces 2014(1):1300150

Gupta A, Johnson EF, Schlossel RH (1987) Investigation into the ion exchange of the cyanide complexes of zinc (2+), cadmium (2+), and copper (1+) ions. Ind Eng Chem Res. ACS Publications 26(3):588–594

Howard JB et al (1991) Fullerenes C60 and C70 in flames. Nature. Nature Publishing Group 352(6331):139

Howard JB, Chowdhury KD, Vander Sande JB (1994) Carbon shells in flames. Nature. Nature Publishing Group 370(6491):603

Hujuri U, Ghoshal AK, Gumma S (2013) Temperature-dependent pyrolytic product evolution profile for polyethylene terephthalate. J Appl Polym Sci 130:3993–4000

Irwin RJ et al (1997) Environmental contaminants encyclopedia: Lead entry. National Parks Service, Water Resources Division, Fort Collins

Jadhav U, Hocheng H (2015) Hydrometallurgical recovery of metals from large printed circuit board pieces. Sci Rep Nat Publ Group 5:14574

Jan MR, Shah J, Gulab H (2013) Catalytic conversion of waste high-density polyethylene into useful hydrocarbons. Fuel. Elsevier 105:595–602

Kim SC, Kim SJ, Yu EY (1997) The effect of alkali metal salts on ZnO$α$-Al2O3 and MnO2 catalysts for the oxidative coupling of methane. Appl Catal A Gen. Elsevier 150(1):63–76

Lerici LC, Renzini MS, Pierella LB (2015) Chemical catalyzed recycling of polymers: catalytic conversion of PE, PP and PS into fuels and chemicals over HY. Procedia Mater Sci. Elsevier 8:297–303

Leung AOW et al (2008) Heavy metals concentrations of surface dust from e-waste recycling and its human health implications in Southeast China. Environ Sci Technol ACS Publications 42(7):2674–2680

Linden D (1995) Handbook of batteries. In: Fuel and energy abstracts, p 265

Lin-Vien D et al (1991) The handbook of infrared and Raman characteristic frequencies of organic molecules. Elsevier

Lovett S, Berruti F, Behie LA (1997) Ultrapyrolytic upgrading of plastic wastes and plastics/heavy oil mixtures to valuable light gas products. Ind Eng Chem Res. ACS Publications 36(11):4436–4444

Mauter MS, Elimelech M (2008) Environmental applications of carbon-based nanomaterials. Environ Sci Technol 42(16):5843–5859

Memon MA, Bai W, Sun J, Imran M, Phulpoto SN, Yan S, Huang Y, Geng J (2016) Conjunction of conducting polymer nanostructures with macroporous structured graphene thin films for high-performance flexible supercapacitors. ACS Appl Mater Interfaces 8(18):11711–11719

Mhamane D et al (2011) From graphite oxide to highly water dispersible functionalized graphene by single step plant extract-induced deoxygenation. Green Chem R Soc Chem 13(8):1990–1996

Mishra N et al (2012) Pyrolysis of waste polypropylene for the synthesis of carbon nanotubes. J Anal Appl Pyrolysis. Elsevier 94:91–98

Miskolczi N et al (2009) Fuels by pyrolysis of waste plastics from agricultural and packaging sectors in a pilot scale reactor. Fuel Process Technol Elsevier 90(7–8):1032–1040

Mohamed HH (2018) Sonochemical synthesis of ZnO hollow microstructure/reduced graphene oxide for enhanced sunlight photocatalytic degradation of organic pollutants. J Photochem Photobiol A Chem 353:401–408

Mohamed HH, Alsanea A (2018) TiO2/carbon dots decorated reduced graphene oxide composites from waste car bumper and TiO2 nanoparticles for photocatalytic applications. Arab J Chem, In press. https://doi.org/10.1016/j.arabjc.2018.08.016

Mohamed HH, Mohamed SK (2018) Rutile TiO2 nanorods/MWCNT composites for enhanced simultaneous photocatalytic oxidation of organic dyes and reduction of metal ions. Mater Res Express 5:015057

Mohamed et al (2018) Multifunctional TiO2 microspheres-rGO as highly active visible light photocatalyst and antimicrobial agent. Mater Express 8(4):345–352

Morf LS et al (2013) Precious metals and rare earth elements in municipal solid waste--sources and fate in a Swiss incineration plant. Waste Manag Elsevier 33(3):634–644

Murthy NS, Correale ST, Minor H (1991) Structure of the amorphous phase in crystallizable polymers: poly (ethylene terephthalate). Macromolecules ACS Publications 24(5):1185–1189

Muthirulan PM et al (2013) Beneficial role of ZnO photocatalyst supported with porous activated carbon for the mineralization of alizarin cyanin green dye in aqueous solution. J Adv Res 6:479–484

Nasir S, Hussein M, Zainal Z, Yusof N (2018) Carbon-based nanomaterials/allotropes: a glimpse of their synthesis, properties and some applications. Materials 11:295. https://doi.org/10.3390/ma11020295

Paquin R, Limage M-H, Colomban P (2007) Micro-Raman study of PET single fibres under high hydrostatic pressure: phase/conformation transition and amorphization. J Raman Spectrosc Wiley Online Library 38(9):1097–1105

Popov VN (2004) Carbon nanotubes: properties and application. Mater Sci Eng R Rep Elsevier 43(3):61–102

Richter H et al (1997) Generation of higher fullerenes in flames. J Phys Chem B ACS Publications 101(9):1556–1560

Ruan G, Sun Z, Peng Z, Tour JM (2011) Growth of graphene from food, insects, and waste. ACS Nano 5(9):7601–7607

Samperi F, Puglisi C, Alicata R, Montaudo G (2004) Thermal degradation of poly(butylene terephthalate) at the processing temperature. Polym Degrad Stab 83:11–17

Schmucker SC (1893) The electrolytic separation of the metals of the second group. J Am Chem Soc ACS Publications 15(4):195–206

Sharma BK et al (2014) Production, characterization and fuel properties of alternative diesel fuel from pyrolysis of waste plastic grocery bags. Fuel Process Technol Elsevier 122:79–90

Shinde VV et al (2014) Surfactant free microwave assisted synthesis of ZnO microspheres: study of their antibacterial activity. Appl Surf Sci Elsevier 307:495–502

Singh et al (2016) Graphene oxide: strategies for synthesis, reduction and frontier applications. RSC Adv 6:64993–65011

Socrates G (2001) Infrared and Raman characteristic group frequencies: tables and charts. John Wiley & Sons

Tang T et al (2005) Synthesis of multiwalled carbon nanotubes by catalytic combustion of polypropylene. Angewandte Chemie International Edition Wiley Online Library 44(10):1517–1520

To JWF et al (2015) Ultrahigh surface area three-dimensional porous graphitic carbon from conjugated polymeric molecular framework. ACS Cent Sci 1:68–76

Vander Hoogerstraete T, Onghena B, Binnemans K (2013) Homogeneous liquid--liquid extraction of metal ions with a functionalized ionic liquid. J Phys Chem Lett. ACS Publications 4(10):1659–1663

Xu J, Wang Y, Hu S (2017) Nanocomposites of graphene and graphene oxides: synthesis, molecular functionalization and application in electrochemical sensors and biosensors. A review. Microchim Acta 184:1–44

Yang M-H, Lin Y-H (2009) Catalytic conversion of postconsumer PE/PP waste into hydrocarbons using the FCC process with an equilibrium FCC commercial catalyst. J Appl Polym Sci Wiley Online Library 114(1):193–203

Yatskiv R, Grym J (2018) Influence of the interaction between graphite and polar surfaces of ZnO on the formation of Schottky contact. J Electron Mater 47:5002–5006

Zhang L, Cheng H, Zong R, Zhu Y (2009) Photocorrosion suppression of ZnO nanoparticles via hybridization with graphite-like carbon and enhanced photocatalytic activity. J Phys Chem C 113(6):2368–2374

Zhao YL et al (2017) ZnO Nanomembrane/expanded graphite composite synthesized by atomic layer deposition as binder-free anode for Lithium ion batteries. ACS Appl Mater Interfaces 9:38522–38529

Zhou Y, Qiu K (2010) A new technology for recycling materials from waste printed circuit boards. J Hazard Mater Elsevier 175(1–3):823–828

Zhou H, Liu Q, Liu W, Ge J, Lan M, Wang C, Geng J, Wang P (2014) Template-free preparation of Volvox-like CdxZn1−xS Nanospheres with cubic phase for efficient photocatalytic hydrogen production. Chem-Asian J 9:811–818

Zhuo C, Levendis YA (2014) Upcycling waste plastics into carbon nanomaterials: a review. J Appl Polym Sci Wiley Online Library 131(4)
Acknowledgements
The authors gratefully acknowledge the research units at College of Science and Institute for Research and Medical Consultations, Imam Abdulrahman Bin Faisal University.
Funding
This work is financially supported by the Deanship of Scientific Research of Imam Abdulrahman Bin Faisal University, Saudi Arabia (Grant Nos. 2016-074-Sci).
Additional information
Publisher's note
Springer Nature remains neutral with regard to jurisdictional claims in published maps and institutional affiliations.
Responsible editor: Suresh Pillai
About this article
Cite this article
Mohamed, H.H., Alsanea, A.A., Alomair, N.A. et al. ZnO@ porous graphite nanocomposite from waste for superior photocatalytic activity. Environ Sci Pollut Res 26, 12288–12301 (2019). https://doi.org/10.1007/s11356-019-04684-3
Received:

Accepted:

Published:

Issue Date:
Keywords
PET/Zn mixed waste

Simultaneous upcycling

ZnO/graphite nanocomposite

Photocatalysis