Abstract
Bisphenol A (BPA) is a chemical found in environmental xenoestrogen. In the present study, olive oil, curcumin, taurine, BPA, curcumin plus BPA, and taurine plus BPA were exposed to rats for 4 weeks via gavage. Content of malondialdehyde and activities of antioxidant enzymes (GPx, GST, SOD, CAT) and also histopathological and cytopathological changes of heart were studied. No significant changes in all studied parameters were seen between control, olive oil, curcumin, and taurine-treated groups. However, there were significant differences in levels of malondialdehyde and activities of antioxidant enzymes in BPA-exposed rats and some histo/cytopathological changes determined. In curcumin plus BPA-exposed and taurine plus BPA-exposed groups, we measured the preventive effects on some parameters but not exactly. As a result, curcumin and taurine significantly minimized BPA-induced cardiotoxicity in rats.
This is a preview of subscription content, log in to check access.
Access options
Buy single article
Instant access to the full article PDF.
US$ 39.95
Price includes VAT for USA
Subscribe to journal
Immediate online access to all issues from 2019. Subscription will auto renew annually.
US$ 99
This is the net price. Taxes to be calculated in checkout.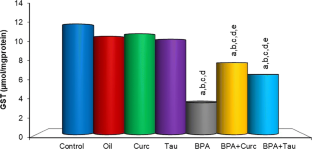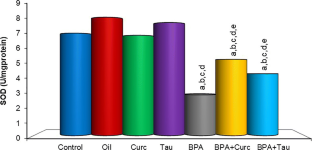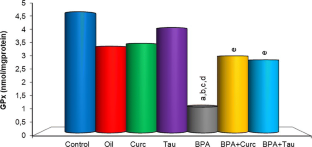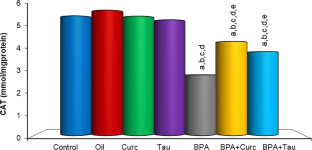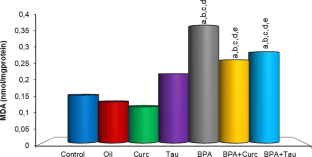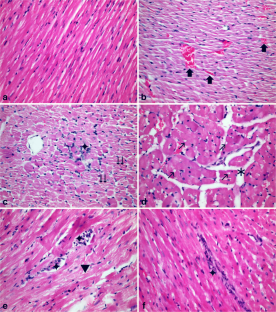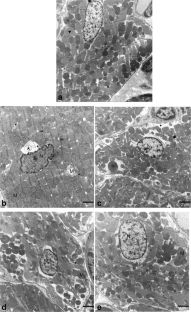 References
Aebi H (1984) Catalase in vitro. Methods Enzymol 105:121–126. https://doi.org/10.1016/S0076-6879(84)05016-3

Agha FE, Youness ER, Selim MHH (2014) Nephroprotective potential of selenium and taurine against mercuric chloride induced nephropathy in rats. Ren Fail 36:704–716. https://doi.org/10.3109/0886022X.2014.890012

Akingbemi BT, Sottas CM, Koulova AI, Klinefelter GR, Hardy MP (2004) Inhibition of testicular steroidogenesis by the xenoestrogen bisphenol A is associated with reduced pituitary luteinizing hormone secretion and decreased steroidogenic enzyme gene expression in rat Leydig cells. Endocrinology 145(2):592–603. https://doi.org/10.1210/en.2003-1174

Apaydın FG, Bas H, Kalender S, Kalender Y (2016) Subacute effects of low dose lead nitrate and mercury chloride exposure on kidney of rats. Environ Toxicol Pharmacol 41:219–224. https://doi.org/10.1016/j.etap.2015.12.003

Apaydın FG, Bas H, Kalender S, Kalender Y (2017) Bendiocarb induced histopathological and biochemical alterations in rat liver and preventive role of vitamins C and E. Environ Toxicol Pharmacol 49:148–155. https://doi.org/10.1016/j.etap.2016.11.018

Apaydın FG, Uzunhisarcıklı M, Aslantürk A, Kalender S (2018) Bisphenol A-induced histopathological alterations on small intestine tissues of rats: the protective role of taurine and curcumin. Iğdır Univ J Inst Sci Tech 8:43–47. https://doi.org/10.21597/jist.427870

Baş H, Kalender Y (2011) Chlorpyrifos induced cardiotoxicity in rats and the protective role of quercetin and catechin. GU J Sci 24(3):387–395

Baş H, Kalender S, Apaydın FG (2014) Adverse effects of lead treatment: relationship of histopathological changes and protective role of sodium selenite on non-diabetic and diabetic rat hearts. GU J Sci 27(2):855–859

Baş H, Kalender S, Karaboduk H, Apaydın FG (2015) The effects on antioxidant enzyme systems in rat brain tissues of lead nitrate and mercury chloride. GU J Sci 28(2):169–174

Berger A, Ziv-Gal A, Cudiamat J, Wang W, Zhou C, Flaws JA (2016) The effects of in utero bisphenol A exposure on the ovaries in multiple generations of mice. Reprod Toxicol 60:39–52. https://doi.org/10.1016/j.reprotox.2015.12.004

Degirmenci I, Kalender S, Ustuner MC, Kalender Y, Gunes HV, Unal H, Basaran A (2002) The effects of acarbose and Rumex patientia on liver ultrastructure in streptozotocin-induced diabetic (type II) rats. Drug Exp Clin Res 28(6):229–234

Degirmenci I, Ustuner MC, Kalender Y, Kalender S, Gunes HV (2005) The effects of acarbose and Rumex patientia L. on ultrastructural and biochemical changes of pancreatic B cells in streptozotocin-induced diabetic rats. J Ethnopharmacol 97:555–559. https://doi.org/10.1016/j.jep.2005.01.002

Djuric A, Begic A, Gobeljic B, Stanojevic I, Ninkovic M, Vojvodic D, Pantelic A, Zebic G, Prokic V, Dejanovic B, Stojanovic I, Pavlica M, Djukic D, Saso L, Djurdjevic D, Pavlovii M, Topic A, Vujanovic D, Stevnovic I, Djukic M (2015) Oxidative stress, bioelements and androgen status in testes of rats subacutely exposed to cadmium. Food Chem Toxicol 86:25–33. https://doi.org/10.1016/j.fct.2015.09.004

Eid JI, Eissa SM, El-Ghor AA (2015) Bispheol A induces oxidative stress and DNA damage in hepatic tissue of female rat offspring. JOBAZ 71:10–19. https://doi.org/10.1016/j.jobaz.2015.01.006

El Tabaa MM, Sokkar SS, Ramadan ES, Abd El Salam IZ, Zaid A (2017) Neuroprotective role of Ginkgo biloba against cognitive deficits associated with bisphenol a exposure: an animal model study. Neurochem Int 108:199–212. https://doi.org/10.1016/j.neuint.2017.03.019

Eraslan G, Saygi S, Essiz D, Aksoy A, Gul H, Macit E (2007) Evaluation of aspect of some oxidative stress parameters using vitamin E, proanthocyanidin and nacetylcysteine against exposure to cyfluthrin in mice. Pestic Biochem Physiol 88:43–49. https://doi.org/10.1016/j.pestbp.2006.08.010

Habig WH, Pabst MJ, Jakoby WB (1974) Glutathione-S-transferases: the first enzymatic step in mercapturic acid formation. J Biol Chem 249:7130–7139

Kalender S, Kalender Y, Ogutcu A, Uzunhisarcıklı M, Durak D, Acikgoz F (2004) Endosulfan-induced cardiotoxicity and free radical metabolism in rats: the protective effect of vitamin E. Toxicology 202:227–235. https://doi.org/10.1016/j.tox.2004.05.010

Kalender S, Apaydin FG, Baş H, Kalender Y (2015) Protective effects of sodium selenite on lead nitrate-induced hepatotoxicity in diabetic and non-diabetic rats. Environ Toxicol Pharmacol 40:568–574. https://doi.org/10.1016/j.etap.2015.08.011

Kim KS, Lim H, Lim JS, Son JY, Lee J, Lee BM, Chang SC, Kim HS (2018) Curcumin ameliorates cadmium-induced nephrotoxicity in Sprague-Dawley rats. Food Chem Toxicol 114:34–40. https://doi.org/10.1016/j.fct.2018.02.007

Marklund S, Marklund G (1974) Involvement of the superoxide anion radical in the autoxidation of pyrogallol and a convenient assay for superoxide dismutase. Eur J Biochem 47:469–474. https://doi.org/10.1111/j.1432-1033.1974.tb03714.x

Michalowicz J (2014) Bisphenol A—sources, toxicity and biotransformation. Environ Toxicol Pharmacol 27:738–758. https://doi.org/10.1016/j.etap.2014.02.003

Ohkawa H, Ohishi N, Yagi K (1979) Assay for lipid peroxides in animal tissues by thiobarbituric acid reaction. Anal Biochem 95:351–358. https://doi.org/10.1016/0003-2697(79)90738-3

Ortiz-Villanueva E, Navarro-Martín L, Jaumot J, Benavente F, Sanz-Nebot V, Pina B, Tauler R (2017) Metabolic disruption of zebrafish (Danio rerio) embryos by bisphenol A. An integrated metabolomics and transcriptomic approach. Environ Pollut 231:22–36. https://doi.org/10.1016/j.envpol.2017.07.095

Paglia DE, Valentine WN (1967) Studies on the quantative and qualitative characterization of erytrocyte glutathione peroxidase. J Lab Clin Med 70:158–169

Poormoosavi SM, Najafzadehvarzi H, Behmanesh MA, Amirgholami R (2018) Protective effects of Asparagus officinalis extract against bisphenol A induced toxicity in Wistar rats. Toxicol Rep 5:427–433. https://doi.org/10.1016/j.toxrep.2018.02.010

Quintana MM, Osimani VR, Magnarelli G, Rovedatti MG, Guiñazú N (2018) The insecticides chlorpyrifos and acetamiprid induce redox imbalance in umbilical cord blood erythrocytes in vitro. Pestic Biochem Physiol 148:87–92. https://doi.org/10.1016/j.pestbp.2018.04.001

Richter CA, Birnbaum LS, Farabollini F, Newbold RR, Rubin BS, Talsness CE, Vandenberg JG, Walser-Kuntz DR, vom Saal FS (2007) In vivo effects of bisphenol A in laboratory rodent studies. Reprod Toxicol 24:199–224. https://doi.org/10.1016/j.reprotox.2007.06.004

Sarkar P, Basak P, Ghosh S, Kundu M, Sil PC (2017) Prophylactic role of taurine and its derivatives against diabetes mellitus and its related complications. Food Chem Toxicol 110:109–121. https://doi.org/10.1016/j.fct.2017.10.022

Sirdah MM (2015) Protective and therapeutic effectiveness of taurine in diabetes mellitus: a rationale for antioxidant supplementation. Diabetol Metab Syndr 9:55–64. https://doi.org/10.1016/j.dsx.2014.05.001

Soyalic H, Gevrek F, Karaman S (2017) Curcumin protects against acoustic trauma in the rat cochlea. Int J Pediatr Otorhinolaryngol 99:100–106. https://doi.org/10.1016/j.ijporl.2017.05.029

Sreejayan N, Rao MNA (1994) Curcuminoids as potent inhibitors of lipid peroxidation. J Pharm Pharmacol 46:1013–1016. https://doi.org/10.1111/j.2042-7158.1994.tb03258.x

Strimpakos AS, Sharma RA (2008) Curcumin: preventive and therapeutic properties in laboratory studies and clinical trials. Antioxid Redox Signal 10:511–545. https://doi.org/10.1089/ars.2007.1769

Takatani T, Takahashi K, Uozumi Y, Shikata E, Yamamoto Y, Ito T, Matsuda T, Schaffer SW, Fujio Y, Azuma J (2004) Taurine inhibits apoptosis by preventing formation of the Apaf-1/caspase-9 apoptosome. Am J Physiol Renal Physiol 287:C949–C953. https://doi.org/10.1152/ajpcell.00042.2004

Tarapore P, Hennesy M, Son D, Ying J, Outang B, Govindarajah V, Leung Y, Ho S (2017) High butter-fat diet and bisphenol A additively impair male rats spermatogenesis. Reprod Toxicol 68:191–199. https://doi.org/10.1016/j.reprotox.2016.09.008

Tzatzarakis MN, Vakonaki E, Kavvalakis MP, Barmpas M, Kokkinakis EN, Xenos K, Tsatsakis AM (2015) Biomonitoring of bisphenol A in hair of Greek population. Chemosphere 118:336–341. https://doi.org/10.1016/j.chemosphere.2014.10.044

Valokola MG, Karimi G, Razavi BM, Kianfar M, Jafarian AH, Jaafari MR, Imenshahidi M (2018) The protective activity of nanomicelle curcumin in bisphenol A-induced cardiotoxicity following subacute exposure in rats. Environ Toxicol 34:1–9. https://doi.org/10.1002/tox.22687

Zulli A (2011) Taurine in cardiovascular disease. Curr Opin Clin Nutr Metab Care 14:57–60. https://doi.org/10.1097/MCO.0b013e328340d863
Ethics declarations
Experimental studies were confirmed by University of Gazi Animal Ethics Committee (G.U.ET–14.075).
Conflict of interest
The authors declare that they have no conflict of interest.
Additional information
Publisher's note
Springer Nature remains neutral with regard to jurisdictional claims in published maps and institutional affiliations.
Responsible editor: Philippe Garrigues
About this article
Cite this article
Apaydin, F.G., Aslanturk, A., Uzunhisarcikli, M. et al. Histopathological and biochemical studies on the effect of curcumin and taurine against bisphenol A toxicity in male rats. Environ Sci Pollut Res 26, 12302–12310 (2019). https://doi.org/10.1007/s11356-019-04578-4
Received:

Accepted:

Published:

Issue Date:
Keywords
Bisphenol A

Curcumin

Taurine

Electron microscopy

Light microscopy

Heart