Abstract
In attempts to evaluate the environmental risk produced by plastic markets, the levels and congener profiles of phthalate esters (PAEs) in soil, vegetable, and sediment samples collected from the plastic market in China, where numerous plastic products are exchanged every year, were investigated. The concentrations of ∑22PAEs ranged from 2131 to 27,805 ng g−1 in agricultural soils, from 8023 to 37,556 ng g−1 in vegetables and from 9031 to 87,329 ng g−1 in sediments. The predominant PAE pollutants were di-(2-ethylhexyl) phthalate (DEHP), di-n-butyl phthalate (DnBP), di-isobutyl phthalate (DiBP), and dibenzyl phthalate (DBzP). The mean percentages of the predominant PAEs in the soil, vegetable, and sediment samples accounted for 98.4%, 97.3%, and 99.5% of the total PAEs, respectively. The concentrations of PAEs at the sites around the plastic market were significantly higher than those at other pollution sites, such as sites contaminated by agricultural plastic film, electronic waste (e-waste) recycling sites, and industrial parks, indicating that the plastic market was an important pollution source. The DEHP concentrations in the soils, vegetables, and sediments and the DnBP concentrations in the vegetables all exceeded the environmental risk levels (ERL) or the environmental allowable levels (EAL), indicating that the plastic market posed potential environmental risks.
This is a preview of subscription content, log in to check access.
Access options
Buy single article
Instant access to the full article PDF.
US$ 39.95
Tax calculation will be finalised during checkout.
Subscribe to journal
Immediate online access to all issues from 2019. Subscription will auto renew annually.
US$ 99
Tax calculation will be finalised during checkout.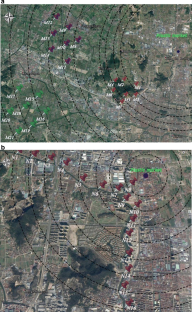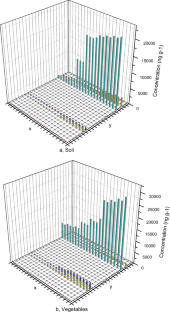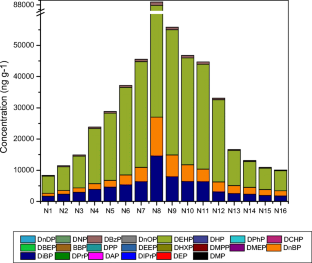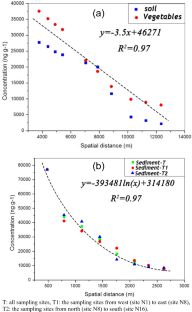 References
Adeniyi AA, Okedeyi OO, Yusuf KA (2011) Flame ionization gas chromatographic determination of phthalate esters in water, surface sediments and fish species in the Ogun river catchments, Ketu, Lagos, Nigeria. Environ Monit Assess 172:561–569

Aizenshtein EM (2015) Global and Russian output of polyester fibres in 2013. Fibre Chem 47:1–7

Caballero-Guzman A, Sun T, Nowack B (2015) Flows of engineered nanomaterials through the recycling process in Switzerland. Waste Manag 36:33–43

Cai QY, Mo CH, Wu QT, Katsoyiannis A, Zeng QY (2008) The status of soil contamination by semivolatile organic chemicals (SVOCs) in China: a review. Sci Total Environ 389:209–224

Chakraborty P, Selvaraj S, Nakamura M, Prithiviraj B, Cincinelli A, Bang JJ (2017) PCBs and PCDD/Fs in soil from informal e-waste recycling sites and open dumpsites in India: levels, congener profiles and health risk assessment. Sci Total Environ 621:930–938

Gauthier LT, Letcher RJ (2009) Isomers of dechlorane plus flame retardant in the eggs of herring gulls (Larus argentatus) from the Laurentian Great Lakes of North America: temporal changes and spatial distribution. Chemosphere 75:115–120

Geng Y, Zhao H (2009) Industrial park management in the Chinese environment. J Clean Prod 17:1289–1294

Gómez-Hens A, Aguilar-Caballos MP (2003) Social and economic interest in the control of phthalic acid esters. Trends Anal Chem 22:847–857

Guo Y, Wu Q, Kannan K (2011) Phthalate metabolites in urine from China, and implications for human exposures. Environ Int 37:893–898

Harris CA, Henttu P, Parker MG, Sumpter JP (1997) The estrogenic activity of phthalate esters in vitro. Environ Health Perspect 105:802–811

Hassanzadeh N, Sari AE, Khodabandeh S, Bahramifar N (2014) Occurrence and distribution of two phthalate esters in the sediments of the Anzali wetlands on the coast of the Caspian Sea (Iran). Mar Pollut Bull 89:128–135

Haszpra T, Tél T (2013) Escape rate: a Lagrangian measure of particle deposition from the atmosphere. Nonlinear Process Geophys 20:867–881

Kim Y, Ha EH, Kim EJ, Park H, Ha M, Kim JH (2011) Prenatal exposure to phthalates and infant development at 6 months: prospective mothers and children's environmental health (MOCEH) study. Environ Health Perspect 119:1495–1500

Kim H, Park S, Lee H, Lee J, Lee S, Kim J (2016) Residue levels of phthalic acid esters (PAEs) and diethylhexyl adipate(DEHA) in various industrial wastewaters. Analyt Sci Technol 29:57–64

Koelmans AA, Besseling E, Foekema E, Kooi M, Mintenig S, Ossendorp BC (2017) Risks of plastic debris: unravelling fact, opinion, perception, and belief. Environ Sci Technol 51:11513–11519

Lambert S, Scherer C, Wagner M (2017) Ecotoxicity testing of microplastics: considering the heterogeneity of physicochemical properties. Integr Environ Assess Manag 13:470–475

Li XH, Ma LL, Liu XF, Fu S, Cheng HX, Xu XB (2006) Phthalate Ester pollution in urban soil of Beijing, People's Republic of China. Bull Environ Contam Toxicol 77:252–259

Li RL, Liang J, Gong ZB, Zhang NN, Duan HL (2017) Occurrence, spatial distribution, historical trend and ecological risk of phthalate esters in the Jiulong River, Southeast China. Sci Total Environ 580:388–397

Liu WL, Zhang Z, Zhu LQ, Shen CF, Wang J (2010) Distribution characteristics of phthalic acid esters in soils and plants at e-waste recycling sites in Taizhou of Zhejiang, China. Chin J Appl Ecol 21:489–494

Liu L, Bao H, Liu F, Zhang J, Shen H (2012) Phthalates exposure of Chinese reproductive age couples and its effect on male semen quality, a primary study. Environ Int 42:78–83

Lu CH (2009) Prediction of environmental properties in water-soil-air systems for phthalates. Bull Environ Contam Toxicol 83:168–173

Mcgrath T, Morrison PD, Ball AS, Clarke BO (2018) Spatial distribution of novel and legacy brominated flame retardants in soils surrounding two Australian electronic waste recycling facilities. Environ Sci Technol 52:8194–8204

Meng XZ, Wang Y, Xiang N, Chen L, Liu Z, Wu B (2014) Flow of sewage sludge-borne phthalate esters (PAEs) from human release to human intake: implication for risk assessment of sludge applied to soil. Sci Total Environ 476-477:242–249

Niu LL, Yang X, Xu C, Yun LX, Liu WP (2014) Status of phthalate esters contamination in agricultural soils across China and associated health risks. Environ Pollut 195:16–23

Pei XQ, Song M, Guo M, Mo FF, Shen XY (2013) Concentration and risk assessment of phthalates present in indoor air from newly decorated apartments. Atmos Environ 68:17–23

Rahman M, Brazel CS (2004) The plasticizer market: an assessment of traditional plasticizers and research trends to meet new challenges. Prog Polym Sci 29:1223–1248

Selvaraj KK, Sundaramoorthy G, Ravichandran PK, Girijan GK, Sampath S, Ramaswamy BR (2015) Phthalate esters in water and sediments of the Kaveri River, India: environmental levels and ecotoxicological evaluations. Environ Geochem Health 37:83–96

Shi WM, Yao J, Yan F (2009) Vegetable cultivation under greenhouse conditions leads to rapid accumulation of nutrients, acidification and salinity of soils and groundwater contamination in south-eastern China. Nutr Cycl Agroecosyst 83:73–84

Staples CA, Peterson DR, Parkerton TF, Adams WJ (1997) The environmental fate of phthalate esters: a literature review. Chemosphere 35:667–749

Sun JQ, Huang J, Zhang AP, Liu WP, Wu CQ (2013) Occurrence of phthalate esters in sediments in Qiantang River, China and inference with urbanization and river flow regime. J Hazard Mater 248-249:142–149

Sun JT, Pan LL, Tsang DCW, Li ZH, Zhu LZ, Li XD (2016a) Phthalate esters and organochlorine pesticides in agricultural soils and vegetables from fast-growing regions: a case study from eastern China. Environ Sci Pollut Res Int 25:34–42

Sun JT, Pan LL, Zhan Y, Lu HN, Tsang DCW, Liu WX, Wang XL, Li XD, Zhu LZ (2016b) Contamination of phthalate esters, organochlorine pesticides and polybrominated diphenyl ethers in agricultural soils from the Yangtze River delta of China. Sci Total Environ 544:670–676

Sun JQ, Xu Y, Zhou HB, Zhang AP, Qi H (2018) Levels, occurrence and human exposure to novel brominated flame retardants (NBFRs) and dechlorane plus (DP) in dust from different indoor environments in Hangzhou, China. Sci Total Environ 631-632:1212–1220

Sun JQ, Wu YH, Jiang P, Zheng L, Zhang AP, Qi H (2019a) Concentration, uptake and human dietary intake of novel brominated flame retardants in greenhouse and conventional vegetables. Environ Int 123:436–443

Sun JQ, Wu YH, Tao NE, Lv L, Yu XY, Zhang AP, Qi H (2019b) Dechlorane plus in greenhouse and concentional vegetables: uptake, translocation, dissipation and human dietary exposure. Environ Pollut 244:667–674

Thompson RC, Swan SH, Moore CJ, vom Saal FS (2009) Our plastic age. Philos Trans R Soc Lond Ser B Biol Sci 364:1973–1976

Van-Wezel AP, Van VP, Posthumus R, Crommentuijn GH, Sijm DT (2000) Environmental risk limits for two phthalates, with special emphasis on endocrine disruptive properties. Ecotoxicol Environ Saf 46:305–321

Vitali M, Guidotti M, Macilenti G, Gremisini C (1997) Phthalate esters in freshwaters as markers of contamination sources—a site study in Italy. Environ Int 23:337–347

Wang P, Wang SL, Fan CQ (2008) Atmospheric distribution of particulate- and gas-phase phthalic esters (PAEs) in a Metropolitan City, Nanjing, East China. Chemosphere 72:1567–1572

Wang J, Luo YM, Ma WT, Li LN, Zhu Y, Teng Y (2013) Pollution characteristics and health risk assessment of phthalate esters in typical intensive agricultural soils. China Environ Sci 33:2235–2242

Wang J, Bo L, Li L, Wang D, Chen G, Christie P (2014) Occurrence of phthalate esters in river sediments in areas with different land use patterns. Sci Total Environ 500–501:113–119

Wang J, Chen G, Christie P, Zhang M, Luo Y, Ying T (2015a) Occurrence and risk assessment of phthalate esters (PAEs) in vegetables and soils of suburban plastic film greenhouses. Sci Total Environ 523:129–137

Wang L, Xu X, Lu X (2015b) Phthalic acid esters (PAEs) in vegetable soil from the suburbs of Xianyang city, Northwest China. Environ Earth Sci 74:1487–1496

Wang Y, Chai M, Zeng N, Tang Z, Academy E (2016) Contamination and health risk of phthalate esters in soils from a typical waste plastic recycling area. Environ Chem 35:364–372

Yang HJ, Xie WJ, Liu Q, Liu JT, Yu HW, Lu ZH (2013) Distribution of phthalate esters in topsoil: a case study in the Yellow River Delta, China. Environ Monit Assess 185:8489–8500

Zeng F, Cui K, Xie Z (2008) Occurrence of phthalate esters in water and sediment of urban lakes in a subtropical city, Guangzhou, South China. Environ Int 34:372–380

Zeng F, Cui K, Xie Z, Wu L, Luo D, Chen L (2009) Distribution of phthalate esters in urban soils of subtropical city, Guangzhou, China. J Hazard Mater 164:1171–1178

Zhang AP, Liu WP, Yuan HJ, Zhou SS, Su YS, Li YF (2011) Spatial distribution of hexachlorocyclohexanes in agricultural soils in Zhejiang Province, China, and correlations with elevation and temperature. Environ Sci Technol 45:6303–6308

Zhang AP, Luo WX, Sun JQ, Xiao H, Liu WP (2015a) Distribution and uptake pathways of organochlorine pesticides in greenhouse and conventional vegetables. Sci Total Environ 505:1142–1147

Zhang Y, Liang Q, Gao R, Hou H, Tan W, He X (2015b) Contamination of phthalate esters (PAEs) in typical wastewater-irrigated agricultural soils in Hebei, North China. PLoS One 10:e0137998

Zhang ZM, Zhang HH, Zhang J, Wang QW, Yang GP (2018) Occurrence, distribution, and ecological risks of phthalate esters in the seawater and sediment of Changjiang River Estuary and its adjacent area. Sci Total Environ 619-620:93–102
Funding
This study was supported by the Natural Science Foundation of Zhejiang Province (LY17B070006), the National Natural Science Foundation of China (21577127), and the State Key Laboratory of Urban Water Resource and Environment, Harbin Institute of Technology (No. QAK201715).
Additional information
Publisher's note
Springer Nature remains neutral with regard to jurisdictional claims in published maps and institutional affiliations.
Responsible editor: Philippe Garrigues
Electronic supplementary material
About this article
Cite this article
Wu, Y., Sun, J., Zheng, C. et al. Phthalate pollution driven by the industrial plastics market: a case study of the plastic market in Yuyao City, China. Environ Sci Pollut Res 26, 11224–11233 (2019). https://doi.org/10.1007/s11356-019-04571-x
Received:

Accepted:

Published:

Issue Date:
Keywords
Phthalate esters

Plastic market

Environmental risk levels

Environmental allowable level

Environmental risk