Abstract
The main objective of this study is to estimate the total economic loss due to inefficient use of irrigation water in Tunisia. Several approaches have been used for this purpose. The optimal level of water application for different crops is calculated using the actual crop evapotranspiration which is based on FAO-56 method. The residual imputation and yield comparison methods have been used to estimate the economic value of irrigation water for different irrigated crops in different bioclimatic areas. For the empirical analysis, primary data were obtained from a series of surveys that covered 78% of the total irrigated areas and were collected within the framework of the "Virtual Water and Food Security in Tunisia project" (2013–2015). Secondary data about land distribution of crops in Tunisia were taken from the Ministry of Agriculture (2016). Around 724 farms were randomly sampled considering their bioclimatic area, farm type, and production system. The survey included the main 20 crops produced in Tunisia. Results show that most of farmers are either under or over utilizing irrigation water. The value of total direct economic losses, at the country level, of both types of water inefficiencies, was estimated to around 470 million Tunisian Dinars. Therefore, an improvement of water use efficiency at field level through dissemination of information/knowledge on irrigation scheduling and crop water requirements by extension services to farmers is needed to reduce this huge economic loss, reach higher sustainability in water use and improve food security.
Access options
Buy single article
Instant access to the full article PDF.
USD 39.95
Price includes VAT (USA)
Tax calculation will be finalised during checkout.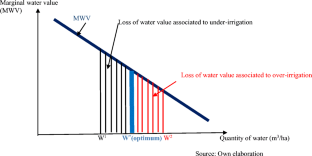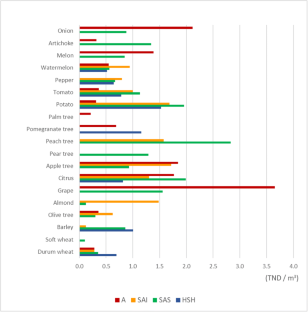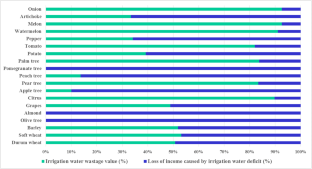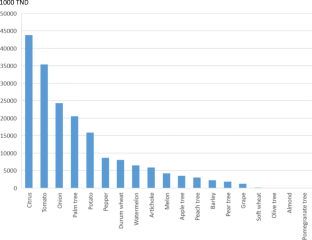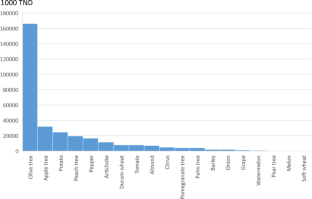 Notes
1.

Occupation rate = irrigated area ∕ irrigable area; Intensification rate = effectively irrigated areas ∕ irrigable areas

2.

The average exchange rate during the survey period is 1.3 Tunisian Dinar (TND) for $ 1
References
Al Atiri R (2007) Evolution institutionnelle et réglementaire de la gestion de l'eau en Tunisie. Vers une participation accrue des usagers de l'eau. In Bouarfa S. et al. (dir.), L'avenir de l'agriculture irriguée en Méditerranée. Nouveaux arrangements institutionnels pour une gestion de la demande en eau ». Actes du séminaire Wademed, novembre 2006, Cahors, France, ClRAD, Montpellier, France, 8 p

Al-Karablieh EK, Salman AZ, Al-Omari AS, Wolff HP, Al-Assa'd TA, Hunaiti DA, Subah AM (2012) Estimation of the economic value of irrigation water in Jordan. J Agric Sci Technol 2(B):487–497

Allan JA (1998) Virtual water: a strategic resource. Ground Water 36(4):545–547

Berbel J, Mesa-Jurado MA, Pistón JM (2011) Value of irrigation water in Guadalquivir Basin (Spain) by residual value method. Water Resour Manag 25(6):1565-1579

Calatrava-Leyva J, Sayadi S (2005) Economic valuation of water and willingness to pay analysis with respect to tropical fruit production in southeastern Spain. Span J Agric Res 3(1):25–33

Chebil A, Frija A (2016) Impact of improving water use efficiency on its valuation: the case of irrigated wheat production in Tunisia. AfJARE 11(2):131–140

Chebil A, Frija A, Abdelkafi B (2012) Irrigation water use efficiency in collective irrigated schemes of Tunisia: determinants and potential irrigation cost reduction. Agric Econ Rev 13(1):39–48

Chebil A, Bahri W, Frija A (2013) Mesure et déterminants de l'efficacité d'usage de l'eau d'irrigation dans la production du blé dur: Cas de Chebika (Tunisie). New Medit 12(1):49-55

Chemak F, Dhehibi B (2010) Efficacité technique des exploitations en irrigué: une approche paramétrique versus non paramétrique. New Medit 9(2):32-41

Chemak F, Boussemart JP, Jacquet F (2010) Farming system performance and water use efficiency in the Tunisian semi-arid region: data envelopment analysis approach. Int Trans Oper Res 17:381–396

Dhaouadi L, Boughdiri A, Daghari I, Slim S, Ben Maachia S, Mkadmic C (2017) Localised irrigation performance in a date palm orchard in the oases of deguache. Journal of New Sciences 42(1):2268-2277

Dhehibi B, Lachaal L, Elloumi M, Messaoud A (2007) Measuring irrigation water use efficiency using stochastic production frontier: an application on citrus producing farms in Tunisia. AfJARE 1(2):99–114

Dhehibi B, Frija A, Aw-Hassan A (2014) Performances, policies, challenges and opportunities of the Tunisian agriculture sector from natural resources management perspective a SWOT analysis. Am Eurasian J Agric Environ Sci 14:1351–1358

Direction Générale de Ressources en Eau (DGRE) (2017) Stratégie de mobilisation des ressources en eau en Tunisie. May 2017. Ministère de l'Agriculture, des Ressources hydrauliques et de la Pêche, Tunisie

Frija A, Chebil A, Speelman S, Buysse J, Van Huylenbroeck G (2009) Water use and technical efficiencies in horticultural greenhouses in Tunisia. Agric Water Manag 96(11):1509–1516

Frija I, Frija A, Chebil A, Cheikh H, Hamed M, Speelman S, Makhlouf M (2014) Marginal water productivity of irrigated durum wheat in semi-arid Tunisia. J Agric Sci 6(10):84–95

Institut Tunisienne des Etudes Stratégiques (ITES) (2014) Étude stratégique: Système hydraulique de la Tunisie à l'horizon 2030. ITES, Tunis

Institut Tunisienne des Etudes Stratégiques (ITES) (2018) Management of water resources in Tunisia. Bilan and prespective of the future. ITES, Tunis

Louw DB, Van Schalkwyk HD (2007) The true value of irrigation water in the Olifants river basin : Western cape. Agrekon 36:551–561

Mesa-Jurado MA, Berbel J, Orgaz F (2010) Estimating marginal value of water for irrigated olive grove with the production function method. Span J Agric Res 8(S2):197–206

Ministry of Agriculture (MA) (2016) Survey on irrigated areas, Tunisia

Ministry of Agriculture (MA) (2018) Annual directory of agricultural statistics. Tunisia

Speelman S, Frija A, Perret S, D'haese M, Farolfi S, D'haese L (2011) Variability in smallholders' irrigation water values: Study in NorthWest Province. South Africa Irrig and Drain 60(1):11-19

Thabet C, Chebil A (2006) Irrigation water pricing in Tunisia: issues for successful water management transparency. Agricultural and Marine Sciences 11(S.I):21-28

Young RA (2005) Determining the economic value of water: concepts and methods. Resources for the Future (RFF), Washington, DC 374 pp

Zairi A, El Amami H, Slatni A, Pereira LS, Rodrigues PN, Machado T (2003) Coping with drought: deficit irrigation strategies for cereals and field horticultural crops in Central Tunisia. In: Rossi G, Cancelliere A, Pereira LS, Oweis T, Shatanawi M, Zairi A (eds) Tools for drought mitigation in Mediterranean Regions. Kluwer, Dordrecht, pp 181–201
Funding
The authors acknowledge the financial support of International Development Research Centre (IDRC) for the financial support during the process of data collection within the framework of the project "Eau virtuelle et sécurité alimentaire en Tunisie (EVSAT)" coordinated by the "Ecole Supérieure d'Agriculture de Mograne (ESAM)."
Additional information
Publisher's note
Springer Nature remains neutral with regard to jurisdictional claims in published maps and institutional affiliations.
Responsible editor: Philippe Garrigues
About this article
Cite this article
Chebil, A., Souissi, A., Frija, A. et al. Estimation of the economic loss due to irrigation water use inefficiency in Tunisia. Environ Sci Pollut Res 26, 11261–11268 (2019). https://doi.org/10.1007/s11356-019-04566-8
Received:

Accepted:

Published:

Issue Date:
Keywords
Water losses

Under and over-irrigation

Irrigation crop's requirement

Economic water value

Residual and yield comparison methods

Irrigated sector

Farms

Tunisia