Abstract
A reliable system simulation of the reciprocal mechanism between water resource utilization and dualistic water cycle is essential to the basin water resource sustainability management. In this study, a system dynamic model was built to simulate the water cycle change and lake water environmental pressure under the influence of water resources utilization, and the procedure of a progressive operational scenario analysis of how to relieve water environment pressure was illustrated. Dianchi Lake, which is the sixth largest and the most severely polluted freshwater lake in China, was employed as a case study to demonstrate the applicability of the model. The change of runoff components and pollution load of total nitrogen from 2000 to 2030 were discussed. Also, the sustainable water resource management was ultimately realized in the planning period through three progressive levels of water resource regulation scenarios. Compared with business-as-usual scenario, the TN pollution load into lake and total water demand decrease by 27.1 and 27.3%, and the domestic water use, industry water use, tertiary industry water use, and irrigation decrease 9.0, 16.8, 29.5, and 30% in the scenario 3.
This is a preview of subscription content, log in to check access.
Access options
Buy single article
Instant access to the full article PDF.
US$ 39.95
Price includes VAT for USA
Subscribe to journal
Immediate online access to all issues from 2019. Subscription will auto renew annually.
US$ 99
This is the net price. Taxes to be calculated in checkout.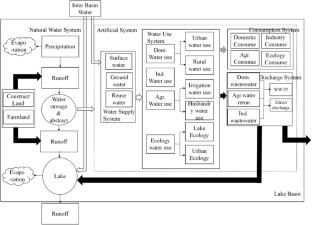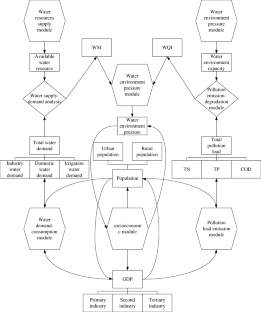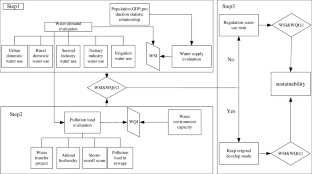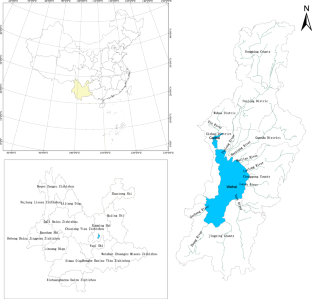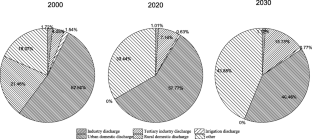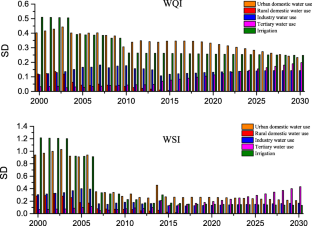 References
Bohn BA, Kershner JL (2002) Establishing aquatic restoration priorities using a watershed approach. J Environ Manag 64(4):355–363

He J, Xu X, Yang Y, Wu X, Li W, Li S, Hongbin Z (2015) Problems and effects of comprehensive management of water environment in Lake Dianchi. J Lake Sci 27(2):195–199 (in chinese)

Huang C, Wang X, Yang H, Li Y, Wang Y, Chen X, Xu L (2014) Satellite data regarding the eutrophication response to human activities in the plateau lake Dianchi in China from 1974 to 2009. Sci Total Environ 485:1–11

Jiang Y, Chen Y, Younos T, Huang H, He J (2010) Urban water resources quota management: the core strategy for water demand management in China. Ambio 39(7):467–475

Kotir JH, Smith C, Brown G, Marshall N, Johnstone R (2016) A system dynamics simulation model for sustainable water resources management and agricultural development in the Volta River Basin, Ghana. Sci Total Environ 573:444–457

Liu H, Benoit G, Liu T, Liu Y, Guo H (2015) An integrated system dynamics model developed for managing lake water quality at the watershed scale. J Environ Manag 155:11–23

Luo Y, Yang K, Yu ZY, Chen JY, Xu YF, Zhou XL, Yang Y (2017) Dynamic monitoring and prediction of Dianchi Lake cyanobacteria outbreaks in the context of rapid urbanization. Environ Sci Pollut Res 24(6):5335–5348

Ma G, Wang S (2015) Temporal and spatial distribution changing characteristics of exogenous pollution load into Dianchi Lake, southwest of China. Environ Earth Sci 74(5):3781–3793

Maillard P, Pinheiro Santos NA (2008) A spatial-statistical approach for modeling the effect of non-point source pollution on different water quality parameters in the Velhas river watershed Brazil. J Environ Manag 86(1):158–170

Mavrommati G, Bithas K, Panayiotidis P (2013) Operationalizing sustainability in urban coastal systems: a system dynamics analysis. Water Res 47(20):7235–7250

Qin DY, Lu CY, Liu JH, Wang H, Wang JH, Li HH, Chu JY, Chen GF (2014) Theoretical framework of dualistic nature-social water cycle. Chin Sci Bull 59(8):810–820

Qiu M, Wang H (2015) Design scheme of wastewater interception project around Dianchi Lake. China Water Wastewater 31(12):56–59 (in Chinese)

Saraswat C, Kumar P, Mishra BK (2016) Assessment of stormwater runoff management practices and governance under climate change and urbanization: an analysis of Bangkok, Hanoi and Tokyo. Environ Sci Pol 64:101–117

Susnik J, Vamvakeridou-Lyroudia LS, Savic DA, Kapelan Z (2012) Integrated system dynamics modelling for water scarcity assessment: case study of the Kairouan region. Sci Total Environ 440:290–306

Wang H, Jia YW, Yang GY, Zhou ZH, Qiu YQ, Niu CW, Peng H (2013) Integrated simulation of the dualistic water cycle and its associated processes in the Haihe River Basin. Chin Sci Bull 58(27):3297–3311

Wang H, Jia YW (2016) Theory and study methodology of dualistic water cycle in river basins under changing conditions. J Hydraul Eng 47:1219–1226

Wang HH, Zhang JR, Zeng WH (2018) Intelligent simulation of aquatic environment economic policy coupled ABM and SD models. Sci Total Environ 618:1160–1172

Wei SK, Yang H, Song JX, Abbaspour KC, Xu ZX (2012) System dynamics simulation model for assessing socio-economic impacts of different levels of environmental flow allocation in the Weihe River Basin, China. Eur J Oper Res 221(1):248–262

Xie B, Yun Z, Shixiang G et al (2010) Climate change in Dianchi Basin and its relation with water resources utilization. China Rural Water Hydropower 7:9–13.(in Chinese)

Xu X, Wu X, He J, Wang L, Zhang Y, Yang Y, Chen Y, Ye H (2016) Research on the pollution characteristics of Dianchi watershed (1988–2014)and identification of countermeasures. J Lake Sci 28(3):476–484 (in chinese)

Yimei C (2013) Evaluation of carrying capacity and potential of water resources development in Dianchi Basin. Water Resour Power 31(11):32–34

Zhi G, Zhang L, Yang Y, He L, Liu S, Zhang N (2013) Comprehensive balance management of water resources in the Dianchi Lake Basin. Resources and Environment in the Yangtze Basin 22(9):1227–1233 (in Chinese)

Zhu J, Wang X, Zhang LX, Cheng HG, Yang ZF (2015) System dynamics modeling of the influence of the TN/TP concentrations in socioeconomic water on NDVI in shallow lakes. Ecol Eng 76:27–35

Zilov EA (2013) Water resources and the sustainable development of humankind: international cooperation in the rational use of freshwater-lake resources: conclusions from materials of foreign studies. Water Res 40(1):84–95

Zhang S, Weiwei F, Yi Y et al (2017) Evaluation method for regional water cycle health based on nature-society water cycle theory. J Hydrol 551:352–364

Zheng B, Jiayu P, Xiaozhen H et al (2018) The cause for abnormal water quality deterioration of Waihai of Dianchi Lake in 2017 and the countermeasures. J Environ Eng Technol 8(05):465–472 (in chinese)

Zhu Z, Dou J (2018) Current status of reclaimed water in China: an overview. J Water Reuse Desalination 8(3):293–307
Funding
This work was supported by the Integrated Technology of Water Pollution Control in Dianchi Basin and Application of Lakes in Yunnan Guizhou Plateau (2018ZX07604004).
Additional information
Publisher's note
Springer Nature remains neutral with regard to jurisdictional claims in published maps and institutional affiliations.
Responsible editor: Philippe Garrigues
Electronic supplementary material
About this article
Cite this article
Peng, J., Lu, S., Cao, Y. et al. A dualistic water cycle system dynamic model for sustainable water resource management through progressive operational scenario analysis. Environ Sci Pollut Res 26, 16085–16096 (2019). https://doi.org/10.1007/s11356-019-04565-9
Received:

Accepted:

Published:

Issue Date:
Keywords
Dualistic water cycle system

System dynamic model

Sustainable water resource management

Progressive operational scenario analysis

Dianchi Lake Basin