Abstract
The standardized precipitation index (SPI) and the standardized precipitation evapotranspiration index (SPEI) based on two different methods were calculated using monthly meteorological data from the Yangtze River Basin. According to the completeness and length of dataset, the monthly data of 35 meteorological stations from 1959 to 2017 were applied in this study. The results revealed that the SPEI calculated by the Penman-Monteith (PM) method performed better than the SPI and the SPEI based on the Thornthwaite (TH) method. Since SPEI_PM considered more meteorological factors and detailed physical processes, it obtained the most reasonable and accurate results of drought trends. Using the variations of SPEI_PM to analyze the decadal changes of drought characteristics in the basin, it could be found that 1980–1989 and 1990–1999 were the most humid periods in the basin, while the drought events became more frequent and severe in the recent decade. The spatial distributions of drought trend, duration and frequency indicated that the stations located in the midstream of the river were most prone to drought events, followed by the upper reaches. Our results provided more information for the regions where severe droughts occurred frequently and last longer, and more attention should be paid to these regions in future catchment management.
This is a preview of subscription content, log in to check access.
Access options
Buy single article
Instant access to the full article PDF.
US$ 39.95
Price includes VAT for USA
Subscribe to journal
Immediate online access to all issues from 2019. Subscription will auto renew annually.
US$ 99
This is the net price. Taxes to be calculated in checkout.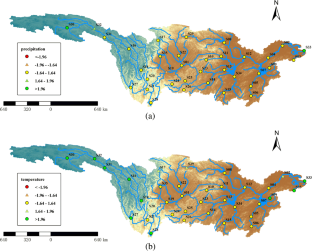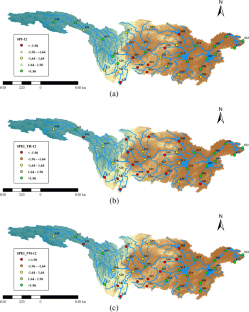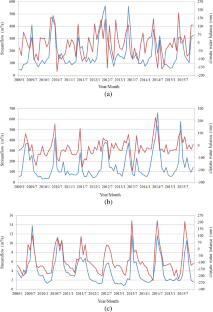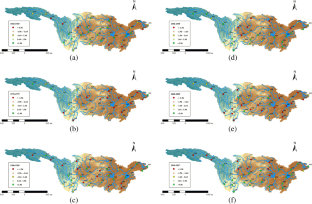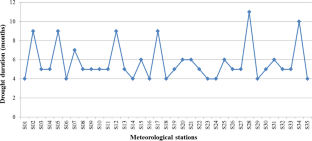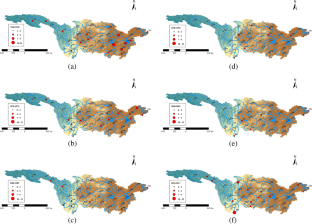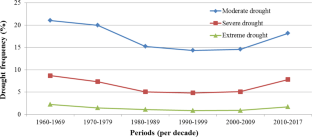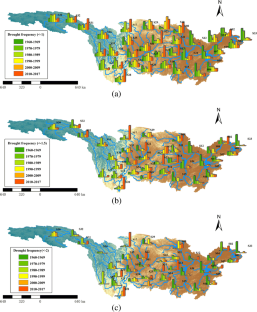 References
Ahmadi SH, Fooladmand HR (2008) Spatially distributed monthly reference evapotranspiration derived from the calibration of Thornthwaite equation: a case study, South of Iran. Irrig Sci 26:303–312

Allen RG, Pereira LS, Raes D, Smith M (1998) Crop evapotranspiration-guidelines for computing crop water requirements-FAO Irrigation and drainage paper 56 Fao, Rome 300:D05109

Beguería S, Vicente-Serrano SM, Reig F, Latorre B (2014) Standardized precipitation evapotranspiration index (SPEI) revisited: parameter fitting, evapotranspiration models, tools, datasets and drought monitoring. Int J Climatol 34:3001–3023

Chen H, Sun J (2015) Changes in drought characteristics over China using the standardized precipitation evapotranspiration index. J Clim 28:5430–5447

Chen Z, Li J, Shen H, Zhanghua W (2001) Yangtze River of China: historical analysis of discharge variability and sediment flux. Geomorphology 41:77–91

Chen Z, Wang Z, Finlayson B, Chen J, Yin D (2010) Implications of flow control by the Three Gorges Dam on sediment and channel dynamics of the middle Yangtze (Changjiang) River, China. Geology 38:1043–1046

Du J, Fang J, Xu W, Shi P (2013) Analysis of dry/wet conditions using the standardized precipitation index and its potential usefulness for drought/flood monitoring in Hunan Province, China. Stoch Env Res Risk A 27:377–387

Dubrovsky M, Svoboda MD, Trnka M, Hayes MJ, Wilhite DA, Zalud Z, Hlavinka P (2009) Application of relative drought indices in assessing climate-change impacts on drought conditions in Czechia. Theor Appl Climatol 96:155–171

Guan Y, Zheng F, Zhang X, Wang B (2017) Trends and variability of daily precipitation and extremes during 1960–2012 in the Yangtze River Basin, China. Int J Climatol 37:1282–1298

Heim RR Jr (2017) A Comparison of the early twenty-first century drought in the United States to the 1930s and 1950s drought episodes. Bull Am Meteorol Soc 98:2579–2592

Hui-Mean F, Yusop Z, Yusof F (2018) Drought analysis and water resource availability using standardised precipitation evapotranspiration index. Atmos Res 201:102–115

Kendall MG (1955) Rank correlation methods. Griffin, London

Kong L, Zheng H, Rao E, Xiao Y, Ouyang Z, Li C (2018) Evaluating indirect and direct effects of eco-restoration policy on soil conservation service in Yangtze River Basin. Sci Total Environ 631:887–894

Li X, Meshgi A, Babovic V (2016) Spatio-temporal variation of wet and dry spell characteristics of tropical precipitation in Singapore and its association with ENSO. Int J Climatol 36:4831–4846

Li X, Wang X, Babovic V (2018) Analysis of variability and trends of precipitation extremes in Singapore during 1980–2013. Int J Climatol 38:125–141

López-Moreno JI, Vicente-Serrano SM, Beguería S, García-Ruiz JM, Portela MM, Almeida A (2009) Dam effects on droughts magnitude and duration in a transboundary basin: the Lower River Tagus, Spain and Portugal. Water Resour Res 45. https://doi.org/10.1029/2008WR007198

Mann HB (1945) Nonparametric tests against trend. Econometrica 13:245–259. https://doi.org/10.2307/1907187

McKee TB, Doesken NJ, Kleist J (1993) The relationship of drought frequency and duration to time scales. In: Proceedings of the 8th Conference on Applied Climatology, vol 22. American Meteorological Society Boston, MA, pp 179–183

Novotny EV, Stefan HG (2007) Stream flow in Minnesota: Indicator of climate change. J Hydrol 334:319–333

Palmer WC (1965) Meteorological drought Office of Climatology Research Paper 45 Weather Bureau, Washington, DC

Piao S, Ciais P, Huang Y, Shen Z, Peng S, Li J, Zhou L, Liu H, Ma Y, Ding Y, Friedlingstein P, Liu C, Tan K, Yu Y, Zhang T, Fang J (2010) The impacts of climate change on water resources and agriculture in China. Nature 467:43. https://doi.org/10.1038/nature09364

Rebetez M, Mayer H, Dupont O, Schindler D, Gartner K, Kropp JP, Menzel A (2006) Heat and drought 2003 in Europe: a climate synthesis. Ann For Sci 63:569–577

Sang Y-F, Wang Z, Liu C (2013) Spatial and temporal variability of daily temperature during 1961–2010 in the Yangtze River Basin, China. Quat Int 304:33–42

Sen PK (1968) Estimates of the regression coefficient based on Kendall's tau. J Am Stat Assoc 63:1379–1389

Sentelhas PC, Gillespie TJ, Santos EA (2010) Evaluation of FAO Penman–Monteith and alternative methods for estimating reference evapotranspiration with missing data in Southern Ontario, Canada. Agric Water Manag 97:635–644

Shi W, Yu X, Liao W, Wang Y, Jia B (2013) Spatial and temporal variability of daily precipitation concentration in the Lancang River basin, China. J Hydrol 495:197–207

Tabari H, Grismer ME, Trajkovic S (2013) Comparative analysis of 31 reference evapotranspiration methods under humid conditions. Irrig Sci 31:107–117

Thornthwaite CW (1948) An approach toward a rational classification of climate. Geogr Rev 38:55–94

Tigkas D, Vangelis H, Tsakiris G (2018) Drought characterisation based on an agriculture-oriented standardised precipitation index. Theor Appl Climatol. https://doi.org/10.1007/s00704-018-2451-3

Tirivarombo S, Osupile D, Eliasson P (2018) Drought monitoring and analysis: Standardised Precipitation Evapotranspiration Index (SPEI) and Standardised Precipitation Index (SPI). Physics and Chemistry of the Earth, Parts A/B/C 106:1-10. https://doi.org/10.1016/j.pce.2018.07.001

Trenberth KE, Dai A, Van Der Schrier G, Jones PD, Barichivich J, Briffa KR, Sheffield J (2014) Global warming and changes in drought. Nat Clim Chang 4:17–22

Vicente-Serrano SM, Beguería S, López-Moreno JI (2010) A multiscalar drought index sensitive to global warming: the standardized precipitation evapotranspiration index. J Clim 23:1696–1718

Wu Z, Li J, He J, Jiang Z (2006) Occurrence of droughts and floods during the normal summer monsoons in the mid-and lower reaches of the Yangtze River. Geophys Res Lett 33. https://doi.org/10.1029/2005GL024487

Xu J, Yang D, Yi Y, Lei Z, Chen J, Yang W (2008) Spatial and temporal variation of runoff in the Yangtze River basin during the past 40 years. Quat Int 186:32–42

Xu W, Zhao Y, Liu X, Dore AJ, Zhang L, Liu L, Cheng M (2018) Atmospheric nitrogen deposition in the Yangtze River basin: spatial pattern and source attribution. Environ Pollut 232:546–555

Yu F, Chen Z, Ren X, Yang G (2009) Analysis of historical floods on the Yangtze River, China: characteristics and explanations. Geomorphology 113:210–216

Yu M, Li Q, Hayes MJ, Svoboda MD, Heim RR (2014) Are droughts becoming more frequent or severe in China based on the standardized precipitation evapotranspiration index: 1951–2010? Int J Climatol 34:545–558

Zarch MAA, Sivakumar B, Sharma A (2015) Droughts in a warming climate: a global assessment of Standardized precipitation index (SPI) and Reconnaissance drought index (RDI). J Hydrol 526:183–195

Zhang Z, Chao B, Chen J, Wilson C (2015) Terrestrial water storage anomalies of Yangtze River Basin droughts observed by GRACE and connections with ENSO. Glob Planet Chang 126:35–45
Acknowledgments
The authors express their thanks to the National Climate Centre of China Meteorological Administration (CMA). Comments and suggestions from two anonymous reviewers and the editor are greatly appreciated.
Funding
This work is supported by the Science & Technology Development Fund of Tianjin Education Commission for Higher Education (2017KJ125).
Additional information
Publisher's note
Springer Nature remains neutral with regard to jurisdictional claims in published maps and institutional affiliations.
Responsible editor: Philippe Garrigues
About this article
Cite this article
Li, X., Sha, J. & Wang, Z. Comparison of drought indices in the analysis of spatial and temporal changes of climatic drought events in a basin. Environ Sci Pollut Res 26, 10695–10707 (2019). https://doi.org/10.1007/s11356-019-04529-z
Received:

Accepted:

Published:

Issue Date:
Keywords
Drought analysis

Standardized precipitation index

Standardized precipitation evapotranspiration index

Yangtze River Basin