Abstract
The aim of this systematic review study was to investigate the causal relationship between environmental factors and gastric cancer (GC) in Iran. In a narrow definition, the environment includes water, soil, air, and food. This definition was the main criterion for the inclusion of articles in this study. In addition, exposure to radiation and geographical conditions were considered as less investigated environmental factors in the literatures. International (PubMed, Web of Science, ScienceDirect, Scopus, and Cochran) and national (Scientific Information Database) databases were searched for articles on GC and environmental risk factors in Iran. Twenty-six articles were found to meet the inclusion criteria after title, abstract, and full text review. Risk factors identified for GC include consumption of red meat; high fat, fried, and salted meat; smoked, salted, and fried foods; some dairy products; roasted and fried seeds; strong and hot tea; and un-piped and unchlorinated drinking water, as well as exposure to radiation, loess sediment, soft and grassy soil, soil containing low concentration of molybdenum, and proximity to volcanos. Fresh fruits and vegetable, fresh fish, and honey consumption were recognized as protective agents. Given the risk factors identified, strategies to prevent GC would be educating people to choose a healthy diet and to cook and store food properly, providing access to safe drinking water, taking into account topographical and geographical conditions in choosing a right location to build residential areas, and regulating the use of radiation-emitting devices.
This is a preview of subscription content, log in to check access.
Access options
Buy single article
Instant access to the full article PDF.
US$ 39.95
Price includes VAT for USA
Subscribe to journal
Immediate online access to all issues from 2019. Subscription will auto renew annually.
US$ 99
This is the net price. Taxes to be calculated in checkout.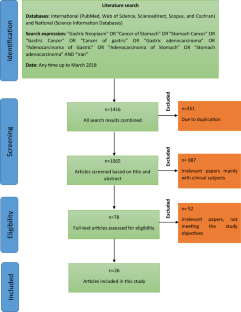 References
Amani F, Ahari SS, Barzegari S, Hassanlouei B, Sadrkabir M, Farzaneh E (2015) Analysis of relationships between altitude and distance from volcano with stomach cancer incidence using a geographic information system. Asian Pac J Cancer Prev 16:6889–6894. https://doi.org/10.7314/APJCP.2015.16.16.6889

Behnampour N, Hajizadeh E, Zayeri F, Semnani S (2014) Modeling of influential predictors of gastric cancer incidence rates in Golestan Province, North Iran. Asian Pac J Cancer Prev 15:1111–1117. https://doi.org/10.7314/apjcp.2014.15.3.1111

Behrouzian R, Aghdami N (2004) Urinary iodine/creatinine ratio in patients with stomach cancer in Urmia, Islamic Republic of Iran. East Mediterr Health J 10:921–924

Boffetta P, Nyberg F (2003) Contribution of environmental factors to cancer risk. Br Med Bull 68:71–94

Boreiri M, Samadi F, Etemadi A, Babaei M, Ahmadi E, Sharifi AH, Nikmanesh A, Houshiar A, Pourfarzai F, Yazdanbod A, Alimohammadian M, Sotoudeh M (2013) Gastric cancer mortality in a high incidence area: long- term follow-up of helicobacter pylori-related precancerous lesions in the general population. Arch Iran Med 16:343–347

Cover TL (2016) Helicobacter pylori diversity and gastric cancer risk. MBio 7:e01869–e01815

De Gonzalez AB, Darby S (2004) Risk of cancer from diagnostic X-rays: estimates for the UK and 14 other countries. Lancet 363:345–351

Dong H, Jin X, Hu J, Li H, He X, Liu X, Bao G (2012) High γ-radiation sensitivity is associated with increased gastric cancer risk in a Chinese Han population: a case-control analysis. PLoS One 7:e43625

Eichelberger L, Murphy G, Etemadi A, Abnet CC, Islami F, Shakeri R, Malekzadeh R, Dawsey SM (2015) Risk of gastric cancer by water source: evidence from the Golestan case-control study. PLoS One 10:e0128491. https://doi.org/10.1371/journal.pone.0128491

Farvid MS, Malekshah AF, Pourshams A, Poustchi H, Sepanlou SG, Sharafkhah M, Khoshnia M, Farvid M, Abnet CC, Kamangar F, Dawsey SM, Brennan P, Pharoah PD, Boffetta P, Willett WC, Malekzadeh R (2017) Dietary protein sources and all-cause and cause-specific mortality: the Golestan cohort study in Iran. Am J Prev Med 52:237–248. https://doi.org/10.1016/j.amepre.2016.10.041

Fitzmaurice C et al (2017) Global, regional, and national cancer incidence, mortality, years of life lost, years lived with disability, and disability-adjusted life-years for 32 cancer groups, 1990 to 2015: a systematic analysis for the global burden of disease study. JAMA Oncol 3:524–548

Hajiahmadi M, Shokri-Shirvani J, Moslemi D, Hasanzadeh S, Kaboodi PS, Ebrahimpour S (2017) A study of food consumption patterns in patients with gastric cancer in Mazandaran. J Mol Biol Res 7:106–111. https://doi.org/10.5539/jmbr.v7n1p106

Jarosz M, Dzieniszewski J, Dabrowska-Ufniarz E, Wartanowicz M, Ziemlanski S (2000) Tobacco smoking and vitamin C concentration in gastric juice in healthy subjects and patients with Helicobacter pylori infection. Eur J Cancer Prev 9:423–428

Karajibani M, Montazerifar F, Dashipour A, Ozhabrimanesh A (2014) Nutritional risk factors in the gastric cancer patients attending in Imam Ali Hospital, Zahedan. Iran Rawal Med J 39:19–24

Kelley JR, Duggan JM (2003) Gastric cancer epidemiology and risk factors. J Clin Epidemiol 56:1–9

Kohzadi S, Sheikhesmaili F, Rahehagh R, Parhizkar B, Ghaderi E, Loqmani H, Shahmoradi B, Mohammadi E, Maleki A (2017) Evaluation of trace element concentration in cancerous and non-cancerous tissues of human stomach. Chemosphere 184:747–752. https://doi.org/10.1016/j.chemosphere.2017.06.071

Koohsari MR (2004) A study on life style habits and gastric cancer in Guilan Province. Journal of Guilan University of Medical Sciences 49:10–19

Linet MS, Slovis TL, Miller DL, Kleinerman R, Lee C, Rajaraman P, Berrington de Gonzalez A (2012) Cancer risks associated with external radiation from diagnostic imaging procedures. CA Cancer J Clin 62:75–100

López-Carrillo L, Torres-López J, Galván-Portillo M, Muñoz L, López-Cervantes M (2004) Helicobacter pylori-CagA seropositivity and nitrite and ascorbic acid food intake as predictors for gastric cancer. Eur J Cancer 40:1752–1759

Lou T, Huang W, Wu X, Wang M, Zhou L, Lu B, Zheng L, Hu Y (2017) Monitoring, exposure and risk assessment of sulfur dioxide residues in fresh or dried fruits and vegetables in China. Food Addit Contam Part A 34:918–927

Malekzadeh R, Sotoudeh M, Derakhshan MH, Mikaeli J, Yazdanbod A, Merat S, Yoonessi A, Tavangar M, Abedi BA, Sotoudehmanesh R, Pourshams A, Asgari AA, Doulatshahi S, Alizadeh BZ, Arshi S, Madjidpoor A, Mir Moomen S, Fleischer DE (2004) Prevalence of gastric precancerous lesions in Ardabil, a high incidence province for gastric adenocarcinoma in the northwest of Iran. J Clin Pathol 57:37–42

Malekzadeh R, Derakhshan MH, Malekzadeh Z (2009) Gastric cancer in Iran: epidemiology and risk factors. Arch Iran Med 12:576–583

Marzban M, Nahvijou A, Jafari N (2012) Six-fold difference in the stomach cancer mortality rate between northern and southern Iran. Arch Iran Med 15:741

McGuinn LA, Ghazarian AA, Ellison GL, Harvey CE, Kaefer CM, Reid BC (2012) Cancer and environment: definitions and misconceptions. Environ Res 112:230–234

Mohammadi-Karakani A, Ghazi-Khansari M, Sotoudeh M, Malekzadeh R (2008) Determination of urinary lipid peroxidation and nitric oxide levels in patients with upper gastrointestinal cancers in Iran. Toxicol Lett 180:S86–S87. https://doi.org/10.1016/j.toxlet.2008.06.530

Ostadrahimi A, Payahoo L, Somi MH, Khajebishak Y (2017) The association between urinary cadmium levels and dietary habits with risk of gastrointestinal cancer in Tabriz, Northwest of Iran. Biol Trace Elem Res 175:72–78. https://doi.org/10.1007/s12011-016-0764-6

Pakseresht M, Forman D, Malekzadeh R, Yazdanbod A, West RM, Greenwood DC, Crabtree JE, Cade JE (2011) Dietary habits and gastric cancer risk in north-west Iran. Cancer Causes Control 22:725–736. https://doi.org/10.1007/s10552-011-9744-5

Peleteiro B, Padrão P, Castro C, Ferro A, Morais S, Lunet N (2016) Worldwide burden of gastric cancer in 2012 that could have been prevented by increasing fruit and vegetable intake and predictions for 2025. Br J Nutr 115:851–859

Pourfarzi F, Whelan A, Kaldor J, Malekzadeh R (2009) The role of diet and other environmental factors in the causation of gastric cancer in Iran - a population based study. Int J Cancer 125:1953–1960. https://doi.org/10.1002/ijc.24499

Rafiei A, Hosseini V, Janbabai G, Fazli B, Ajami A, Hosseini-Khah Z, Gilbreath J, Merrell DS (2012) Inducible nitric oxide synthetase genotype and Helicobacter pylori infection affect gastric cancer risk. World J Gastroenterol 18:4917–4924. https://doi.org/10.3748/wjg.v18.i35.4917

Ramezani B, Hanifi A (2011) Recognition of the geographical distribution of gastric cancer prevalence in Guilan Province. J Environ Sci Technol 13:79–92

Rohani-Rasaf M, Abdollahi M, Jazayeri S, Kalantari N, Asadi-Lari M (2013) Correlation of cancer incidence with diet, smoking and socio-economic position across 22 districts of Tehran in 2008. Asian Pac J Cancer Prev 14:1669–1676. https://doi.org/10.7314/apjcp.2013.14.3.1669

Sadjadi A, Malekzadeh R, Derakhshan MH, Sepehr A, Nouraie M, Sotoudeh M, Yazdanbod A, Shokoohi B, Mashayekhi A, Arshi S, Majidpour A, Babaei M, Mosavi A, Mohagheghi MMA, Alimohammadian M (2003) Cancer occurrence in Ardabil: results of a population-based cancer registry from Iran. Int J Cancer 107:113–118

Sadjadi A, Derakhshan MH, Yazdanbod A, Boreiri M, Parsaeian M, Babaei M, Alimohammadian M, Samadi F, Etemadi A, Pourfarzi F, Ahmadi E, Delavari A, Islami F, Farzadfar F, Sotoudeh M, Nikmanesh A, Alizadeh BZ, de Bock GH, Malekzadeh R (2014) Neglected role of hookah and opium in gastric carcinogenesis: a cohort study on risk factors and attributable fractions. Int J Cancer 134:181–188

Screening P, Board PE (2017) Stomach (gastric) cancer prevention (PDQ®)

Semnani S, Arabali A, Keshtkar AA, Behnampour N, Besharat S, Roshandel G (2009a) Nitrate and nitrite level of drinking water and the risk of upper gastrointestinal cancers in urban areas of Golestan Province, northeast of Iran. Kerman Univ Med Sci J 3:281–290

Semnani S, Besharat S, Arabali A, Keshtkar AA, Roshandel G, Abdollahi N, Behnampour N (2009b) Relationship between hardness of drinking water and eosophageal and gastric cancer in Golestan Province Journal of Gorgan University of Medical. Sciences 3:76–80

Shakeri R, Malekzadeh R, Etemadi A, Nasrollahzadeh D, Abedi-Ardekani B, Khoshnia M, Islami F, Pourshams A, Pawlita M, Boffetta P, Dawsey SM, Kamangar F, Abnet CC (2013) Association of tooth loss and oral hygiene with risk of gastric adenocarcinoma. Cancer Prev Res (Phila) 6:477–482. https://doi.org/10.1158/1940-6207.CAPR-12-0491

Shikata K, Kiyohara Y, Kubo M, Yonemoto K, Ninomiya T, Shirota T, Tanizaki Y, Doi Y, Tanaka K, Oishi Y, Matsumoto T, Iida M (2006) A prospective study of dietary salt intake and gastric cancer incidence in a defined Japanese population: the Hisayama study. Int J Cancer 119:196–201

Somi MH, Mousavi SM, Naghashi S, Faramarzi E, Jafarabadi MA, Ghojazade M, Majidi A, Alavi SAN (2015) Is there any relationship between food habits in the last two decades and gastric cancer in North-Western Iran? Asian Pac J Cancer Prev: APJCP 16:283–290

Taghian AR, Entezari M, Sepahvand S, Hashemi H (2015) The relationship between nitrate in drinking water and gastric cancer in the Isfahan province. J Health Syst Res 11:473–485

Taghipour H, Nowrouz P, Dastgiri Mehri S, Bafandeh Y, Mahdavi R, Hashemimajd K (2014) Estimating of dietary nitrate consumption in two cities of Varzaghan and Parsabad with different occurrence of gastric cancer journal of Ardabil University of Medical. Sciences 14:266–273

Trédaniel J, Boffetta P, Buiatti E, Saracci R, Hirsch A (1997) Tobacco smoking and gastric cancer: review and meta-analysis. Int J Cancer 72:565–573

Uemura N, Okamoto S, Yamamoto S, Matsumura N, Yamaguchi S, Yamakido M, Taniyama K, Sasaki N, Schlemper RJ (2001) Helicobacter pylori infection and the development of gastric cancer. N Engl J Med 345:784–789

Vahid F, Rahmani G, Naeini AJ, Falahnejad H, Davoodi SH (2018) The association between index of nutritional quality (INQ) and gastric cancer and evaluation of nutrient intakes of gastric cancer patients: a case-control study. Int J Cancer Manag 11. https://doi.org/10.5812/ijcm.9747

Wang Z, Butler LM, Wu AH, Koh WP, Jin A, Wang R, Yuan JM (2016) Reproductive factors, hormone use and gastric cancer risk: the Singapore Chinese health study. Int J Cancer 138:2837–2845

Xu L, Qu Y-H, Chu X-D, Wang R, Nelson HH, Gao Y-T, Yuan J-M (2015) Urinary levels of N-nitroso compounds in relation to risk of gastric cancer: findings from the shanghai cohort study. PLoS One 10:e0117326

Yaghoobi M, Rakhshani N, Sadr F, Bijarchi R, Joshaghani Y, Mohammadkhani A, Attari A, Akbari MR, Hormazdi M, Malekzadeh R (2004) Hereditary risk factors for the development of gastric cancer in younger patients. BMC Gastroenterol 4:28

Yang I, Woltemate S, Piazuelo MB, Bravo LE, Yepez MC, Romero-Gallo J, Delgado AG, Wilson KT, Peek RM, Correa P, Josenhans C, Fox JG, Suerbaum S (2016) Different gastric microbiota compositions in two human populations with high and low gastric cancer risk in Colombia. Sci Rep 6:18594

Zamani N, Hajifaraji M, Fazel-tabar Malekshah A, Keshtkar AA, Esmaillzadeh A, Malekzadeh R (2013) A case-control study of the relationship between gastric cancer and meat consumption in Iran. Arch Iran Med 16:324–329

Ziarati AA, Ghorbani H, Hosseinalizadeh M (2013) Relationship between spatial distribution of esophageal and gastric cancers and soil conditions in Golestan province. J Mazandaran Univ Med Sci 22:193–207
Acknowledgments
This study was conducted as part of Ph.D. thesis of the first author at Tehran University of Medical Sciences, Iran.
Funding
This study was supported by the Institute for Environmental Research (IER), Tehran University of Medical Sciences (grant number: 96-03-46-36620).
Ethics declarations
Conflict of interest
The authors declare that they have no conflict of interest.
Additional information
Publisher's note
Springer Nature remains neutral with regard to jurisdictional claims in published maps and institutional affiliations.
Responsible editor: Philippe Garrigues
Electronic supplementary material
About this article
Cite this article
Ghaffari, H.R., Yunesian, M., Nabizadeh, R. et al. Environmental etiology of gastric cancer in Iran: a systematic review focusing on drinking water, soil, food, radiation, and geographical conditions. Environ Sci Pollut Res 26, 10487–10495 (2019). https://doi.org/10.1007/s11356-019-04493-8
Received:

Accepted:

Published:

Issue Date:
Keywords
Environment

Gastric cancer

Water

Soil

Food

Radiation

Geographical condition