Abstract
Naproxen (NAP) is a nonsteroidal anti-inflammatory drug which has been widely used and frequently detected in water environments. This study investigated the NAP degradation in the chlorination and UV/chlorine disinfection processes, which usually acted as the last barriers for water treatment. The results showed that both chlorination and UV/chlorine disinfection could remove NAP effectively. At various chlorine dosages (0.1~0.5 mM), the contributions of chlorination and reactive radicals to the degradation of NAP in the UV/chlorine process were calculated to be 50.5~56.9% and 43.1~49.5%, respectively. However, the reactive radicals dominated in NAP degradation in alkaline solutions, while chlorination dominated in acidic conditions. The HCO3− (10~50 mM) slightly inhibited, Cl− (10~50 mM) gradually promoted, and HA (1~5 mg/L) significantly reduced NAP degradation by UV/chlorine process. The degradation intermediates and products were obtained via high-performance liquid chromatography with QE-MS/MS; NAP was degraded by demethylation, acetylation, and dicarboxylic acid pathways during the chlorination and UV/chlorination processes.
This is a preview of subscription content, log in to check access.
Access options
Buy single article
Instant access to the full article PDF.
US$ 39.95
Price includes VAT for USA
Subscribe to journal
Immediate online access to all issues from 2019. Subscription will auto renew annually.
US$ 99
This is the net price. Taxes to be calculated in checkout.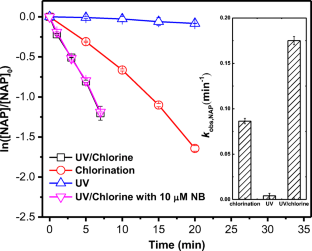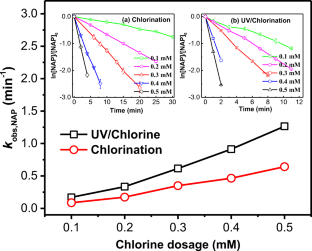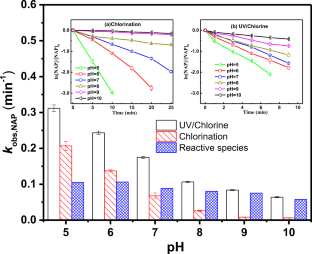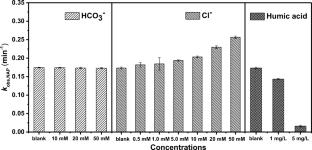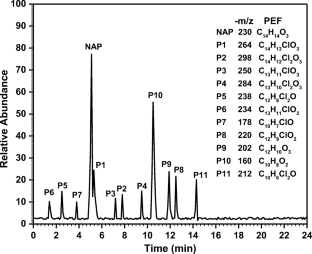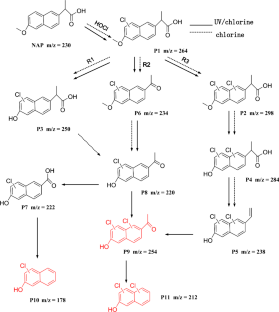 References
Acero JL, Benitez FJ, Real FJ, Roldan G (2010) Kinetics of aqueous chlorination of some pharmaceuticals and their elimination from water matrices. Water Res 44:4158–4170

Alexander SJ (1975) Clinical experience with naproxen in rheumatoid arthritis. Arch Intern Med 135:1429–1435

Arany E, Szabó RK, Apáti L, Alapi T, Ilisz I, Mazellier P, Dombi A, Gajda-Schrantz K (2013) Degradation of naproxen by UV, VUV photolysis and their combination. J Hazard Mater 262:151–157

Bendz D, Paxéus NA, Ginn TR, Loge FJ (2005) Occurrence and fate of pharmaceutically active compounds in the environment, a case study: höje river in Sweden. J Hazard Mater 122:195–204

Boyd GR, Zhang S, Grimm DA (2005) Naproxen removal from water by chlorination and biofilm processes. Water Res 39:668–676

Cai MQ, Feng L, Jiang J, Qi F, Zhang LQ (2013) Reaction kinetics and transformation of antipyrine chlorination with free chlorine. Water Res 47:2830–2842

Cai MQ, Feng L, Zhang LQ (2017) Transformation of aminopyrine in the presence of free available chlorine: kinetics, products, and reaction pathways. Chemosphere 171:625–634

Chin CJM, Chen TY, Lee M, Chang CF, Liu YT, Kuo YT (2014) Effective anodic oxidation of naproxen by platinum nanoparticles coated fto glass. J Hazard Mater 277:110–119

Christen V, Hickmann S, Rechenberg B, Fent K (2010) Highly active human pharmaceuticals in aquatic systems: a concept for their identification based on their mode of action. Aquat Toxicol 96:167–181

Coria G, Sirés I, Brillas E, Nava JL (2016) Influence of the anode material on the degradation of naproxen by Fenton-based electrochemical processes. Chem Eng J 304:817–825

Deborde M, Von Gunten U (2008) Reactions of chlorine with inorganic and organic compounds during water treatment—kinetics and mechanisms: a critical review. Water Res 42:13–51

Deng J, Shao Y, Gao N, Xia S, Tan C, Zhou S, Hu X (2013) Degradation of the antiepileptic drug carbamazepine upon different UV-based advanced oxidation processes in water. Chem Eng J 222:150–158

Dong H, Qiang Z, Hu J, Qu J (2017) Degradation of chloramphenicol by UV/chlorine treatment: kinetics, mechanism and enhanced formation of halonitromethanes. Water Res 121:178–185

Fang J, Fu Y, Shang C (2014) The roles of reactive species in micropollutant degradation in the UV/free chlorine system. Environ Sci Technol 48:1859–1868

Fernández C, González-Doncel M, Pro J, Carbonell G, Tarazona JV (2010) Occurrence of pharmaceutically active compounds in surface waters of the henares-jarama-tajo river system (Madrid, Spain) and a potential risk characterization. Sci Total Environ 408:543–551

Guo ZB, Lin YL, Xu B, Huang H, Zhang TY, Tian FX, Gao NY (2016) Degradation of chlortoluron during uv irradiation and uv/chlorine processes and formation of disinfection by-products in sequential chlorination. Chem Eng J 283:412–419

Hijnen WA, Beerendonk EF, Medema GJ (2006) Inactivation credit of uv radiation for viruses, bacteria and protozoan (oo)cysts in water: a review. Water Res 40:3–22

Jia XH, Feng L, Liu YZ (2018) Degradation behaviors and genetic toxicity variations of pyrazolone pharmaceuticals during chlorine dioxide disinfection process[J]. Chem Eng J 345:156–164

Kosaka K, Nakai T, Hishida Y, Asami M, Ohkubo K, Akiba M (2016) Formation of 2,6-dichloro-1,4-benzoquinone from aromatic compounds after chlorination. Water Res 110:48–55

Luo Y, Guo W, Ngo HH, Nghiem LD, Hai FI, Zhang J, Liang S, Wang XC (2014) A review on the occurrence of micropollutants in the aquatic environment and their fate and removal during wastewater treatment. Sci Total Environ 473-474:619–641

Luo S, Gao L, Wei Z, Spinney R, Dionysiou DD, Hu WP, Chai L, Xiao R (2018) Kinetic and mechanistic aspects of hydroxyl radical–mediated degradation of naproxen and reaction intermediates. Water Res 137:233–241

Morris JC (1966) The acid ionization constant of hocl from 5 to 35°C. J Phys Chem 70:3798–3805

Rosal R, Rodríguez A, Perdigón-Melón JA, Petre A, García-Calvo E, Gómez MJ, Agüera A, Fernández-Alba AR (2010) Occurrence of emerging pollutants in urban wastewater and their removal through biological treatment followed by ozonation. Water Res 44:578–588

Santos JL, Aparicio I, Alonso E, Callejón M (2005) Simultaneous determination of pharmaceutically active compounds in wastewater samples by solid phase extraction and high-performance liquid chromatography with diode array and fluorescence detectors. Anal Chim Acta 550:116–122

Sirés I, Brillas E (2012) Remediation of water pollution caused by pharmaceutical residues based on electrochemical separation and degradation technologies: a review. Environ Int 40:212–229

Štrbac D, Aggelopoulos CA, Štrbac G, Dimitropoulos M, Novaković M, Ivetić T, Yannopoulos SN (2018) Photocatalytic degradation of naproxen and methylene blue: comparison between ZnO, TiO2 and their mixture. Process Saf Environ 113:174–183

Stumpf M, Ternes TA, Wilken RD, Rodrigues SV, Baumann W (1999) Polar drug residues in sewage and natural waters in the state of Rio de Janeiro, Brazil. Sci Total Environ 225:135–141

Tang YQ, Shi XT, Liu YZ, Feng L, Zhang LQ (2018) Degradation of clofibric acid in UV/chlorine disinfection process: kinetics, reactive species contribution and pathways. R Soc Open Sci 5(2):171372

Tixier C, Singer HP, Oellers S, Müller SR (2003) Occurrence and fate of carbamazepine, clofibric acid, diclofenac, ibuprofen, ketoprofen, and naproxen in surface waters. Environ Sci Technol 37:1061–1068

Vieno NM, Härkki H, Tuhkanen T, Kronberg L (2007) Occurrence of pharmaceuticals in river water and their elimination in a pilot-scale drinking water treatment plant. Environ Sci Technol 41:5077–5084

Von Gunten U (2003) Ozonation of drinking water: part ii. Disinfection and by-product formation in presence of bromide, iodide or chlorine. Water Res 37:1469–1487

Wang TX, Margerum DW (2002) Kinetics of reversible chlorine hydrolysis: temperature dependence and general-acid/base-assisted mechanisms. Inorg Chem 33:1050–1055

Watts MJ, Linden KG (2007) Chlorine photolysis and subsequent OH radical production during UV treatment of chlorinated water. Water Res 41:2871–2878

Wu ZH, Fang JY, Xiang YY, Shang C, Li X, Meng FG, Yang X (2016) Roles of reactive chlorine species in trimethoprim degradation in the UV/chlorine process: kinetics and transformation pathways. Water Res 104:272–282

Yang Y, Pignatello JJ, Ma J, Mitch WA (2014) Comparison of halide impacts on the efficiency of contaminant degradation by sulfate and hydroxyl radical-based advanced oxidation processes (AOPs). Environ Sci Technol 48:2344–2351

Zhu YP, Wu M, Gao NY, Chu WH, Li K, Chen S (2018) Degradation of phenacetin by the UV/chlorine advanced oxidation process: kinetics, pathways, and toxicity evaluation. Chem Eng J 335:520–529
Funding
This work was supported by the National Nature Science Foundation of China (51578066 and 51608036) and the Fundamental Research Funds for the Central Universities (No. 2015ZCQ-HJ-02).
Additional information
Publisher's note
Springer Nature remains neutral with regard to jurisdictional claims in published maps and institutional affiliations.
Responsible editor: Bingcai Pan
About this article
Cite this article
Liu, Y., Tang, Y., Wu, Y. et al. Degradation of naproxen in chlorination and UV/chlorine processes: kinetics and degradation products. Environ Sci Pollut Res 26, 34301–34310 (2019). https://doi.org/10.1007/s11356-019-04472-z
Received:

Accepted:

Published:

Issue Date:
Keywords
Naproxen

Chlorination

UV/chlorine disinfection

Kinetics

Degradation products