Abstract
The disposal of food waste has attracted worldwide attention. Each year, the amount of wasted food accounts for an estimated one third of annual food production globally. This large amount of food waste has caused serious land, water, and air pollution. In the past, most research on food waste was focused solely on food waste disposal processing. Only a few studies analysed the flow of materials in food waste treatment processes. Therefore, this paper focused on the process of food waste anaerobic treatment in Beijing and investigated the treatment. According to a life cycle theory, the food waste treatment process is divided into three processes: "collection and transportation, disposal, and resource utilization." This paper analysed the input and output of food waste treatment in different processes and evaluated the economic and environmental costs and benefits of food waste treatment. The study found that 200 t of food waste anaerobic treatment can obtain benefits 66,888 Chinese yuan, generate electricity energy 43,350 kW⋅h, and reduce carbon dioxide emissions 16,087 kg. Generally, the economic and environmental benefits of the food waste anaerobic treatment project are considerable. However, the economic benefits are mainly from government subsidies. There are many impurities in food waste, which indicates some problems in food waste treatment. Thus, the proposals to strengthen waste classification, optimize the layout of garbage collection and transportation, and accelerate the development of waste treatment plants have been put forward.
This is a preview of subscription content,
to check access.
Access this article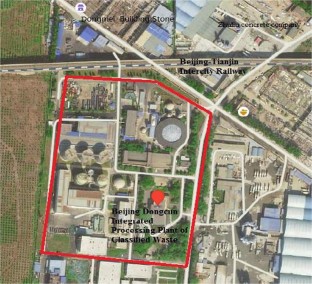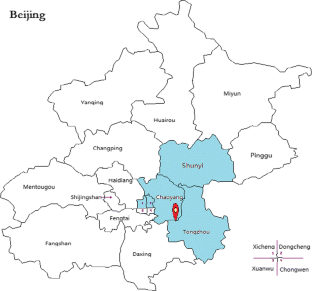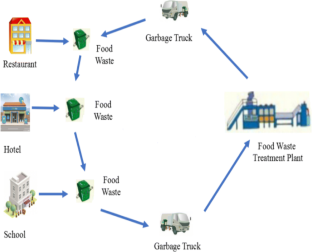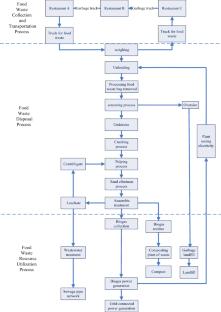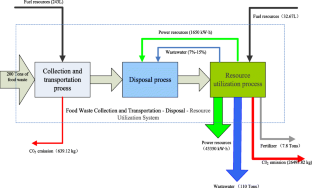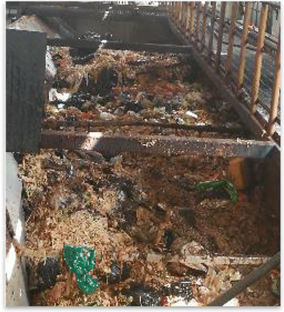 Similar content being viewed by others
References
Ahamed A, Yin K, Ng BJH, Ren F, Chang VWC, Wang JY (2016) Life cycle assessment of the present and proposed food waste management technologies from environmental and economic impact perspectives. J Clean Prod 131:607–614

Arafat HA, Jijakli K, Ahsan A (2015) Environmental performance and energy recovery potential of five processes for municipal solid waste treatment. J Clean Prod 105:233–240

Chen Y (2016) A cost analysis of food waste composting in Taiwan. Sustainability 8:1210

Clercq DD, Wen Z, Fan F et al (2016) Biomethane production potential from restaurant food waste in megacities and project level-bottlenecks: a case study in Beijing. Renew Sust Energ Rev 59:1676–1685

Clercq DD, Wen Z, Caicedo L et al (2017a) Application of DEA and statistical inference to model the determinants of biomethane production efficiency: a case study in South China. Appl Energy 205:1231–1243

Clercq DD, Wen Z, Lu X et al (2017b) Determinants of efficiency in an industrial-scale anaerobic digestion food waste-to-biogas project in an Asian megacity based on data envelopment analysis and exploratory multivariate statistics. J Clean Prod 168:983–996

Clercq DD, Wen Z, Fan F (2017c) Performance evaluation of restaurant food waste and biowaste to biogas pilot projects in China and implications for national policy. J Environ Manag 189:115–124

Du X, Chen T, Li H, Ren L, Jin Y (2010) Environmental impact analysis of two typical restaurant garbage regeneration technologies. Chin J Environ Eng 4(1):189–194 (in Chinese)

Eriksson M, Strid I, Hansson PA (2015) Carbon footprint of food waste management options in the waste hierarchy—a swedish case study. J Clean Prod 93:115–125

Hao X, Zhou P, Cao D (2017) Analyses of disposal methods and carbon emissions of food wastes. Chin J Environ Eng 02:673–682 (in Chinese)

Jiang J, Liao L, Bi Z (2012) Cost-benefit analysis of domestic waste classification in Shenzhen City. Environ Sanit Eng 01:20–23 (in Chinese)

Laurentiis D, Valeria H et al (2016) Overcoming food security challenges within an energy/water/food nexus (EWFN) approach. Sustainability 8:95

Li X, Tong J, Zhang C et al (2013) Research on food waste treatment planning: considering the diet culture of Chongqing. China Popul Resour Environ S2:416–420 (in Chinese)

Liao C, Hong J, Zhao D et al (2018) Confucian culture as determinants of consumers' food leftover generation: evidence from Chengdu, China. Environ Sci Pollut Res 25:1–15

Liu Y (2014) Supply chain logistics optimization research of restaurant kitchen waste—G company in Beijing. Dissertation, Capital University of Economics and Business. (in Chinese)

Liu B, He Y, Liu S et al (2016) Economic evaluation on a treatment project of kitchen waste. Environ Sanit Eng 01:36–37 (in Chinese)

Liu T, Wu Y, Xie H (2017) Status and countermeasures for food waste recycling management in Beijing. Environ Sanit Eng 01:83–84 (in Chinese)

Lo IM, Woon S (2016) Food waste collection and recycling for value-added products: potential applications and challenges in Hong Kong. Environ Sci Pollut Res 23:7081–7091

Meng QX, Huang T (2010) Quadratic exponential smoothing forecast of Chendu food waste production. Sichuan Environ 04:29–30 (in Chinese)

Miah JH, Koh SCL, Stone D (2017) A hybridised framework combining integrated methods for environmental life cycle assessment and life cycle costing. J Clean Prod 168:846–866

Oldfield TL, White E, Holden NM (2016) An environmental analysis of options for utilising wasted food and food residue. J Environ Manag 183:826–835

Opatokun SA, Lopez-Sabiron AM, Ferreira G, Strezov V (2017) Life cycle analysis of energy production from food waste through anaerobic digestion, pyrolysis and integrated energy system. Sustainability 9:1804

Reutter B, Lant P, Reynolds C, Lane J (2017) Food waste consequences: environmentally extended input-output as a framework for analysis. J Clean Prod 153:506–514

Secondi L, Principato L, Laureti T (2015) Household food waste behaviour in eu-27 countries: a multilevel analysis. Food Policy 56:25–40

Shahabadi MB, Yerushalmi L, Haghighat F (2010) Estimation of greenhouse gas generation in wastewater treatment plants—model development and application. Chemosphere 78(9):1085–1092

Shang L, Du M, Jing C et al (2013) Multisectoral collaborative kitchen waste management based on GIS and IOT. Internet Thing Technol 05:73–75 (in Chinese)

Song G, Li M, Semakula FK et al (2015a) Food consumption and waste and the embedded carbon, water and ecological footprints of households in China. Sci Total Environ 529:191–197

Song G, Du Q, Ma B (2015b) Social cost accounting for solid waste landfill disposal in Beijing. J Arid Land Resour Environ 08:57–63 (in Chinese)

Tan ST, Ho WS, Hashim H, Lee CT, Taib MR, Ho CS (2015a) Energy, economic and environmental (3E) analysis of waste-to-energy (WTE) strategies for municipal solid waste (MSW) management in Malaysia. Energy Convers Manag 102:111–120

Tan X, Shi L, Ma Z et al (2015b) Institutional analysis of sewage treatment charge based on operating cost of sewage treatment plant—an empirical research of 227samples in China. China Environ Sci 35:3833–3840 (in Chinese)

Thyberg KL, Tonjes DJ (2016) Drivers of food waste and their implications for sustainable policy development. Resour Conserv Recycl 106:110–123

Veeramani A, Dias GM, Kirkpatrick SI (2017) Carbon footprint of dietary patterns in Ontario, Canada: a case study based on actual food consumption. J Clean Prod 162:1398–1406

Wang P, Ren L, Gan X (2013) Investigation and output factors analysis of restaurant garbage for cities in China. Environ Sci Technol 03:181–185

Wen Z, Wang Y, Clercq DD (2016) What is the true value of food waste? A case study of technology integration in urban food waste treatment in Suzhou City, China. J Clean Prod 118:88–96

Wu H (2015) Study on the construction of recycling logistics system. Dissertation, Shijiazhuang Tiedao university. (in Chinese)

Xiao Y (2015) The research of intelligent transportation route dynamic generation method based on temporal and spatial distribution of kitchen waste. Dissertation, China University of mining and technology. (in Chinese)

Xu X, Lan Y (2016) A comparative study on carbon footprints between plant- and animal-based foods in China. J Clean Prod 112:2581–2592

Zhang J (2018) Ways and efficiency analysis of landfill gas utilization in Beijing Liulitun landfill. Environ Sanit Eng 03:26–28 (in Chinese)

Zhang Y, Gao D, Chen T et al (2006) Economical evaluation of different techniques to treatment and dispose sewage sludge in Beijing. Ecol Environ 02:234–238 (in Chinese)

Zhang C, Wang X, Chen F et al (2012) Application research on the anaerobic digestion treatment technique of the kitchen waste in Beijing. Technol Dev Enterp 10:81–82 (in Chinese)

Zhang D, Cheng S, Gao L et al (2016) The carbon footprint of catering industry food waste: a Beijing case study. Acta Ecol Sin 18:5937–5948 (in Chinese)
Funding
Project supported by the Social Science Foundation of Beijing (16YJC062) and the Fundamental Research Funds for the Central Universities of China (2017MS082 and 2018ZD14).
Additional information
Responsible editor: Philippe Loubet
Publisher's note
Springer Nature remains neutral with regard to jurisdictional claims in published maps and institutional affiliations.
About this article
Cite this article
Guo, X., Yang, X. The economic and environmental benefits analysis for food waste anaerobic treatment: a case study in Beijing. Environ Sci Pollut Res 26, 10374–10386 (2019). https://doi.org/10.1007/s11356-019-04454-1
Received:

Accepted:

Published:

Issue Date:

DOI: https://doi.org/10.1007/s11356-019-04454-1
Keywords