Abstract
With the actual increasing interest for urban soils, the evaluation of soil contamination by trace elements and the dynamics of this contamination appear mandatory to preserve plant and thereby human health. Street trees and the associated soil placed in pits located nearby roads could represent convenient indicators of urban and vehicle traffic influences on soils and plants. However, data on these soils remain scarce, many studies investigating park soils rather than street tree soils. Furthermore, trace elements could be one of the main factors causing the observed urban tree decline, while practitioners more and more question the possible reuse of these soils after the death of trees as well as tree litter collected in the streets. We evaluated the contamination in anthropogenic trace elements (TE), namely Zn, Pb, and Cd, of street trees (Tilia tomentosa) and their soils distributed all over Paris (France). Street tree soils are imported from rural areas at the plantation of each new tree so that tree age corresponds to the time of residence of the soil within an urban environment allowing the evaluation of temporal trends on TE concentration in soils and trees. The TE concentration revealed an important soil pollution, especially for the older soils (mean age of 80 years old). The consideration of the residence time of trees and soils in an urban environment evidenced an accumulation of Zn and Pb (ca. 4.5 mg kg−1 year−1 and 4 mg kg−1 year−1 for Zn and Pb, respectively). However, leaf concentrations in TE were low and indicate that soil-root transfer was not significant compared to the contamination by atmospheric deposition. These results underlined the necessity to deepen the evaluation of the recycling of urban soils or plants submitted to urban contamination.
This is a preview of subscription content, log in to check access.
Access options
Buy single article
Instant access to the full article PDF.
US$ 39.95
Price includes VAT for USA
Subscribe to journal
Immediate online access to all issues from 2019. Subscription will auto renew annually.
US$ 99
This is the net price. Taxes to be calculated in checkout.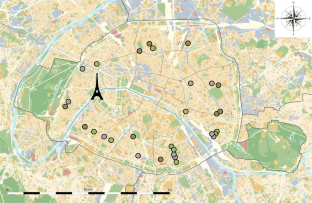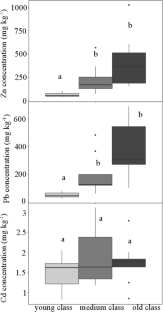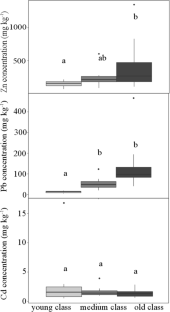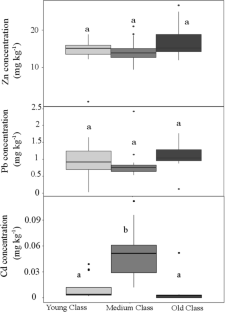 References
Ajmone-Marsan F, Biasioli M (2010) Trace elements in soils of urban areas. Water Air Soil Pollut 213:121–143

Aničic M, Spasic T, Tomasevic M, Rajšića S, Tasića M (2011) Trace elements accumulation and temporal trends in leaves of urban deciduous trees (Aesculus hippocastanum and Tilia spp.). Ecol Indic 11:824–830

Ayrault S, Catinon M, Boudouma O, Bordier L, Agnello G, Reynaud S, Tissut M (2013) Street dust: source and sink of heavy metals to urban environment. E3S Web of Conferences, volume 1, 2013 Proceedings of the 16th International Conference on Heavy Metals in the Environment. 1. 20001. https://doi.org/10.1051/e3sconf/20130120001

Azimi S, Rocher V, Garnaud S, Varrault G, Thevenot DR (2005a) Decrease of atmospheric deposition of heavy metals in an urban area from 1994 to 2002 (Paris, France). Chemosphere 61:645–651

Azimi S, Rocher V, Ruller M, Moilleron R, Thevenot DR (2005b) Sources, distribution and variability of hydrocarbons and metals in atmospheric deposition in an urban area (Paris, France). Sci Total Environ 337:223–239

Basioli M, Barberis R, Ajmone-Marsan F (2006) The influence of a large city on some soil properties and metals content. Sci Total Environ 356:154–164

Baycu G, Tolunay D, Özden H, Günebakan S (2006) Ecophysiological and seasonal variations in cd, Pb, Zn, and Ni concentrations in the leaves of urban deciduous trees in Istanbul. Environ Pollut 143:545–554

Birke M, Rauch U (2000) Urban geochemistry: investigations in the Berlin metropolitan area. Environ Geochem Health 22(3):233–248

Charlesworth S, Everett M, McCarthy R, Ordóñez A, de Miguel E (2003) A comparative study of heavy metal concentration and distribution in deposited street dusts in a large and a small urban area: Birmingham and Coventry, West Midlands, UK. Environ Int 29:563–573

Chen T-B, Zheng Y-M, Lei M, Huang Z-C, Wu H-T, Chen H, Fan K-K, Yu K, Wu X, Tian Q-Z (2005) Assessment of heavy metal pollution in surface soils of urban parks in Beijing, China. Chemosphere 60:542–551

Chojnacka K, Chojnacki A, Gorecka H, Gorecki H (2005) Bioavailability of heavy metals from polluted soils to plants. Sci Total Environ 337:175–182

DalCorso G, Manara A, Piasentin S, Furini A (2014) Nutrient metal elements in plants. Metallomics 6(10):1770–1788

David AAJ, Boura A, Lata J-C, Rankovic A, Kraepiel Y, Charlot C, Barot S, Abbadie L, Ngao J (2018) Street trees in Paris are sensitive to spring and autumn precipitation and recent climate changes. Urban Ecosyst 21:135–145

Davis BS, Birch GF (2011) Spatial distribution of bulk atmospheric deposition of heavy metals in metropolitan Sydney, Australia. Water Air Soil Pollut 214:147–162

De Miguel E, Llamas JF, Chacón E, Berg T, Larssen S, Røyset O, Vadset M (1997) Origin and patterns of distribution of trace elements in street dust: unleaded petrol and urban lead. Atmos Environ 31:2733–2740

Deljanin I, Antanasijević D, Bjelajac A, Urošević MA, Nikolić M, Perić-Grujić A, Ristić M (2016) Chemometrics in biomonitoring: distribution and correlation of trace elements in tree leaves. Sci Total Environ 545:361–371

Duigou N, Baize D (2010). Nouvelle collecte nationale d'analyses d'éléments en traces dans les sols (horizons de surface)-(Cd, Cr, Cu, Hg, Ni, Pb, Se, Zn). Rapport final. ADEME convention 0875C0036, France. 284 p

Ermakov V, Perelomov L, Khushvakhtova S, Tyutikov S, Danilova V, Safonov V (2017) Biogeochemical assessment of the urban area in Moscow. Environ Monit Assess 189(12):641

Foti L, Dubs F, Gignoux J, Lata JC, Lerch TZ, Mathieu J, Nold F, Nunan N, Raynaud X, Abbadie L, Barot S (2017) Trace element concentrations along a gradient of urban pressure in forest and lawn soils of the Paris region (France). Sci Total Environ 598:938–948

Gajbhiye T, Pandey SK, Kim KH, Szulejko JE, Prasad S (2016a) Airborne foliar transfer of PM bound heavy metals in Cassia siamea: a less common route of heavy metal accumulation. Sci Total Environ 573:123–130

Gajbhiye T, Kim KH, Pandey SK, Brown RJ (2016b) Foliar transfer of dust and heavy metals on roadside plants in a subtropical environment. Asian J Atmos Environ 10(3):137–145

Galloway JN, Thornton JD, Norton SA, Volchok HL, McLean RA (1982) Trace metals in atmospheric deposition: a review and assessment. Atmos Environ (1967) 16(7):1677–1700

Garnaud S, Mouchel J-M, Chebbo G, Thevenot DR (1999) Heavy metal concentrations in dry and wet atmospheric deposits in Paris district: comparison with urban runoff. Sci Total Environ 235:235–245

Gaspéri J, Ayrault S, Moreau-Guigon E, Alliot F, Labadie P, Budzinski H,  Blanchard M, Muresan B, Caupos E, Cladière M, Gateuille D, Tassin B, Bordier L, Teil M-J, Bourges C, Desportes A, Chevreuil M, Moilleron R, Gateuille D (2018) Contamination of soils by metals and organic micropollutants: case study of the Parisian conurbation. Environ Sci Pollut Res 25(24):23559–23573

Ge Y, Murray P, Hendershot WH (2000) Trace metal speciation and bioavailability in urban soils. Environ Pollut 107:137–144

Gillooly SE, Shmool JLC, Michanowicz DR, Bain DJ, Cambal LK, Shields KN, Clougherty JE (2016) Framework for using deciduous tree leaves as biomonitors for intraurban particulate air pollution in exposure assessment. Environ Monit Assess 188:479

Gratani L, Crescente MF, Varone L (2008) Long-term monitoring of metal pollution by urban trees. Atmos Environ 42(35):8273–8277

Gromaire M-C, Chebbo G, Constant A (2002) Impact of zinc roofing on urban runoff pollutant loads: the case of Paris. Water Sci Technol 45:113–122

Guéguen F, Stille P, Geagea ML, Boutin R (2012) Atmospheric pollution in an urban environment by tree bark biomonitoring—Part I: trace element analysis. Chemosphere 86(10):1013–1019

Harmens H, Norris DA, Steinnes E, Kubin E, Piispanen J, Alber R, Aleksiayenak Y, Blum O, Coşkun M, Dam M, de Temmerman L, Fernández JA, Frolova M, Frontasyeva M, González-Miqueo L, Grodzińska K, Jeran Z, Korzekwa S, Krmar M, Kvietkus K, Leblond S, Liiv S, Magnússon SH, Maňkovská B, Pesch R, Rühling Å, Santamaria JM, Schröder W, Spiric Z, Suchara I, Thöni L, Urumov V, Yurukova L, Zechmeister HG (2010) Mosses as biomonitors of atmospheric heavy metal deposition: spatial patterns and temporal trends in Europe. Environ Pollut 158:3144–3156

Harrison RM, Laxen DPH, Wilson SJ (1981) Chemical associations of lead, cadmium, copper, and zinc in street dusts and roadside soils. Environ Sci Technol 15:1379–1383

Hovmand MF, Nielsen SP, Johnsen I (2009) Root uptake of lead by Norway spruce grown on 210 Pb spiked soils. Environ Pollut 157(2):404–409

Imperato M, Adamo P, Naimo D, Arienzo M, Stanzione D, Violante P (2003) Spatial distribution of heavy metals in urban soils of Naples city (Italy). Environ Pollut 124(2):247–256

Kabata-Pendias A (2004) Soil-plant transfer of trace elements—an environmental issue. Geoderma 122:143–149

Kabata-Pendias A (2010) Trace elements in soils and plants. CRC press, Boca Raton

Kargar M, Jutras P, Clark OG, Hendershot WH, Prasher SO (2013) Trace metal contamination influenced by land use, soil age, and organic matter in Montreal tree pit soil. J Environ Qual 42(5):1527–1533

Kelly J, Thornton I, Simpson PR (1996) Urban geochemistry: a study of the influence of anthropogenic activity on the heavy metal content of soils in traditionally industrial and non-industrial areas of Britain. Appl Geochem 11:363–370

Li X, Poon C-S, Liu PS (2001) Heavy metal contamination of urban soils and street dusts in Hong Kong. Appl Geochem 16:1361–1368

Madejon P, Maranon T, Murillo JM, Robinson B (2004) White poplar (Populus alba) as a biomonitor of trace elements in contaminated riparian forests. Environ Pollut 132(1):145–155

Madrid L, Dı́az-Barrientos E, Madrid F (2002) Distribution of heavy metal contents of urban soils in parks of Seville. Chemosphere 49(10):1301–1308

Madrid L, Diaz-Barrientos E, Ruiz-Cortes E et al (2006) Variability in concentration of potentially toxic elements in urban parks from six European cities. J Environ Monit 8:1158–1165

Maher BA, Moore C, Matzka J (2008) Spatial variation in vehicle-derived metal pollution identified by magnetic and elemental analysis of roadside tree leaves. Atmos Environ 42:364–373

Manta DS, Angelone M, Bellanca A, Neri R, Sprovieri M (2002) Heavy metals in urban soils: a case study from the city of Palermo (Sicily), Italy. Sci Total Environ 300:229–243

Markert B, Herpin U, Siewers U, Berlekamp J, Lieth H (1996) The German heavy metal survey by means of mosses. Sci Total Environ 182:159–168

Markert BA, Breure AM, Zechmeister HG (2003) Chapter 1 definitions, strategies and principles for bioindication/biomonitoring of the environment. In: Markert BA, Breure AM, Zechmeister HG (eds) Trace metals and other contaminants in the environment. Elsevier, Amsterdam, pp 3–39

Mertens J, Luyssaert S, Verheyen K (2005) Use and abuse of trace metal concentration in plant tissue for biomonitoring and phytoextraction. Environ Pollut 138:1–4

Mijić Z, Stojić A, Perišić M, Rajšić S, Tasić M, Radenković M, Joksić J (2010) Seasonal variability and source apportionment of metals in the atmospheric deposition in Belgrade. Atmos Environ 44:3630–3637

Morton-Bermea O, Hernandez-Alvarez E, Gonzalez-Hernandez G, Romero F, Lozano R, Beramendi-Orosco LE (2009) Assessment of heavy metal pollution in urban topsoils from the metropolitan area of Mexico City. J Geochem Explor 101:218–224

Motelay-Massei A, Ollivon D, Tiphagne K, Garban B (2005) Atmospheric bulk deposition of trace metals to the Seine River Basin, France: concentrations, sources and evolution from 1988 to 2001 in Paris. Water Air Soil Pollut 164:119–135

Nabulo G, Oryem-Origa H, Diamond M (2006) Assessment of lead, cadmium, and zinc contamination of roadside soils, surface films, and vegetables in Kampala City, Uganda. Environ Res 101(1):42–52

Natali M, Zanella A, Rankovic A, Banas D, Cantaluppi C, Abbadie L, Lata JC (2016) Assessment of trace metal air pollution in Paris using slurry-TXRF analysis on cemetery mosses. Environ Sci Pollut Res 23(23):23496–23510

Nurmatov N, Leon Gomez DA, Hensgen F, Bühle L, Wachendorf M (2016) High-quality solid fuel production from leaf litter of urban street trees. Sustainability 8(12):1249

Peltola P, Ivask A, Åström M, Virta M (2005) Lead and Cu in contaminated urban soils: extraction with chemical reagents and bioluminescent bacteria and yeast. Sci Total Environ 350(1):194–203

Peña-Fernández A, González-Muñoz MJ, Lobo-Bedmar MC (2014) Establishing the importance of human health risk assessment for metals and metalloids in urban environments. Environ Int 72:176–185

Piczak K, Lesniewicz A, Zyrnicki W (2003) Metal concentrations in deciduous tree leaves from urban areas in Poland. Environ Monit Assess 86:273–287

Pulford ID, Watson C (2003) Phytoremediation of heavy metal-contaminated land by trees—a review. Environ Int 29:529–540

Rahman MA, Smith JG, Stringer P, Ennos AR (2011) Effect of rooting conditions on the growth and cooling ability of Pyrus calleryana. Urban For Urban Green 10:185–192

Rocher V, Azimi S, Gasperi J, Beuvin L, Muller M, Moilleron R, Chebbo G (2004) Hydrocarbons and metals in atmospheric deposition and roof runoff in Central Paris. Water Air Soil Pollut 159:67–86

Rodrigues S, Urquhart G, Hossack I, Pereira ME, Duarte AC, Davidson C, Hursthouse A, Tucker P, Roberston D (2009) The influence of anthropogenic and natural geochemical factors on urban soil quality variability: a comparison between Glasgow, UK and Aveiro, Portugal. Environ Chem Lett 7:141–148

Rossini P, Guerzoni S, Molinaroli E, Rampazzo G, De Lazzari A, Zancanaro A (2005) Atmospheric bulk deposition to the lagoon of Venice. Environ Int 31:959–974

Saby N, Arrouays D, Boulonne L, Jolivet C, Pochot A (2006) Geostatistical assessment of Pb in soil around Paris, France. Sci Total Environ 367:212–221

Sawidis T, Breuste J, Mitrovic M, Pavlovic P, Tsigaridas K (2011) Trees as bioindicator of heavy metal pollution in three European cities. Environ Pollut 159:3560–3570

Schreck E, Foucault Y, Sarret G, Sobanska S, Cécillon L, Castrec-Rouelle M, Uzu G, Dumat C (2012) Metal and metalloid foliar uptake by various plant species exposed to atmospheric industrial fallout: mechanisms involved for lead. Sci Total Environ 427–428:253–262

Serbula SM, Kalinovic TS, Ilic AA, Kalinovic JV, Steharnik MM (2013) Assessment of airborne heavy metal pollution using Pinus spp. and Tilia spp. Aerosol Air Qual Res 13:563–573

Smith WH (1976) Lead contamination of the roadside ecosystem. J Air Pollut Cont Assoc 26(8):753–766

Thevenot DR, Moilleron R, Lestel L, Gromaire MC, Rocher V, Cambier P, Bonté P, Colin JL, de Pontevès C, Meybeck M (2007) Critical budget of metal sources and pathways in the Seine river basin (1994-2003) for Cd, Cr, Cu, Hg, Ni, Pb and Zn. Sci Total Environ 375:180–203

Tomašević M, Aničić M, Jovanović L, Perić-Grujić A, Ristić M (2011) Deciduous tree leaves in trace elements biomonitoring: a contribution to methodology. Ecol Indic 11(6):1689–1695

Uzu G, Sobanska S, Sarret G, Muñoz M, Dumat C (2010) Foliar lead uptake by lettuce exposed to atmospheric fallout. Environ Sci Technol 44:1036–1042

Viard B, Pihan F, Promeyrat S, Pihan JC (2004) Integrated assessment of heavy metal (Pb, Zn, Cd) highway pollution: bioaccumulation in soil, Graminaceae and land snails. Chemosphere 55(10):1349–1359

Werkenthin M, Kluge B, Wessolek G (2014) Metals in European roadside soils and soil solution—a review. Environ Pollut 189:98–110

Widory D, Roy S, Le Moullec Y, Goupil G, Cocherie A, Guerrot C (2004) The origin of atmospheric particles in Paris: a view through carbon and lead isotopes. Atmos Environ 38:953–961

Withington JM, Reich PB, Oleksyn J, Eissenstat DM (2006) Comparisons of structure and life span in roots and leaves among temperate trees. Ecol Monogr 76(3):381–397

Wong CSC, Li X, Thornton I (2006) Urban environmental geochemistry of trace metals. Environ Pollut 142:1–16
Acknowledgements
We would like to acknowledge Yannick Agnan for comments on an early version of the manuscript.
Funding
Sampling campaigns benefited from funding from the Île-de-France region (R2DS), the GIS "Climate, Environment, Society" (CCTV2 Project), the PIR IngEcoTech (IESUM project), and the Sorbonne Universities (Dens' project, Convergences program).
Additional information
Publisher's note
Springer Nature remains neutral with regard to jurisdictional claims in published maps and institutional affiliations.
Responsible editor: Philippe Garrigues
About this article
Cite this article
Quénéa, K., Andrianjara, I., Rankovic, A. et al. Influence of the residence time of street trees and their soils on trace element contamination in Paris (France). Environ Sci Pollut Res 26, 9785–9795 (2019). https://doi.org/10.1007/s11356-019-04405-w
Received:

Accepted:

Published:

Issue Date:
Keywords
Urban soils

Road traffic impact

Bioaccumulation

Trace element

Leaves

Roots