Abstract
The goal of this paper is to identify, for the first time, the role of solar production in driving silver prices. The empirical analysis makes use of the ARDL model and the combined cointegration. The results, spanning the period 1990–2016, document that stronger solar installed capacities, as well as higher gross electricity production from solar sources, lead to higher silver prices. The findings could be of great importance to silver suppliers and to energy policymakers and regulators, as well as to solar panel manufacturers.
This is a preview of subscription content, log in to check access.
Access options
Buy single article
Instant access to the full article PDF.
US$ 39.95
Price includes VAT for USA
Subscribe to journal
Immediate online access to all issues from 2019. Subscription will auto renew annually.
US$ 99
This is the net price. Taxes to be calculated in checkout.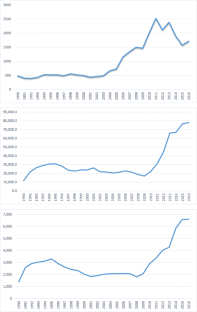 References
Apergis N, Christou C, Payne JE (2014) Precious metal markets, stock markets and the macroeconomic environment: a FAVAR model approach. Appl Financ Econ 24:691–703

Arouri MH, Nguyen D (2010) Oil prices, stock markets and portfolio investment: evidence from sector analysis in Europe over the last decade. Energy Policy 38:4528–4539

Baffes J (2007) Oil spills on other commodities. Resources Policy 32:126–134

Banerjee A, Dolado J, Mestre R (1998) Error-correction mechanism test for cointegration in a single-equation framework. J Time Ser Anal 19:267–283

Basher SA, Haug AA, Sadorsky P (2012) Oil prices, exchange rates and emerging stock markets. Energy Econ 34:227–240

Batten JA, Ciner C, Lucey BM (2010) The macroeconomic determinants of volatility in precious metals markets. Resources Policy 35:65–71

Baumeister C, Peersman G (2013) The role of time-varying price elasticities in accounting for volatility changes in the crude oil market. J Appl Econ 28:1087–1109

Baur DG, Lucey BM (2010) Is gold a hedge or a safe haven? An analysis of stocks, bonds and gold. Financ Rev 45:217–229

Bayer C, Hanck C (2013) Combining non-cointegration tests. J Time Ser Anal 34:83–95

Borenstein S (2008) The market value and cost of solar photovoltaic electricity production, Working Paper, No.176, Center for the Study of Energy Markets, California

Boswijk HP (1994) Testing for an unstable root in conditional and structural error correction models. J Econ 63:37–60

Chesser M, Hanly J, Cassells D, Apergis N (2018) The positive feedback cycle in the electricity market: residential solar PV adoption, electricity demand and prices. Energy Policy 122:36–44

Cross J (2009) Prospects for silver supply and demand. Speech at the LBMA Precious Metals Conference, Edinburgh, 3rd November, 2009

Elliott G, Rothenberg TJ, Stock JH (1996) Efficient tests for an autoregressive unit root. Econometrica 64:813–836

Engle RF, Granger CWJ (1987) Co-integration and error correction: representation, estimation and testing. Econometrica 55:251–276

Ewing BT, Malik F (2013) Volatility transmission between gold and oil futures under structural breaks. Int Rev Econ Financ 25:113–121

Gil-Alana LA, Chang S, Balcilar M, Aye GC, Gupta R (2015) Persistence of precious metal prices: a fractional integration approach with structural breaks. Resources Policy 44:57–64

Gold M (2017) Solar remains a bright spot for silver demand. In: Investment Report. ETF Securities, New York

Hammoudeh S, Araújo-Santos P (2012) Downside risk management and VaR-based optimal portfolios for precious metals, oil and stocks. N Am J Econ Financ 25:18–34

Hammoudeh S, Yuan Y (2008) Metal volatility in presence of oil and interest rate shocks. Energy Econ 30:606–620

Johansen S (1988) Statistical analysis of cointegration vectors. Journal of Economics and Dynamics Control 12:231–254

Kilian L, Park C (2009) The impact of oil price shocks on the U. S market. Int Econ Rev 50:1267–1287

Lee J, Strazicich M (2003) Minimum LM unit root test with two structural breaks. Rev Econ Stat 85:1082–1089

Ng S, Perron P (2001) Lag length selection and the construction of unit root tests with good size and power. Econometrica 69:1519–1554

Pesaran MH, Shin Y, Smith RJ (2001) Bound testing approaches to the analysis of level relationships. J Appl Econ 16:289–326

Sari R, Hammoudeh S, Soytas U (2010) Dynamics of oil price, precious metal prices and exchange rates. Energy Econ 32:351–362

Zhang C, Tu X (2016) The effect of global oil price shocks on China's metal markets. Energy Policy 90:131–139
Acknowledgements
The authors express their deep gratitude to both reviewers of this journal for many helpful comments and suggestions that enhanced the merit of this work. Special thanks also go to the Editor for giving them the opportunity to revise their work.
Additional information
Publisher's note
Springer Nature remains neutral with regard to jurisdictional claims in published maps and institutional affiliations.
Responsible editor: Philippe Garrigues
About this article
Cite this article
Apergis, I., Apergis, N. Silver prices and solar energy production. Environ Sci Pollut Res 26, 8525–8532 (2019). https://doi.org/10.1007/s11356-019-04357-1
Received:

Accepted:

Published:

Issue Date:
Keywords
Silver prices

Solar energy capacity

ARDL and combined cointegration estimates
JEL classifications