Abstract
In the recent past, the NOx removal efficiency of photocatalytic materials has been subject of many studies with promising results. However, many of these studies involve laboratory tests carried out under standardized climatic exposure conditions, often not representative of the real-world environment. With the aim to bridge this gap, selected photocatalytic materials have been applied to different substrates in outdoor demonstrator platforms at pilot scale as part of the project LIFE-PHOTOSCALING. The paper presents the results of in situ measurements of NOx removal efficiency of the materials, performed during 17 months. Statistical models accounting for the influence of exposure time and relevant environmental variables are derived. They suggest that photocatalytic emulsions on the tested asphalt experience a significant loss of activity over time irrespective of climatic conditions. The efficiency of photocatalytic slurries on asphalt and of concrete tiles, with the photocatalyst applied on surface or in bulk, mainly depends on substrate humidity.
This is a preview of subscription content, log in to check access.
Access options
Buy single article
Instant access to the full article PDF.
US$ 39.95
Price includes VAT for USA
Subscribe to journal
Immediate online access to all issues from 2019. Subscription will auto renew annually.
US$ 99
This is the net price. Taxes to be calculated in checkout.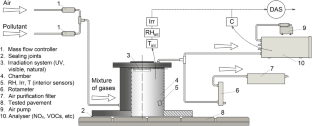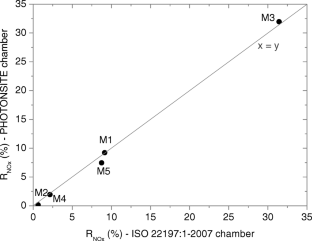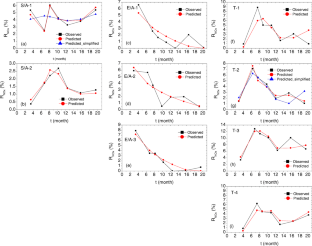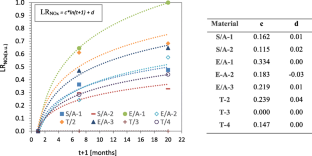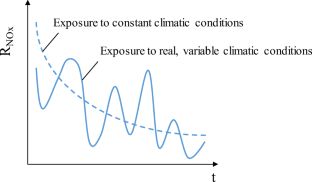 References
Andrade C, Castillo A (2003) Evolution of reinforcement corrosion due to climatic variations. Mater Corros 54:379–386

Ballari MM, Brouwers H (2013) Full scale demonstration of air-purifying pavement. J Hazard Mater 254:406–414

Ballari MM, Hunger M, Hüsken G, Brouwers H (2010) NOx photocatalytic degradation employing concrete pavement containing titanium dioxide. Appl Catal B Environ 95:245–254

Bengtsson N, Castellote M (2010) Photocatalytic activity for NO degradation by construction materials: parametric study and multivariable correlations. J Adv Oxid Technol 13:341–349

Boonen E, Beeldens A (2014) Recent photocatalytic applications for air purification in Belgium. Coatings 4:553–573

Caillol S (2011) Fighting global warming: the potential of photocatalysis against CO2, CH4, N2O, CFCs, tropospheric O3, BC and other major contributors to climate change. J Photochem Photobiol C: Photochem Rev 12:1–19

Castellote M (2016): Device for determiming photocatalytic properties of materials. PCT/ES2016/070808

Chen J, Poon C-S (2009) Photocatalytic construction and building materials: from fundamentals to applications. Build Environ 44:1899–1906

Chen DH, Li K, Yuan R (2007): Photocatalytic coating on road pavements/structures for NOx abatement. Lamar University Report, 1–17

Dylla H, Asadi S, Hassan M, Mohammad LN (2013) Evaluating photocatalytic asphalt pavement effectiveness in real-world environments through developing models: a statistical and kinetic study. Road Mater Pavement Des 14:92–105

EEA (2016): National Emissions Ceilings Directive (EU) 2016/2284

Folli A, Pade C, Hansen TB, De Marco T, Macphee DE (2012) TiO2 photocatalysis in cementitious systems: insights into self-cleaning and depollution chemistry. Cem Concr Res 42:539–548

IBM (2012) SPSS statistics for Windows. IBM Corp, Armonk, NY

Jimenez-Relinque E, Castellote M (2015) Quantification of hydroxyl radicals on cementitious materials by fluorescence spectrophotometry as a method to assess the photocatalytic activity. Cem Concr Res 74:108–115

Jimenez-Relinque E, Rodriguez-Garcia J, Castillo A, Castellote M (2015) Characteristics and efficiency of photocatalytic cementitious materials: type of binder, roughness and microstructure. Cem Concr Res 71:124–131

Maggos T, Bartzis J, Liakou M, Gobin C (2007) Photocatalytic degradation of NOx gases using TiO2-containing paint: a real scale study. J Hazard Mater 146:668–673

Maggos T, Plassais A, Bartzis J, Vasilakos C, Moussiopoulos N, Bonafous L (2008) Photocatalytic degradation of NOx in a pilot street canyon configuration using TiO2-mortar panels. Environ Monit Assess 136:35–44

Mo J, Zhang Y, Xu Q, Lamson JJ, Zhao R (2009) Photocatalytic purification of volatile organic compounds in indoor air: a literature review. Atmos Environ 43:2229–2246

Smith G (1988) Statistical reasoning. Allyn and Bacob, Inc

Suarez S, Portela R, Hernández-Alonso MD, Sánchez B (2014) Development of a versatile experimental setup for the evaluation of the photocatalytic properties of construction materials under realistic outdoor conditions. Environ Sci Pollut Res 21:11208–11217
Funding
This study was funded by the LIFE program (Project LIFE PHOTOSCALING, LIFE 13/ENV/ES/001221, http://www.life-photoscaling.eu/). The authors wish to thank the manufacters for supplying the photocatalytic products implemented on platforms: Sociedad Financiera y Minera, S.A., Active Walls S.L., Industrial Breinco S.A., Cristal France S.A.S.; Impresa Bacchi S.R.L., GranitiFiandre S.p.A, and Fundación Cartif.
Additional information
Publisher's note
Springer Nature remains neutral with regard to jurisdictional claims in published maps and institutional affiliations.
Responsible editor: Suresh Pillai
About this article
Cite this article
Jiménez-Relinque, E., Hingorani, R., Rubiano, F. et al. In situ evaluation of the NOx removal efficiency of photocatalytic pavements: statistical analysis of the relevance of exposure time and environmental variables. Environ Sci Pollut Res 26, 36088–36095 (2019). https://doi.org/10.1007/s11356-019-04322-y
Received:

Accepted:

Published:

Issue Date:
Keywords
NOx

Photocatalysis

Pavements

Efficiency

In situ

Outdoor test

Pilot scale

Environmental variables