Abstract
This study sought to determine correlations between the presence of isolated ventricular septum defects (VSDs) and blood levels of trace elements. A total of 144 patients with VSDs and 144 controls were recruited for cross-sectional assessment of trace elements and examination of cardiac structures in the Jiangsu and Anhui provinces between 2016 and 2018. Logistic regression was performed to explore the relationships between VSDs and trace elements. Additionally, general linear regression models were used to investigate relationships between trace elements and echocardiography indicators. Relative to the lowest zinc (Zn) concentrations, the highest Zn concentrations may be associated with lower odds of VSD development (OR = 0.03, 95% confidence interval [CI] = 0.01–0.29, P < 0.001). However, no significant relationships between the concentrations of other trace elements and the risk of VSD were identified. Aorta (AO) diameters were markedly smaller in the VSD group, whereas no significant between-group differences were observed for other echocardiography indicators. After adjusting for age and gender, linear regression indicated a significant association between Zn level and mean AO diameter (beta coefficient = 0.247, 95% CI = 0.126–0.367). Zn deficiency was observed in patients with isolated VSDs. Further work to explore the mechanisms by which Zn deficiency leads to VSDs is warranted.
This is a preview of subscription content, log in to check access.
Access options
Buy single article
Instant access to the full article PDF.
US$ 39.95
Price includes VAT for USA
Subscribe to journal
Immediate online access to all issues from 2019. Subscription will auto renew annually.
US$ 99
This is the net price. Taxes to be calculated in checkout.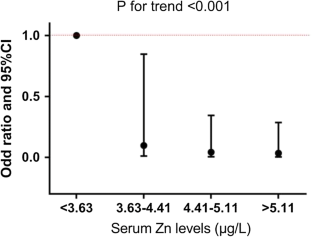 References
Abouk R, Grosse SD, Ailes EC, Oster ME (2017) Association of US state implementation of newborn screening policies for critical congenital heart disease with early infant cardiac deaths. Jama 318:2111–2118

Altundag H, Albayrak S, Dundar MS, Tuzen M, Soylak M (2015) Investigation of the influence of selected soil and plant properties from Sakarya, Turkey, on the bioavailability of trace elements by applying an in vitro digestion model. Biol Trace Elem Res 168:276–285

Blue GM, Kirk EP, Giannoulatou E, Dunwoodie SL, Ho JW, Hilton DC, White SM, Sholler GF, Harvey RP, Winlaw DS (2014) Targeted next-generation sequencing identifies pathogenic variants in familial congenital heart disease. J Am Coll Cardiol 64:2498–2506

Bocca B, Madeddu R, Asara Y, Tolu P, Marchal JA, Forte G (2011) Assessment of reference ranges for blood Cu, Mn, Se and Zn in a selected Italian population. J Trace Elem Med Biol 25:19–26

Brite J, Laughon SK, Troendle J, Mills J (2014) Maternal overweight and obesity and risk of congenital heart defects in offspring. Int J Obes 38:878–882

Correa A, Levis DM, Tinker SC, Cragan JD (2015) Maternal cigarette smoking and congenital heart defects. J Pediatr 166:801–804

Haase H, Rink L (2014) Zinc signals and immune function. BioFactors 40:27–40

Juriol LV, Gobetto MN, Mendes Garrido Abregu F, Dasso ME, Pineda G, Guttlein L, Carranza A, Podhajcer O, Toblli JE, Elesgaray R, Arranz CT, Tomat AL (2018) Cardiac changes in apoptosis, inflammation, oxidative stress, and nitric oxide system induced by prenatal and postnatal zinc deficiency in male and female rats. Eur J Nutr 57:569–583

Kazi TG, Wadhwa SK, Afridi HI, Talpur FN, Tuzen M, Baig JA (2015) Comparison of essential and toxic elements in esophagus, lung, mouth and urinary bladder male cancer patients with related to controls. Environ Sci Pollut Res Int 22:7705–7715

Kelishadi R, Ataei E, Motlagh ME, Yazdi M, Tajaddini MH, Heshmat R, Ardalan G (2015) Association of serum concentrations of magnesium and some trace elements with cardiometabolic risk factors and liver enzymes in adolescents: the CASPIAN-III study. Biol Trace Elem Res 163:97–102

King JC (2011) Zinc: an essential but elusive nutrient. Am J Clin Nutr 94:679S–684S

Kochanczyk T, Drozd A, Krezel A (2015) Relationship between the architecture of zinc coordination and zinc binding affinity in proteins--insights into zinc regulation. Metallomics 7:244–257

Lee SR, Noh SJ, Pronto JR, Jeong YJ, Kim HK, Song IS, Xu Z, Kwon HY, Kang SC, Sohn EH, Ko KS, Rhee BD, Kim N, Han J (2015) The critical roles of zinc: beyond impact on myocardial signaling. Korean J Physiol Pharmacol 19:389–399

Lin W, Li D, Cheng L, Li L, Liu F, Hand NJ, Epstein JA, Rader DJ (2018) Zinc transporter Slc39a8 is essential for cardiac ventricular compaction. J Clin Invest 128:826–833

Liu S, Joseph KS, Lisonkova S, Rouleau J, Van den Hof M, Sauve R, Kramer MS, Canadian Perinatal Surveillance S (2013): Association between maternal chronic conditions and congenital heart defects: a population-based cohort study. Circulation 128, 583–589

Liu Z, Lin Y, Tian X, Li J, Chen X, Yang J, Li X, Deng Y, Li N, Liang J, Li S, Zhu J (2016) Association between maternal aluminum exposure and the risk of congenital heart defects in offspring. Birth Defects Res A Clin Mol Teratol 106:95–103

Malik S, Cleves MA, Honein MA, Romitti PA, Botto LD, Yang S, Hobbs CA, National Birth Defects Prevention S (2008) Maternal smoking and congenital heart defects. Pediatrics 121:e810–e816

Mills JL, Troendle J, Conley MR, Carter T, Druschel CM (2010) Maternal obesity and congenital heart defects: a population-based study. Am J Clin Nutr 91:1543–1549

Moskowitz IP, Wang J, Peterson MA, Pu WT, Mackinnon AC, Oxburgh L, Chu GC, Sarkar M, Berul C, Smoot L, Robertson EJ, Schwartz R, Seidman JG, Seidman CE (2011) Transcription factor genes Smad4 and Gata4 cooperatively regulate cardiac valve development. [corrected]. Proc Natl Acad Sci U S A 108:4006–4011

Oster ME, Riehle-Colarusso T, Simeone RM, Gurvitz M, Kaltman JR, McConnell M, Rosenthal GL, Honein MA (2013) Public health science agenda for congenital heart defects: report from a centers for disease control and prevention experts meeting. J Am Heart Assoc 2:e000256

Ou Y, Bloom MS, Nie Z, Han F, Mai J, Chen J, Lin S, Liu X, Zhuang J (2017) Associations between toxic and essential trace elements in maternal blood and fetal congenital heart defects. Environ Int 106:127–134

Padang R, Bagnall RD, Richmond DR, Bannon PG, Semsarian C (2012) Rare non-synonymous variations in the transcriptional activation domains of GATA5 in bicuspid aortic valve disease. J Mol Cell Cardiol 53:277–281

Persson M, Cnattingius S, Villamor E, Soderling J, Pasternak B, Stephansson O, Neovius M (2017) Risk of major congenital malformations in relation to maternal overweight and obesity severity: cohort study of 1.2 million singletons. Bmj 357:j2563

Posch MG, Gramlich M, Sunde M, Schmitt KR, Lee SH, Richter S, Kersten A, Perrot A, Panek AN, Al Khatib IH, Nemer G, Megarbane A, Dietz R, Stiller B, Berger F, Harvey RP, Ozcelik C (2010) A gain-of-function TBX20 mutation causes congenital atrial septal defects, patent foramen ovale and cardiac valve defects. J Med Genet 47:230–235

Prasad AS (2013) Discovery of human zinc deficiency: its impact on human health and disease. Adv Nutr 4:176–190

Schulkey CE, Regmi SD, Magnan RA, Danzo MT, Luther H, Hutchinson AK, Panzer AA, Grady MM, Wilson DB, Jay PY (2015) The maternal-age-associated risk of congenital heart disease is modifiable. Nature 520:230–233

Shauq A, Gladman G, Ladusans EJ (2009): Pulmonary atresia with intact ventricular septum associated with aortic coarctation. Cardiol Young 19, 522–3

Sjoberg Lind Y, Lind L, Salihovic S, van Bavel B, Lind PM (2013) Persistent organic pollutants and abnormal geometry of the left ventricle in the elderly. J Hypertens 31:1547–1553

Soemedi R, Wilson IJ, Bentham J, Darlay R, Töpf A, Zelenika D, Cosgrove C, Setchfield K, Thornborough C, Granados-Riveron J, Blue GM, Breckpot J, Hellens S, Zwolinkski S, Glen E, Mamasoula C, Rahman TJ, Hall D, Rauch A, Devriendt K, Gewillig M, O' Sullivan J, Winlaw DS, Bu'Lock F, Brook JD, Bhattacharya S, Lathrop M, Santibanez-Koref M, Cordell HJ, Goodship JA, Keavney BD (2012) Contribution of global rare copy-number variants to the risk of sporadic congenital heart disease. Am J Hum Genet 91:489–501

Stingone JA, Luben TJ, Daniels JL, Fuentes M, Richardson DB, Aylsworth AS, Herring AH, Anderka M, Botto L, Correa A, Gilboa SM, Langlois PH, Mosley B, Shaw GM, Siffel C, Olshan AF, National Birth Defects Prevention S (2014) Maternal exposure to criteria air pollutants and congenital heart defects in offspring: results from the national birth defects prevention study. Environ Health Perspect 122:863–872

Sullivan PM, Dervan LA, Reiger S, Buddhe S, Schwartz SM (2015) Risk of congenital heart defects in the offspring of smoking mothers: a population-based study. J Pediatr 166(978–984):e2

Terrin G, Berni Canani R, Di Chiara M, Pietravalle A, Aleandri V, Conte F, De Curtis M (2015) Zinc in early life: a key element in the fetus and preterm neonate. Nutrients 7:10427–10446

Wang S, Wang B, Wang Y, Tong Q, Liu Q, Sun J, Zheng Y, Cai L (2017) Zinc prevents the development of diabetic cardiomyopathy in db/db mice. Int J Mol Sci 18

Wen Z, Yu D, Zhang W, Fan C, Hu L, Feng Y, Yang L, Wu Z, Chen R, Yin KJ, Mo X (2016) Association between alcohol consumption during pregnancy and risks of congenital heart defects in offspring: meta-analysis of epidemiological observational studies. Ital J Pediatr 42:12

Wooten EC, Iyer LK, Montefusco MC, Hedgepeth AK, Payne DD, Kapur NK, Housman DE, Mendelsohn ME, Huggins GS (2010) Application of gene network analysis techniques identifies AXIN1/PDIA2 and endoglin haplotypes associated with bicuspid aortic valve. PLoS One 5:e8830

Wu LL, Mao SS, Lin X, Yang RW, Zhu ZW (2019) Evaluation of whole blood trace element levels in Chinese children with autism spectrum disorder. Biol Trace Elem Res

Xia XR, Jiang SW, Zhang Y, Hu YF, Yi HG, Liu J, Zhao NN, Chen J, Gao L, Cui YG, Liu JY (2018): Serum levels of trace elements in children born after assisted reproductive technology. Clinica chimica acta; international journal of clinical chemistry

Yerushalmy J (1973) Congenital heart disease and maternal smoking habits. Nature 242:262–263

Zhu Y, Romitti PA, Caspers Conway KM, Shen DH, Sun L, Browne ML, Botto LD, Lin AE, Druschel CM, National Birth Defects Prevention S (2015): Maternal periconceptional alcohol consumption and congenital heart defects. Birth Defects Res A Clin Mol Teratol 103, 617–629

Zhu Y, Chen Y, Feng Y, Yu D, Mo X (2018) Association between maternal body mass index and congenital heart defects in infants: a meta-analysis. Congenit Heart Dis 13:271–281
Statement of financial support
This work was supported by funding from the Maternal and Child Health Research Project of Jiangsu Province (F201755), the China Postdoctoral Science Foundation (2018M630585), the Key Project of Science and Technology Development Fund of Nanjing Medical University (2017NJMUZD060), the National Key Research and Development Program of China (2016YFC1101001; 2017YFC1308105), Nanjing Medical University School Project (NMUC2018012A), and Key Project supported by Medical Science and technology development Foundation, Nanjing Department of Health (YKK18139).
Ethics declarations
Competing interests
The authors declare that they have no competing interests.
Ethical approval
This study was approved by the Institutional Review Board of Nanjing Medical University (No. NJMU001235) and adhered to the tenets of the Declaration of Helsinki.
Statement of informed consent
All participants and their parents volunteered to participate in the study, and written informed consent was obtained before participants were enrolled.
Additional information
Publisher's note
Springer Nature remains neutral with regard to jurisdictional claims in published maps and institutional affiliations.
Responsible editor: Philippe Garrigues
About this article
Cite this article
Zhu, Y., Xu, C., Zhang, Y. et al. Associations of trace elements in blood with the risk of isolated ventricular septum defects and abnormal cardiac structure in children. Environ Sci Pollut Res 26, 10037–10043 (2019). https://doi.org/10.1007/s11356-019-04312-0
Received:

Accepted:

Published:

Issue Date:
Keywords
Trace elements

Isolated ventricular septum defects

Cardiac structure