Abstract
Progressive effects of inhalation of gasoline fumes on the liver and the protective potential with fenugreek seed supplementation were evaluated in adult male rats. Twenty-four rats were divided into four groups, unexposed control and fenugreek groups, as well as exposed groups to gasoline fumes for 6 h/6 days/week for 10 weeks, with and without supplementation of fenugreek seed powder in food (5%w/w). Exposure to gasoline fumes resulted in a significant elevation in serum alanine aminotransferase, aspartate aminotransferase, alkaline phosphatase, gamma-glutamyl transferase, total bilirubin, total cholesterol, total triglycerides, and low-density lipoprotein, along with a significant decrease in high-density lipoprotein, total protein, and albumin contents compared to the control. Meanwhile, liver oxidative stress markers, malondialdehyde, hydrogen peroxide, and nitric oxide, were highly detected with decreased antioxidants, superoxide dismutase and catalase. Also, levels of inflammatory markers, interleukin(IL)-1β and IL-6, were significantly elevated with fibrotic markers, transforming growth factor (TGFβ1), fibroblast growth factor (FGF1), and collagen I. Histopathological studies illustrated that rats exposed to gasoline fumes have degenerated hepatocytes with cellular infiltration and necrotic areas, along with remarkable deposition of collagen fibers, suggesting an incidence of liver fibrosis. Administration of fenugreek seeds, rich with antioxidant and anti-inflammatory components, during gasoline exposure showed significant amelioration through suppressing oxidative stress and inflammation.
This is a preview of subscription content, log in to check access.
Access options
Buy single article
Instant access to the full article PDF.
US$ 39.95
Price includes VAT for USA
Subscribe to journal
Immediate online access to all issues from 2019. Subscription will auto renew annually.
US$ 99
This is the net price. Taxes to be calculated in checkout.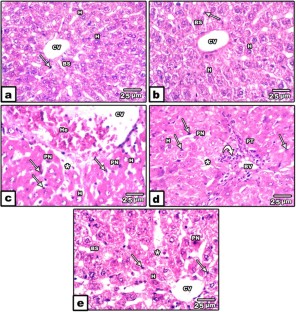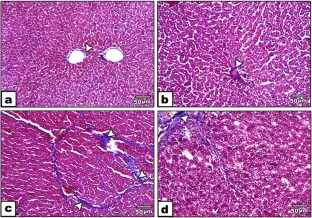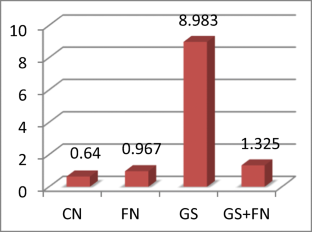 References
Abd El-Shakour A, El-Ebiarie AS, Ibrahim YH, Abdel Moneim AE, El-Mekawy A (2015) Effect of benzene on oxidative stress and functions of liver and kidney in rats. J Environ Occup Sci 4(1):34–39

Abdrabouh A, El-Wakf A, Hagras A, Elgharieb A (2017) Health assessment approach for evaluating hematologic and immune toxicity of prolonged gasoline inhalation in fuel station workers at Mansoura city. Egypt J Appl Environ Biol Sci 7(8):30–36

Aberare OL, Okuonghae P, Mukoro N, Dirisu JO, Osazuwa F, Odigie E et al (2011) Triglycerides, total cholesterol, high density lipoprotein cholesterol and low density lipoprotein cholesterol in rats exposed to premium motor spirit fumes. North Am J Med Sci 3:277–280

Abubakar MB, Abdullah WZ, Sulaiman SA, Uboh FE, Ang BS (2013) Effect of honey supplementation on toxicity of gasoline vapor exposure in rats. Intern J Appl Res Natur Prod 6(4):16–22

Alsemari A, Alkhodairy F, Aldakan A, Al-Mohanna M, Bahoush E, Shinwari Z, Alaiya A (2014) The selective cytotoxic anti-cancer properties and proteomic analysis of Trigonella Foenum-Graecum. BMC Complement Altern Med 14:114–122

Arti A, Byren TM, Nair MG et al (2000) Modulation of liposomal membrane fluidity by flavonoids and isoflavonoids. Arch Biochem Biophys 373:102–109

Azari MR, konjin ZN, Zayeri F, Salehpour S, Seyedi MD (2012) Occupational exposure of petroleum depot workers to BTEX compounds. Intern J Occup Environ Med 3:39–44

Belaïd-Nouira Y, Bakhta H, Haouas Z, Flehi-Slim I, Neffati F, Najjar MF, Ben Cheikh H (2013) Fenugreek seeds, a hepatoprotector forage crop against chronic AlCl3 toxicity. BMC Vet Res 9(22):1–9

Bukhari SB, Bhanger MI, Memon S (2008) Antioxidative activity of extracts from fenugreek seeds (Trigonella foenum-graecum). Pak J Anal Environ Chem 9(2):78–83

Durga M, Nathiya S, Devasena T (2015) Protective role of fenugreek leaf extract and quercetin against petrol exhaust nanoparticle induced lipid peroxidation and oxidative stress in rat erythrocytes in vitro. Asian J Pharmac Clin Res 8(1):237–241

El-Ghazaly N, Ali A, Dekinesh S, Sedky A, Kabeil S (2016) Hepatotoxicity of gasoline as an environmental pollutant on albino mice. Athens J Sci 3(1):31–44

El-Wakf AM, Mahamoud AZ, Hassan HA, Abdrabouh AE, Habza MN (2017) Therapeutic effectiveness of fenugreek seeds on pancreatic toxicity in young and adult male rats exposed to water nitrate pollution. J Bios Appl Res 3(1):1–18

El-Wakf AM, Abdrabouh AE, Elgarieb AM (2018) Effectiveness of steamed and cooked broccoli to attenuate bone marrow injury and suppressed haemopoiesis in male rats exposed to petrol vapours. Int J Environ Stud. https://doi.org/10.1080/00207233.2018.1502956

Gad El-Hak HN, Mohallal ME, Saleh NH, El-Naggar MS (2015) Protective effect of ginger (Zingiber officinale) extract on gasoline-induced oxidative stress in albino rats. Catrina 13(1):9–15

Gali RM, Daja A, Mamza YP, Ani GI (2012) Liver enzymes and protein among petrol hawkers and petrol-pump attendants in a Nigerian population. Adv Lab Med Int 2(3):123–129

Itoh N, Nakayama Y, Konishi M (2016) Roles of FGFs as paracrine or endocrine signals in liver development, health, and disease. Front Cell Dev Biol 4:30–38

Joglekar M, Mandal M, Somaiah MP, Murthy S (2012) Comparative analysis of antioxidant and antibacterial properties of Aegle marmelos, Coriandrum sativum and Trigonella foenum graecum. Acta Biol Indica 1(1):105–108

Kaviarasan S, Ramamurty N, Gunasekaran P, Varalakshmi E, Anuradha CV (2006) Fenugreek (Trigonella foenum graecum) seed extract prevents ethanol-induced toxicity and apoptosis in Chang liver cells. Alcohol Alcohol 41(3):267–273

Kaviarasan S, Sundarapandiyan R, Anuradha CV (2008) Protective action of fenugreek (Trigonella foenum graecum) seed polyphenols against alcohol-induced protein and lipid damage in rat liver. Cell Biol Toxicol 24:391–400

Kawabata MYC, Hasegawa T, Takano F, Ohta T (2011) Anti-inflammatory and anti-melanogenic steroidal saponin glycosides from fenugreek (Trigonella foenum graecum L.) seeds. Planta Med 77(7):705–710

Khan A, Mudan S (2007) Liver regeneration: mechanisms, mysteries and more. ANZ J Surg 77:9–14

Khole S, Chatterjee S, Variyar P, Sharma A, Devasagayam TPA, Ghaskadbi S (2014) Bioactive constituents of germinated fenugreek seeds with strong antioxidant potential. J Funct Foods 6:270–279

Kitts D, Wijewickreme A, Hu C (2000) Antioxidant properties of a North American ginseng extract. Mol Cell Biochem 203:1–10

Kolios G, Valatas V, Kouroumalis E (2006) Role of Kupffer cells in the pathogenesis of liver disease. World J Gastroenterol 12(46):7413–7420

Malaguarnera G, Cataudella E, Giordano M, Nunnari G, Chisari G, Malaguarnera M (2012) Toxic hepatitis in occupational exposure to solvents. World J Gastroenterol 18(22):2756–2766

Mannaa FA, Abdel-Wahhab KG (2016) Physiological potential of cytokines and liver damages. Hepatoma Res 2:131–143

Mathern JR, Raatz SK, Thomas W, Slavin JL (2009) Effect of fenugreek fiber on satiety, blood glucose and insulin response and energy intake in obese subjects. Phytother Res 23:1543–1548

Minciullo P L, Navarra M, Calapai G, Gangemi S (2014) Cytokine network involvement in subjects exposed to benzene. J Immunol Res. https://doi.org/10.1155/2014/937987

Mohammed BJ (2017) Effect of gasoline inhalation on tumor necrosis factor-alpha (TNF-α) expression in liver of rats. Biosci Res 14:566–573

Moro AM, Charão MF, Brucker N, Durgante J, Baierle M, Bubols G et al (2013) Genotoxicity and oxidative stress in gasoline station attendants. Mutat Res 754(1–2):63–70

Obadoni BO, Ochuko PO (2001) Phytochemical studies and comparative efficacy of the crude extract of some homeostatic plants in Edo and Delta states of Nigeria. Global J Pure Appl Sci 8(2):203–208

Odewabi AO, Ogundahunsi OA, Oyalowo M (2014) Effect of exposure to petroleum fumes on plasma antioxidant defense system in petrol attendants. Br J Phamacol Toxicol 5(2):83–87

Owagboriaye FO, Dedeke GA, Ashidi JS, Aladesida AA, Olooto WE (2017) Hepatotoxicity and genotoxicity of gasoline fumes in albino rats. Beni-Seuf Univ J Appl Sci 6:253–259

Rahmani M, Hamel L, Toumi-Benali F, Dif MM, Moumen F, Rahmani H (2018) Determination of antioxidant activity, phenolic quantification of four varieties of fenugreek Trigonella foenum graecum L. seed extract cultured in west Algeria. J Mater Environ Sci 9(6):1656–1661

Sadasivam S, Manickam A (2008) Biochemical methods, 3rd edn. New Age International Publishers, New Delhi, pp 203–204

Sass G, Koerber K, Bang R, Guehring H, Tiegs G (2001) Inducible nitric oxide synthase is critical for immune-mediated liver injury in mice. J Clin Invest 107:439–447

Schumacher JD, Guo GL (2016) Regulation of hepatic stellate cells and fibrogenesis by fibroblast growth factors. Biomed Res Int. https://doi.org/10.1155/2016/8323747

Shabbeer S, Sobolewski M, Anchoori RK, Kachhap S, Hidalgo M, Jimeno A et al (2009) Fenugreek: a naturally occurring edible spice as an anticancer agent. Cancer Biol Ther 8:272–278

Sourour DA, El Margoushy NM, El Nemr GM (2012) Protective effects of vitamin C against benzene-induced lung injury in rats. Med J Cairo Univ 80(1):545–558

Sureshkumar V, Paul B, Uthirappan M, Pandey R, Sahu AP, Lal K et al (2005) Proinflammatory and anti-inflammatory cytokine balance in gasoline exhaust induced pulmonary injury in mice. Inhal Toxicol 17(3):161–168

Tilg H, Moschen AR, Szabo G (2016) Interleukin-1 and inflammasomes in alcoholic liver disease/acute alcoholic hepatitis and nonalcoholic fatty liver disease/nonalcoholic steatohepatitis. Hepatol 64(3):955–965

Uboh FE, Akpanabiatu MI, Ebong PE, Eyong EU, Ek OU (2005) Evaluation of toxicological implication of inhalation exposure to kerosene and petrol fumes in rats. Acta Biol Szeged 49:19–22

Uboh FE, Ebong PE, Akpan HD, Usoh IF (2012) Hepatoprotective effect of vitamins C and E against gasoline vapor-induced liver injury in male rats. Turk J Biol 36:217–223

Wani SA, Kumar P (2018) Fenugreek: a review on its nutraceutical properties and utilization in various food products. J Saudi Soc Agric Sci 17:97–106

Wolfe K, Wu X, Liu R (2003) Antioxidant activity of apple peels. J Agric Food Chem 51:609–614

Zhishen J, Mengcheng T, Jianming W (1999) Research on antioxidant activity of flavonoids from natural materials. Food Chem 64:555–559
Acknowledgments
This research was supported by the Faculty of Science, Mansoura University, which provided all possible facilities and equipment.
Additional information
Publisher's note
Springer Nature remains neutral with regard to jurisdictional claims in published maps and institutional affiliations.
Responsible editor: Philippe Garrigues
About this article
Cite this article
Abdrabouh, A.E. Liver disorders related to exposure to gasoline fumes in male rats and role of fenugreek seed supplementation. Environ Sci Pollut Res 26, 8949–8957 (2019). https://doi.org/10.1007/s11356-019-04307-x
Received:

Accepted:

Published:

Issue Date:
Keywords
Air pollution

Gasoline

Oxidative stress

Liver

Cytokines

Fibrosis

Histopathology