Abstract
Due to the increasing industrialization, metals are discharged into all spheres of the environment, in particular, in river courses, which leads to the need for constant monitoring. Metals do not degrade into harmless end products; they are very persistent and have high potential for accumulation in biota. Metals in the fish body are accumulated in different amounts in the tissue specific matter. In relation to the biotic conditions and fish metabolism, the load of food, or the stage of the reproductive cycle, the seasonal variation of metal levels can be expected. Because of that, the objective of our present study was to analyze 15 metals and metalloids in liver, gills, muscle, and gonads of European chub (Squalius cephalus) throughout the 4 seasons, autumn, winter, spring, and summer. The specimens were collected from two rivers, Pestan and Beljanica at the Kolubara basin, and their concentrations were determined with inductively coupled plasma optical emission spectrometry (ICP-OES). Specimens from both rivers have shown similarities in metal accumulation like the highest accumulation of majority of elements in gills, lowest accumulation of majority of elements in muscle (except for Hg), and higher accumulation of some elements in summer (Cu, Fe, Zn). In addition, Cu and Fe showed affinity for liver, while Ba, Cr, Sr, and Zn were specific for gills. Also, Al, B, Fe, Ni, and Pb did not show significant differences in concentrations among different seasons in all investigated tissues.
This is a preview of subscription content, log in to check access.
Access options
Buy single article
Instant access to the full article PDF.
US$ 39.95
Price includes VAT for USA
Subscribe to journal
Immediate online access to all issues from 2019. Subscription will auto renew annually.
US$ 99
This is the net price. Taxes to be calculated in checkout.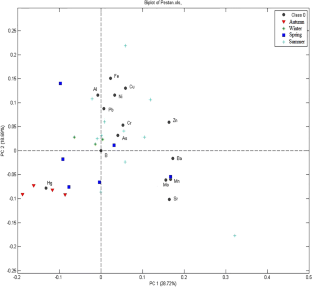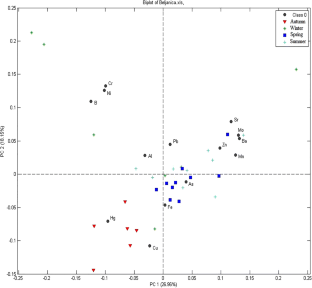 References
Ahmed Q, Khan D, Elahi N (2014) Concentrations of heavy metals (Fe, Mn, Zn, Cd, Pb, and Cu) in muscles, liver and gills of adult Sardinella Albella (Valenciennes, 1847) from Gwadar water of Balochistan, Pakistan. FUUAST J Biol 4(2):195–204

Akan JC, Mohmoud S, Yikala BS, Ogugbuaja VO (2012) Bioaccumulation of some heavy metals in fish samples from river Benue in Vinikilang, Adamawa State, Nigeria. Am J Anal Chem 3(11):727–736

Andres S, Ribeyre F, Tourencq J-N, Boudou A (2000) Interspecific comparison of cadmium and zinc contamination in the organs of four fish species along a polymetallic pollution gradient (Lot River, France). Sci Total Environ 248:11–25

Bervoets L, Blust R, Verheyen R (2001) Accumulation of metals in the tissues of three spined stickelback (Gasterosteus aculeatus) from natural fresh waters. Ecotoxicol Environ Saf 48(2):117–127

Canli M, Atli G (2003) The relationships between heavy metal (Cd, Cr, Cu, Fe, Pb, Zn) levels and the size of six Mediterranean fish species. Environ Pollut 121(1):129–136

Duman F, Kar M (2012) Temporal variation of metals in water, sediment and tissues of the European chup (Squalius cephalus L.). Bull Environ Contam Toxicol 89(2):428–433

Farkas A, Salánki J, Specziár A (2003) Age-and size-specific patterns of heavy metals in the organs of freshwater fish Abramis brama L. populating a low-contaminated site. Water Res 37(5):959–964

Gupta VK, Gupta M, Sharma S (2001) Process development for the removal of lead and chromium from aqueous solution using red mud—an aluminum industry waste. Water Res 35(5):1125–1134

Harkabusová V, Čelechovská O, Lavičková A, Svobodová Z (2012) Monitoring of risk metals in chub (Leuciscus cephalus L.) from the Svitava and Svratka rivers in the urban area of Brno, Czech Republic. Acta Vet Brno 81(1):69–73

Harley J, Lieske C, Bhojwani S, Castellini JM, López JA, O'Hara TM (2015) Mercury and methylmercury distribution in tissues of sculpins from the Bering Sea. Polar Biol 38(9):1535–1543

Havelková M, Dušek L, Némethová D, Poleszczuk G, Svobodová Z (2008) Comparison of mercury distribution between liver and muscle—a biomonitoring of fish from lightly and heavily contaminated localities. Sensors 8(7):4095–4109

Hegazi HA (2013) Removal of heavy metals from wastewater using agricultural and industrial wastes as adsorbents. HBRC J 9(3):276–282

Heidary S, Imanpour Namin J, Monsefrad F (2012) Bioaccumulation of heavy metals Cu, Zn, and Hg in muscles and liver of the stellate sturgeon (Acipenser stellatus) in the Caspian Sea and their correlation with growth parameters. Iran J Fish Sci 11(2):325–337

Jaćimović M, Lenhardt M, Višnjić-Jeftić Ž, Jarić I, Gačić Z, Hegediš A, Krpo-Ćetković J (2015) Elemental concentrations in different tissues of European perch and black bullhead from Sava Lake (Serbia). Slov Vet Res 52(2):57–65

Jarić I, Višnjić-Jeftić Ž, Cvijanović G, Gačić Z, Jovanović L, Skorić S, Lenhardt M (2011) Determination of differential heavy metal and trace element accumulation in liver, gills, intestine and muscle of sterlet (Acipenser ruthenus) from the Danube River in Serbia by ICP-OES. Microchem J 98(1):77–81

Jezierska B, Witeska M (2006) The metal uptake and accumulation in fish living in polluted waters. In: Soil and water pollution monitoring, protection and remediation. Springer, Netherlands, pp 107–114

Jordanova M, Hristovski S, Musai M, Boškovska V, Rebok K, Dinevska-Ќovkarovska S, Melovski L (2018) Accumulation of heavy metals in some organs in barbel and chub from Crn Drim River in the Republic of Macedonia. Bull Environ Contam Toxicol 101(3):392–397

Kenšová R, Čelechovská O, Doubravová J, Svobodová Z (2010) Concentrations of metals in tissues of fish from the Věstonice reservoir. Acta Vet Brno 79(2):335–345

Lenhardt M, Jarić I, Višnjić-Jeftić Ž, Skorić S, Gačić Z, Pucar M, Hegediš A (2012) Concentrations of 17 elements in muscle, gills, liver and gonads of five economically important fish species from the Danube River. Knowl Manag Aquat Ecosyst 407:02

Obasohan EE, Oronsaye JAO, Eguavoen OI (2007) Determination of post-dredging concentrations of selected trace metals in water, sediment and the freshwater mudfish (Clarias gariepinus) from Ikpoba river in Benin City, Edo State, Nigeria. Afr J Biotechnol 6(4):470

Official Gazette of the RS, No 28/11(n.d.) Rulebook on the quantity of pesticides, metals and metaloids and other outputs, chemiotherapeutics, anabolic and other substances that can be determined in food

Official Gazette of the RS, No 50/12 (n.d.) Regulation on emission limits values for pollutants in surface and ground waters and sediments and the deadlines for their reaching

Official Gazette of the RS, No 74/11 (n.d.) Rulebook оn parameters of ecological and chemical status of surface waters, and parameters of chemical and quantitative status of ground waters

Olsson PE, Zafarullah M, Foster R, Hamor T, Gedamu L (1990) Developmental regulation of metallothionein mRNA, zinc and copper levels in rainbow trout, Salmogairdneri. Eur J Biochem 193(1):229–235

Omar HEDM, Ahmed TAI (2013) Seasonal variation of heavy metals accumulation in muscles of the African catfish Clariasgariepinus and in River Nile water and sediments at Assiut Governorate, Egypt. J Biol Earth Sci 3(2):236–248

Papagiannis I, Kagalou I, Leonardos J, Petridis D, Kalfakakou V (2004) Copper and zinc in four freshwater fish species from Lake Pamvotis (Greece). Environ Int 30(3):357–362

Pereira P, De Pablo H, Vale C, Pacheco M (2010) Combined use of environmental data and biomarkers in fish (Liza aurata) inhabiting a eutrophic and metal-contaminated coastal system—gills reflect environmental contamination. Mar Environ Res 69(2):53–62

Podrug M, Raspor B (2009) Seasonal variation of the metal (Zn, Fe, Mn) and metallothionein concentrations in the liver cytosol of the European chub (Squalius cephalus L.). Environ Monit Assess 157(1–4):1–10

Pyle GG, Rajotte JW, Couture P (2005) Effects of industrial metals on wild fish populations along a metal contamination gradient. Ecotoxicol Environ Saf 61:287–312

Rajkowska M, Protasowicki M (2013) Distribution of metals (Fe, Mn, Zn, Cu) in fish tissues in two lakes of different trophy in Northwestern Poland. Environ Monit Assess 185(4):3493–3502

Rašković B, Poleksić V, Skorić S, Jovičić K, Spasić S, Hegediš A, Vasić N, Lenhardt M (2018) Effects of mine tailing and mixed contamination on metals, trace elements accumulation and histopathology of the chub (Squalius cephalus) tissues: evidence from three differently contaminated sites in Serbia. Ecotoxicol Environ Saf 153:238–247

Salem ZB, Capelli N, Laffray X, Elise G, Ayadi H, Aleya L (2014a) Seasonal variation of heavy metals in water, sediment and roach tissues in a landfill draining system pond (Etueffont, France). Ecol Eng 69:25–37

Salem ZB, Capelli N, Grisey E, Baurand PE, Ayadi H, Aleya L (2014b) First evidence of fish genotoxicity induced by heavy metals from landfill leachates: the advantage of using the RAPD-PCR technique. Ecotoxicol Environ Saf 101:90–96

Şaşi H, Yozukmaz A, Yabanli M (2018) Heavy metal contamination in the muscle of Aegean chub (Squalius fellowesii) and potential risk assessment. Environ Sci Pollut Res 25(7):6928–6936

Subotić S, Spasić S, Višnjić-Jeftić Ž, Hegediš A, Krpo-Ćetković J, Mićković B, Skorić S, Lenhardt M (2013) Heavy metal and trace element bioaccumulation in target tissues of four edible fish species from the Danube River (Serbia). Ecotoxicol Environ Saf 98:196–202

Sunjog K, Gačić Z, Kolarević S, Višnjić-Jeftić Ž, Jarić I, Knežević-Vukčević J, Vuković-Gačić B, Lenhardt M (2012) Heavy metal accumulation and the genotoxicity in barbel (Barbus barbus) as indicators of the Danube River pollution. Sci World J 351074:1–6

Sunjog K, Kolarević S, Kračun-Kolarević M, Gačić Z, Skorić S, Đikanović V, Lenhardt M, Vuković-Gačić B (2014) Variability in DNA damage of chub (Squalius cephalus L.) blood, gill and liver cells during the annual cycle. Environ Toxicol Pharmacol 37:967–974

Sunjog K, Kolarević S, Kračun-Kolarević M, Višnjić-Jeftić Ž, Skorić S, Gačić Z, Lenhardt M, Vasić N, Vuković-Gačić B (2016) Assessment of status of three water bodies in Serbia based on tissue metal and metalloid concentration (ICP-OES) and genotoxicity (comet assay). Environ Pollut 213:600–607

Zubcov E, Zubcov N, Ene A, Biletchi L (2012) Assessment of copper and zinc levels in fish from freshwater ecosystems of Moldova. Environ Sci Pollut Res 19(6):2238–2247
Acknowledgment
This study represents a part of activities within the Project No. 173045, funded by the Ministry of Education, Science and Technological Development of the Republic of Serbia. Information regarding the quality of water based on chemical analyses was obtained from the Republic Hydrometeorological Service of Serbia. The authors would like to thank Luka Gačić who provided English language improvement.
Ethics declarations
Conflict of interest
The authors declare that there is no conflict of interests regarding the publication of this paper.
Additional information
Publisher's note
Springer Nature remains neutral with regard to jurisdictional claims in published maps and institutional affiliations.
Responsible editor: Philippe Garrigues
Electronic supplementary material
About this article
Cite this article
Sunjog, K., Kolarević, S., Kračun-Kolarević, M. et al. Seasonal variation in metal concentration in various tissues of the European chub (Squalius cephalus L.). Environ Sci Pollut Res 26, 9232–9243 (2019). https://doi.org/10.1007/s11356-019-04274-3
Received:

Accepted:

Published:

Issue Date:
Keywords
ICP-OES

European chub

Metals

Seasonal variation

Freshwater

Fish tissues