Abstract
The objective of the present study was to investigate the responses of the chironomid communities (Diptera: Chironomidae) to environmental variables in four moderately and highly disturbed rivers located in one of the most degraded watersheds in South America. Sampling campaigns were carried out during 2014–2016 in four sites of the Matanza-Riachuelo basin. The physical-chemical and hydrological variables were measured and, the ecological indices were calculated and evaluated by ANOVA. The responses of Chironomidae to the environmental variables were evaluated by redundancy analysis (RDA), and the sampling sites were grouped according to the populations of chironomids and the main environmental variables. Finally, the Spearman correlation was made to determine which of these variables were significant. In total, 13 chironomid taxa were found in 36 samples during the study period. The greatest density registered belongs to Rheotanytarsus and Cricotopus. The ANOVA detected the greatest Chironomidae density and taxonomic richness in the sites with agricultural-urban impact. The changes in the distribution of Rheotanytarsus, Thienemanniella, and Polypedilum were mainly explained by the increase in current velocity, organic matter, and hardness, and the decrease of NH3 and BOD. On the other hand, Goeldichironomus, Chironomus, Parachironomus, Dicrotendipes, and Cricotopus were explained by the increase in conductivity, dissolved oxygen, and temperature, and the decrease of the variables NO3, BOD, and Cu. In addition to this, the sites with urban-agricultural impact were clearly separated from sites with urban-industrial impact. The last one was more related to the increase in BOD, Cu, and NO3 that indicates moderate to poor water quality. In conclusion, we can infer that the physical and chemical variables are correlated with changes in the structure and distribution of the chironomid community and there are genera that respond differently at high and intermediate situations of disturbances. This knowledge contributes to the execution of strategies for the conservation and restoration of the lotic ecosystems.
This is a preview of subscription content, log in to check access.
Access options
Buy single article
Instant access to the full article PDF.
US$ 39.95
Price includes VAT for USA
Subscribe to journal
Immediate online access to all issues from 2019. Subscription will auto renew annually.
US$ 99
This is the net price. Taxes to be calculated in checkout.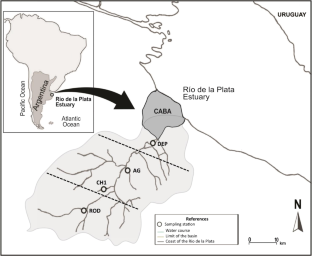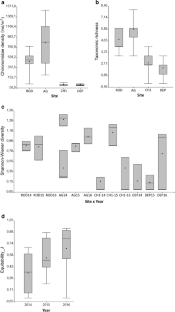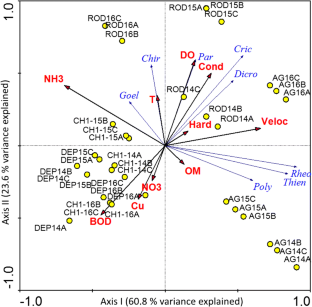 References
ACUMAR web: http://www.acumar.gob.ar/eje-ambiental/monitoreo-ambiental/informes/. Accessed 15 July 2018

Ahmad A, Maimon A, Othman MS, Mohd Pauzi A (2002) The potential of local benthic macroinvertbrates as a biological monitoring tool for river quality assessment. In: Omar R, Ali Rahman Z, Latif MT, Lihan T, Adam JH (eds.), Proceedings of the Regional Symposium on Environment and Natural Resources 10-11:464–471

Al-Shami S, Rawi CSM, Nor SAM, Ahmad AH, Ali A (2010) Morphological deformities in Chironomus spp. (Diptera: Chironomidae) larvae as a tool for impact assessment of anthropogenic and environmental stresses on three rivers in the Juru River system, Penang, Malaysia. Environ Entomol 39:210–222

APHA- AMERICAN PUBLIC HEALTH ASSOCIATION (1998) In: Eaton AD, Clesceri LS, Rice EW, Greenberg AE (eds) Standard methods for the examination of water and wastewater, 20th edn. American Water Works Association; Water Pollution Control Federation, Washington DC, p 1325

Arimoro FO, Ikomi RB (2008) Response of macroinvertebrate communities to abattoir wastes and other anthropogenic activities in a municipal stream in the Niger Delta, Nigeria. Environmentalist 28:85–98

Arimoro FO, Ikomi RB, Iwegbue CMA (2007) Water quality changes in relation Diptera community patterns and diversity measured at an organic effluent impacted stream in the Niger Delta, Nigeria. Ecol Indic 7:541–552. https://doi.org/10.1016/j.ecolind.2006.06.002

Azrina MZ, Yap CK, Rahim Ismail A, Tan SG (2006) Anthropogenic impacts on the distribution and biodiversity of benthic macroinvertebrates and water quality of the Langat River, Peninsular Malaysia. Ecotoxicol Environ Saf 64:337–347

Bhattacharyay G, Sadhu AK, Mazumdar A, Chaudhuri PK (2005) Antennal deformities of chironomid larvae and their use in biomonitoring of heavy metal pollutants in the river Damodar of West Bengal, India. Environ Monit Assess 108:67–84

Borja A, Miles A, Occhipinti-Ambrogi A, Berg T (2009) Current status of macroinvertebrate methods used for assessing the quality of European marine waters: implementing the water framework directive. Hydrobiologia 633(1):181–196

Bortone SA (2005) Estuarine indicators. CRC Press, Boca Raton

Ter Braak CFJ, Smilauer P (1998) CANOCO reference manual and user's guide to Canoco for Windows. Software for Canonical Community Ordination (Version 4). Centre for Biometry, WAgeningen 351 p

Cao Y, Williams WP, Bark AW (1997) Similarity measure bias in river benthic Aufwuchs community analysis. Water Environ Res 69:95–106. https://doi.org/10.2175/106143097X125227

Cattaneo MP, Sardi EML (2013) Evolution of water quality in the Matanza-Riachuelo basin. Ciencia y Tecnología 13:251–278 (in Spanish)

César I, Ocón C, Paggi AC, Rodríguez Capítulo A, Spaccesi F, Tangorra M, Tassara M (2000) Benthic invertebrate diversity of the Río de la Plata. In Gómez N, Capitulo A Rodrígues (eds), biodiversity in the southern coastal strip of the Río de la Plata. Phytoplankton, Zoobentos, fish from the port area of the City of Buenos Aires. Biología Acuática 19:27–63 (in Spanish)

Cochero J, Cortelezzi A, Tarda AS, Gómez N (2016) An index to evaluate the fluvial habitat degradation in lowland urban streams. Ecol Indic 71:134–144

Coffman WP, Ferrington LC Jr (1996) Chironomidae. In: Merritt RW, Cummins KW (eds) An Introduction to the aquatic Insects of North America, Third edn. Kendal/Hunt, Dubuque 862 pp

Conforti V, Alberghina J, Gonzalez Urda E (1995) Structural changes and dynamics of the phytoplankton along a highly polluted lowland river of Argentina. J Aquat Ecosyst Stress Recov 4(1):59–75. https://doi.org/10.1007/BF00043344

Cortelezzi A, Paggi AC, Rodríguez M, Rodrigues Capítulo A (2011) Taxonomic and nontaxonomic responses to ecological changes in an urban lowland stream through the use of Chironomidae (Diptera) larvae. Sci Total Environ 409:1344–1350

Di Rienzo JA, Casanoves F, Balzarini MG, Gonzales L, Tablada M, Robledo CW (2010) Infostat, Statistical software, v. 2011. InfoStat Group, Faculty of Agricultural Sciences, National University of Cordoba, Argentina (in Spanish)

Donato M, Paggi AC (2008) Polypedilum parthenogeneticum (Diptera: Chironomidae): a new parthenogenetic species from Eryngium L. (Apiaceae) phytotelmata. Aquat Insects 30(1):51–60. https://doi.org/10.1080/01650420701829633

Epler JH (2001) Identification manual for the larval Chironomidae (Diptera) of North and South Carolina. North Carolina Department of Environmental and Natural Resources Division of Water Quality, North Carolina

Furse MT, Moss D, Wright JF, ArmitAge PD (1984) The influence of seasonal and taxonomic factors on the ordination and classification of running-water sites in Great Britain and on the prediction of their macro-invertebrate communities. Freshw Biol 14:257–280

Giorgi A, Feijoó C, Tell G (2005) Primary producers in a Pampean stream: temporal variation and structuring role. Biodivers Conserv 14(7):1699–1718

Harding JS, Young RG, Hayes JW, Shearer KA, Stark J (1999) Changes in agricultural intensity and river health along a river continuum. Freshw Biol 42:345–357

Ikomi RB, Arimoro FO, Odihirin OK (2005) Composition, distribution and abundance of macroinvertebrates of the upper reaches of river Ethiope, Delta State, Nigeria. The Zoologist 3:68–81

Janssens de Bisthoven L, Gerhardt A (2003) Chironomidae (Diptera, Nematocera) fauna in three small streams of Skania, Sweden. Environ Monit Assess 83:89–102

Lafont M, Durbec A (1990) Essai de description biologique des interactions entre eau de surface et eau souterraine: vulnerabilite d'un aquifere a la pollution d'un fleuve. Ann Limnol 26:119–129

Machado NG, Nassarden DCS, Santos F, Boaventura ICG, Perrier G, Souza FSC, Martins EL, Biudes MS (2015) Chironomus larvae (Chironomidae: Diptera) as water quality indicators along an environmental gradient in a neotropical urban stream. Rev Ambient Água 10(2):298–309. https://doi.org/10.4136/ambi-Agua.1533

Marziali L, Armanini DG, Cazzola M, Erba S, Toppi E, Buffagni A, Rossaro B (2010) Responses of chironomid larvae (Insecta, Diptera) to ecological quality in Mediterranean river mesohabitats (south Italy). River Res Appl 26:1036–1051

Mc Aleece N (1997) Biodiversity professional beta 1. Versión 1.0. The Natural History Museum and the Scottish Association for Marine Science. Accesible on internet: http://www.nhm.ac.uk/zoology/bdpro. Accessed 15 March 2012

Merritt RW, Cummins KW, Berg MB (2008) An introduction to the aquatic insects of North America. Kendall-Hunt, Dubuque 1214 pp

Mousavi SK, Primcerio R, Amundsen P (2003) Diversity and structure of Chironomidae (Diptera) communities along a gradient of heavy metal contamination in a subarctic watercourse. Sci Total Environ 307:93–110

Newman MC (1995) Quantitative methods in aquatic ecotoxicology. Lewis Publishers, USA

Ocon CS, Rodrigues Capitulo A (2012) Assessment of water quality in temperate-plain streams (Argentina, South America) using a multiple approach. Ecol Austral 22:81–91

Osmulski PA, Leyko W (1986) Structure, function and physiological role of Chironomus haemoglobin. Comp Biochem Physiol B Biochem Mol Biol 85:701–722

Paggi AC (1975) Imaginary and preimaginal forms of Chironomus (Dicrotendipes) alsinensis. Neotropica 21(66):149–156 (in Spanish)

Paggi AC (1977a) Imaginary and preimaginal forms of quironomids (Diptera) II. Parachironomus longistilus sp nov. Limnobios 1(6):200–206 (in Spanish)

Paggi AC (1977b) Imaginary and preimaginal forms of quironomids (Diptera) III Chironomus (s. str.) domizii sp. nov. Neotropica 23(69):103–112 (in Spanish)

Paggi AC (1978a) Two new species of the genus Parachironomus Lenz (Diptera, Chironomidae) and new citations of quironomids for the Argentina Republic. Physis Secc B 36(94):47–54 (in Spanish)

Paggi AC (1978b) Imaginary and preimaginal forms of quironomids (Diptera) IV. Dicrotendipes nestori sp nov. Limnobios 1(7):235–241 (in Spanish)

Paggi AC (1985) Thienemanniella desertica sp. nov. of Argentina Republic (Diptera Chironomidae Orthocladiinae). Neotropica 31(85):49–53 (in Spanish)

Paggi AC (1987) Imaginary and preimaginal forms of quironomids (Diptera, Chironomidae) VI. Dicrotendipes pellegriniensis sp. nov. and D. embalsensis sp. nov. Limnobios 2(9):695–706 (in Spanish)

Paggi AC (1993) Redescription of Pseudosmittia bilobulata (Edw.) comb. n. (= Spaniotoma (Smittia) bilobulata Edwards 1931) and description of P. neobilobulata sp. n. (Diptera: Chironomidae) from Argentina. Ann Limnol 29(2):171–174

Paggi AC (2003) The Chironomidae (Diptera) and its use as bioindicators. Biología Acuática 21:50–57 (in Spanish)

Paggi AC (2007) A new Neotropical species of the genus Thienemanniella Kieffer, 1911 (Diptera: Chironomidae, Orthocladiinae). In: Andersen T. (ed.) Contributions to the systematics and ecology of aquatic Diptera- a tribute to Ole A. Sæther. The Caddis Press. 358 pp

Paggi AC (2009) Capítulo 13- Díptera: Chironomidae. In: Domínguez E, Fernández HR (eds) South American benthic macroinvertebrates. Systematics and biology. Miguel Lillo Foundation, Tucumán (in Spanish)

Paggi AC, Ocon CS, Tangorra M, Rodrigues Capitulo A (2006) Response of the zoobenthos community along the dispersion plume of a highly polluted stream in the receiving waters of a large river (Rio de la Plata, Argentina). Hydrobiologia 568:1–14. https://doi.org/10.1007/s10750-005-0010-2.

Prat N, Gonzalez-Trujilo JD, Ospina-Torres R (2014) Key to the determination of pupal exudates of chironomids (Diptera, Chiron- omidae) in tropical high Andean rivers. Rev Biol Trop 62(4):1385–1406 (in Spanish)

Resh HV, Unzicker JD (1975) Water quality monitoring and aquatic organisms: the importance of species identification. J Water Pollut Control Fed 47:9–19

Rodrigues Capítulo A, Tangorra M, Ocon CS (2001) Use of benthic macroinvertebrates to assess the ecological status of Pampean streams in Argentina. Aquat Ecol 35:109–119

Rodrigues Capítulo A, Ocon CS, Tangorra M (2004) A benthic view of Pampean streams and rivers. Biología Acuática 21:1–18 (in Spanish)

Rodriguez Catanzaro LNS, Zanotto Arpellino JP, Donato M, Siri A (2018) Diversity of the Chironomidae family in the floodplains of the fluvial overflow of the hydrological region of the northeast of the province of Buenos Aires. Resúmenes del IX Congreso de Ecología y Gestión de Ecosistemas Acuáticos Pampeanos. Biología Acuática 32:29 (in Spanish)

Tejerina EG, Paggi AC (2009) A redescription of Rheotanytarsus lamellatus Reiss in all stages (Diptera: Chironomidae) and new records from Argentina. Zootaxa 2315:31–38

Ter Braak CFJ (1986) Canonical correspondence analysis: a new eigenvector technique for multivariate direct gradient analysis. Ecology 67(5):1167–1179

Ter Braak CFJ, Verdonschot PFM (1995) Canonical correspondence analysis and related multivariate analysis in aquatic ecology. Aquat Sci 57(3):255–289

Verdonschot PFM (2000) Integrated ecological assessment methods as a basis for sustainable catchment management. Hydrobiologia 423:389–412

Verdonschot PFM, Monsterrat R, Schot J (1992) Chironomids and regional water types. Neth J Aquat Ecol 26(2-4):513–520

Wiedenbrug S (2000) Chironomid fauna study from mountain streams in Rio Grande do Sul, Brazil. Printed with the support of the German Academic Exchange Service. Munich. (in German)

Wiedenbrug S, Ospina-Torres R (2005) A key to pupal exuviae of Neotropical Tanytarsini Diptera: Chironomidae. Amazoniana 18(3–4):317–371

Wiederholm T (ed) (1983) Chironomidae of the Holarctic region. Keys and diagnoses. Part 1. Larvae Ent Scand Suppl 19:1–457

Wiederholm T (ed.) (1986) Chironomidae of the Holarctic region. Keys and diagnoses. Part 2. Pupae Ent Scand Suppl 28:1–482 pp.

Wright IA, Burgin S (2009) Effects of organic and heavy metal pollution on chironomids within a pristine upland catchment. Hydrobiologia 635:15–25

Zanotto Arpellino JP, Rodriguez Catanzaro LNS, Mauad M, Siri A, Montalto L, Donato M (2018) Emergency patterns of Chironomidae (Diptera) from Pampas streams using exuviae pupals. Resúmenes del IX Congreso de Ecología y Gestión de Ecosistemas Acuáticos Pampeanos. Biología Acuática 32:29 (in Spanish)
Acknowledgements
We would like to particularly thank Jorge Donadelli for the nutrient analyses, Roberto Jensen for his valuable contribution to the fieldwork campaigns, and Delia Bauer for her help with the statistic analyses. The present article is scientific contribution number 1141 of the Instituto de Limnologia Dr. Raúl A. Ringuelet (ILPLA. CCT-La Plata CONICET. UNLP).
Funding
This study was funded by the ACUMAR-FCNyM-UNLP Agreement.
Additional information
Publisher's note
Springer Nature remains neutral with regard to jurisdictional claims in published maps and institutional affiliations.
Responsible editor: Philippe Garrigues
About this article
Cite this article
Cortese, B., Zanotto Arpellino, J.P., Paggi, A.C. et al. Chironomid genera distribution related to environmental characteristics of a highly impacted basin (Argentina, South America). Environ Sci Pollut Res 26, 8087–8097 (2019). https://doi.org/10.1007/s11356-019-04267-2
Received:

Accepted:

Published:

Issue Date:
Keywords
Chironomidae assemblages

Plain streams

Physical and Chemical parameters

Ecological indices