Abstract
In the Mediterranean region, olive-stone waste (OSW) is accumulated and considered of environmental and human health constraints. In this study, OSW was used for peat (P) replacement in growing media for Brassica seedling production. Cauliflower, broccoli, and cabbage were seeded in growing media consisted of 0–20–40–60% OSW. The mixture of OSW with peat increased growing media bulk density and reduced the total pore space and available water and air at root system. A Considerable amount of minerals were provided into the growing media with the OSW, while their availability was increased with the raised pH values. Seed emergence percentage decreased with high ratio of OSW which also increased mean emergence time. The addition of OSW decreased plant height, leaf number, and fresh weight in all three examined species. The OSW decreased stomatal conductance (in cauliflower and cabbage) and chlorophylls content (including broccoli). The insertion of OSW affected the mineral accumulation in plants with decreases in nitrogen and sodium content and increases in potassium and calcium. OSW increased to some extent for cauliflower and broccoli or unchanged for cabbage polyphenolic content and antioxidant activity (ABTS, FRAP). Cellular damage was caused by the addition of OSW by increasing the lipid peroxidation and the production of hydrogen peroxide, and as a consequence, the plant antioxidative (catalase, superoxide dismutase) enzyme metabolism increased. The current study demonstrates that up to 20% of OSW can substitute peat for cauliflower, broccoli, and cabbage seedling production while cabbage was performed better under the increased OSW-caused stress.
Access options
Buy single article
Instant access to the full article PDF.
US$ 39.95
Tax calculation will be finalised during checkout.
Subscribe to journal
Immediate online access to all issues from 2019. Subscription will auto renew annually.
US$ 79
Tax calculation will be finalised during checkout.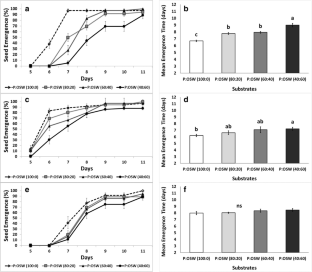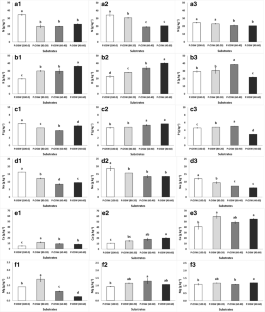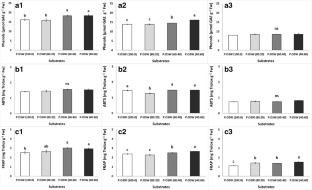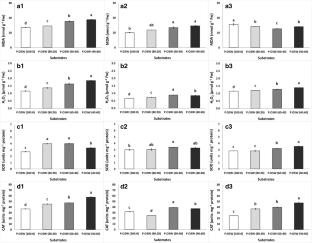 References
Abad M, Noguera P, Bures S (2001) National inventory of organic wastes for use as growing media for ornamental potted plant production: case study in Spain. Bioresour Technol 77:197–200

Aktas ES, Imre S, Ersoy L (2001) Characterization and lime treatment of olive mill wastewater. Water Res 35:2336–2340

Altieri R, Esposito A (2008) Olive orchard amended with two experimental olive mill wastes mixtures: effects on soil organic carbon, plant growth and yield. Bioresour Technol 99:8390–8393

Azevedo Neto AD, Prisco JT, Enéas-Filho J, Abreu CEB, Gomes-Filho E (2006) Effect of salt stress on antioxidative enzymes and lipid peroxidation in leaves and roots of salt-tolerant and salt sensitive maize genotypes. J Environ Exp Bot 56:87–94

Baziramakenga R, Simard RR, Lalande R (2001) Effect of de-inking paper sludge compost application on soil chemical and biological properties. Can J Soil Sci 81:561–575

Benítez E, Sainz H, Melgar R, Nogales R (2002) Vermicomposting of a lignocellulosic waste from olive oil industry: a pilot scale study. Waste Manag Res 20:134–142

Bugbee GJ (2002) Growth of ornamental plants in container media amended with biosolids composts. Compost Sci Util 10:92–98

Casa R, D'Annibale A, Stazi SR, Giovannozzi Sermanni G, Lo Cascio B (2003) Reduction of the phenolic components in olive-mill wastewater by an enzymatic treatment and its impact on durum wheat (Triticum durum Desf.) germinability. Chemosphere 50:959–966

Castillo JE, Herrera F, Lopez-Bellido RJ, Lopez-Bellido FJ, Lopez-Bellido L, Fernandez EJ (2004) Municipal solid waste (MSW) compost as a tomato transplant medium. Compost Sci Util 12:86–92

Ceglie FG, Bustamante MA, Ben Amara M, Tittarelli F (2015) The challenge of peat substitution in organic seedling production: optimization of growing media formulation through mixture design and response surface analysis. PLoS One 10(6):e0128600. https://doi.org/10.1371/journal.pone.0128600

Chrysargyris A, Xylia P, Botsaris G, Tzortzakis N (2017) Antioxidant and antibacterial activities, mineral and essential oil composition of spearmint (Mentha spicata L.) affected by the potassium levels. Ind Crop Prod 103:202–212

Chrysargyris A, Antoniou O, Tzionis A, Prasad M, Tzortzakis N (2018) Alternative soilless media using olive-mill and paper wastes for growing ornamental plants. Environ Sci Pollut Res 25:35915–35927

Curaqueo G, Schoebitz M, Borie F, Caravaca F, Roldán A (2014) Inoculation with arbuscular mycorrhizal fungi and addition of composted olive-mill waste enhance plant establishment and soil properties in the regeneration of a heavy metal-polluted environment. Environ Sci Pollut Res 21:7403–7412

D'Addabbo T, Fontanazza G, Lamberti F, Sasanelli N, Patumi M (1997) The suppressive effect of soil amendments with olive residues on Meloidogyne incognita. Nematol Mediterr 25:195–198

El-Kholy M (2012) Following Olive Footprints (Olea europaea L.). Cultivation and Culture, Folklore and History, Traditions and Uses. Córdoba: International Society for Horticultural Science, Series Scripta Horticulturae. Imprenta Luque

Fernfindez-Bolafios J, Felizon B, Heredia A, Guillon R, Jimenez A (1999) Characterization of the lignin obtained by alkaline delignification and of the cellulose residue from steam-exploded olive stones. Bioresour Technol 68:121–132

Ghosheh HZ, Hameed KM, Turk MA, Al-Jamali AF (1999) Olive (Olea europea) jift suppresses broomrape (Orobanche spp.) infections in faba bean (Vicia faba), pea (Pisum sativum), and tomato (Lycopersicon esculentum). Weed Technol 13:457–460

Iamarino G, Rao MA, Gianfreda L (2009) Dephenolization and detoxification of olive-mill wastewater (OMW) by purified biotic and abiotic oxidative catalysts. Chemosphere 74:216–223

IPS International Peat Society (2008) Peatlands and climate change. International Peat Society, Wetlands, Finland, p 224

Jayasinghe GY, Tokashiki Y, Kitou M, Kinjo K (2008) Oil palm waste and synthetic zeolite: an alternative soil-less growth substrate for lettuce production as a waste management practice. Waste Manag Res 26:559–565

Kelepesi S, Tzortzakis NG (2009) Olive-mill wastes - a growing medium component for seedling and crop production of lettuce and chicory. Int J Veg Sci 15:325–339

Kern J, Tammeorg P, Shanskiy M, Sakrabani R, Knicker H, Kammann C, Tuhkanen E-M, Smidt G, Prasad M, Tiilikkala K, Sohi S, Gasco G, Steiner C, Glaser B (2017) Synergistic use of peat and charred material in growing media – an option to reduce the pressure on peatlands? J Environ Eng Landsc Manag 25:160–174

Kiarostami K, Mohseni R, Saboora A (2010) Biochemical changes of Rosmarinus officinalis under salt stress. J Stress Physiol Biochem 6:114–122

Kotsou M, Mari I, Lasaridi K, Chatzipavlidis I, Balis C, Kyriacou A (2004) The effect of olive mill wastewater (OMW) on soil microbial communities and suppressiveness against Rhizoctonia solani. Appl Soil Ecol 26:113–121

Lazcano C, Arnold J, Tato A, Zaller GJ, Domínguez J (2009) Compost and vermicompost as nursery pot components: effects on tomato plant growth and morphology. Span J Agric Res 7:944–951

Loreto F, Velikova V (2001) Isoprene produced by leaves protects the photosynthetic apparatus against ozone damage, quenches ozone products, and reduces lipid peroxidation of cellular membranes. Plant Physiol 27:1781–1787

Marinou E, Chrysargyris A, Tzortzakis N (2013) Use of sawdust, coco soil and pumice in hydroponically grown strawberry. Plant Soil Environ 59:452–459

Martinez-Garcia G, Johnson AC, Bachmann RT, Williams CJ, Burgoyne A, Edyvean RGJ (2009) Anaerobic treatment of olive mill wastewater and piggery effluents fermented with Candida tropicalis. J Hazard Mater 164:1398–1405

Mulinacci N, Romani A, Galardi C, Pinelli P, Giaccherini C, Vincieri FF (2001) Polyphenolic content in olive oil waste waters and related olive samples. J Agric Food Chem 49(8):3509–3514

Ouzounidou G, Asfi M, Sotirakis N, Papadopoulou P, Gaitis F (2008) Olive mill wastewater triggered changes in physiology and nutritional quality of tomato (Lycopersicon esculentum mill.) depending on growth substrate. J Hazard Mater 158:523–530

Papafotiou M, Chronopoulos J, Kargas G, Voreakou M, Leodaritis N, Lagogiani O, Gazi S (2001) Cotton gin trash compost and rice hulls as growing medium components for ornamentals. J Hortic Sci Biotechnol 76:431–435

Papafotiou M, Phsyhalou M, Kargas G, Chatzipavlidis I, Chronopoulos J (2004) Olive-mill wastes compost as growing medium component for the production of poinsettia. Sci Hortic 102:167–175

Papafotiou M, Kargas G, Lytra I (2005) Olive-mill wastes compost as growth medium component for foliage potted plants. HortScience 40:1746–1750

Pardo T, Martínez-Fernández D, Clemente R, Walker DJ, Bernal MP (2014) The use of olive-mill waste compost to promote the plant vegetation cover in a trace-element-contaminated soil. Environ Sci Pollut Res 21:1029–1038

Perez-Murcia MD, Moral R, Moreno-Caselles J, Perez-Espinosa A, Paredes C (2006) Use of composted sewage sludge in growth media broccoli. Bioresour Technol 97:123–130

Ribeiro HM, Vasconcelos E, Santos JQ (2000) Fertilisation of potted pelargonium with a municipal solid waste compost. Bioresour Technol 73:247–249

Ribeiro HM, Vasconcelos E, Cabral F, Ribeiro D (2009) Fertilization of Pinus pinea L. seedlings with a sewage sludge-based compost. Waste Manag Res 27:112–118

Schmilewski G (2009) Growing medium constituents used in the EU. Acta Hortic 819:33–46

Sofiadou E, Tzortzakis NG (2012) Deployment of olive-mill waste as a substitute growing medium component in tomato seedling and crop production. Int J Veg Sci 18:272–283

Spiers TM, Fietje G (2000) Green waste compost as a component in soilless growing media. Compost Sci Util 8(1):19–23

Tarchoune I, Sgherri C, Izzo R, Lachaâl M, Ouerghi Z, Navari- Izzo F (2010) Antioxidant response of Ocimum basilicum to sodium chloride or sodium sulphate salinization. Plant Physiol Biochem 48:772–777

Tsakaldimi M (2006) Kenaf (Hibiscus cannabinus L.) core and rice hulls as components of container media for growing Pinus halepensis M. Seedlings. Bioresour Technol 97:1631–1639

Tzortzakis NG, Economakis CD (2005) Shredded maize stems as an alternative substrate medium. Effect on growth, flowering and yield of tomato in soilless culture. J Veg Sci 11(2):57–70

Walker DJ, Bernal MP (2008) The effects of olive mill waste compost and poultry manure on the availability and plant uptake of nutrients in a highly saline soil. Bioresour Technol 99:396–403

Wuana RA, Okieimen FE (2011) Heavy metals in contaminated soils: a review of sources, chemistry, risks and best available strategies for remediation. International Scholarly Research Network. 2011:402647, 20 pages
Additional information
Publisher's Note
Springer Nature remains neutral with regard to jurisdictional claims in published maps and institutional affiliations.
Responsible editor: Philippe Garrigues
Electronic supplementary material
About this article
Cite this article
Chrysargyris, A., Antoniou, O., Athinodorou, F. et al. Deployment of olive-stone waste as a substitute growing medium component for Brassica seedling production in nurseries. Environ Sci Pollut Res 26, 35461–35472 (2019). https://doi.org/10.1007/s11356-019-04261-8
Received:

Accepted:

Published:

Issue Date:
Keywords
Olive-stone waste

Peat

Growth

Olea europaea

Vegetables

Germination

Antioxidants