Abstract
One of the most recognized anthropogenic impacts in marine environments is solid waste pollution, especially plastic, which can be ingested by fish, thus interfering with their health. In this context, the aim of this study is to describe the ingestion of plastic fragments and to identify the possible effect of this contamination in the condition factor of Genidens genidens in the Laguna Estuarine System. The stomach contents of 92 G. genidens (26 juveniles and 66 adults) were analyzed. The Index of Relative Importance was performed to identify the contribution of each prey item. Condition factor (CF) was used to analyze the effect of plastic ingestion on the fish's body condition (by comparing individuals in the same ontogenetic phase). For the juveniles, eight items were observed, the most important of which were Penaeidae, followed by Portunidae and plastic. For the adults, 12 items were observed, the most important of which were Penaeidae, Portunidae, Polychaeta, and plastic. The analysis of CF demonstrated higher values for individuals without plastic in the stomach, which indicated a better health condition. The CF of a fish may be affected by variations in the physiological condition, environmental stresses, and nutritional and biological variations, and could be used to compare the body condition or health of a fish species. The ingestion of plastic could significantly influence the worst body condition of the individuals that were analyzed in the present study. The plastic pollution in marine coastal waters is associated with the appropriate waste management levels.
This is a preview of subscription content, log in to check access.
Access options
Buy single article
Instant access to the full article PDF.
US$ 39.95
Price includes VAT for USA
Subscribe to journal
Immediate online access to all issues from 2019. Subscription will auto renew annually.
US$ 99
This is the net price. Taxes to be calculated in checkout.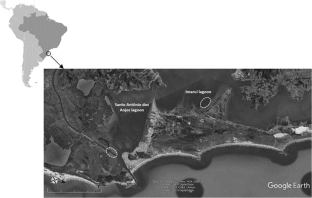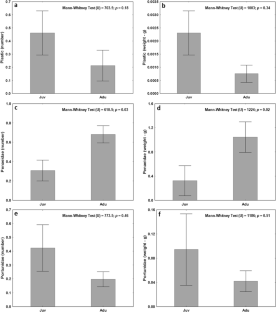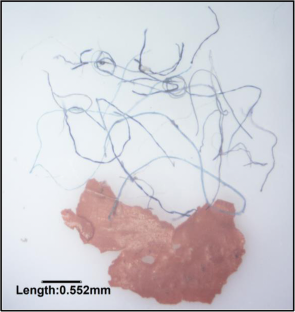 References
Barboza LGA, Vieira LR, Branco V, Figueiredo N, Carvalho F, Carvalho C, Guilhermino L (2018) Microplastics cause neurotoxicity, oxidative damage and energy-related changes and interact with the bioaccumulation of mercury in the European seabass, Dicentrarchus labrax (Linnaeus, 1758). Aquat Toxicol 195:49–57. https://doi.org/10.1016/j.aquatox.2017.12.008

Barletta M, Dantas DV (2016) Environmental gradient. In: Kennish MJ (ed) Encyclopedia of estuaries. Springer, Netherlands, pp 237–242. https://doi.org/10.1007/978-94-017-8801-4_136

Barletta M, Saint-Paul U, Amaral CS, Corrêa MF, Guebert F, Dantas DV, Lorenzi L (2008) Factors affecting seasonal variations in fish assemblages at an ecocline in a tropical/subtropical mangrove-fringed estuary. J Fish Biol 73:1314–1336. https://doi.org/10.1111/j.1095-8649.2008.02005.x

Barletta M, Lima ARA, Dantas DV, Oliveira IM, Reis Neto J, Fernandes CAF, Farias EGG, Rodrigues Filho JL, Costa MF (2017) How can accurate landing stats help designing better fisheries and environmental management for Western Atlantic estuaries? In: Finkl CW, Makowski C (eds) (Org.)Coastal wetlands: alteration and remediation, vol 21, 1st edn. Springer Nature, Dordrecht, pp 1–64. https://doi.org/10.1007/2F978-3-319-56179-0_20

Beck MW, Heck KL Jr, Able KW, Childers DL, Eggleston DB, Gillanders BM, Halpern BS, Hays CG, Hoshino K, Minello TJ, Orth RJ, Sheridan PF, Weinstein MP (2001) The identification, conservation and management of estuarine and marine nursery for fish and invertebrates. BioScience 51:633–641. https://doi.org/10.1641/0006-3568(2001)051[0633:TICAMO]2.0.CO;2

Bittar VT, Di Beneditto M (2009) Diet and potential feeding overlap between Trichiurus lepturus (Osteichthyes: Perciformes) and Pontoparia blainvillei (Mammalia: Cetacea) in northern Rio de Janeiro, Brazil. Zoologia 26:374–378. https://doi.org/10.1590/S1984-46702009000200023

Burgess BE (1989) An atlas of freshwater and marine catfishes. A preliminary survey of the Siluriformes. T.H.F. Publications, Inc., Neptune City 784p

Cardozo ALP, Farias EGG, Rodrigues-Filho JL, Monteiro IB, Scandolo TM, Dantas DV (2018) Feeding ecology and ingestion of plastic fragments by Priacanthus arenatus: what's the fisheries contribution to the problem? Mar Pollut Bull 130:19–27. https://doi.org/10.1016/j.marpolbul.2018.03.010

Costa MF, Barletta M (2015) Microplastics in coastal and marine environments of the western tropical and sub-tropical Atlantic Ocean. Environ Sci Proc Imp 17:1868–1879. https://doi.org/10.1039/C5EM00158G

Costa MF, Silva-Cavalcanti JS, Barbosa CC, Barletta M (2011) Plastic buried in the inter-tidal plain of a tropical estuarine ecosystem. J Coast Res 64:339–343 http://www.cerf-jcr.org/images/stories/2011_ICS_Proceedings/SP64_339-343_M._F._Costa.pdf. Accessed 25 June 2018

Critchell K, Hoogenboom MO (2018) Effects of microplastic exposure on the body condition and behaviour of planktivorous reef fish (Acanthochromis polyacanthus). PlosOne 13(3):e0193308. https://doi.org/10.1371/journal.pone.0193308

Dantas DV (2018) Mapeamento dos territórios tradicionais de pesca, o conhecimento ecológico tradicional e as regras informais de gestão existentes no Complexo Lagunar Sul de Santa Catarina: Conclusões e recomendações para a gestão pesqueira. In: Subsídios ao Ordenamento Pesqueiro Nacional / SEAPE-PR, OEI, Brasília, DF. p 43–66. https://oei.org.br/acervo_tecnico. Accessed 22 Dec 2018

Dantas DV, Barletta M, Costa MF, Barbosa-Cintra SCT, Possatto FE, Ramos JAA, Lima ARA, Saint-Paul U (2010) Movement patterns of catfishes (Ariidae) in a tropical semi-arid estuary. J Fish Biol 76:2540–2557. https://doi.org/10.1111/j.1095-8649.2010.02646.x

Dantas DV, Barletta M, Costa MF (2012) The seasonal and spatial patterns of ingestion of polyfilament nylon fragments by estuarine drums (Sciaenidae). Environ Sci Pollut Res 19:600–606. https://doi.org/10.1007/s11356-011-0579-0

Dantas DV, Barletta M, Costa MF (2015) Feeding ecology and seasonal diet overlap between Stellifer brasiliensis and Stellifer stellifer in a tropical estuarine ecocline. J Fish Biol 86(2):707–733. https://doi.org/10.1111/jfb.12592

Denuncio P, Mandiola AM, Salles SBP, Machado R, Otto PH, Oliveira LR, Rodriguez DH (2017) Marine debris ingestion by the South American fur seal from the Southwest Atlantic Ocean. Mar Pollut Bull 122:420–425. https://doi.org/10.1016/j.marpolbul.2017.07.013

Eriksen M, Lebreton LCM, Carson HS, Thiel M, Moore CJ, Borerro JC, Galgani F, Ryan PG, Reisser J (2014) Plastic pollution in the world's oceans: more than 5 trillion plastic pieces weighing over 250000 tons afloat at sea. PLoS One 9(12):e111913. https://doi.org/10.1371/journal.pone.0111913

Farias EGG, Preichardt PR, Dantas DV (2018) Influence of fishing activity over marine debris composition close to coastal jetty. Environ Sci Pollut Res 25(16):16246–16253. https://doi.org/10.1007/s11356-018-2012-4

Ferreira GVB, Barletta M, Lima ARA, Dantas DV, Justino AKS, Costa MF (2016) Plastic debris contamination in the life cycle of acoupa weakfish (Cynoscion acoupa) in a tropical estuary. ICES J Mar Sci 73(10):2695–2707. https://doi.org/10.1093/icesjms/fsw108

Ferreira VB, Barletta M, Lima ARA (2019) Use of estuarine resources by top predator fishes. How do ecological patterns affect rates of contamination by microplastics? Sci Total Environ 655:292–304. https://doi.org/10.1016/j.scitotenv.2018.11.229

Froese R (2006) Cube law, condition factor and weight-length relationships: history, meta-analysis and recommendations. J Appl Ichthyol 22:241–253. https://doi.org/10.1111/j.1439-0426.2006.00805.x

Hostim-Silva M (2001) Reprodução de Netuma barba (Lacépède, 1803) e Genidens genidens (Valenciennes, 1839) (Siluriformes, Ariidae) da Foz do Rio Itajaí-Açu, Santa Catarina, Brasil. Universidade Federal de São Carlos (UFSCAR), Tese de Doutorado

Hynes HBN (1950) The food of fresh-water sticklebacks (Gasterosteus aculeatus and Pygosteus pungitius), with a review of methods used in studies of the food of fishes. J Anim Ecol 19:36–57. https://doi.org/10.2307/1570

Hyslop EJ (1980) Stomach contents analysis-a review of methods and their application. J Fish Biol 17:411–429. https://doi.org/10.1111/j.1095-8649.1980.tb02775.x

Ivar do Sul JA, Santos IR, Friedrich AC, Matthiensen A, Fillmann G (2011) Plastic pollution at a sea turtle conservation area in NE Brazil: contrasting developed and undeveloped beaches. Estuar Coast 34(4):814–823. https://doi.org/10.1007/s12237-011-9392-8

Jambeck JR, Geyer R, Wilcox C, Siegler TR, Perryman M, Andrady A, Narayan R, Law KL (2015) Plastic waste inputs from land into the ocean. Science 347(6223):768–771. https://doi.org/10.1126/science.1260352

Jin S, Yan X, Zhang H, Fan W (2015) Weight-length relationships and Fulton's condition factors of skipjack tuna (Katsuwonus pelanis) in the western and Central Pacific Ocean. PeerJ 3:e758. https://doi.org/10.7717/peerj.758

Laist DW (1997) Impacts of marine debris: entanglement of marine life in marine debris including a comprehensive list of species with entanglement and ingestion records. In: Coe JM, Rogers BD (eds) Marine debris: sources, impacts and solutions. Springer, Berlin, pp 99–141. https://doi.org/10.1007/978-1-4613-8486-1_10

Lima ARA, Costa MF, Barletta M (2014) Distribution patterns of microplastics within the plankton of a tropical estuary. Environ Res 132:146–155. https://doi.org/10.1016/j.envres.2014.03.031

Lusher AL, Hollman PCH, Mendoza-Hill JJ (2017a) Microplastic in fisheries and aquaculture: status of knowledge on their occurrence and implications for aquatic organisms and food safety. FAO Fisheries and Aquaculture Technical Paper. No. 615, Rome, Italy. 147p. http://www.fao.org/3/a-i7677e.pdf. Accessed 13 Jan 2018

Lusher AL, Welden NA, Sobral P, Cole M (2017b) Sampling, isolating and identifying microplastics ingested by fish and invertebrates. Anal Methods 9:1346–1360. https://doi.org/10.1039/C6AY02415G

McLusky DS, Elliott M (2004) The estuarine ecosystem: ecology, threats, and management, 3rd edn. Oxford University Press, Oxford 223p

Nash RDM, Valencia AH, Geffen AJ (2006) The origin of Fulton's condition factor – setting the record straight. Fisheries 31(5):346–238

Oliveira KR, Correa LLC, Petry MV (2018) Dieta de Nannopterum brasilianus (Aves: Phalocrocoracidae), no Sul do Brasil. Oecologia Australis in press https://revistas.ufrj.br/index.php/oa/article/view/17723. Accessed 15 July 2018

Pinkas LM, Oliphant S, Iverson ILK (1971) Food habits of albacore, bluefin tuna and bonito in Californian waters. Calif Fish Game 152:1–105 https://escholarship.org/uc/item/7t868rd. Accessed 02 Jan 2018

Possatto FE, Barletta M, Costa MF, Ivar do Sul J, Dantas DV (2011) Plastic debris ingestion by marine catfish: an unexpected fisheries impact. Mar Pollut Bull 62:1098–1102. https://doi.org/10.1016/j.marpolbul.2011.01.036

Prince ED (1975) Pinnixid crabs in the diet of young-of-the-year copper Rockfis (Sebastes caurinus). T Am Fish Soc 99:440–443. https://doi.org/10.1577/1548-8659(1975)104<539:PCITDO>2.0.CO;2

Ramos JAA, Barletta M, Dantas DV, Lima ARA, Costa MF (2014) Trophic niche and habitat shifts of sympatric Gerreidae. J Fish Biol 85:1446–1469. https://doi.org/10.1111/jfb.12499

Richardson N, Gordon AK, Muller WJ, Whitfield AK (2011) A weight-of-evidence approach to determine estuarine fish health using indicators from multiple levels of biological organization. Aquat Conserv Mar Freshwat Ecosyst 21(5):423–432

Rochman CM, Hoh E, Kurobe T, The SJ (2013) Ingested plastic transfers hazardous chemicals to fish and induces hepatic stress. Sci Rep 3:3263. https://doi.org/10.1038/srep03263

Ruppert EE, Fox RS, Barnes RD (2005) Zoologia dos invertebrados. 7ª ed. 1168p

Stachowitsch M (1992) The invertebrates: an illustrated glossary. Wiley, 690p

Tesch FW (1968) Age and growth. In: Ricker WE (ed) Methods for assessment of fish production in fresh waters. Blackwell Scientific Publications, Oxford, pp 93–123

Thurman HV, Trujillo AP (2004) Introductory oceanography, 10th edn. Pearson Prentice Hall, New Jersey, 608p

Tourinho PS, Ivar do Sul JA, Fillmann G (2010) Is marine debris ingestion still a problem for the coastal marine biota of southern Brazil? Mar Pollut Bull 60(3):396–401. https://doi.org/10.1015/j.marpolbul.2009.10.013

Zar JH (2010) Biostatistical analysis. Prentice Hall, Inc., Upper Saddle River 944p
Funding
The authors thank the support of Universidade do Estado de Santa Catarina (UDESC – Campus Laguna) (Proc. NPP2015020002570; Proc. NPP2015020002571) and CNPq Universal Proc. 406539/2018-9.
Additional information
Publisher's note
Springer Nature remains neutral with regard to jurisdictional claims in published maps and institutional affiliations.
Responsible editor: Philippe Garrigues
About this article
Cite this article
Dantas, D.V., Ribeiro, C.I.R., Frischknecht, C.d.C.A. et al. Ingestion of plastic fragments by the Guri sea catfish Genidens genidens (Cuvier, 1829) in a subtropical coastal estuarine system. Environ Sci Pollut Res 26, 8344–8351 (2019). https://doi.org/10.1007/s11356-019-04244-9
Received:

Accepted:

Published:

Issue Date:
Keywords
Marine pollution

Fishery impacts

Feeding ecology

Condition factor