Abstract
Expectedly, urbanization is often associated with constant degradation of natural habitat. In most cases, as demand for housing increases, natural habitat like agricultural land, forestry, and water bodies gradually gives way to building structures. Against this backdrop, the current study investigates the asymmetric nexus of agricultural land and housing market vis-à-vis house prices. The study employed the yearly data from 1976 to 2015 for the case of Sweden and used economic policy uncertainty (EPU) as a control variable in non-linear autoregressive distributed lag (NARDL) approach. The finding notes a significant and positive short- and long-run relationship between housing price and agricultural land especially when there is a negative shock on agricultural land. But when there is a negative shock on EPU, the impact on housing price is significant and negative for both short run and long run. While an asymmetric long-run relationship is significant and positive between EPU and housing price, such significant occurrence do not exist for agricultural land. Hence, in meeting housing demand and mitigating an escalated growth in house prices, implementation of effective land use policy is encouraged.
This is a preview of subscription content, log in to check access.
Access options
Buy single article
Instant access to the full article PDF.
US$ 39.95
Price includes VAT for USA
Subscribe to journal
Immediate online access to all issues from 2019. Subscription will auto renew annually.
US$ 99
This is the net price. Taxes to be calculated in checkout.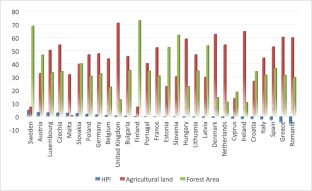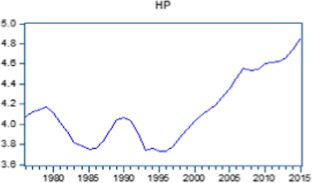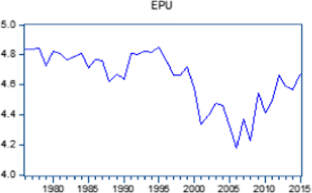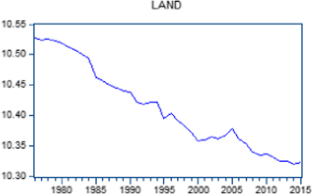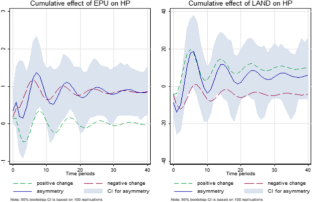 References
Akaike H (1981) Likelihood of a model and information criteria. J Econ 16(1):3–14

Alola AA, Alola UV (2018) Agricultural land usage and tourism impact on renewable energy consumption among Coastline Mediterranean Countries. Energy Environ. 0958305X18779577

André C, Bonga-Bonga L, Gupta R, Muteba Mwamba JW (2017) Economic policy uncertainty, US real housing returns and their volatility: a nonparametric approach. J Real Estate Res 39(4):493–513

Andreas Claussen C (2013) Are Swedish houses overpriced? Int J Hous Mark Anal 6(2):180–196

Aoki K, Proudman J, Vlieghe G (2004) House prices, consumption, and monetary policy: a financial accelerator approach. J Financ Intermed 13(4):414–435

Atterhög M, Lind H (2004) How does an increased competition on the housing market affect rents? An empirical study concerning Sweden. Hous Stud 19(1):107–123

Aye GC (2018) Causality between economic policy uncertainty and real housing returns in emerging economies: a cross-sample validation approach. Cogent Economics & Finance, (just-accepted)

Aye GC, Balcilar M, Bosch A, Gupta R (2014) Housing and the business cycle in South Africa. J Policy Model 36(3):471–491

Baker SR, Bloom N, Davis SJ (2016) Measuring economic policy uncertainty. The Quarterly Journal of Economics 131(4):1593–1636

Banerjee A, Dolado J, Mestre R (1998) Error-correction mechanism tests for cointegration in a single-equation framework. J Time Ser Anal 19(3):267–283

Bao H, Peng Y (2016) Effect of land expropriation on land-lost farmers' entrepreneurial action: a case study of Zhejiang Province. Habitat Int 53:342–349

Barry M, Roux L (2016) Land ownership and land registration suitability theory in state-subsidized housing in two South African towns. Habitat Int 53:48–54

Bengtsson B (2001) Housing as a social right: implications for welfare state theory. Scand Polit Stud 24(4):255–275

Bernanke BS (1983) Irreversibility, uncertainty, and cyclical investment. Q J Econ 98(1):85–106

Burnside C, Eichenbaum M, Rebelo S (2016) Understanding booms and busts in housing markets. J Polit Econ 124(4):1088–1147

Canarella G, Miller S, Pollard S (2012) Unit roots and structural change: an application to US house price indices. Urban Stud 49(4):757–776

Case KE, Shiller RJ (1988) The efficiency of the market for single-family homes

Case KE, Quigley JM, Shiller RJ (2005) Comparing wealth effects: the stock market versus the housing market. Adv Macroecon 5(1)

Cesa-Bianchi A (2013) Housing cycles and macroeconomic fluctuations: a global perspective. J Int Money Financ 37:215–238

Cesa-Bianchi A, Cespedes LF, Rebucci A (2015) Global liquidity, house prices, and the macroeconomy: evidence from advanced and emerging economies. J Money Credit Bank 47(S1):301–335

Chen Y, Chen Z, Xu G, Tian Z (2016) Built-up land efficiency in urban China: insights from the general land use plan (2006–2020). Habitat Int 51:31–38

Cho SH, Bowker JM, Park WM (2006) Measuring the contribution of water and green space amenities to housing values: an application and comparison of spatially weighted hedonic models. J Agric Resour Econ 485–507

Christou C, Gupta R, Hassapis C (2017) Does economic policy uncertainty forecast real housing returns in a panel of OECD countries? A Bayesian approach. Q Rev Econ Finance 65:50–60

Chuai X, Huang X, Wu C, Li J, Lu Q, Qi X, Zhang M, Zuo T, Lu J (2016) Land use and ecosystems services value changes and ecological land management in coastal Jiangsu, China. Habitat Int 57:164–174

Crotty J (2009) Structural causes of the global financial crisis: a critical assessment of the "new financial architecture". Camb J Econ 33(4):563–580

Du H, Ma Y, An Y (2011) The impact of land policy on the relation between housing and land prices: evidence from China. Q Rev Econ Finance 51(1):19–27

Economic Policy Uncertainty index (2018). http://www.policyuncertainty.com/. Accessed 15 Aug 2018

Estrella A, Mishkin FS (1998) Predicting US recessions: Financial variables as leading indicators. Review of Economics and Statistics 80(1):45–61

European Union (EU) (2018) Eurostat. http://ec.europa.eu/eurostat/statistics-explained/index.php/Main_Page. Accessed 15 Aug 2018

Food and Agriculture Organization (FAO) (2018) http://www.fao.org/home/en/. Accessed 20 May 2018

Goodhart C, Hofmann B (2008) House prices, money, credit, and the macroeconomy. Oxf Rev Econ Policy 24(1):180–205

Hiller N, Lerbs OW (2016) Ageing and urban house prices. Reg Sci Urban Econ 60:276–291

Katrakilidis C, Trachanas E (2012) What drives housing price dynamics in Greece: new evidence from asymmetric ARDL cointegration. Econ Model 29(4):1064–1069

Kishor NK, Marfatia HA (2017) The dynamic relationship between housing prices and the macroeconomy: evidence from OECD countries. J Real Estate Financ Econ 54(2):237–268

Kok N, Monkkonen P, Quigley JM (2014) Land use regulations and the value of land and housing: an intra-metropolitan analysis. J Urban Econ 81:136–148

Lu X, Kuang B, Li J (2017) Regional difference decomposition and policy implications of China's urban land use efficiency under the environmental restriction. Habitat International

Mankiw NG, Weil DN (1989) The baby boom, the baby bust, and the housing market. Reg Sci Urban Econ 19(2):235–258

Ng S, Perron P (2001) Lag length selection and the construction of unit root tests with good size and power. Econometrica 69(6):1519–1554

Nyakabawo W, Miller SM, Balcilar M, Das S, Gupta R (2015) Temporal causality between house prices and output in the US: a bootstrap rolling-window approach. N Am J Econ Financ 33:55–73

Öhman P, Yazdanfar D (2018) Bank lending and housing prices in Sweden. Int J Hous Mark Anal

Ongan S, Gocer I (2017) The relationships between home prices, financial literacy and economic policy uncertainty: empirical evidence from the US housing market. J Appl Econ Bus Res 7(4)

Organization for Economic Co-operation and Development (OECD) (2018) http://www.oecd.org/. Accessed 25 May 2018

Pesaran MH, Shin Y (1998) An autoregressive distributed lag modelling approach to cointegration analysis. Econom Soc Monogr 31:371–413

Pesaran MH, Shin Y, Smith RJ (2001) Bounds testing approaches to the analysis of level relationships. J Appl Econ 16(3):289–326

Ouattara B (2004) Modelling the long run determinants of private investment in Senegal (No. 04/05). Credit Research Paper

Shahbaz M, Van Hoang TH, Mahalik MK, Roubaud D (2017) Energy consumption, financial development and economic growth in India: new evidence from a nonlinear and asymmetric analysis. Energy Econ 63:199–212

Shen X, Huang X, Li H, Li Y, Zhao X (2018) Exploring the relationship between urban land supply and housing stock: evidence from 35 cities in China. Habitat Int 77:80–89

Shiller RJ (2012) The subprime solution: how today's global financial crisis happened, and what to do about it. Princeton University Press

Shin Y, Yu B, Greenwood-Nimmo M (2014) Modelling asymmetric cointegration and dynamic multipliers in a nonlinear ARDL framework. In: Festschrift in Honor of Peter Schmidt. Springer, New York, NY, p 281–314

Sirmans S, Macpherson D, Zietz E (2005) The composition of hedonic pricing models. J Real Estate Lit 13(1):1–44

Statista (2018) https://www.statista.com/topics/3813/the-housing-market-in-europe/. Accessed 20 May 2018

Su D, Li X, Lobonţ OR, Zhao Y (2016) Economic policy uncertainty and housing returns in Germany: evidence from a bootstrap rolling window. Proceedings of Rijeka Faculty of Economics : Journal of Economics and Business 34(1):43–61

The World Bank (Housing Finance) (2018) http://www.worldbank.org/en/topic/financialsector/brief/housing-finance. Accessed 25 May 2018

Tse RY (1998) Housing price, land supply and revenue from land sales. Urban Stud 35(8):1377–1392

United Nations (World Population Prospects) (2017) http://www.un.org/en/development/desa/population/publications/index.shtml. Accessed 20 May 2018

World Development Indicator (World Bank) (2018) https://data.worldbank.org/. Accessed 20 May 2018

Zhang X, Wu Y, Shen L (2011) An evaluation framework for the sustainability of urban land use: a study of capital cities and municipalities in China. Habitat Int 35(1):141–149

Zhang H, Li L, Hui ECM, Li V (2016) Comparisons of the relations between housing prices and the macroeconomy in China's first-, second-and third-tier cities. Habitat Int 57:24–42

Zhong T, Chen Y, Huang X (2016) Impact of land revenue on the urban land growth toward decreasing population density in Jiangsu Province, China. Habitat Int 58:34–41

Zivot E, Andrews DWK (2002) Further evidence on the great crash, the oil-price shock, and the unit-root hypothesis. Journal of Business & Economic Statistics 20(1):25–44
Acknowledgments
Authors' gratitude is extended to Prof. Mehmet Balcilar for his kind mentorship as well as prospective editor and reviewers that will/have spared time to guide toward a successful publication.
Ethics declarations
The authors declare that they have no conflict of interest.
Additional information
Publisher's note
Springer Nature remains neutral with regard to jurisdictional claims in published maps and institutional affiliations.
Responsible editor: Muhammad Shahbaz
Appendix
Appendix
About this article
Cite this article
Uzuner, G., Adewale, A.A. Does asymmetric nexus exist between agricultural land and the housing market? Evidence from non-linear ARDL approach. Environ Sci Pollut Res 26, 7677–7687 (2019). https://doi.org/10.1007/s11356-019-04211-4
Received:

Accepted:

Published:

Issue Date:
Keywords
Agricultural land

House prices

Economic policy uncertainty

Cointegration

NARDL
JEL classification