Abstract
This study was conducted to assess the effect of fungal communities and their interaction with bacterial communities on the dissolved organic matter (DOM) transformation for the stability and safety of sludge composting. The results showed that fungal community had strong shifts in diverse stages of sludge composting along with the changes of temperature. Correlation analysis demonstrated that fungal communities had significant connections with bacterial communities during composting but were not directly related to the indicators of phytotoxicity and maturity. Variance partitioning analysis suggested that the interactions of fungal and bacterial communities had the biggest contribution (49.75%) to composting stability and safety. Based on structural equation modeling, the possible way of fungal community participated in the transformation of DOM components and the formation of humic-like substances of DOM by interacting with bacterial community was proposed, which will provide important information for understanding the biotic interaction in composting and improving composting fermentation process.
This is a preview of subscription content, log in to check access.
Access options
Buy single article
Instant access to the full article PDF.
US$ 39.95
Price includes VAT for USA
Subscribe to journal
Immediate online access to all issues from 2019. Subscription will auto renew annually.
US$ 99
This is the net price. Taxes to be calculated in checkout.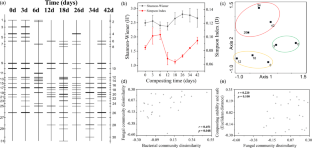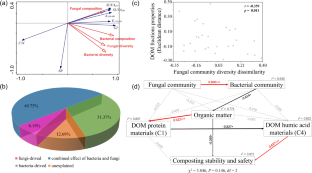 References
Amir S, Merlina G, Pinelli E, Winterton P, Revel JC, Hafidi M (2008) Microbial community dynamics during composting of sewage sludge and straw studied through phospholipid and neutral lipid analysis. J Hazard Mater 159(2):593–601

Bernal MP, Alburquerque JA, Moral R (2009) Composting of animal manures and chemical criteria for compost maturity assessment. A review. Bioresour Technol 100(22):5444–5453

Bonito G, Isikhuemhen OS, Vilgalys R (2010) Identification of fungi associated with municipal compost using DNA-based techniques. Bioresour Technol 101(3):1021–1027

Cui H, Zhao Y, Chen Y, Zhang X, Wang X, Lu Q, Jia L, Wei Z (2017) Assessment of phytotoxicity grade during composting based on EEM/PARAFAC combined with projection pursuit regression. J Hazard Mater 326:10–17

Currie CR, Scott JA, Summerbell RC, Malloch D (1999) Fungus-growing ants use antibiotic-producing bacteria to control garden parasites. Nature 398:701–704

Docherty KM, Young KC, Maurice PA, Bridgham SD (2006) Dissolved organic matter concentration and quality influences upon structure and function of freshwater microbial communities. Microb Ecol 52(3):378–388

Gómez-Brandón M, Lazcano C, Domínguez J (2008) The evaluation of stability and maturity during the composting of cattle manure. Chemosphere 70(3):436–444

Guppy CN, Menzies NW, Moody PW, Blamey FPC (2005) Competitive sorption reactions between phosphorus and organic matter in soil: a review. Soil Res 43(2):189–202

He X, Xi B, Wei Z, Guo X, Li M, An D, Liu H (2011) Spectroscopic characterization of water extractable organic matter during composting of municipal solid waste. Chemosphere 82(4):541–548

He X-S, Xi B-D, Pan H-W, Li X, Li D, Cui D-Y, Tang W-B, Yuan Y (2014) Characterizing the heavy metal-complexing potential of fluorescent water-extractable organic matter from composted municipal solid wastes using fluorescence excitation–emission matrix spectra coupled with parallel factor analysis. Environ Sci Pollut Res 21(13):7973–7984

Liang YT, Pei M, Wang DD, Cao SN, Xiao X, Sun B (2017) Improvement of soil ecosystem multifunctionality by dissipating manure-induced antibiotics and resistance genes. Environ Sci Technol 51(9):4988–4998

López-González JA, Suárez-Estrella F, Vargas-García MC, López MJ, Jurado MM, Moreno J (2015) Dynamics of bacterial microbiota during lignocellulosic waste composting: studies upon its structure, functionality and biodiversity. Bioresour Technol 175:406–416

Lu Q, Zhao Y, Gao X, Wu J, Zhou H, Tang P, Wei Q, Wei Z (2018) Effect of tricarboxylic acid cycle regulator on carbon retention and organic component transformation during food waste composting. Bioresour Technol 256:128–136

Qiu L, Cui H, Wu J, Wang B, Zhao Y, Li J, Jia L, Wei Z (2016) Snowmelt-driven changes in dissolved organic matter and bacterioplankton communities in the Heilongjiang watershed of China. Sci Total Environ 556:242–251

Rashid MI, Mujawar LH, Shahzad T, Almeelbi T, Ismail IMI, Oves M (2016) Bacteria and fungi can contribute to nutrients bioavailability and aggregate formation in degraded soils. Microbiol Res 183:26–41

Ryckeboer J, Mergaert J, Vaes K, Klammer S, De Clercq D, Coosemans J, Insam H, Swings J (2003) A survey of bacteria and fungi occurring during composting and self-heating processes. Ann Microbiol 53(4):349–410

Stedmon CA, Markager S, Bro R (2003) Tracing dissolved organic matter in aquatic environments using a new approach to fluorescence spectroscopy. Mar Chem 82(3):239–254

Su J, Wei B, Ouyang W, Huang F, Zhao Y, Xu H, Zhu Y (2015) Antibiotic resistome and its association with bacterial communities during sewage sludge composting. Environ Sci Technol 49(12):7356–7363

Tuomela M, Vikman M, Hatakka A, Itävaara M (2000) Biodegradation of lignin in a compost environment: a review. Bioresour Technol 72(2):169–183

Villar I, Alves D, Pérez-Díaz D, Mato S (2016) Changes in microbial dynamics during vermicomposting of fresh and composted sewage sludge. Waste Manag 48:409–417

Wang X, Cui H, Shi J, Zhao X, Zhao Y, Wei Z (2015) Relationship between bacterial diversity and environmental parameters during composting of different raw materials. Bioresour Technol 198:395–402

Wei Z, Zhang X, Wei Y, Wen X, Shi J, Wu J, Zhao Y, Xi B (2014a) Fractions and biodegradability of dissolved organic matter derived from different composts. Bioresour Technol 161:179–185

Wei Z, Zhao X, Zhu C, Xi B, Zhao Y, Yu X (2014b) Assessment of humification degree of dissolved organic matter from different composts using fluorescence spectroscopy technology. Chemosphere 95:261–267

Wei Y, Zhao Y, Shi M, Cao Z, Lu Q, Yang T, Fan Y, Wei Z (2018) Effect of organic acids production and bacterial community on the possible mechanism of phosphorus solubilization during composting with enriched phosphate-solubilizing bacteria inoculation. Bioresour Technol 247:190–199

Wu J, Zhao Y, Qi H, Zhao X, Yang T, Du Y, Zhang H, Wei Z (2017) Identifying the key factors that affect the formation of humic substance during different materials composting. Bioresour Technol 244:1193–1196

Xi B, He X, Dang Q, Yang T, Li M, Wang X, Li D, Tang J (2015) Effect of multi-stage inoculation on the bacterial and fungal community structure during organic municipal solid wastes composting. Bioresour Technol 196:399–405

Yang G, Zhang G, Wang H (2015) Current state of sludge production, management, treatment and disposal in China. Water Res 78:60–73

Zhang J, Zeng G, Chen Y, Yu M, Yu Z, Li H, Yu Y, Huang H (2011) Effects of physico-chemical parameters on the bacterial and fungal communities during agricultural waste composting. Bioresour Technol 102(3):2950–2956

Zhao X, Wei Y, Fan Y, Zhang F, Tan W, He X, Xi B (2018) Roles of bacterial community in the transformation of dissolved organic matter for the stability and safety of material during sludge composting. Bioresour Technol 267:378–385
Funding
This work was financially supported by the China Postdoctoral Science Foundation (2017M620801), and National Natural Science Foundation of China (41501242 and 41672236).
Additional information
Responsible editor: Philippe Garrigues
Electronic supplementary material
About this article
Cite this article
Zhao, X., Wei, Y., Zhang, F. et al. How do fungal communities and their interaction with bacterial communities influence dissolved organic matter on the stability and safety of sludge compost?. Environ Sci Pollut Res 26, 4141–4146 (2019). https://doi.org/10.1007/s11356-018-4023-6
Received:

Accepted:

Published:

Issue Date:
Keywords
Composting

Fungal community

Bacterial community

Stability

Dissolved organic matter