Abstract
Oyster shells are a type of biogenic materials with excellent characteristics in surface area, porosity, sorption capacity, and high concentration of CaCO3 (up to 90 wt%), and can be easily converted into a calcium-based alkali adsorbent. In this research, oyster shells calcined at 900 °C were applied as an adsorbent for acid green 25 (AG25) removal from aqueous solutions. The adsorption performances were evaluated, and the FTIR, SEM, and BET techniques were employed to characterize this material. Results showed that AG25 removal performance depended on adsorbent dosage, pH, adsorption temperature, contact time, and initial concentration. Adsorption capacity was maximized at 34.1 mg g−1 at pH of 11.0, an adsorbent dosage of 2.0 g L−1, an AG25 concentration of 70 mg L−1, and adsorption temperature of 40 °C. Both the Ho-McKay model and the pseudo-second-order model correlated with the adsorption kinetics well with the values of R2 > 0.99 (closer to unity). The Langmuir isotherm showed an excellent correlation coefficient of R2 > 0.99 with the equilibrium data. The thermodynamics study indicates that the adsorption was spontaneous and endothermic. These results demonstrate that the calcined oyster shells has the potential to be used as an eco-friendly and low-cost effective adsorbent for anionic dye removal from water.
This is a preview of subscription content, log in to check access.
Access options
Buy single article
Instant access to the full article PDF.
US$ 39.95
Price includes VAT for USA
Subscribe to journal
Immediate online access to all issues from 2019. Subscription will auto renew annually.
US$ 99
This is the net price. Taxes to be calculated in checkout.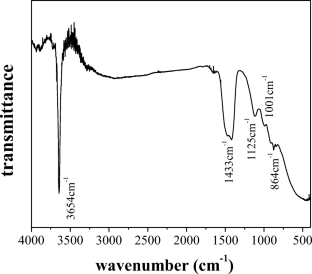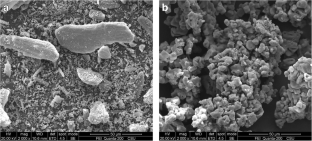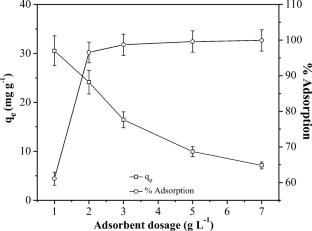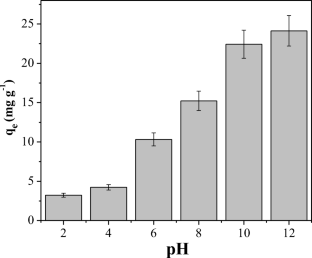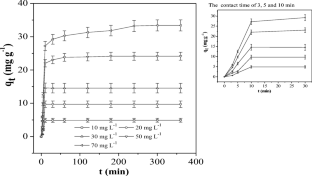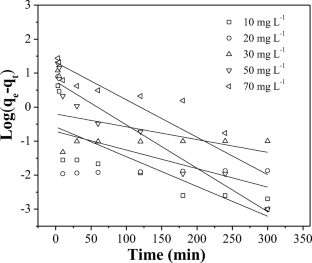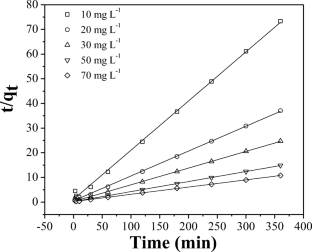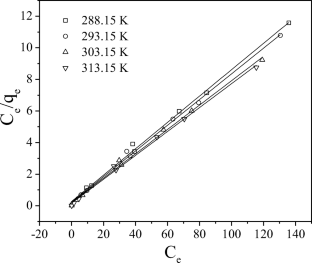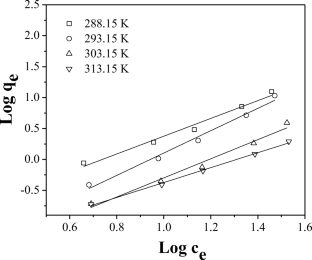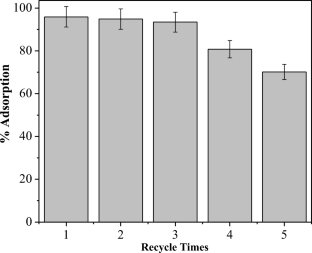 References
Acar ET, Ortaboy S, Atun G (2015) Adsorptive removal of thiazine dyes from aqueous solutions by oil shale and its oil processing residues: characterization, equilibrium, kinetics and modeling studies. Chem Eng J 276:340–348

Alidoust D, Kawahigashi M, Yoshizawa S, Sumida H, Watanabe M (2015) Mechanism of cadmium biosorption from aqueous solutions using calcined oyster shells. J Environ Manag 150:103–110

Argun ME, Güclü D, Karatas M (2014) Adsorption of reactive blue 114 dye by using a new adsorbent: pomelo peel. J Ind Eng Chem 20(3):1079–1084

Asfaram A, Fathi MR, Khodadoust S, Naraki M (2014) Removal of direct red 12B by garlic peel as a cheap adsorbent: kinetics, thermodynamic and equilibrium isotherms study of removal. Spectrochim Acta A Mol Biomol Spectrosc 127(11):415–421

Ashish SS, Aniruddha MM, Vikas VJ, Prakash DR, Mansing AA, Sanjay SK (2014) Removal of malachite green dye from aqueous solution with adsorption technique using Limonia acidissima (wood apple) shell as low cost adsorbent. Arab J Chem 10(2):3229–3238

Babu J, Murthy ZVP (2017) Treatment of textile dyes containing wastewaters with PES/PVA thin film composite nanofiltration membranes. Sep Purif Technol 183:66–72

Bakshi DK, Gupta KG, Sharma P (1999) Enhanced biodecolorization of synthetic textile dye effluent by Phanerochaete chrysosporium under improved culture conditions. World J Microbiol Biotechnol 15(4):507–509

Balamurugan B, Thirumarimurugan M, Kannadasan T (2011) Anaerobic degradation of textile dye bath effluent using Halomonas sp. Bioresour Technol 102(10):6365–6369

Chen GC, Shan XQ, Zhou YQ, Shen X, Huang HL, Khan SU (2009) Adsorption kinetics, isotherms and thermodynamics of atrazine on surface oxidized multiwalled carbon nanotubes. J Hazard Mater 169(1–3):912–918

Chen XG, Lv SS, Liu ST, Zhang PP, Zhang AB, Sun J, Yue Y (2012) Adsorption of methylene blue by rice hull ash. Sep Sci Technol 47(1):147–156

Cheng Y, Yang CP, He HJ, Zeng GM, Zhao K, Yan Y (2016) Biosorption of Pb(II) ions from aqueous solution by waste biomass from biotrickling filters: kinetics, isotherms and thermodynamics. J Environ Eng 142(9):C40150

Daneshvar E, kousha M, Sohrabi MS, Khataee A, Converti A (2012) Biosorption of three acid dyes by the brown macroalga Stoechospermum marginatum: isotherm, kinetic and thermodynamic studied. Chem Eng J 195–196:297–306

Deniz F, Kepekci RA (2017) Bioremoval of malachite green from water sample by forestry waste mixture as potential biosorbent. Microchem J 132:172–178

Esmaeli A, Jokar M, Kousha M, Daneshvar E, Zilouei H, karimi K (2013) Acid dye wastewater treatment onto a marine macroalgae, Nizamuddina zanadini (phylum: Ochrophyta). Chem Eng J 217(1):329–336

Etim UJ, Umoren SA, Eduok UM (2016) Coconut coir dust as a low cost adsorbent for the removal of cationic dye from aqueous solution. J Saudi Chem Soc 20(1):67–76

Ezerie HE, Shamsul RMK, Amirhossein M, Mohamed H (2015) Characterization and optimization of effluent dye removal using a new low cost adsorbent: equilibrium, kinetics and thermodynamic study. Process Saf Environ Prot 98:16–32

Fan LW, Zhang SL, Zhang XH, Zhou H, Lu ZX, Wang SQ (2015) Removal of arsenic from simulation wastewater using nano-iron/oyster shell composites. J Environ Manag 156:109–114

Figen G, Bahar B (2017) Biosorption of malachite green from an aqueous solution using pomegranate peel: equilibrium modelling, kinetic and thermodynamic studies. J Mol Liq 243:790–798

Garg VK, Kumar R, Gupta R (2004) Removal of malachite green dye from aqueous solution by adsorption using ago-industry waste: a case study of Prosopiscineraria. Dyes Pigments 62(1):1–10

Greluk M, Hubicki Z (2011) Efficient removal of acid orange 7 dye from water using the strongly basic anion exchange resin Amberlite IRA-958. Desalination 278(1–3):219–226

Gupta VK, Suhas (2009) Application of low cost adsorbent for dye removal—a review. J Environ Manag 90(8):2313–2342

Hameed BH (2009a) Removal of cationic dye from aqueous solution using jackfruit peels as non-conventional low-cost adsorbent. J Hazard Mater 162(1):344–350

Hameed BH (2009b) Evaluation of papaya seeds as a novel non-conventional low-cost adsorbent for removal of methylene blue. J Hazard Mater 162(2–3):939–944

Hameed BH, Hakimi H (2008) Utilization of durian (Durio zibethinus Murray) peel as low cost sorbent for the removal of acid dye from aqueous solutions. Biochem Eng J 39(2):338–343

Hameed BH, Ahmad AA, Aziz N (2007) Isotherms, kinetics and thermodynamics of acid dye adsorption on activated palm ash. Chem Eng J 133(1):195–203

Hameed BH, Mahmoud DK, Ahmad AL (2008) Equilibrium modeling and kinetic studies on the adsorption of basic dye by a low-cost adsorbent: coconut (Cocos nucifera) bunch waste. J Hazard Mater 158(1):65–72

Hammud HH, Shmait A, Hourani N (2015) Removal of malachite green from water using hydrothermally carbonized pine needles. RSC Adv 5(11):7909–7920

He HJ, Xiang ZH, Chen XJ, Chen H, Huang H, Wen M, Yang CP (2018) Biosorption of Cd (II) from synthetic wastewater using dry biofilms from biotrickling filters. Int J Environ Sci Technol 15(7):1491–1500

Ho YS, McKay G (1999) Pseudo-second order model for sorption processes. Process Biochem 34(5):451–465

Jain SN, Gogate PR (2018) Efficient removal of acid green of 25 dye from wastewater using activated Prunus dulcis as biosorbent: batch and column studies. J Environ Manag 210:226–238

Kumar MS, Sonawane SH, Aniruddha BP (2017) Degradation of methylene blue dye in aqueous solution using hydrodynamic cavitation based hybrid advanced oxidation processes. Chem Eng Process Process Intensif 122:288–295

Lee SW, Jang YN, Ryu KW, Chae SC, Lee YH, Jeon CW (2011) Mechanical characteristics and morphological effect of complex crossed structure in biomaterials: fracture mechanics and microstructure of chalky layer in oyster shell. Micron 42(1):60–70

Lin Y, Wu SH, Li X, Wu X, Yang CP, Zeng GM, Peng YR, Zhou Q, Lu L (2018) Microstructure and performance of Z-scheme photocatalyst of silver phosphate modified by MWCNTs and Cr-doped SrTiO3 for malachite green degradation. Appl Catal B Environ 227:557–570

Liu YX, Yang TO, Yuan DX, Wu XY (2010) Study of municipal wastewater treatment with oyster shell as biological aerated filter medium. Desalination 254(1–3):149–153

Messina PV, Schulz PC (2006) Adsorption of reactive dyes on titania-silica mesoporous materils. J Colloid Interface Sci 299(1):305–320

Noroozi B, Sorial GA, Bahrami H, Arami M (2008) Adsorption of binary mixtures of cationic dyes. Dyes Pigments 76(3):784–791

Park WH (2009) Integrated constructed wetland systems employing alum sludge and oyster shells as filter media for P removal. Ecol Eng 35(8):1275–1282

Park WH, Polprasert C (2008) Phosphorus adsorption characteristics of oyster shells and alum sludge and their application for nutrient control in constructed wetland system. J Environ Sci Health 43(5):511–517

Phugare SS, Kalyani DC, Surwase SN, Jadhav JP (2011) Ecofriendly degradation decolorization and detoxification of textile effluent by a developed bacterial consortium. Ecotoxicol Environ Saf 74(5):1288–1296

Postai DL, Demarchi CA, Zanatta F, Melo DCC, Rodrigues CA (2016) Adsorption of rhodamine B and methylene blue dyes using waste of seeds of Aleurites Moluccana, a low cost adsorbent. Alexandria Eng J 55(2):1713–1723

Quan X, Luo D, Wu J, Li R, Cheng W, Ge S (2017) Ozonation of acid red 18 wastewater using O3/Ca (OH)2 system in a micro bubble gas-liquid reactor. J Environ Chem Eng 5(1):283–291

Rafaie HA, Nor RM, Azmina MS, Ramli NIT, Mohamed R (2017) Decoration of ZnO microstructures with Ag nanoparticles enhanced the catalytic photodegradation of methylene blue dye. J Environ Chem Eng 5(4):3963–3972

Reddy MCS, Nirmala V (2017) Bengal gram seed husk as an adsorbent for the removal of dyes from aqueous solutions—equilibrium studies. Arab J Chem 10(2):2406–2416

Saakshy KS, Gupta AB, Sharma AK (2016) Fly ash as low cost adsorbent for treatment of effluent of handmade paper industry-kinetic and modeling studies for direct black dye. J Clean Prod 112(1):1227–1240

Sadaf S, Bhatti HN (2014) Batch and fixed bed column studies for the removal of Indosol yellow BG dye by peanut husk. J Taiwan Inst Chem Eng 45:541–553

Salleh MAM, Mahmoud DK, Karim WAWA, Idris A (2011) Cationic and anionic dye adsorption by agricultural solid wastes: a comprehensive review. Desalination 280(1–3):1–13

Santhi T, Manonmani S, Vasantha VS, Chang YT (2016) New alternative adsorbent for the removal of cationic dyes from aqueous solution. Arab J Chem 9(1):466–474

Shao JJ, Cheng Y, Yang CP, Zeng GM, Liu WC, Jiao PP, He HJ (2016) Efficient removal of naphthalene-2-ol from wastewater by solvent extraction. J Environ Sci 47(9):120–129

Sing KSW, Everett DH, Haul RAW (1985) Reporting physisorption data for gas/solid systems with special reference to the determination of surface area and porosity. Pure Appl Chem 57(4):603–619

Slimani R, Ouahabi IE, Abidi F, Haddad ME, Regti A, Laamari MR, Antri SE, Lazar S (2014) Calcined eggshells as a new biosorbent to remove basic dye from aqueous solutions: thermodynamics, kinetics, isotherms and error analysis. J Taiwan Inst Chem Eng 45(4):1578–1587

Sun D, Zhang X, Wu Y, Liu X (2010) Adsorption of anionic dyes from aqueous solution on fly ash. J Hazard Mater 181(1–3):335–342

Wang JL, Chen C (2006) Biosorption of heavy metals by Saccharomyces cerevisiae: a review. Biotechnol Adv 24(5):247–451

Wang JL, Chen C (2009) Biosorbents for heavy metals removal and their future. Biotechnol Adv 27(2):195–226

Wu Q, Chen J, Clark MC, Yu Y (2014) Adsorption of copper to different biogenic oyster shell structures. Appl Surf Sci 311(9):264–272

Wu SH, Shen ZQ, Yang CP, Zhou YX, Li X, Zeng GM, Ai SJ, He HJ (2017a) Effects of C/N ratio and bulking agent on speciation of Zn and Cu and enzymatic activity during pig manure composting. Int Biodeterior Biodegrad 119:429–436

Wu SH, He HJ, Inthapanya X, Yang CP, Lu L, Zeng GM, Han ZF (2017b) Role of biochar on composting of organic wastes and remediation of contaminated soils—a review. Environ Sci Pollut Res 24(20):16560–16577

Wu SH, Li HR, Li X, He HJ, Yang CP (2018a) Performances and mechanisms of efficient degradation of atrazine using peroxymonosulfate and ferrate as oxidants. Chem Eng J 353:533–541

Wu SH, He HJ, Li X, Yang CP, Zeng GM, Wu B, He SY, Lu L (2018b) Insights into atrazine degradation by persulfate activation using composite of nanoscale zero-valent iron and graphene: performances and mechanisms. Chem Eng J 341:126–136

Yan LG, Qin LL, Yu HQ, Li S, Shan RR, Du B (2015) Adsorption of acid dyes from aqueous solution by CTMAB modified bentonite: kinetic and isotherm modeling. J Mol Liq 211:1074–1081

Yang CP, Wang JQ, Lei M, Xie GX, Zeng GM, Luo SL (2010) Biosorption of zinc(II) from aqueous solution by dried activated sludge. J Environ Sci 22(5):675–680

Yen HY, Li JY (2015) Process optimization for Ni (II) removal from wastewater by calcined oyster shell powders using Taguchi method. J Environ Manag 161:344–349
Funding
Financial support from the Department of Science & Technology of Hunan Province of China (Grant No.: 2017JJ2029) and the National Natural Science Foundation of China (Grant Nos.: 51478172 and 51508538) is greatly appreciated.
Additional information
Publisher's Note
Springer Nature remains neutral with regard to jurisdictional claims in published maps and institutional affiliations.
Responsible editor: Philippe Garrigues
About this article
Cite this article
Inthapanya, X., Wu, S., Han, Z. et al. Adsorptive removal of anionic dye using calcined oyster shells: isotherms, kinetics, and thermodynamics. Environ Sci Pollut Res 26, 5944–5954 (2019). https://doi.org/10.1007/s11356-018-3980-0
Received:

Accepted:

Published:

Issue Date:
Keywords
Adsorption

Anionic dye

Calcination

Oyster shell