Abstract
Commercial artificial sweeteners present in the market are usually made of combination of nutritive and artificial sweeteners such as sorbitol and aspartame. The aim of this research was to study the effect of in utero exposure to commercial artificial sweeteners on the mouse development and on mammary gland in different stages (18-day embryos and 4-week-old mice). Pregnant mice of treated groups were given 50 mg/kg body weight of commercial artificial sweetener. The dose was given on day 1 of pregnancy until 3-week nursing, while the controls were given distilled water. Congenital malformations were seen in treated 18-day fetus and 4-week-old mice, such as a significant decrease in the diameter of the placenta and the weight of the fetuses, while in 4-week-old mice, a significant decrease in the length of the body, limbs, and tail was seen compared to the controls. The result of this study showed that in 18-day fetuses, clusters of mammary gland in the treated mice seemed to be more differentiated than the controls. In 4-week-old mice, the number of mammary gland ducts in the treated group was significantly more than the control group, and the lumen of the ducts in the treated sections seemed to be narrower than the controls, also many regressing terminal end buds (TEBs) were seen in the treated group. A significant increase in the mammary gland area of treated group was seen compared to the controls.
This is a preview of subscription content, log in to check access.
Access options
Buy single article
Instant access to the full article PDF.
US$ 39.95
Price includes VAT for USA
Subscribe to journal
Immediate online access to all issues from 2019. Subscription will auto renew annually.
US$ 99
This is the net price. Taxes to be calculated in checkout.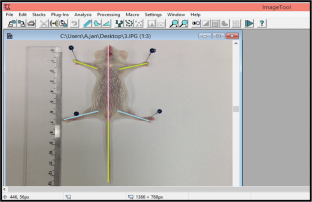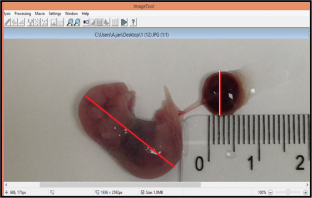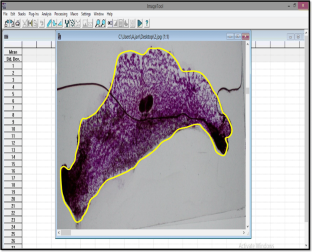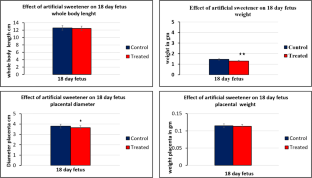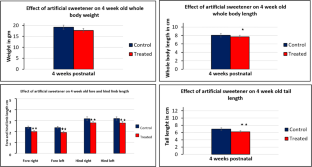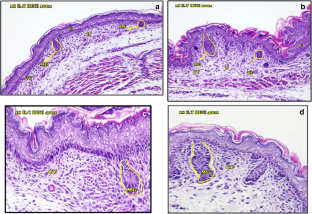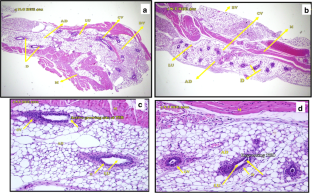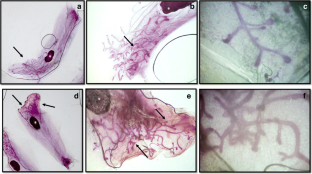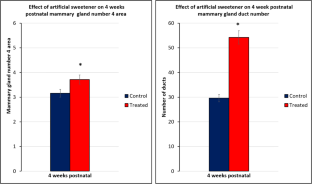 References
Byers SL, Wiles MV, Dunn SL, Taft RA (2012) Mouse estrous cycle identification tool and images. PLoS One 7(4):1–5

Cardoso FS et al. (2016). Exposure to sorbitol during lactation causes metabolic alterations and genotoxic effects in rat offspring. Toxicology Letters 260:36–45

Codex alimentarius C (2008) Codex General Standard for Food Additives (GSFA) online database. Rome, Italy, Food and Agriculture Organization of the United Nations (http://www.Codexalimentarius.net/gsfaonline/index.html)

Collison KS, Makhoul NJ, Zaidi MZ, Al-Rabiah R, Inglis A, Andres BL, Ubungen R, Shoukri M, Al-Mohanna FA (2012) Interactive effects of neonatal exposure to monosodium glutamate and aspartame on glucose homeostasis. Nutr Metab (Lond) 9(1):58

Drury AA, and Wallington EA (1980) Carleton's histological technique, 5th edition, Oxford, UK: Oxford University press.

Duong A, Steinmaus C, McHale CM, Vaughan CP, Zhang L (2011) Reproductive and developmental toxicity of formaldehyde: a systematic review. Mutat Res 728(3):118–138

Ginestra E, Saravo L, Ciuna I, Sciacca G, Finocchiaro A, Menzo GL (2004) Evaluation and comparison of deoxyribonucleic acid typing methods on human tissue fixed with different fixatives. Int Congr Ser 1261:574–576

Hassiotou F, Geddes D (2013) Anatomy of the human mammary gland: current status of knowledge. Clin Anat 26:29–48

Hedrich H (2004) The laboratory mouse, 1st edition. Academic Press. eBook ISBN 9780080542539

Hovey RC, Trott JF, Vonderhaar BK (2002) Establishing a framework for the functional mammary gland: from endocrinology to morphology. J Mammary Gland Biology and Neoplasia 7:17–38

Howlin J, Mcbryan J, Martin F (2006) Pubertal mammary gland development: insights from mouse models. J Mammary Gland Biology and Neoplasia 11:283–297

Islam MS, Sakaguchi E (2006) Sorbitol-based osmotic diarrhea: possible causes and mechanism of prevention investigated in rats. World J Gastroenterol: WJG 12(47):7635

Kim J-Y, Seo J, Coh K-H (2011) Aspartame-fed zebrafish exhibit acute deaths with swimming defects and saccharin-fed zebrafish have elevation of cholesteryl ester transfer protein activity in hypercholesterolemia. Food Chem Toxicol 49(11):2899–2905

Krause S (2008) Stromal-epithelial interactions in the mammary gland: development of a tissue morphogenesis model. (Doctoral dissertation, Sackler School of Graduate Biomedical Sciences (Tufts University))

Leme LFAG, Azoubel R (2006) Effects of aspartame on the exocrine pancreas of rat fetuses. Int J Morphol 24:679–684

Magnuson BA, Burdock GA, Doull J, Kroes RM, Marsh GM, Pariza MW, Spencer PS, Waddell WJ, Walker R, Williams GM (2007) Aspartame: a safety evaluation based on current use levels, regulations, and toxicological and epidemiological studies. CRC Crit Rev Toxicol 37(8):629–727

Martin J, Avery RA (1998) Effects of tail loss on the movement patterns of the lizard, Psammodromus algirus. Functional Ecology 12(5):794–802

Martins MRI, Azoubel R, Martins MRI, Azoubel R (2007) Effects of aspartame on fetal kidney: a morphometric and stereological study. Int J Morphol 25(4):689–694

Masso-Welch PA, Darcy KM, Stangle-Castor NC, Margot M (2000) A developmental atlas of rat mammary gland histology. J Mammary Gland Biol Neoplasia 5(2):165–185

Michno K, Boras-Granic K, Mill P, Hui CC, Hamel PA (2003) Shh expression is required for embryonic hair follicle but not mammary gland development. Dev Biol 264(1):153–165

Modi SV, Borges VJ (2005) Artificial sweeteners: boon or bane? Int J Diabetes Dev Countries 25:1–6

Mourad IM, Noor NA (2011) Aspartame (a widely used artificial sweetener) and oxidative stress in the rat cerebral cortex. Int J Pharm Biomed Sci 2(1):4–10

Ozen IT, Karav S, Eksi A (2014) Variability of sorbitol/xylitol content in pomegranate (Punica Granatum) juice as affected by processing conditions. International journal of food and nutrition. science 3(1):4–7

Paine IS, Lewis MT (2017) The terminal end bud: the little engine that could. J Mammary Gland Biol Neoplasia 22(2):93–108

Plante I, Stewart MK, Laird DW (2011) Evaluation of mammary gland development and function in mouse models. J Visualized Exp: Jove (53):e2828. https://doi.org/10.3791/2828

Portela GS, Azoubel R, Batigălia F (2007) Effects of aspartame on maternal-fetal and placental weights, length of umbilical cord and fetal liver: a kariometric experimental study. Int J Morphol 25(3):549–554

Puică C, Crăcium C, Rusu M, Cristescu M, Borsa M & Roman I (2008) Ultrastructural aspects concerning the hypothalamus-pituitary complex reactivity following chronic administration of aspartame in juvenile rabbits. Bulletin UASVM, Veterinary Medicine 65(1)/ pISSN 1843–5270; eISSN 1843–5378

Puică C, Crăcium C, Rusu M, Cristescu M, Borsa M, & Roman I (2009). Ultrastructural aspects concerning the hypothalamus-pituitary complex reactivity following chronic administration of aspartame in juvenile rats. Studia Universitatis "Vasile Goldiş", Seria Ştiinţele Vieţii 19:19–24

Richert MM, Schwertfeger KL, Ryder JW, Anderson SM (2000) An atlas of mouse mammary gland development. J Mammary Gland Biol Neoplasia 5(2):227–241

Silberstein GB (2001) Postnatal mammary gland morphogenesis. Microsc Res Tech 52(2):155–162

Siripurkpong P, Fungkrajai M, Kongkhum S, & Piumngam K (2014) Sorbitol has no significant effects on 3T3-L1 -adipogenesis and adiponectin synthesis and secretion. Thammasat Int J Sci Technol 19(2)

Soffritti M, Belpoggi F, Degli Esposti D, Lambertini L (2005) Aspartame induces lymphomas and leukaemias in rats L'aspartame induce linfomi e leucemie nei ratti. Eur J Oncol 10(2):107–116

Soffritti M, Belpoggi F, Degli Esposti D, Lambertini L, Tibaldi E, Rigano A (2006) First experimental demonstration of the multipotential carcinogenic effects of aspartame administered in the feed to Sprague-Dawley rats. Environ Health Perspect 114(3):379–385

Soffritti M, Belpoggi F, Tibaldi E, Degli ED, Lauriola M (2007) Life-span exposure to low doses of aspartame beginning during prenatal life increases Cancer effects in rats. Environ Health Perspect 115(9):1293–1297

Soffritti M, Belpoggi F, Manservigi M, Tibaldi E, Lauriola M, Falcioni L, Bua L (2010) Aspartame administered in feed, beginning prenatally through life span, induces cancers of the liver and lung in male Swiss mice. Am J Ind Med 53(12):1197–1206

Sordillo LM, Shafer-Weaver K, Derosa D (1997) Immunobiology of the mammary gland. Dairy Science 80(8):1851–1865

Stegink LD and Filer LG (1984) Aspartame: physiology and biochemistry. 1st edition (Vol. 12). Series food science and technology. CRC Press

Veltmaat JM, Mailleux AA, Thiery JP, Bellusci S (2003) Mouse embryonic mammogenesis as a model for the molecular regulation of pattern formation. Differentiation 71(1):1–17

Vorbach C, Capecchi MR, Penninger JM (2006) Evolution of the mammary gland from the innate immune system? Bioessays 28(6):606–616

Washburn C, & Christensen N (2012) Sugar substitutes: artificial sweeteners and sugar alcohols

Watson CJ (2006) Involution: apoptosis and tissue remodelling that convert the mammary gland from milk factory to a quiescent organ. Breast Cancer Res 8(2):203

Walker C, Vierck CJ, Ritz LA (1998) Balance in the cat: role of the tail and effects of sacrocaudal transection. Behav Brain Res 91(1):41–47

Zaidi Z & Lanigan SW (2010) Dermatology in clinical practice. Springer Verlag London . eBook ISBN 978-1-84882-862-9
Acknowledgments
We would like to thank King Abdul-Aziz City for Science and Technology for the grant given for the completion of this research (Grant No. 336 -35 - أط).
Additional information
Responsible editor: Philippe Garrigues
About this article
Cite this article
Al-Qudsi, F.M., Al-Hasan, M.M. In utero exposure to commercial artificial sweeteners affects mice development and mammary gland structure. Environ Sci Pollut Res 26, 5054–5064 (2019). https://doi.org/10.1007/s11356-018-3935-5
Received:

Accepted:

Published:

Issue Date:
Keywords
Artificial sweeteners

Mouse embryo

Congenital malformation

Mammary gland

Terminal end buds

Growth retardation