Abstract
As human demand for ecosystem services (ES) continues to increase, ES assessments have gradually become a popular research topic. Among ES, cultural ES (CES) are often overlooked and are difficult to measure during research because of their invisibility. However, the importance and usage of CES increase with supply and demand, which is key to linking the ecosystem with human well-being. This paper quantitatively evaluates various cultural services and generates corresponding Value Index (VI) maps; it then further explores the current dynamics of supply and demand. We selected Cuihua Mountain (CM) as the study area, and we applied the Social Values of Ecosystem Services (SolVES) model to evaluate CES and generated five specific VI maps to indicate the potential service stock (ES capacity). The actual supply (ES supply) is based on the attribute of the visibility of observation points on leisure routes, and the visitors (ES demand) to the service come from socio-economic data as a measure of the rates of access to entertainment venues. The supply and demand relationship (ES budget) solves the significant problems related to the oversupply and shortage of ES in space. The results showed that the CES supply power of CM is greater than the actual demand; thus, there is great potential for future development. This study also provided a reference and guidance for environmental decision-making and development in other regions.
This is a preview of subscription content, log in to check access.
Access options
Buy single article
Instant access to the full article PDF.
US$ 39.95
Price includes VAT for USA
Subscribe to journal
Immediate online access to all issues from 2019. Subscription will auto renew annually.
US$ 99
This is the net price. Taxes to be calculated in checkout.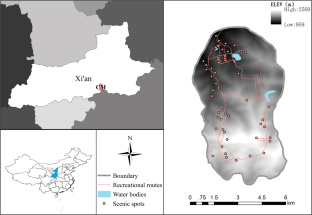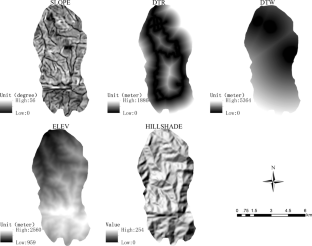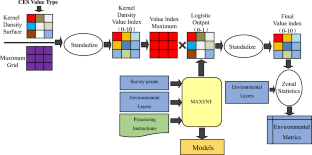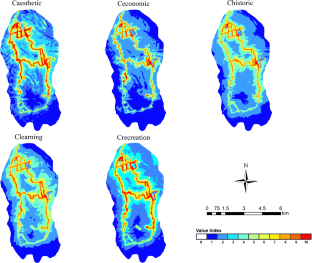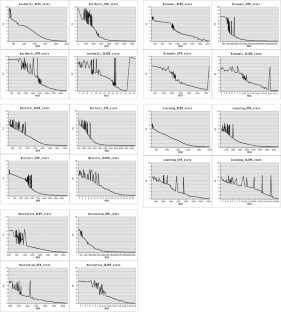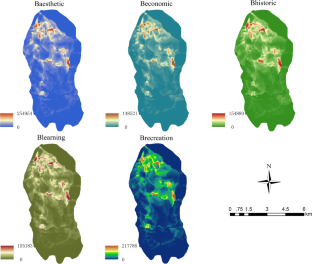 References
Alberini A et al (2005) Combining actual and contingent behavior to estimate the value of sports fishing in the Lagoon of Venice. Working Papers 61(2–3):530–541

Arbieu U et al (2017) Mismatches between supply and demand in wildlife tourism: insights for assessing cultural ecosystem services. Ecol Indic 78:282–291

Armbrecht J (2014) Use value of cultural experiences: a comparison of contingent valuation and travel cost. Tour Manag 42(3):141–148

Bennett EM et al (2015) Linking biodiversity, ecosystem services, and human well-being: three challenges for designing research for sustainability ☆. Curr Opin Environ Sustain 14:76–85

Bijlenga D et al (2011) Eliciting willingness to pay in obstetrics: comparing a direct and an indirect valuation method for complex health outcomes. Health Econ 20(11):1392–1406

Brown G, Brabyn L (2012a) An analysis of the relationships between multiple values and physical landscapes at a regional scale using public participation GIS and landscape character classification. Landscape Urban Plan 107(3):317–331

Brown G, Brabyn L (2012b) The extrapolation of social landscape values to a national level in New Zealand using landscape character classification. Appl Geog 35(1–2):84–94

Burkhard B et al (2012) Mapping ecosystem service supply, demand and budgets. Ecol Indic 21(3):17–29

Castellanos P et al (2011) The willingness to pay to keep a football club in a city: how important are the methodological issues? J Sports Econ 12(4):464–486

Chen B, Qi X (2018) Protest response and contingent valuation of an urban forest park in Fuzhou City, China. Urban Forest Urban Green 29:68–76

Costanza R et al (1997) The value of the world's ecosystem services and natural capital. World Environ 25(1):3–15

Costanza R et al (2011) Valuing ecological systems and services. F1000 Biol Rep 3(14):14

Daily GC (1997) Nature's services: societal dependence on natural ecosystems. Pacific Conserv Biol 6(2):220–221

Dou Y et al (2017) Assessing the importance of cultural ecosystem services in urban areas of Beijing municipality. Ecosyst Serv 24:79–90

Dou Y et al (2019) Assessing the influences of ecological restoration on perceptions of cultural ecosystem services by residents of agricultural landscapes of western China. Sci Total Environ 646:685–695

Egarter Vigl L et al (2017) Mapping the ecosystem service delivery chain: capacity, flow, and demand pertaining to aesthetic experiences in mountain landscapes. Sci Total Environ 574:422–436

Egarter VL et al (2017) Mapping the ecosystem service delivery chain: capacity, flow, and demand pertaining to aesthetic experiences in mountain landscapes. Sci Total Environ 574:422

Feld CK et al (2009) Indicators of biodiversity and ecosystem services: a synthesis across ecosystems and spatial scales. Oikos 118(12):1862–1871

Font AR (2000) Mass tourism and the demand for protected natural areas: a travel cost approach. J Environ Econ Manag 39(1):97–116

Geijzendorffer IR et al (2015) Improving the identification of mismatches in ecosystem services assessments. Ecol Indic 52(52):320–331

Griffin R et al (2015) Incorporating the visibility of coastal energy infrastructure into multi-criteria siting decisions. Mar Policy 62:218–223

He H et al (2012) Sensitivity of hydrogeomorphological hazards in the Qinling Mountains, China. Quat Int 282:37–47

Hirons M et al. (2016) Valuing cultural ecosystem services. Ann Rev Environ Resour 41(1)

Jaligot R et al (2018) Cultural ecosystem services provision in response to urbanization in Cameroon. Land Use Policy 79:641–649

Junge X et al (2015) Aesthetic quality of agricultural landscape elements in different seasonal stages in Switzerland. Landscape Urban Plan 133(133):67–77

Lin YP et al (2017) Integrating social values and ecosystem services in systematic conservation planning a case study in Datuan watershed. Sustainability 9(5):718

Luo F et al (2016) The role of institutions in the production of space for tourism: National Forest Parks in China. Forest Policy Econ 70:47–55

Ma MEA (2005) Millennium ecosystem assessment, 2005. Ecosystems and Human Well-being: Synthesis

Maes J et al (2016) An indicator framework for assessing ecosystem services in support of the EU Biodiversity Strategy to 2020. Ecosyst Serv 17:14–23

Martín-López B et al (2014) Trade-offs across value-domains in ecosystem services assessment. Ecol Indic 37(1):220–228

Oteros-Rozas E et al. (2017) Using social media photos to explore the relation between cultural ecosystem services and landscape features across five European sites. Ecol Indic

Qiao M et al (2018) Assessment on social values of ecosystem services in Xi'an Chanba National Wetland Park based on Sol VES Model. Wetland Sci 16(1):51–58

Qiu SR, Fan SS (2016) Recreational value estimation of suburban leisure agriculture: a case study of the Qianjiangyue agritourism farm. J Mount Sci 13(1):183–192

Reed P, Brown G (2003) Values suitability analysis: a methodology for identifying and integrating public perceptions of ecosystem values in forest planning. J Environ Plan Manag 46(5):643–658

Reyers B et al (2013) Getting the measure of ecosystem services: a social–ecological approach. Front Ecol Environ 11(5):268–273

Richards DR, Friess DA (2015) A rapid indicator of cultural ecosystem service usage at a fine spatial scale: content analysis of social media photographs. Ecol Indic 53:187–195

Richards DR, Tunçer B (2018) Using image recognition to automate assessment of cultural ecosystem services from social media photographs. Ecosyst Serv 31:318–325

Riper CJV et al (2012) Mapping outdoor recreationists' perceived social values for ecosystem services at Hinchinbrook Island National Park, Australia. Appl Geogra 35(1-2):164–173

Rosa DL et al (2015) Indicators of cultural ecosystem services for urban planning: a review. Ecol Indic 61:74–89

Sherrouse BC et al (2011) A GIS application for assessing, mapping, and quantifying the social values of ecosystem services. Appl Geogra 31(2):748–760

Sherrouse BC, Semmens DJ (2015) Social Values for Ecosystem Services, version 3.0 (SolVES 3.0): documentation and user manual. Open-File Report

Shrestha RK et al (2002) Value of recreational fishing in the Brazilian Pantanal: a travel cost analysis using count data models. Ecol Econ 42(1):289–299

Sigao H et al (2018) Valuation of cultural ecosystem services based on Sol VES: a case study of the South Ecological Park in Wuyi County, Zhejiang Province. Acta Ecologica Sinica 38(10):3682–3691

Tenerelli P et al (2016) Crowdsourcing indicators for cultural ecosystem services: a geographically weighted approach for mountain landscapes. Ecol Indic 64:237–248

Wei H et al (2018) Linking ecosystem services supply, social demand and human well-being in a typical mountain–oasis–desert area, Xinjiang, China. Ecosyst Serv 31:44–57

Wheatley, D. (1995) Cumulative viewshed analysis: a GIS-based method for investigating intervisibility, and its archaeological application

Wolff S et al (2015) Mapping ecosystem services demand: a review of current research and future perspectives. Ecol Indic 55:159–171

Yoshimura N, Hiura T (2017) Demand and supply of cultural ecosystem services: use of geotagged photos to map the aesthetic value of landscapes in Hokkaido. Ecosyst Serv 24:68–78

Yu W et al (2016) Assessment of the social values of ecosystem services based on Sol VES model: a case study of Wusong Paotaiwan Wetland Forest Park, Shanghai, China. Chin J Appl Ecol 27(6):1767–1774

Zhang Y-J, Hao J-F (2016) The evaluation of environmental capacity: evidence in Hunan province of China. Ecol Indic 60:514–523

Zoderer BM et al (2016) Identifying and mapping the tourists' perception of cultural ecosystem services: a case study from an Alpine region. Land Use Policy 56:251–261
Funding
This work was jointly supported by the National Natural Science Foundation of China (grant numbers 41771198 and 41771576). Additional funding was provided by the Innovation Funds of Graduate Programs, Shaanxi Normal University (grant number 2017CSY010).
Additional information
Publisher's Note
Springer Nature remains neutral with regard to jurisdictional claims in published maps and institutional affiliations.
Responsible editor: Philippe Garrigues
About this article
Cite this article
Zhao, Q., Li, J., Liu, J. et al. Integrating supply and demand in cultural ecosystem services assessment: a case study of Cuihua Mountain (China). Environ Sci Pollut Res 26, 6065–6076 (2019). https://doi.org/10.1007/s11356-018-3910-1
Received:

Accepted:

Published:

Issue Date:
Keywords
SolVES model

Cultural ecosystem services

Spatially explicit

Cuihua Mountain

Supply and demand