Abstract
Organic matter (OM), a complex entity with diverse functional groups and molecular sizes, has important effects on aquatic systems. We studied the optical compositions and sources of dissolved organic matter (DOM) and particulate organic matter (POM) in Lake Taihu, a large, shallow and eutrophic lake in China. Significant differences in optical compositions and sources occurred between the POM and DOM. The temporal–spatial distribution of the fluorescence indices suggested that the POM in Lake Taihu was mainly from autochthonous sources, but more exogenous characteristics were shown in POM in the river mouths compared with other regions. The chromophoric DOM in Lake Taihu mainly displayed autochthonous characteristics. The POM–DOM PARAFAC model was used to examine OM optical composition and five components were identified, which contained three protein-like components (C1, C2, and C5), a microbial humic-like component (C3), and a terrestrial humic-like component (C4). The POM was dominated by C5 in summer and autumn and C3 in winter and spring, and the DOM was dominated by protein-like components (C1, C2, and C5) through the entire year. The algae-dominated region had a relative higher contribution of tryptophan-like components of POM compared with the macrophyte-dominated region. A conceptual model based on the theory of "four phases of cyanobacteria bloom development" was proposed to fully describe the relationship between POM–DOM exchanges and cyanobacteria bloom development.
This is a preview of subscription content, log in to check access.
Access options
Buy single article
Instant access to the full article PDF.
US$ 39.95
Price includes VAT for USA
Subscribe to journal
Immediate online access to all issues from 2019. Subscription will auto renew annually.
US$ 99
This is the net price. Taxes to be calculated in checkout.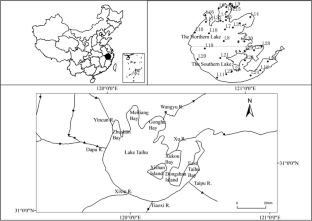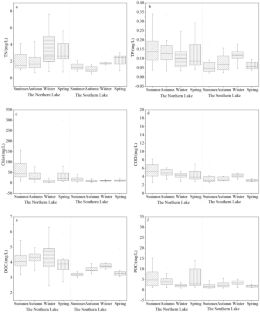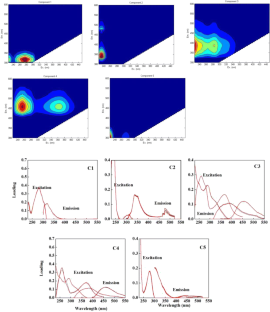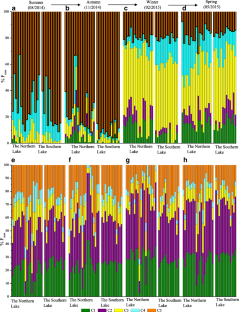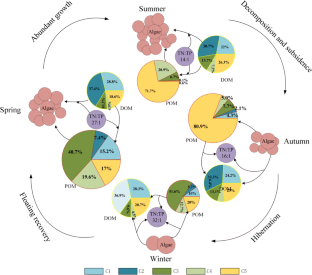 References
Azam F, Malfatti F (2007) Microbial structuring of marine ecosystems. Nat Rev Microbiol 5:782–791

Birdwell JE, Engel AS (2010) Characterization of dissolved organic matter in cave and spring waters using UV-Vis absorbance and fluorescence spectroscopy. Org Geochem 41:270–280

Cifuentes LA, Sharp JH, Fogel ML (1988) Stable carbon and nitrogen isotope biogeochemistry in the Delaware estuary. Limnol Oceanogr 33(5):1102–1115

Conmy RN, Coble PG, Cannizzaro JP, Heil CA (2015) Influence of extreme storm events on West Florida Shelf CDOM distributions. J Geophys Res Biogeosci 114(G4):G00F04

Cory RM, McKnight DM (2005) Fluorescence spectroscopy reveals ubiquitous presence of oxidized and reduced quinones in dissolved organic matter. Environ Sci Technol 39:8142–8149

Del Giorgio PA, Duarte CM (2002) Respiration in the open ocean. Nature 420:379–384

Druon JN, Mannino A, Signorini S, McClain C, Friedrichs M, Wilkin J, Fennel K (2010) Modeling the dynamics and export of dissolved organic matter in the northeastern US continental shelf. Estuar Coast Shelf Sci 88:488–507

Engel A, Thoms S, Riebesell U, Rochelle-Newall E, Zondervan I (2004) Polysaccharide aggregation as a potential sink of marine dissolved organic carbon. Nature 428:929–932

Eriksson J, Frankki S, Shchukarev A, Shyllberg U (2004) Binding of 2,4,6-trinitrotoluene, aniline, and nitrobenzene to dissolved and particulate soil organic matter. Environ Sci Technol 38(11):3074–3080

Giani M, Savelli F, Berto D, Zangrando V, Cosovic B, Vojvodic V (2005) Temporal dynamics of dissolved and particulate organic carbon in the northern Adriatic Sea in relation to the mucilage events. Sci Total Environ 353:126–138

He D, Zhang YM, Yang F (2016a) The transformation of the nutrient in the degradation process of the phytoplankton-derived particulate organic matter and its ecological effect. China Environ Sci 36(3):899–907 (in Chinese)

He W, Chen ML, Schlautman MA, Hur J (2016b) Dynamic exchanges between DOM and POM pools in coastal and inland aquatic ecosystems: a review. Sci Total Environ 551-552:415–428

Hopkinson CS, Vallino JJ (2005) Efficient export of carbon to the deep ocean through dissolved organic matter. Nature 433:142–145

Huguet A, Vacher L, Relexans S, Saubusse S, Froidefond JM, Parlanti E (2009) Properties of fluorescent dissolved organic matter in the Gironde Estuary. Org Geochem 40:706–719

Jiang JW, Li SD, Shen YY, Wu YL, Huang CC, Huang T, Jiang S (2017) Spatial differences of optical properties of CDOM and their sources apportionment in Taihu Lake in summer. Res Environ Sci 30(7):1020–1030 (in Chinese)

Jin XC, Tu QY (1990) Specification for eutrophication investigation of lakes. China Environmental Science Press, Beijing (in Chinese)

Karmer GD, Herndl GJ (2004) Photo- and bioreactivity of chromophoric dissolved organic matter produced by marine bacterioplankton. Aquat Microb Ecol 36(3):239–246

Kong FX, Ma RH, Gao JF, Wu XD (2009) The theory and practice of prevention, forecast and warning on cyanobacteria bloom in Lake Taihu. J Lake Sci 21(3):314–328 (in Chinese)

Kowalczuk P, Cooper WJ, Durako MJ, Kahn AE, Gonsior M (2010) Characterization of dissolved organic matter fluorescence in the South Atlantic Bight with use of PARAFAC model: relationships between fluorescence and its components, absorption coefficients and organic carbon concentrations. Mar Chem 118:22–36

Lapierre JF, Frenette JJ (2009) Effects of macrophytes and terrestrial inputs on fluorescent dissolved organic matter in a large river system. Aquat Sci 71:15–24

Larsen L, Harvey J, Skalak K, Goodman M (2015) Fluorescence-based source tracking of organic sediment in restored and unrestored urban streams. Limnol Oceanogr 60(4):1439–1461

Liebig J (1842) Chemistry in its application to agriculture and physiology. Johnson Reprint Corporation, New York

Lü SG, Wang XC, Han BP (2009) A field study on the conversion ratio of phytoplankton biomass carbon to chlorophyll—a in Jiaozhou Bay, China. Chin J Oceanol Limnol 27(4):793–805

Ma JR, Qin BQ, Wu P, Zhou J, Niu C, Deng JM, Niu HL (2015) Controlling cyanobacterial blooms by managing nutrient ratio and limitation in a large hyper-eutrophic lake: Lake Taihu, China. J Environ Sci 27:80–86

Margot S, Toomas K, Peeter N, Tiina N (2018) Do organic matter metrics included in lake surveillance monitoring in Europe provide a broad picture of brownification and enrichment with oxygen consuming substances? Sci Total Environ 610-611:1288–1297

Mayer LM, Schick LL, Hardy KR, Estapa ML (2009) Photo dissolution and other photochemical changes upon irradiation of algal detritus. Limnol Oceanogr 54:1688–1698

Mayer LM, Thornton KH, Schick LL (2011) Bioavailability of organic matter photo dissolved from coastal sediments. Aquat Microb Ecol 64(3):275–284

Mayorga E, Aufdenkampe AK, Masiello CA, Krusche AV, Hedges JI, Quay PD, Richey JE, Brown TA (2005) Young organic matter as a source of carbon dioxide outgassing from Amazonian rivers. Nature 436:538–541

McCallister SL, Bauer JE, Ducklow HW, Canuel EA (2006) Sources of estuarine dissolved and particulate organic matter: a multi-tracer approach. Org Geochem 37:454–468

Mecozzi M, Pietrantonio E, Di Noto V, Papai Z (2005) The humic structure of mucilage aggregates in the Adriatic and Tyrrhenian seas: hypothesis about the reasonable causes of mucilage formation. Mar Chem 95:255–269

Miller C, Gordon KG, Kieber RJ, Willey JD, Seaton PJ (2009) Chemical characteristics of chromophoric dissolved organic matter in rainwater. Atmos Environ 43:2497–2502

Murphy KR, Stedmon CA, Waite TD, Ruiz GM (2008) Distinguishing between terrestrial and autochthonous organic matter sources in marine environments using fluorescence spectroscopy. Mar Chem 108:40–58

Murphy KR, Stedmon CA, Wenig P, Bro R (2014) OpenFluor-an online spectral library of auto-fluorescence by organic compounds in the environment. Anal Methods 6:658–661

Nieto-Cid M, Alvarez-Salgado XA, Perez FF (2006) Microbial and photochemical reactivity of fluorescent dissolved organic matter in a coastal upwelling system. Limnol Oceanogr 51:1391–1400

Ohno T (2002) Fluorescence inner-filtering correction for determining the humification index of dissolved organic matter. Environ Sci Technol 36(4):742–746

Osburn CL, Handsel LT, Mikan MP, Paerl HW, Montgomery MT (2012) Fluorescence tracking of dissolved and particulate organic matter quality in a river-dominated estuary. Environ Sci Technol 46:8628–8636

Osburn CL, Mikan MP, Etheridge JR, Burchell MR, Birgand F (2015) Seasonal variation in the quality of dissolved and particulate organic matter exchanged between a salt marsh and its adjacent estuary. J Geophys Res Biogeosci 120(7):1430–1449

Pace DA, Manahan DT (2007) Efficiencies and costs of larval growth in different food environments. J Exp Mar Biol Ecol 353(1):89–106

Parsons TR, Takahashi M, Hargrave B (1977) Biological oceanographic processes, 2nd edn. Pergamon Press, New York, p 332

Qin BQ, Xu P, Wu Q, Luo L, Zhang YL (2007) Environmental issues of Lake Taihu, China. Hydrobiologia 581:3–14

Romera-Castillo C, Sarmento H, Alvarez-Salgado XA, Gasol JM, Marrase C (2011) Net production and consumption of fluorescent colored dissolved organic matter by natural bacterial assemblages growing on marine phytoplankton exudates. Appl Environ Microbiol 77:7490–7498

Roulet N, Moore TR (2006) Environmental chemistry: browning the waters. Nature 444:283–284

Shank GC, Evans A, Yamashita Y, Jaffe R (2011) Solar radiation enhanced dissolution of particulate organic matter from coastal marine sediments. Limnol Oceanogr 56(2):577–588

Simon M, Grossart H, Schweitzer B, Ploug H (2002) Microbial ecology of organic aggregates in aquatic ecosystems. Aquat Microb Ecol 28:172–211

Smith VH (2006) Responses of estuarine and coastal marine phytoplankton to nitrogen and phosphorus enrichment. Limnol Oceanogr 51(1):377–384

Spencer RGM, Aiken GR, Butler KD, Dornblaser MM, Striegl RG, Hernes PJ (2009) Utilizing chromophoric dissolved organic matter measurements to derive export and reactivity of dissolved organic carbon exported to the Arctic Ocean: a case study of the Yukou River, Alaska. Geophys Res Lett 36(6):141–153

Stedmon CA, Markager S (2005a) Tracing the production and degradation of autochthonous fractions of dissolved organic matter by fluorescence analysis. Limnol Oceanogr 50:1415–1426

Stedmon CA, Markager S (2005b) Resolving the variability in dissolved organic matter fluorescence in a temperate estuary and its catchment using PARAFAC analysis. Limnol Oceanogr 50:686–697

Steinberg DK, Nelson NB, Carlson CA, Prusak AC (2004) Production of chromophoric dissolved organic matter (CDOM) in the open ocean by zooplankton and the colonial cyanobacterium Trichodesmium spp. Mar Ecol Prog Ser 267:45–56

Turner JT (2002) Zooplankton fecal pellets, marine snow and sinking phytoplankton blooms. Aquat Microb Ecol 27:57–102

Verburg P, Horrox J, Chaney E, Rutherford J, Quinn J, Wilcock R (2013) Nutrient ratios, differential retention, and the effect on nutrient limitation in a deep oligotrophic lake. Hydrobiologia 718(1):119–130

Verdugo P, Allderdge AL, Azam F, Kirchman DL, Passow U, Santschi PH (2004) The oceanic gel phase: a bridge in the DOM-POM continuum. Mar Chem 92:67–85

Wang GS, Post WM, Mayes MA (2013) Development of microbial-enzyme-mediated decomposition model parameters through steady-state and dynamic analyses. Ecol Appl 23:255–272

Wang SH, Wang WW, Jiang X, Zhao L, Zhang B (2016) Distribution of chromophoric dissolved organic matter in Lihu Lake using excitation-emission matrix fluorescence and parallel factor analysis. China Environ Sci 36(2):517–524 (in Chinese)

Williams CJ, Yamashita Y, Wilson HF (2010) Unraveling the role of land use and microbial activity in shaping dissolved organic matter characteristics in stream ecosystems. Limnol Oceanogr 55:1159–1171

Wu FC, Jin XC, Zhang RY, Liao HQ, Wang SR, Jiang X, Wang LY, Guo JY, Li W, Zhao XL (2010) Effects and significance of organic nitrogen and phosphorous in the lake aquatic environment. J Lake Sci 22(1):1–7 (in Chinese)

Xu H, Paerl HW, Qin BQ, Zhu GW, Gao G (2010) Nitrogen and phosphorus inputs control phytoplankton growth in eutrophic Lake Taihu, China. Limnol Oceanogr 55(1):420–432

Yamashita Y, Jaffe R, Maie N, Tanoue E (2008) Assessing the dynamics of dissolved organic matter in coastal environments by excitations emission matrix fluorescence and parallel factor analysis. Limnol Oceanogr 53:1900–1908

Yang XF, Li ZQ, Meng FG, Wang ZG, Sun L (2014) Photochemical alteration of biogenic particles in wastewater effluents. Chinese Sci Bull 59(28):3659–3668

Yao X, Zhang YL, Zhu GW, Qin BQ, Feng LQ, Cai LL, Gao G (2011) Resolving the variability of CDOM fluorescence to differentiate the sources and fate of DOM in Lake Taihu and its tributaries. Chemosphere 82:145–155

Yao X, Zhang YL, Zhu GW, Qin BQ (2014) Different degradation mechanism of dissolved organic matter derived from phytoplankton and macrophytes in Lake Taihu, China. Acta Sci Circumst 34(3):688–694 (in Chinese)

Ye LL, Wu XD, Yan DZ, Liu B (2017) Seasonal dynamics of particulate organic carbon concentration in surface water and its source in the northwest of Lake Taihu. Acta Sci Circumst 37(4):1323–1329 (in Chinese)

Yu HB, Song YH, Du E, Yang N (2016) Comparison of PARAFAC components of fluorescent dissolved and particular organic matter from two urbanized rivers. Environ Sci Pollut Res 23(11):1–12

Zeng QF, Kong FX, Zhang EL, Tan X (2007) Effects of anthropogenic organic matter inputs on carbon and nitrogen isotopes in organisms from microbial food chain in Taihu Lake. Environ Sci 28(8):1670–1674

Zhang YL, van Dijk MA, Liu ML, Zhu GW, Qin BQ (2009) The contribution of phytoplankton degradation to chromophoric dissolved organic matter (CDOM) in eutrophic shallow lakes: field and experimental evidence. Water Res 43:4685–4697

Zhang YL, Zhang EL, Yin Y, van Dijk MA, Feng LQ, Shi ZQ, Liu ML, Qin BQ (2010) Characteristics and sources of chromophoric dissolved organic matter in lakes of the Yungui Plateau, China, differing in trophic state and altitude. Limnol Oceanogr 55:2645–2659

Zhang YL, Yin Y, Liu XH, Shi ZQ, Feng LQ, Liu ML, Zhu GW, Gong ZJ, Qin BQ (2011) Spatial-seasonal dynamics of chromophoric dissolved organic matter in Lake Taihu, a large eutrophic, shallow lake in China. Org Geochem 42:510–519

Zhang YL, Liu XH, Wang MZ, Qin BQ (2013) Compositional differences of chromophoric dissolved organic matter derived from phytoplankton and macrophytes. Org Geochem 55:26–37

Zhang YL, Shi K, Zhou YQ, Liu XH, Qin BQ (2016) Monitoring the river plume induced by heavy rainfall events in large, shallow, Lake Taihu using MODIS 250 m imagery. Remote Sens Environ 173:109–121

Zhou YQ, Jeppesen E, Zhang YL, Niu C, Shi K, Liu X (2015a) Chromophoric dissolved organic matter of black waters in a highly eutrophic Chinese lake: freshly produced from algal scums? J Hazard Mater 299:222–230

Zhou YQ, Zhang YL, Shi K, Niu C, Liu XH, Duan HT (2015b) Lake Taihu, a large, shallow and eutrophic aquatic ecosystem in China serves as a sink for chromophoric dissolved organic matter. J Great Lakes Res 41:597–606

Zhou YQ, Zhou J, Jeppesen E, Zhang YL, Qin BQ, Shi K, Tang XM, Han XX (2016) Will enhanced turbulence in inland waters result in elevated production of autochthonous dissolved organic matter? Sci Total Environ 543:405–415

Zhu M, Zhu G, Zhao L, Yao X, Zhang Y, Gao G (2013) Influence of algal bloom degradation on nutrient release at the sediment-water interface in Lake Taihu, China. Environ Sci Pollut Res 20(3):1803–1811
Acknowledgments
We thank the staff of the Taihu Laboratory for Lake Ecosystem Research for helping with sample collection. We especially thank Dr. Sarah Poynton of Johns Hopkins University for her useful comments and linguistic improvements.
Funding
This study was supported by the National Natural Science Foundation of China (Nos. 41501101, 41301544), the Natural Science Foundation of Jiangsu Province, China (No. BK20151059), the Major Science and Technology Program for Water Pollution Control and Treatment (No. 2017ZX07203-004), and the State Key Laboratory of Lake Science and Environment (No. 2018SKL004).
Additional information
Responsible editor: Philippe Garrigues
About this article
Cite this article
Weiwei, L., Xin, Y., Keqiang, S. et al. Unraveling the sources and fluorescence compositions of dissolved and particulate organic matter (DOM and POM) in Lake Taihu, China. Environ Sci Pollut Res 26, 4027–4040 (2019). https://doi.org/10.1007/s11356-018-3873-2
Received:

Accepted:

Published:

Issue Date:
Keywords
Dissolved organic matter (DOM)

Particulate organic matter (POM)

Eutrophication

Lake Taihu

Fluorescence compositions

POM–DOM PARAFAC model