Abstract
The possibility of Miscanthus×giganteus cultivation as an energy crop on the different types of mining rocks was studied. It was revealed that a loess-like loam and red-brown clay with the added black soil were the most suitable for plant growing. The yield of dry above-ground biomass ranged from 4.3 to 6.8 t DM ha−1 after the first year of cultivation and from 8.9 to 9.7 t DM ha−1 after the second year while using these substrates. The application of amendments stimulated the growth and development of plants and increased productivity from 50 to 140%. M.×giganteus showed sufficient tolerance and good enough growth on the geochemically active dark-gray schist clay with yield from 2 to 3 t DM ha−1 after the first year of cultivation already. For plants grown on the different strata of dark-gray schist clay, the thermal decomposition of the biomass took place in four stages in the temperature range from 30 to 640 °C. The samples grown on stratum 0–20 cm showed the highest reactivity with a peak 30.6%/min at 290 °C. There were differences in the concentrations of determined heavy metals: iron, zinc, copper, and lead in the plant tissues depending on the layer depth of dark-gray schist clay from 0 to 20 cm to 40–60 cm. The relatively limited content of heavy metals in the above-ground biomass was due to the preferential accumulation in the roots.
Access options
Buy single article
Instant access to the full article PDF.
USD 39.95
Price excludes VAT (USA)
Tax calculation will be finalised during checkout.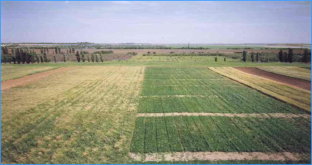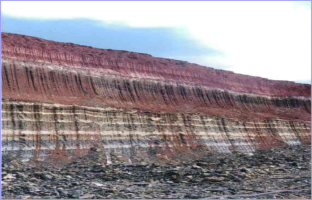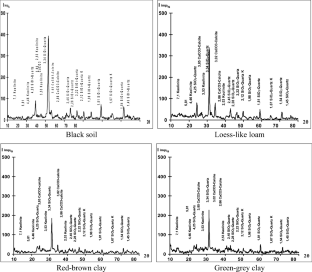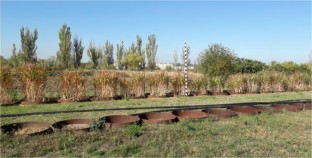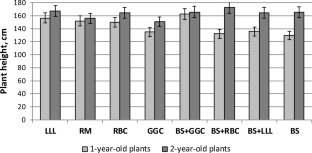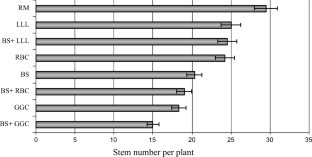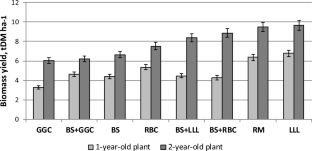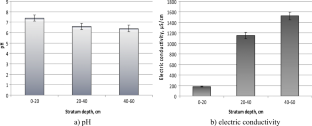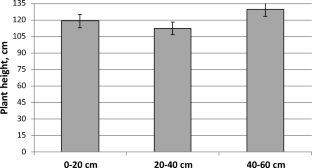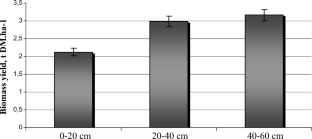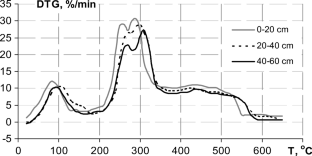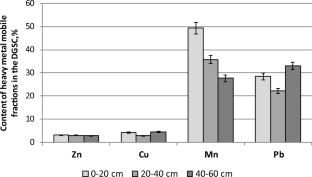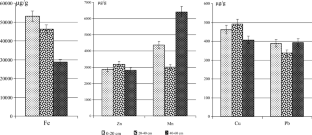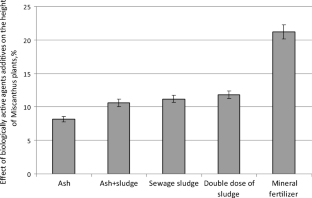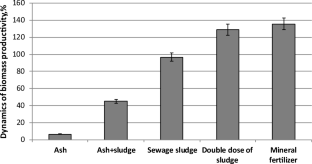 References
AEBIOM (2011) Annual Statistical Report on the contribution of biomass to the energy system in the EU 27. http://ru.scribd.com/doc/73012151/2011-AEBIOM-Annual-Statistical-Report

An G-H, Lee S, Koo B-C, Choi YH, Moon Y-H, Cha Y-L, Bark S-T, Kim J-K, Kim B-C, Kim S-P (2011) Effects of application of solidified sewage sludge on the growth of bioenergy crops in reclaimed land. Korean J Crop Sci 56(4):299–307. https://doi.org/10.7740/kjcs.2011.56.4.299

Antonkiewicz J, Kołodziej B, Bielinska EJ (2016) The use of reed canary grass and giant miscanthus in the phytoremediation of municipal sewage sludge. Environ Sci Pollut Res 23(10):9505–9517. https://doi.org/10.1007/s11356-016-6175-6

Arduini I, Masoni A, Ercoli L (2006) Effects of high chromium applications on Miscanthus during the period of maximum growth. Environ Exp Bot 58:234–243. https://doi.org/10.1016/j.envexpbot.2005.09.004

Blanco-Canqu H (2016) Growing dedicated energy crops on marginal lands and ecosystem services. Soil Sci Soc Am J 80(4):845–858. https://doi.org/10.2136/sssaj2016.03.0080

Brosse N, Dufour A, Meng GX, Sun Q, Ragauskas A (2012) Miscanthus: a fast-growing crop for biofuels and chemicals production. Review. Biofuels Bioprod Biorefin 6:580–598. https://doi.org/10.1002/bbb.1353

Christian DG, Riche AB, Yates NE (2008) Growth, yield and mineral content of Miscanthus ×giganteus grown as a biofuel for 14 successive harvests. Ind Crop Prod 28:320–327. https://doi.org/10.1016/j.indcrop.2008.02.009

Cortes AM, Bridgwater AV (2015) Kinetic study of the pyrolysis of Miscanthus and its acid hydrolysis residue by thermogravimetric analysis. Fuel Process Technol 138:184–193. https://doi.org/10.1016/j.fuproc.2015.05.013

De Kimpe CR, Morel J-L (2000) Urban soil management: a growing concern. Soil Sci 165(1):31–40. https://doi.org/10.1097/00010694-200001000-00005

Eionet NRC Soil (2015) Remediated sites and brownfields. Success stories in Europe. In: Perez A-P, Sanchez SP, Van Liedekerke M (eds) A report of the European Information and Observation Network's national reference centre for soil. https://doi.org/10.2788/01889

Fernando A, Oliveira JFS (2004) Effects on growth, productivity and biomass quality of Miscanthus x giganteus of soils contaminated with heavy metals. In: Van Swaaij WPM, Fjällström T, Helm P, Grassi A (eds) Biomass for energy, industry and climate protection - proceedings of the 2nd World Biomass Conference, 10–14 Maio 2004, pp 387–390. https://moodle.fct.unl.pt/pluginfile.php/92027/mod_resource/content/0/Fernando_e_Oliveira_2004.pdf

Gasparatosa A, Dollb CNH, Estebanc M, Tabitha AA, Olangc A (2017) Renewable energy and biodiversity: implications for transitioning to a green economy. Renew Sust Energ Rev 70:161–184. https://doi.org/10.1016/j.rser.2016.08.030

Geletukha G, Zheliezna T, Tryboi O (2015) Prospects for growing and use of energy crops in Ukraine. Part 2. Industrial Heat Engineering 37(5):58–67 http://ihe.nas.gov.ua/index.php/journal/article/view/122

Geletukha G, Zheliezna T, Tryboi O, Bashtovyi A (2016) Analysis of criteria for the sustainable development of bioenergy. UABio Position Paper 17:1–30 http://uabio.org/en/activity/uabio-analytics/3066-uabio-position-paper-17

Gomes E (2012) Phytoremediation for bioenergy: challenges and opportunities. Environ Technol Rev 1(1):59–66. https://doi.org/10.1080/09593330.2012.696715

Gumentyk M, Kharytonov M (2018) Development and assessment of technologies of Miscanthus and switchgrass growing in forest-steppe zone of Ukraine. Agriculture and Forestry 64(2):137–146. https://doi.org/10.17707/AgricultForest.64.2.10

Gumentyk M, Kwak V, Zamoyski O, Radejko B (2013) Biomass productivity of Miscanthus depending on the quality of planting material and growing conditions in the western forest-steppe region of Ukraine. Motrol 15(4):84–89 http://www.pan-ol.lublin.pl/wydawnictwa/Motrol15_4/motrol_15_4_2013.pdf

Heaton EA, Dohleman FG, Long SP (2008) Meeting us biofuel goals with less land: the potential of Miscanthus. Glob Chang Biol 14(9):2000–2014. https://doi.org/10.1111/j.1365-2486.2008.01662.x

Heaton EA, Dohleman FG, Miguez AF, Juvik JA, Lozovaya V, Widholm J, Zabotina OA, McIsaac GF, David MB, Voigt TB, Boersma NN, Long SP (2010) Miscanthus: a promising biomass crop. Adv Bot Res 56:76–137. https://doi.org/10.4236/eng.2011.34046

Hein K (2005) Future energy supply in Europe – challenge and chances. Fuel 84:1189–1194. https://doi.org/10.1016/j.fuel.2004.09.022

Ivanyshyn V, Nedilska U, Khomina V, Klymyshena R, Hryhoriev V, Ovcharuk O, Hutsol T, Mudryk K, Jewiarz M, Wróbel M, Dziedzic K (2018) Prospects of growing Miscanthus as alternative source of biofuel. In: Engineering, technology, innovation. Springer proceedings in energy, Springer, Cham, pp 801–812. https://doi.org/10.1007/978-3-319-72371-6_78

Karp A, Sheid I (2008) Bioenergy from plants and the sustainable yield challenge. New Phytol 179(1):15–32. https://doi.org/10.1111/j.1469-8137.2008.02432.x

Kharytonov M (2008) Geochemical assessment of reclaimed lands in the mining regions of Ukraine. In: NATO ARW soil chemical pollution, risk assessment, remediation and security. Springer, Netherlands, pp 57–60. https://doi.org/10.1007/978-1-4020-8257-3_16

Kharytonov MM, Resio Espejo JM (2013) Land reclamation in the manganese ore mining basin in Ukraine. VIII Reunión de Cuaternario Ibérico, La Rinconada- Sevilla, pp 150–152. http://tierra.rediris.es/aequa/doc/El_Cuaternario_Iberico_2013.pdf

Kharytonov M, Martynova N, Sitnyk S, Naumenko M, Pidlisnyuk V, Stefanovska T (2017) A productive potential estimation of five genotypes of the Miscanthus Anderss genus in the Ukrainian steppe zones conditions. INMATEH - Agricultural Engineering 52(2):129–136 http://www.inmateh.eu/INMATEH_2_2017/INMATEH-Agricultural_Engineering_52_2017.pdf

Kocoń A, Jurga B (2017) The evaluation of growth and phytoextraction potential of Miscanthus x giganteus and Sida hermaphrodita on soil contaminated simultaneously with Cd, Cu, Ni, Pb, and Zn. Environ Sci Pollut Res 24(5):4990–5000. https://doi.org/10.1007/s11356-016-8241-5

Kok MV, Özgür E (2013) Thermal analysis and kinetics of biomass samples. Fuel Process Technol 106:739–743. https://doi.org/10.1016/j.fuproc.2012.10.010

Kołodynska D, Krukowska J, Thomas P (2017) Comparison of sorption and desorption studies of heavy metal ions from biochar and commercial active carbon. Chem Eng J 307:353–363. https://doi.org/10.1016/j.cej.2016.08.088

Kołodziej B, Antonkiewicz J, Sugier D (2016) Miscanthus × giganteus as a biomass feedstock grown on municipal sewage sludge. Ind Crop Prod 81:72–82. https://doi.org/10.1016/j.indcrop.2015.11.052

Matyka M, Kus J (2016) Influence of soil quality for yielding and biometric features of Miscanthus × giganteus. Pol J Environ Stud 25(1):213–219. https://doi.org/10.15244/pjoes/60108

Nosko VL, Boyko ІE, Kamyshanov VV, Leshuk UІ (2015) Perspective of energy crops in Ukraine. Scientific herald of NULES of Ukraine. Series: biology, biotechnology. Ecology 214:216–222 http://journals.nubip.edu.ua/index.php/Biologiya/article/view/6230

Nunn C, Hastings AFSJ, Kalinina O, Özgüven M, Schüle H, Tarakanov IG, Van Der Weijde T, Anisimov AA, Iqbal Y, Kiesel A, Khokhlov NF, Mc. Calmont JP, Meyer H, Mos M, Schwarz K-U, Trindade LM, Lewandowski I, Clifton-Brown JC (2017) Environmental influences on the growing season duration and ripening of diverse miscanthus germplasm grown in six countries. Front Plant Sci 8:907. https://doi.org/10.3389/fpls.2017.00907

Osman AI, Abdelkader A, Johnston CR, Morgan K, Rooney DW (2017a) Thermal investigation and kinetic modeling of lignocellulosic biomass combustion for energy production and other applications. Ind Eng Chem Res 56(42):12119–12130. https://doi.org/10.1021/acs.iecr.7b0347

Osman AI, Ahmed AT, Johnston CR, Rooneya DW (2017b) Physicochemical characterization of Miscanthus and its application in heavy metals removal from wastewaters. Environ Prog Sustain Energy 37:1058–1067. https://doi.org/10.1002/ep.12783

Otepka P (2014) Guidebook on local bioenergy supply based on woody biomass. Scientific & Academic Publishing, USA ISBN 978-1-938681-99-8

Pidlisnyuk V, Erickson L, Kharchenko S, Stefanovska T (2014a) Sustainable land management: growing Miscanthus in soils contaminated with heavy metals. J Environ Prot 5:723–730. https://doi.org/10.4236/jep.2014.58073

Pidlisnyuk V, Stefanovska T, Lewis EE, Erickson LE, Davis LE (2014b) Miscanthus as a productive crop for phytoremediation. Crit Rev Plant Sci 33(1):1–19

Pidlisnyuk V, Trogl J, Stefanovska T, Shapoval P, Erickson L (2016) Preliminary results on growing second generation biofuel crop Miscanthus x giganteus at the polluted military site in Ukraine. Nova Biotechnol Chim 15(1):77–84. https://doi.org/10.1515/nbec-2016-0008

Powlson DS, Riche AB, Shield I (2005) Biofuels and other approaches for decreasing fossil fuel emissions from agriculture. Ann Appl Biol 146:193–201. https://doi.org/10.1111/j.1744-7348.2005.040056.x

Rakhmetov DB, Shcherbakova TO, Rakhmetov SD (2015) Miscanthus in Ukraine: introduction, biology, bioenergetics. Phytosociocenter, Kiev

Sims R, Hastings A, Schlamadinger B, Taylor G, Smith P (2006) Energy crops: current status and future prospects. Glob Chang Biol 12:2054–2076. https://doi.org/10.1111/j.1365-2486.2006.01163.x

Skousen J, Keene T, Marra M, Gutta B (2012) Reclamation of mined land with switchgrass, miscanthus and arundo for biofuel production. J Am Soc Mining Recl 2(1):177–191. https://doi.org/10.21000/JASMR13010177

USEPA (1996) Test methods for evaluating solid waste. Physical/chemical methods. In: Method 3050B, acid digestion of sediment, sludges and soils, 3rd edn. USEPA, Washington, DC SW-846

Wanat N, Austruy A, Joussen E, Soubrant M, Hitmi A, Gauthier-Moussard C, Lenain JF, Vernay P, Munch JC, Pichon M (2013) Potential of Miscanthus x giganteus grown on highly contaminated Technosols. J Geochem Explor 126-127:78–84. https://doi.org/10.1016/j.gexplo.2013.01.001

Werle S, Bisorca D, Katelbach-Wozniak A, Pogrzeba M, Krzyzak J, Ratman-Kłosinska I, Burnete D (2016) Phytoremediation as an effective method to remove heavy metals from contaminated area –TG/FT-IR analysis results of the gasification of heavy metal contaminated energy crops. J Energy Inst 90:408–417. https://doi.org/10.1016/j.joei.2016.04.002

Xie J, Weng Q, Ye G, Luo S, Zhu R, Zhang A, Chen X, Lin C (2014) Bioethanol production from sugarcane grown in heavy metal-contaminated soils. BioResources 9(2):2509–2520. https://doi.org/10.15376/biores.9.2.2509-2520
Funding
The research was partly supported by grant 0116U004738 from the Ministry of Education and Science of Ukraine and NATO SPS MYP G4687.
Additional information
Responsible editor: Elena Maestri
About this article
Cite this article
Kharytonov, M., Pidlisnyuk, V., Stefanovska, T. et al. The estimation of Miscanthus×giganteus' adaptive potential for cultivation on the mining and post-mining lands in Ukraine. Environ Sci Pollut Res 26, 2974–2986 (2019). https://doi.org/10.1007/s11356-018-3741-0
Received:

Accepted:

Published:

Issue Date:

DOI: https://doi.org/10.1007/s11356-018-3741-0
Keywords