Abstract
This paper uses the 1990–2010 natural disaster and carbon emission data of G20 countries to examine the impact of natural disasters and climate change on the natural capital component of inclusive wealth. Our study shows that climate change and GDP have no positive impacts on the growth of natural capital. By contrast, trade openness and natural disaster frequency contribute to the accumulation of natural capital in G20 countries. There is an inverted U-shaped relationship between the growth of natural capital and the magnitude of natural disaster. Natural capital growth is not affected very much by small disasters. By contrast, large disasters tend to make the growth of natural capital fall sharply.
This is a preview of subscription content, log in to check access.
Access options
Buy single article
Instant access to the full article PDF.
US$ 39.95
Price includes VAT for USA
Subscribe to journal
Immediate online access to all issues from 2019. Subscription will auto renew annually.
US$ 99
This is the net price. Taxes to be calculated in checkout.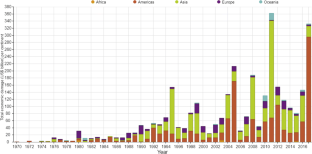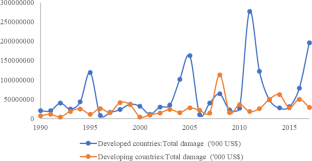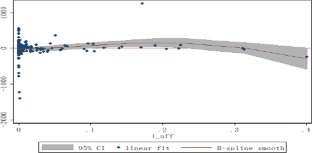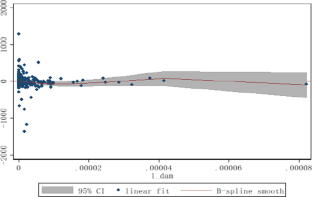 References
Albrecht F (2018) Natural hazard events and social capital: the social impact of natural disasters. Disasters 42(2):336–360

Baltagi BH, Li D (2002) Series estimation of partially linear panel data models with fixed effects. Ann Econ Financ 3(1):103–116

Benson C, Clay E (2003) The impact of drought on Sub-Saharan African economies: a preliminary examination, World Bank Technical Paper, Washington DC, March

Bordo MD (2007) Growing up to financial stability. NBER Working Paper 12993, March

Can M, Gozgor G (2017) The impact of economic complexity on carbon emissions: evidence from France. Environ Sci Pollut Res 24(19):16364–16370

Cavallo E, Galiani S, Noy I, Pantano J (2013) Catastrophic natural disasters and economic growth. Rev Econ Stat 95(5):1549–1561

Cuaresma JC, Hlouskova J, Obersteiner M (2008) Natural disasters as creative destruction? Evidence from developing countries. Econ Inq 46(2):214–226

Dell M, Jones BF, Olken BA (2012) Temperature shocks and economic growth: evidence from the last half century. Am Econ J Macroecon 4(3):66–95

Dercon S (2004) Growth and shocks: evidence from rural Ethiopia. J Dev Econ 74(2):309–329

Deschenes O, Greenstone M (2007) The economic impacts of climate change: evidence from agricultural output and random fluctuations in weather. Am Econ Rev 97(1):354–385

Drazen A (2002) Political economy in macroeconomics, Princeton University Press, Princeton, NJ, January

Edinaldo T, Laura B (2016) Climate change and economic growth in Brazil. App Econ Lett 23(5):377–381

Gassebner M, Keck A, Teh R (2010) Shaken, not stirred: the impact of disasters on international trade. Rev Int Econ 18(2):351–368

Gozgor G (2017) Does trade matter for carbon emissions in OECD countries? Evidence from a new trade openness measure. Environ Sci Pollut Res 24(36):27813–27821

Gozgor G, Can M (2016) Export product diversification and the environmental Kuznets curve: evidence from Turkey. Environ Sci Pollut Res 23(21):21594–21603

Hallegatte S, Dumas P (2009) Can natural disasters have positive consequences? Investigating the role of embodied technical change. Ecol Econ 68(3):777–786

Kim CK (2010) The effects of natural disasters on long-run economic growth. J Mich Busi 41:15–49

Klomp J, Hoogezand B (2018) Natural disasters and agricultural protection: a panel data analysis. World Dev 104:404–417

Lampietti JA, Dixon JA (1995) To see the forest for the trees: a guide to non-timber forest benefits. Environment Department working papers 13, Environmental economics series: Washington, DC, World Bank, July

Loayza VN, Olaberria E, Rigolini J (2012) Natural disasters and growth: going beyond the averages. World Dev 40(7):317–1336

Miao Q (2017) Technological innovation, social learning and natural hazard mitigation: evidence on earthquake fatalities. Environ Dev Econ 22(3):249–273

Mohan PS, Ouattara B, Strobl E (2018) Decomposing the macroeconomic effects of natural disasters: a national income accounting perspective. Ecol Econ 146:1–9

Noy IM (2009) The macroeconomic consequences of disasters. J Dev Econ 88(2):221–231

Noy I, Nualsri A (2007) What do exogenous shocks tell us about growth theories? University of Hawaii Working Paper, October

Park J, Son M, Park C (2017) Natural disasters and deterrence of economic innovation: a case of temporary job losses by hurricane sandy. J Open Inno 3(5):1–23

Pauw K, Thurlow J, Bachu M, Seventer DEV (2001) The economic costs of extreme weather events: a hydrometeorological CGE analysis for Malawi. Environ Dev Econ 16(2):177–198

Porfiriev B (2012) Economic issues of disaster and disaster risk reduction policies: international vs. Russian perspectives. J Int Dis Risk Red 1:55–61

Raddatz C (2009) The wrath of god: macroeconomic costs of natural disasters, World Bank Policy Research Working Paper Series, Washington, DC, March

Rodriguez-Oreggia E, De La Fuente A, De La Torre R, Moreno HA (2013) Natural disasters, human development and poverty at the municipal level in Mexico. J Dev Stud 49(3):442–455

Ruth M, Coelho D, Karetnikov D (2007) The US Economic impacts of climate change and the costs of inaction. The Center for Integrative Environmental Research (CIER), the University of Maryland, October

Sadoff CW (2006) Can water undermine growth? Evidence from Ethiopia. Agric Rural Dev 18, World Bank, Washington, DC, September

Sheng Y, Xu X (2018) The productivity impact of climate change: evidence from Australia's millennium drought. Econ Mod

Skidmore M, Toya H (2002) Do natural disasters promote long-run growth? Econ Inq 40(4):664–687

Strobl E (2012) The economic growth impact of natural disasters in developing countries: evidence from hurricane strikes in the central American and Caribbean regions. J Dev Econ 97(1):130–141

Strulik H, Trimborn T (2018) Natural disasters and macroeconomic performance. Environ Resour Econ 2018:1–30

Tol RSJ (2009) The economic effects of climate change. J Econ Perspect 23:29–51

UNISDR (2015) Sendai framework for disaster risk reduction 2015–2030. United Nations, Geneva, March

United Nations Economic and Social Commission for Asia and the Pacific (2013) Building resilience to natural disasters and major economic crises. UNESCAP, Bangkok

Veen AVD (2004) Disasters and economic damage: macro, meso and micro approaches. Disaster Prev Manag 13(4):274–279
Additional information
Responsible editor: Nicholas Apergis
About this article
Cite this article
Fang, J., Lau, C.K.M., Lu, Z. et al. Natural disasters, climate change, and their impact on inclusive wealth in G20 countries. Environ Sci Pollut Res 26, 1455–1463 (2019). https://doi.org/10.1007/s11356-018-3634-2
Received:

Accepted:

Published:

Issue Date:
Keywords
Natural disasters

Climate change

Natural capital

Sustainable development