Abstract
Nowadays, the electrical and electronic products are a crucial commodity for different purposes of daily life and they are multiplying five times faster than human like mobile phones, which has reached zero to 7.2 billion in only three decades. A 5–10% yearly increase in the amount of used electrical and electronic equipment that are disposed of prudently can cause environmental hazards that have an aversive effect on human health, marine life, contamination of groundwater, and reduces soil's fertility. Management of this enormous influx of electrical and electronic waste is a challenge for developing countries like Bangladesh with barebones solid waste management infrastructure. Inadequacy of public awareness, policies and poor budget in the field of waste management are few of the key factors behind this delineating scenario. In this study, the picture electrical and electronic waste productions in Bangladesh along with the recent E-waste management systems have been presented comprehensively. Based on the study, it was concluded that most of the adapted E-waste management methods are conversational and detached from current technological capability. A set of sustainable E-waste management system has been suggested along with the challenges, which might appear during the implementation of these strategies. Successful implementation of these suggested systems would advance the quality of E-waste management in Bangladesh increasing the current 35% overall E-waste recycling rate and offer enormous energy from the waste.
Access options
Buy single article
Instant access to the full article PDF.
US$ 39.95
Tax calculation will be finalised during checkout.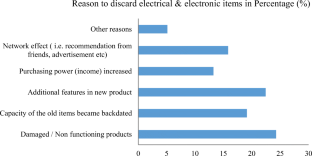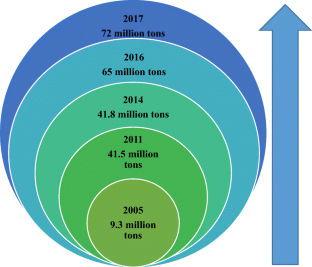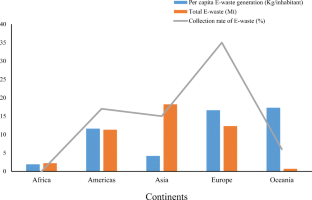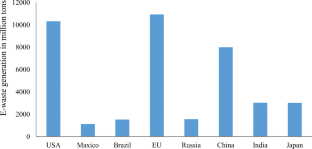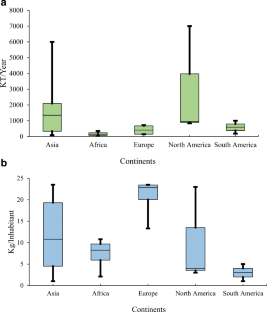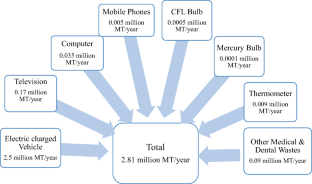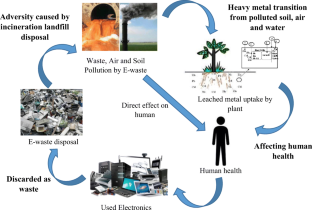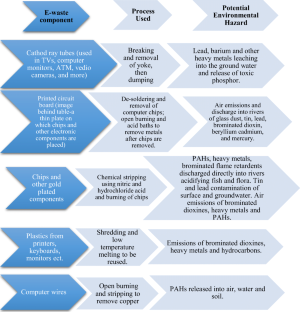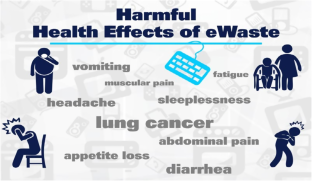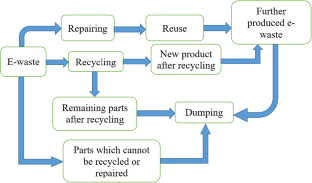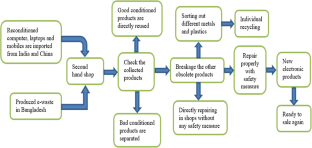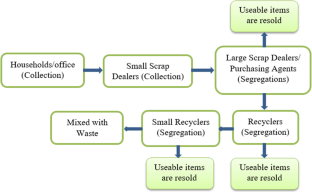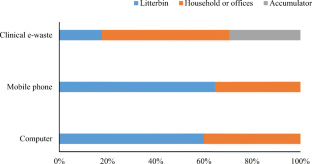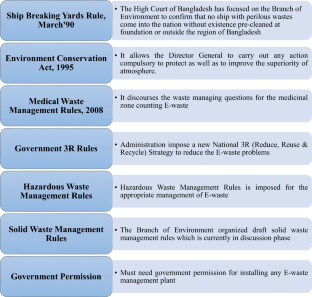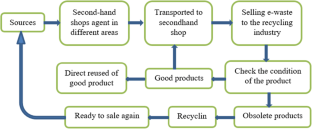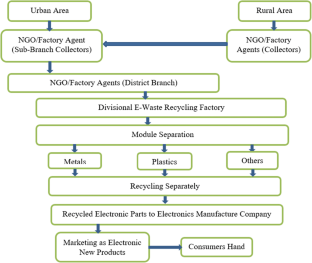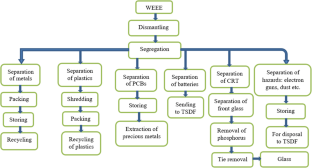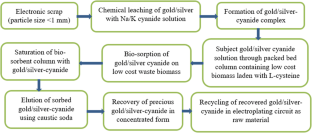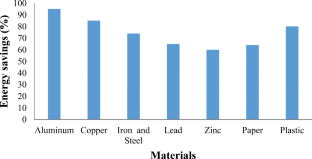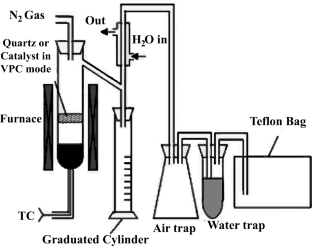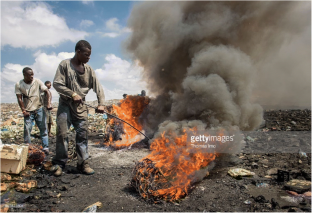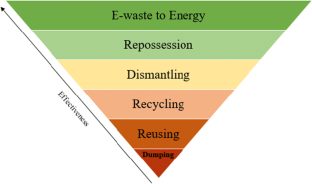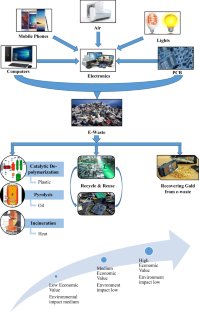 References
Achilias DS, Antonakou EV, Koutsokosta E, Lappas AA (2009) Chemical recycling of polymers from waste electric and electronic equipment. J Appl Polym Sci 114(1). Wiley Online Library):212–221

Afroz R, Masud MM, Akhtar R, Duasa JB (2013) Survey and analysis of public knowledge, awareness and willingness to pay in Kuala Lumpur, Malaysia—a case study on household WEEE management. J Clean Prod 52 Elsevier:185–193

Agamuthu P, Khidzir KM, Hamid FS (2009) Drivers of sustainable waste management in Asia. In: Waste Management & Research 27, vol 7. Sage Publications Sage UK, London, England, pp 625–633

Ahmed FRS (2011a) E-waste management scenario in Bangladesh. In WEEE/E-Waste Management Workshop on Take-Back System, 13–15

Ahmed SU (2011b) Informal sector E-waste recycling practices in Bangladesh. In Dhaka, Bangladesh, 13–27

Alam M, Bahauddin KM (2015) Electronic waste in Bangladesh: evaluating the situation, legislation and policy and way forward with strategy and approach. Present Environment and Sustainable Development 9(1). De Gruyter Open):81–101

Asaduzzaman M, Hye HA (1997) When both market and state fail: the crisis of solid waste management in Urban Bangladesh. Crisis in Governance: A Review of Bangladesh Development, 383–400

Awasthi AK, Li J (2017) Management of electrical and electronic waste: a comparative evaluation of China and India. Renew Sust Energ Rev 76(February). Elsevier Ltd):434–447. https://doi.org/10.1016/j.rser.2017.02.067

Awasthi, AK, Xianlai Z, Li J (2016) Comparative examining and analysis of E-waste recycling in typical developing and developed countries. Procedia Environ Sci 35. The Author(s): 676–680. doi:https://doi.org/10.1016/j.proenv.2016.07.065.

Bahers JB, Kim J (2018) Regional approach of waste electrical and electronic equipment (WEEE) management in France. In: Resources, Conservation and Recycling 129 (October 2017). Elsevier, Amsterdam, pp 45–55. https://doi.org/10.1016/j.resconrec.2017.10.016.

Baldé CP, Wang F, Kuehr R, Huisman J (2015a) The Global E-Waste Monitor 2014. United Nations University, IAS – SCYCLE, Bonn, Germany

Baldé CP, Wang F, Kuehr R, Huisman J (2015b) The global E-waste monitor–2014, United Nations University, IAS–SCYCLE, United Nations University (UNU), Bonn, Alemania, 79 pp. Barton JR, Dalley D. y Patel VS (1996). Life cycle assessment for waste management. Waste Manage 16(1):35–50

Baldé CP, Forti V, Gray V, Kuehr R, Stegmann P (2017) The global E-waste monitor 2017—quantities, flows, and resources. United Nations University, IAS – SCYCLE, Bonn, Germany

Barba-Gutiérrez Y, Adenso-Diaz B, Hopp M (2008) An analysis of some environmental consequences of European electrical and electronic waste regulation. Resour Conserv Recycl 52(3). Elsevier):481–495

Batool SA, Ch MN (2009) Municipal solid waste management in Lahore City District, Pakistan. Waste Management 29(6). Elsevier):1971–1981

Bhat V, Rao P, Patil Y (2012) Development of an integrated model to recover precious metals from electronic scrap—a novel strategy for E-waste management. Procedia - Social and Behavioral Sciences 37:397–406. https://doi.org/10.1016/j.sbspro.2012.03.305

Bhuiyan SH (2005) Benefits of social capital: urban solid waste management in Bangladesh, vol 1. Transaction Publishers, Piscataway

Bhuiyan SH (2010) A crisis in governance: urban solid waste management in Bangladesh. Habitat Int 34 (1). Elsevier: 125–133.

Brebu M, Bhaskar T, Murai K, Muto A, Sakata Y, Md AU (2004) Thermal degradation of PE and PS mixed with ABS-Br and debromination of pyrolysis oil by Fe-and Ca-based catalysts. Polym Degrad Stab 84(3). Elsevier):459–467

Carneiro BM, General Manager (2013) Policy update from Brazil.

Carroll C (2018) Electronic waste wikipedia. https://en.wikipedia.org/wiki/Electronic_waste

Choksi S (2001) BASEL CONVENTION on the the basel convention on the control of transboundary movements of hazardous wastes and their disposal: 1999 protocol on liability and compensation. Ecol Law Quart 28:120. https://doi.org/10.2307/24114136.

CPCB (2011) Guidelines on implementation of E-waste rules, 2011. Central Pollution Control Board. http://www.cpcb.nic.in/ImplimentationE-Waste.pdf

Cui J, Forssberg E (2003) Mechanical recycling of waste electric and electronic equipment: a review. J Hazard Mater 99(3). Elsevier):243–263

Cui J, Zhang L (2008) Metallurgical recovery of metals from electronic waste: a review. J Hazard Mater 158(2–3). Elsevier):228–256

de Souza RG, Clímaco JCN, Sant'Anna AP, Rocha TB, do Valle R d AB, Quelhas OLG (2016) Sustainability assessment and prioritisation of E-waste management options in Brazil. Waste Manag 57. Elsevier Ltd:46–56. https://doi.org/10.1016/j.wasman.2016.01.034

Dias P, Machado A, Huda N, Bernardes AM (2018) Waste electric and electronic equipment (WEEE) management: a study on the Brazilian recycling routes. J Clean Prod 174. Elsevier Ltd:7–16. https://doi.org/10.1016/j.jclepro.2017.10.219

Directive EC (2012) Directive 2012/19/EU of the European Parliament and of the Council of 4 July 2012 on Waste Electrical and Electronic Equipment, WEEE. Off J Eur Union L 197:38–71

Environment and Social Development Organization-ESDO (2012) Guidelines for E-Waste Management in Bangladesh. Dhaka, Bangladesh

ESDO (2014) Magnitude of the flow of E-waste in Bangladesh. Dhaka.

EXPRA (2014) Extended producer responsibility at a glance. http://www.expra.eu/uploads/downloads/EXPRAEPR Paper_March_2016.pdf.

Forouhar A, Hristovski KD (2012) Characterization of the municipal solid waste stream in Kabul, Afghanistan. Habitat International 36(3). Elsevier):406–413

Fu J, Zhou Q, Liu J, Liu W, Wang T, Zhang Q, Jiang G (2008) High levels of heavy metals in rice (Oryzasativa L.) from a typical E-waste recycling area in Southeast China and its potential risk to human health. Chemosphere 71(7). Elsevier):1269–1275

Garlapati VK (2016) E-waste in India and developed countries: management, recycling, business and biotechnological initiatives. Renew Sustain Energy Rev 54. Elsevier:874–881. https://doi.org/10.1016/j.rser.2015.10.106.

Golev A, Schmeda-Lopez DR, Smart SK, Corder GD, McFarland EW (2016) Where next on E-waste in Australia? Waste Manage 58. Elsevier Ltd:348–358. https://doi.org/10.1016/j.wasman.2016.09.025

Grant K, Goldizen FC, Sly PD, Brune M-N, Neira M, van den Berg M, Norman RE (2013) Health consequences of exposure to E-waste: a systematic review. Lancet Glob Health 1(6). Elsevier):e350–e361

Guinea Equatorial (2015) StEP E-Waste World Map - Overview Equatorial Guinea - STEP. http://www.step-initiative.org/Overview_Equatorial_Guinea.html.

Hai YK, Schoeung JM (2005) Electronic waste recycling: a review of US infrastructure and technology option. Resource, Conservation and Recycling, Elsevier, 368–400.

Han A, Han E, Han Hv E (2011) Directive 2011/65/Eu Of The European Parliament And Of The Council of 8 June 2011 on the Restriction of the Use of Certain Hazardous Substances in Electrical and Electronic Equipment (RoHS II).

Haque Tajirul (2018) Introduction to electronics (E-waste) recycling. The balance small business. Available at: https://www.thebalance.com/introduction-to-electronics-e-waste-recycling-4049386.

Harivardhini S, Chakrabarti A (2015) E-waste dismantling: profitable at the cost of occupational hazard?, In Technologies for Sustainability (SusTech), 2015 IEEE Conference on IEEE, pp. 165–170

He W, Li G, Ma X, Wang H, Huang J, Xu M, Huang C (2006) WEEE recovery strategies and the WEEE treatment status in China. J Hazard Mater 136(3):502–512. https://doi.org/10.1016/j.jhazmat.2006.04.060

Hischier R, Wäger P, Gauglhofer J (2005) Does WEEE recycling make sense from an environmental perspective?: the environmental impacts of the Swiss take-back and recycling systems for waste electrical and electronic equipment (WEEE). Environ Impact Assess Rev 25(5). Elsevier):525–539

Honda S, Khetriwal DS, Kuehr R (2016) Regional E-waste monitor: East and Southeast Asia. Vol 1. http://ewastemonitor.info/pdf/Regional-E-Waste-Monitor.pdf.

Hossain S (2010) E-Waste: Bangladesh Situation. In Study Report Environment and Social Development Organization-Environmental and Social Development Organisation Dhaka. Bangladesh.

Hossain S, Sulatan S, Shahnaz F, Hossain ML (2011) Illegal import and trade off of E-waste in Bangladesh. In Environment and Social Development Organization (ESDO): Dhaka, Bangladesh, 11.

International Association of Electronics Recyclers (2006) IAER Electronics Recycling Industry Report. http://www.iaer.org/communications/indreport.htm. Accessed 15 Nov 2008

Islam MR (1999) Solid waste culture and its impact on health of the residents of Dhaka City. Observer Magazine.

Islam N (2000) Urban governance in Asia: sub-regional and city perspectives. Centre for Urban Studies.

Islam MN (2016) E-waste management of Bangladesh. Int J Innov Hum Ecol Nat Stud 4(2):1–12

Islam MS, Grönlund Å (2011) Digital Bangladesh–a change we can believe in? In: International Conference on Electronic Government and the Information Systems Perspective. Springer, Berlin, pp 107–121

Islam MT, Abdullah AB, Shahir SA, Kalam MA, Masjuki HH, Shumon R, Md HR (2016a) A public survey on knowledge, awareness, attitude and willingness to pay for WEEE management: case study in Bangladesh. J Clean Prod 137. Elsevier Ltd:728–740. https://doi.org/10.1016/j.jclepro.2016.07.111

Islam MT, Abdullah AB, Shahir SA, Kalam MA, Masjuki HH, Shumon R, Md HR (2016b) A public survey on knowledge, awareness, attitude and willingness to pay for WEEE management: case study in Bangladesh. J Clean Prod 137. Elsevier:728–740

Joardder MUH, Halder PK, Rahim MA, Masud MH (2017) Solar pyrolysis: converting waste into asset using solar energy. In: Clean Energy for Sustainable Development. Elsevier, Amsterdam, pp 213–235

Julander A, Lundgren L, Skare L, Grandér M, Palm B, Vahter M, Lidén C (2014) Formal recycling of E-waste leads to increased exposure to toxic metals: an occupational exposure study from Sweden. Environment Int 73. Elsevier:243–251

Jungst RG (2001) Recycling of electric vehicle batteries. In Industrial chemistry library 10:295–327

Kahhat R, Kim J, Xu M, Allenby B, Williams E, Zhang P (2008) Exploring E-waste management systems in the United States. Resour Conserv Recycl 52(7). Elsevier):955–964

Karim RT, Bari N, M Ashraful A (2014) E-waste management in Bangladesh. In Green Energy and Technology (ICGET), 2014 2nd International Conference On, 104–9. IEEE.

Khetriwal DS, Kraeuchi P, Widmer R (2009) Producer responsibility for E-waste management: key issues for consideration–learning from the Swiss experience. J Environ Manag 90(1). Elsevier):153–165

Kitazume T (2015) E-waste recycling still falling short. The Japan Times.

Kotwani M (2018) Most people do not know what to do with E-waste; only a fraction recycle: NEA study. Channel NewsAsia. https://www.channelnewsasia.com/news/singapore/e-waste-recycle-mobile-phones-electronics-nea-9875286.

Król A, Nowakowski P, Mrówczyńska B (2016) How to improve WEEE management? Novel approach in mobile collection with application of artificial intelligence. Waste Manage 50. Elsevier:222–233

Kumar A, Dixit G (2018) Evaluating critical barriers to implementation of WEEE management using DEMATEL approach. Resour Conserv Recycl 131(December 2017). Elsevier):101–121. https://doi.org/10.1016/j.resconrec.2017.12.024.

Kumar A, Holuszko M, Espinosa DCR (2017) E-waste: an overview on generation, collection, legislation and recycling practices. Resour Conserv Recycl 122. Elsevier:32–42

Ladou J, Lovegrove S (2008) Export of electronics equipment waste. Int J Occup Environ Health 14(1). Taylor & Francis):1–10

Leung AOW, Duzgoren-Aydin NS, Cheung KC, Wong MH (2008) Heavy metals concentrations of surface dust from E-waste recycling and its human health implications in Southeast China. Environ Sci Technol 42(7). ACS Publications):2674–2680

Li GM (2012) WEEE Management in China. In: Waste Electrical and Electronic Equipment (WEEE) Handbook. Woodhead Publishing Limited, Sawston. https://doi.org/10.1533/9780857096333.5.526

Li JX, Huang C, Zhu Y, Huang S (2011) WEEE management in Chongqing, China: status and strategies. Adv Mater Res 414:39–44. https://doi.org/10.4028/www.scientific.net/AMR.414.39.

Liu X, Tanaka M, Matsui Y (2006) Electrical and electronic waste management in China: progress and the barriers to overcome. Waste Manage Res 24(1). Sage Publications Sage CA: Thousand Oaks, CA):92–101

Madrigal-Arias JE et al (2015) Bioleaching of gold, copper and nickel from waste cellular phone PCBs and computer goldfinger motherboards by two Aspergillus nigerstrains. Brazilian Journal of Microbiology SciELO Brasil 46(3):707–713

Mahboob RRR, Shafinaz N (2015) Electronic waste_the story of Bangladesh_the daily star. The Daily Star, August 5.

Mallawarachchi H, Karunasena G (2012) Electronic and electrical waste management in Sri Lanka: suggestions for National Policy Enhancements. Resour Conserv Recycl 68. Elsevier B.V.:44–53. https://doi.org/10.1016/j.resconrec.2012.08.003

Mani S (2012) WEEE management in the USA and India: research and education for a responsible approach to managing WEEE. In: Waste Electrical and Electronic Equipment (WEEE) Handbook, pp 550–575. https://doi.org/10.1533/9780857096333.5.550

Masud MH (2014) Utilization of waste plastic to save the environment. In International Conference on Mechanical, Industrial and Energy Engineering, 1–4

Menad N, Bo B, Allain EG (1998) Combustion of plastics contained in electric and electronic scrap. Resour Conserv Recycl 24(1). Elsevier):65–85

Ministry of Commence of the Government of the People's Republic of Bangladesh (2015) Import Policy Order, 2015–2018. https://www.bangladeshtradeportal.gov.bd/kcfinder/upload/files/ImportPolicy Order 2015–18 ENG.pdf.

Mohee R, Simelane T (2015) Future directions of municipal solid waste management in Africa. Africa Institute of South Africa.

Mourshed M, Masud MH, Rashid F, Joardder MUH (2017) Towards the effective plastic waste management in Bangladesh: a review. Environ Sci Pollut Res 24(35). Springer):27021–27046

Namias J (2013) The future of electronic waste recycling in the United States: obstacles and domestic solutions. Columbia University. https://doi.org/10.12691/jephh-4-2-2.

Nasrin F (2016) Waste management in Bangladesh: current situation and suggestions for action. Int Res J Soc Sci 5(10):36–42

Navazo JMV, Méndez GV, Peiró LT (2014) Material flow analysis and energy requirements of mobile phone material recovery processes. Int J Life Cycle Assess 19(3). Springer):567–579

NDTV (2015) India Fifth Biggest Generator of E-Waste in 2014:UN Report.

Nie X, Fan C, Wang Z, Su T, Liu X, An T (2015) Toxic assessment of the leachates of Paddy soils and river sediments from E-waste dismantling sites to microalga, Pseudokirchneriella Subcapitata. Ecotoxicol Environ Saf 111. Elsevier:168–176. https://doi.org/10.1016/j.ecoenv.2014.10.012.

Nnorom IC, Osibanjo O (2008a) Overview of electronic waste (e-waste) management practices and legislations, and their poor applications in the developing countries. Resour Conserv Recycl 52(6). Elsevier):843–858

Nnorom IC, Osibanjo O (2008b) Electronic waste (e-waste): material flows and management practices in Nigeria. Waste Manag (New York, N.Y.) 28:1472–1479. https://doi.org/10.1016/j.wasman.2007.06.012

Nnorom IC, Osibanjo O (2008c) Sound Management of Brominated Flame Retarded (BFR) Plastics from Electronic Wastes: State of the Art and Options in Nigeria. Resour Conserv Recycl 52(12). Elsevier):1362–1372

Ongondo FO, Williams ID, Cherrett TJ (2011) How are WEEE doing? A global review of the management of electrical and electronic wastes. Waste Manag 31(4). Elsevier):714–730

Organization, World Trade (2015) WTO Members Conclude Landmark $1.3 Trillion IT Trade Deal. https://www.wto.org/english/news_e/news15_e/ita_16dec15_e.htm.

Othman N, Mohd Sidek L, Ahmad Basri NE, Muhd Yunus MN, Othman NA (2009) Electronic Plastic Waste Management in Malaysia: The Potential of Waste to Energy Conversion In Energy and Environment, 2009. ICEE 2009. 3rd International Conference On, 337–42. IEEE

Panday PK (2007) Policy implementation in urban Bangladesh: role of intra-organizational coordination. Public Organization Rev 7(3). Springer):237–259

Paper, Conference, Arif Reza, and Business Agriculture. 2014. E-waste management in Bangladesh: Present Trend and Future Implication Proceedings of 2011 World Congress of International Solid Waste. In. https://doi.org/10.13140/2.1.3261.7927.

Parajuly K, Habib K, Liu G (2017) Waste electrical and electronic equipment (WEEE) in Denmark: flows, quantities and management. Resour Conserv Recycl 123(August 2005). Elsevier B.V.):85–92. https://doi.org/10.1016/j.resconrec.2016.08.004

Park IH (2005) E-Waste Recycling Policy in Korea Resource Recycling Division: Ministry of Environment, Presentation, June.

Pathak P, Ranjan R (2017) Assessment of Legislation and Practices for the Sustainable Management of Waste Electrical and Electronic Equipment in India. Renew Sust Energ Rev 78(April). Elsevier Ltd):220–232. https://doi.org/10.1016/j.rser.2017.04.062

Phuntsho, Sherub, Ichharam Dulal, Dechen Yangden, Ugyen M Tenzin, Sunil Herat, Hokyong Shon, and Saravanamuthu Vigneswaran. 2010. Studying municipal solid waste generation and composition in the urban areas of Bhutan. Waste Manage Res 28 (6). SAGE Publications Sage UK: London, England: 545–551

Proceedings of 2011 World Congress of International Solid Waste Association (ISWA) (2011) October 17–20, 2011 , EXCO Daegu, Korea

Nicolas Pucino. 2016. Wastes in paradise volumes, composition and management of. doi:https://doi.org/10.13140/RG.2.1.5116.8880.

Reddy PJ (2016) Energy recovery from municipal solid waste by thermal conversion technologies. CRC Press, Boca Raton

Riyad ASM, Mahbub Hassan K, Jabed Iqbal M, Abdur Rahim M, Wasi Uddin SM (2014a) E-waste recycling practices in Bangladesh. Int J Renew Energy Environ Eng 02(03):193–200

Riyad A, Mahbub Hassan K, Jabed Iqbal M, Rahim MABDUR, Uddin SW (2014b) E-waste recycling practices in Bangladesh. Int J Renew Energy Environ Eng 2:193–200

Robinson BH (2009) E-waste: an assessment of global production and environmental impacts. Sci Total Environment 408(2). Elsevier):183–191

Román E (2012) WEEE Management in Europe: learning from best practice. In: Waste Electrical and Electronic Equipment (WEEE) Handbook, pp 493–525. https://doi.org/10.1533/9780857096333.5.493

Salbidegoitia JA et al (2015) Steam gasification of printed circuit board from e-waste: effect of coexisting nickel to hydrogen production, Fuel Processing Technology. Elsevier, Amsterdam, 133, pp 69–74

Sansotera M, Navarrini W, Talaeemashhadi S, Venturini F (2013) Italian WEEE management system and treatment of end-of-life cooling and freezing equipments for CFCs removal. Waste Manag 33(6). Elsevier Ltd):1491–1498. https://doi.org/10.1016/j.wasman.2013.03.012

Schmidt CW (2002) E-junk explosion. Environmental Health Perspectives 110 (4). National Institute of Environmental Health Science: A188.

Shamim A, Mursheda AK, Rafiq I (2015) E-waste trading impact on public health and ecosystem services in developing countries. J Waste Resources 5(188):2. https://doi.org/10.4172/2252-5211.1000188

Shams S, Sahu JN, Shamimur Rahman SM, Ahsan A (2017) Sustainable waste management policy in Bangladesh for reduction of greenhouse gases. Sustain Cities Soc 33. Elsevier:18–26

Singh S (2015) Rise of used goods markets: why e-commerce companies like OLX, ebay are chasing second-hand goods, The Economic Times Available at: http://economictimes.indiatimes.com/industry/services/retail/rise-of-used-goods-markets-why-e-commerce-companies-like-olx-ebay-are-chasing-second-hand-goods/articleshow/49488856.cms.

Song Q, Li J (2015. A review on human health consequences of metals exposure to E-waste in China) Environ Pollut 196. Elsevier:450–461

Song Q, Li J, Zeng X (2015) Minimizing the increasing solid waste through zero waste strategy. J Cleaner Prod 104. Elsevier:199–210

Spalvins E, Dubey B, Townsend T (2008) Impact of electronic waste disposal on lead concentrations in landfill leachate. Environ Sci Technol 42(19). ACS Publications):7452–7458

Statista (2018) • E-waste generation per capita in Argentina 2018_statistic. The Statistics Portal.

Stevels A, Goodship V (2012) Waste electrical and electronic equipment (WEEE) handbook. Woodhead Publishing, Sawston

Sudipta C, Javed SA, Biswa P (2017) Reusing and recycling practice of E-waste in Dhaka City. In International Conference on Engineering Research, Innovation and Education (ICERIE), 1–7

Talk, Science (2015) Singapore's Mountain of E-Waste, Environment News & Top Stories. The Straits Times

Thavalingam V, Karunasena G (2016) Mobile phone waste management in developing countries: a case of Sri Lanka. Resour Conserv Recycl 109. Elsevier B.V.:34–43. https://doi.org/10.1016/j.resconrec.2016.01.017

Tian J, Chen M (2016) Assessing the economics of processing end-of-life vehicles through manual dismantling. Waste Manag 56. Elsevier Ltd:384–395. https://doi.org/10.1016/j.wasman.2016.07.046

Toro R (2013) Tracking the World's E-Waste (Infographic). Live Science. http://www.livescience.com/41966-tracking-world-e-waste.html.

Tsydenova O, Bengtsson M (2011) Chemical hazards associated with treatment of waste electrical and electronic equipment. Waste Manage 31(1). Elsevier):45–58

Veit HM, Bernardes AM (2015) Electronic waste. https://doi.org/10.1007/978-3-319-15714-6.

Vidal J (2013) Toxic 'e-waste' dumped in poor nations, says United Nations. The Guardian. http://www.theguardian.com/global-development/2013/dec/14/toxic-ewaste-illegal-dumping-developing-countries.

Wang H, Han M, Yang S, Chen Y, Liu Q, Ke S (2011) Urinary heavy metal levels and relevant factors among people exposed to E-waste dismantling. Environment International 37(1). Elsevier):80–85

Wath SB, Vaidya AN, Dutt PS, Chakrabarti T (2010) A roadmap for development of sustainable E-waste management system in India. Sci Total Environ 409(1). Elsevier B.V.):19–32. https://doi.org/10.1016/j.scitotenv.2010.09.030

Wath SB, Dutt PS, Chakrabarti T (2011) E-waste scenario in India, its management and implications. Environ Monit Assess 172(1–4). Springer):249–262

Widmer R, Oswald-Krapf H, Sinha-Khetriwal D, Schnellmann M, Böni H (2005) Global Perspectives on E-Waste. Environ Impact Assess Rev 25(5). Elsevier):436–458

Yamaguchi M (2002) Extended producer responsibility in Japan. Japan Environmental Management Association for Industry ECP Newsletter 19(19):1–12 http://m-yamaguchi.jp/english_page/EPR_in_Japan_2002_ECP_No19.pdf.

Yang GCC (1993) Environmental threats of discarded picture tubes and printed circuit boards. J Hazard Mater 34(2). Elsevier):235–243

Yang X, Sun L, Xiang J, Hu S, Su S (2013) Pyrolysis and dehalogenation of plastics from waste electrical and electronic equipment (WEEE): a review. Waste Manage 33(2). Elsevier):462–473

Yu L, He W, Li G, Huang J, Zhu H (2014) The development of WEEE management and effects of the fund policy for subsidizing WEEE treating in China. Waste Manag 34(9). Elsevier Ltd):1705–1714. https://doi.org/10.1016/j.wasman.2014.05.012

Zamena UK (2002) Solid waste management in Dhaka City: challenges and pitfalls. J Local Government 29(1):89–106
Additional information
Responsible editor: Philippe Garrigues
About this article
Cite this article
Masud, M.H., Akram, W., Ahmed, A. et al. Towards the effective E-waste management in Bangladesh: a review. Environ Sci Pollut Res 26, 1250–1276 (2019). https://doi.org/10.1007/s11356-018-3626-2
Received:

Accepted:

Published:

Issue Date:
Keywords
E-waste

E-waste management

E-waste to energy conversion

Bangladesh