Abstract
We examined the possible role of monoterpene β-pinene in providing protection against Cr(VI) toxicity in maize (Zea mays). Treatment with β-pinene (10 μM) significantly alleviated Cr(VI) accumulation and recuperated Cr(VI) caused decline in root and coleoptile growth in maize. β-Pinene addition caused a decline in Cr(VI)-induced accumulation of superoxide anion, hydroxyl ion, hydrogen peroxide and confirmed by in-situ detection of ROS using histochemical localization. It suggested that the β-pinene quenches/neutralizes enhanced ROS generated under Cr(VI) exposure. β-Pinene also reduced Cr(VI)-induced electrolyte leakage, thereby suggesting its role in membrane stabilization. Further, β-pinene regulated the activity of scavenging enzymes, thereby suggesting a role in modulating Cr(VI)-induced oxidative damage. In conclusion, our results suggest that the addition of β-pinene has a protective role against Cr(VI) stress and provides resistance to maize against Cr(VI) toxicity.
This is a preview of subscription content, log in to check access.
Access options
Buy single article
Instant access to the full article PDF.
US$ 39.95
Price includes VAT for USA
Subscribe to journal
Immediate online access to all issues from 2019. Subscription will auto renew annually.
US$ 99
This is the net price. Taxes to be calculated in checkout.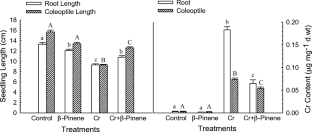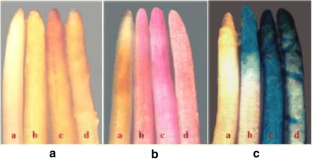 References
Affek HP, Yakir D (2002) Protection by isoprene against singlet oxygen in leaves. Plant Physiol 129:269–277

Agarwal A, Singh HP, Rai JPN (2014) Chromium phytoextraction from tannery effluent-contaminated soil by Crotalaria juncea infested with Pseudomonas fluorescens. Env Sci Pollut Res 21:7938–7944

Alscher RG, Erturk N, Heath LS (2002) Role of superoxide dismutases (SODs) in controlling oxidative stress in plants. J Exp Bot 53(372):1331–1341

Beauchamp C, Fridovich I (1971) Superoxide dismutase: improved assays and an assay applicable to acrylamide gels. Anal Biochem 44:276–286

Bradford MM (1976) A rapid and sensitive method for the quantitation of microgram quantities of protein utilizing the principle of protein-dye binding. Anal Biochem 72:248–254

Cakmak I, Marschner H (1992) Magnesium deficiency and high light intensity enhance activities of superoxide dismutase ascorbate peroxidase and glutathione reductase in bean leaves. Plant Physiol 98:1222–1227

Casano L, Gomez L, Lascano C, Trippi V (1997) Inactivation and degradation of Cu/ZnSOD by active oxygen species in wheat chloroplasts exposed to photooxidative stress. Plant Cell Physiol 38:433–440

Choudhary SP, Kanwar M, Bhardwaj R, Gupta BD, Gupta RK (2011) Epibrassinolide ameliorates Cr(VI) stress via influencing the levels of indole-3-acetic acid, abscisic acid, polyamines and antioxidant system of radish seedlings. Chemosphere 84:592–600

Chowhan N, Singh HP, Batish DR, Kaur S, Ahuja N, Kohli RK (2013) β-Pinene inhibited germination and early growth involves membrane peroxidation. Protoplasma 250(3):691–700

Chowhan N, Singh HP, Batish DR, Kohli RK (2011) Phytotoxic effects of β-pinene on early growth and associated biochemical changes in rice. Acta Physiol Plant 3:2369–2376

da Conceição Gomes MA, Hauser-Davis RA, Suzuki MS, Vitória AP (2017) Plant chromium uptake and transport, physiological effects and recent advances in molecular investigations. Ecotoxicol Environ Safe 140:55–64

del Río LA (2015) ROS and RNS in plant physiology: an overview. J Exp Bot 66:2827–2837

Dixit V, Pandey V, Shyam R (2002) Chromium ions inactivate electron transport and enhance superoxide generation in vivo in pea (Pisum sativum L. cv. Azad) root mitochondria. Plant Cell Environ 25:687–693

Dudareva N, Negre F, Nagegowda AD, Orlova I (2006) Plant volatiles: recent advances and future perspectives. Crit Rev Plant Sci 25:417–440

Egley GH, Paul RN, Vaughn KC, Duke SO (1983) Role of peroxidase in the development of water impermeable seed coats in Sida spinosa L. Planta 157:224–232

Farquharson KL (2017) Secrets of the forest: volatiles first discovered in pine trees propagate defense signals within and between plants. Plant Cell 29:1181–1182

Foyer CH, Halliwell B (1976) The presence of glutathione and glutathione reductase in chloroplasts: a proposed role in ascorbic acid metabolism. Planta 133:21–25

Geron C, Ramussen R, Arnts RR, Guenther A (2000) A review and synthesis of monoterpene speciation from forests in the United States. Atmos Environ 34:1761–1781

Godard KA, White R, Bohlmann J (2008) Monoterpene-induced molecular responses in Arabidopsis thaliana. Phytochemistry 69:1838–1849

Halliwell B, Gutteridge JMC, Auroma O (1987) The deoxyribose method: a simple 'test tube' assay for determination of rate constants for reactions of hydroxyl radicals. Ann Biochem 165:215–219

Heath RL, Packer L (1968) Photoperoxidation in isolated chloroplasts: I Kinetics and stoichiometry of fatty acid peroxidation. Arch Biochem Biophys 125:189–198

Holopainen JK, Gershenzon J (2010) Multiple stress factors and the emission of plant VOCs. Trends Plant Sci 15:1360–1385

Kaszycki P, Gabrys H, Appenroth KJ, Jaglarz A, Sedziwy S, Walczak T, Koloczek H (2005) Exogenously applied sulphate as a tool to investigate transport and reduction of chromate in the duckweed Spirodela polyrhiza. Plant Cell Environ 28:260–268

Kim YJ, Kim JH, Lee CE, Mok YG, Choi JS, Shin HS, Hwang S (2006) Expression of yeast transcriptional activator MSN1 promotes accumulation of chromium and sulfur by enhancing sulfate transporter level in plants. FEBS Letters 580 (1):206–210

Kriegs B, Jansen M, Hahn K, Peisker H, Šamajová O, Beck M, Braun S, Ulbrich A, Baluška F, Schulz M (2010) Cyclic monoterpene mediated modulations of Arabidopsis thaliana phenotype: effect on the cytoskeleton and on the expression of selected genes. Plant Signal Behav 5(7):832–838

Lee K, Seo PJ (2014) Airborne signals from salt-stressed Arabidopsis plants trigger salinity tolerance in neighboring plants. Plant Signal Behav 9(3):e28392

López-Bucio J, Hernández-Madrigal F, Cervantes C, Ortiz-Castro R, Carreón-Abud Y, Martínez-Trujillo M (2014) Phosphate relieves chromium toxicity in Arabidopsis thaliana plants by interfering with chromate uptake. BioMetals 27:363–370

Loreto F, Pinelli P, Manes F, Kollist H (2004) Impact of ozone on monoterpene emissions and evidence for an isoprene-like antioxidant action of monoterpenes emitted by Quercus ilex leaves. Tree Physiol 24:361–367

Loreto F, Velikova V (2001) Isoprene produced by leaves protects the photosynthetic apparatus against ozone damage, quenches ozone products, and reduces lipid peroxidation of cellular membranes. Plant Physiol 127:1781–1787

Mahajan P, Batish DR, Singh HP, Kohli RK (2013) Cr(VI) imposed toxicity in maize seedlings assessed in terms of disruption in carbohydrate metabolism. Biol Trace Elem Res 156:316–322

Mahajan P, Batish DR, Singh HP, Kohli RK (2016) β-Pinene partially ameliorates Cr(VI)-inhibited growth and biochemical changes in emerging seedlings. Plant Growth Regul 79:243–249

Medda S, Mondal NK (2017) Chromium toxicity and ultrastructural deformation of Cicer arietinum with special reference of root elongation and coleoptile growth. Ann Agrar Sci 15:396–401

Misra HR, Fridovich I (1972) The univalent reduction of oxygen by reduced flavins and quinines. J Biol Chem 247:188–192

Mondal MH, Malik S, Garain A, Mandal S, Saha B (2017) Extraction of natural surfactant saponin from soapnut (Sapindus mukorossi) and its utilization in the remediation of hexavalent chromium from contaminated water. Tenside Surfact Det 54:519–525

Nakano Y, Asada K (1981) Hydrogen peroxide is scavenged by ascorbate-specific peroxidase in spinach chloroplasts. Plant Cell Physiol 22:867–880

Peñuelas J, Llusià J, Asensio D, Munne-Bosch S (2005) Linking isoprene with plant thermotolerance, antioxidants and monoterpene emissions. Plant Cell Environ 28:278–286

Pham QD, Topgaard D, Sparr E (2015) Cyclic and linear monoterpenes in phospholipid membranes: phase behavior, bilayer structure, and molecular dynamics. Langmuir 31(40):11067–11077

Pompella A, Maellaro E, Casini AF, Comporti M (1987) Histochemical detection of lipid peroxidation in the liver of bromobenzene-poisoned mice. Arch Amer J Pathol 129:295–301

Riedlmeier M, Ghirardo A, Wenig M, Knappe C, Koch K, Georgii E, Dey S, Parker JE, Schnitzler J-P, Vlot C (2017) Monoterpenes support systemic acquired resistance within and between plants. Plant Cell 29:1440–1459

Rodriguez MC, Barsanti L, Passarelli V, Evangelista V, Conforti V, Gualtieri P (2007) Effects of chromium on photosynthetic and photoreceptive apparatus of the alga Chlamydomonas reinhardtii. Environ Res 105:234–239

Sayantan D, Shardendu S (2013) Amendment in phosphorus levels moderate the chromium toxicity in Raphanus sativus L as assayed by antioxidant enzymes activities. Ecotoxicol Environ Safe 95:161–170

Schiavon M, Pilon-Smits E, Wirtz M, Hell R, Malagoli M (2008) Interactions between chromium and sulfur metabolism in Brassica juncea. J Environ Qual 37:1536–1545

Shahid M, Shamshad S, Rafiq M, Khalid S, Bibi I, Niazi NK, Dumat C, Rashid MI (2017) Chromium speciation, bioavailability, uptake, toxicity and detoxification in soil-plant system: a review. Chemosphere 178:513–533

Shanker AK, Djanaguiraman M, Venkateswarlu B (2009) Chromium interactions in plants: current status and future strategies. Metallomics 1:375–383

Sharkey TD, Wiberley AE, Donohue AR (2007) Isoprene emissions from plants: why and how. Ann Bot 101:5–18

Singh HP, Batish DR, Kohli RK, Arora K (2007) Arsenic-induced root growth inhibition in mung bean (Phaseolus aureus Roxb) is due to oxidative stress resulting from enhanced lipid peroxidation. Plant Growth Regul 53:65–73

Singh HP, Mahajan P, Kaur S, Batish DR, Kohli RK (2013) Chromium toxicity and tolerance in plants. Environ Chem Lett 11:229–254

Stambulska UY, Bayliak MM, Lushchak VI (2018) Chromium(VI) toxicity in legume plants: modulation effects of rhizobial rymbiosis. BioMed Res Int 2018: article ID 8031213, 13 pages

Thordal CH, Zhang Z, Wei Y, Collinge DB (1997) Subcelluar localization of H2O2 in plants. H2O2 accumulation in papillae and hypersensitive response during the barley-powdery mildew interaction. Plant J 11:1187–1194

Velikova V, Yordanov I, Edreva A (2000) Oxidative stress and some antioxidant systems in acid rain-treated bean plants. Plant Sci 151:59–66

Vickers C, Possell M, Cojocariu CI, Velikova VB, Laothawornkitkul J, Ryan A, Mullineaux PM, Hewitt CN (2009) Isoprene synthesis protects transgenic tobacco plants from oxidative stress. Plant Cell Environ 32:520–531

Vimercati L, Gatti MF, Gagliardi T, Cuccaro F, De Maria L, Caputi A, Quarato M, Baldassarre A (2017) Environmental exposure to arsenic and chromium in an industrial area. Environ Sci Pollut Res Int 24:11528–11535

Wang T-T, Shi ZQ, Hu L-B, Xu X-F, Han FX, Zhou L-G, Chen J (2017) Thymol ameliorates cadmium-induced phytotoxicity in the root of rice (Oryza sativa) seedling by decreasing endogenous nitric oxide generation. J Agric Food Chem 65:7396–7405

Yamamoto Y, Kobayashi Y, Matsumoto H (2001) Lipid peroxidation is an early symptom triggered by aluminium, but not the primary cause of elongation inhibition in pea roots. Plant Physiol 125:199–208

Zeng F, Qiu B, Wu X, Niu S, Wu F, Zhang G (2012) Glutathione-mediated alleviation of chromium toxicity in rice plants. Biol Trace Elem Res 148:255–263

Zeng F-R, Zhao F-S, Qiu B-Y, Ouyang Y-N, Wu F-B, Zhang G-P (2011) Alleviation of chromium toxicity by silicon addition in rice plants. Agric Sci China 10(8):1188–1196
Acknowledgements
PM is thankful to University Grants Commission, New Delhi, India, for research fellowship.
Additional information
Responsible editor: Yi-ping Chen
About this article
Cite this article
Mahajan, P., Singh, H.P., Kaur, S. et al. β-Pinene moderates Cr(VI) phytotoxicity by quenching reactive oxygen species and altering antioxidant machinery in maize. Environ Sci Pollut Res 26, 456–463 (2019). https://doi.org/10.1007/s11356-018-3562-1
Received:

Accepted:

Published:

Issue Date:
Keywords
Monoterpenes

Hexavalent chromium

Oxidative damage

Free radicals

Stress amelioration