Abstract
The Loess Plateau is the most severely degraded soil area worldwide and represents one of the lowest areas of soil productivity. To solve the conundrum between increasing populations and decreasing agricultural acreage, enhancing the quantity of cultivated land, gully land consolidation projects has been implemented. However, the new creation farmland soil is not enough to satisfy the demand of agricultural production. An incubation experiment was conducted to determine the effects of biochar on the new creation farmland soil. Five levels of amendments (0, 1%, 2%, 5%, and 10% (wt%) biochar soil) were used, and the soil columns remained in the laboratory for approximately 2 months. The results show that biochar proportion was a more important factor than incubation time across all soils tested. The soil moisture content and particle size clearly increased as the amendment level increased; however, the soil pH decreased gradually with incubation time and tended to slow soil salinization. These findings will have to be verified under field conditions.
This is a preview of subscription content, log in to check access.
Access options
Buy single article
Instant access to the full article PDF.
US$ 39.95
Price includes VAT for USA
Subscribe to journal
Immediate online access to all issues from 2019. Subscription will auto renew annually.
US$ 99
This is the net price. Taxes to be calculated in checkout.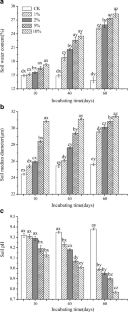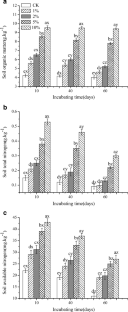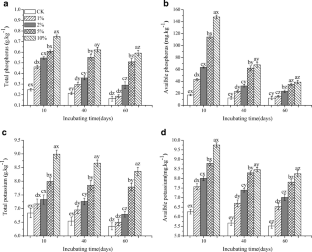 References
Atkinson CJ, Fitzgerald JD, Hipps NA (2010) Potential mechanisms for achieving agricultural benefits from biochar application to temperate soils: a review. Plant Soil 337(1–2):1–18

Brockhoff SR, Christians NE, Killorn RJ (2010) Physical and mineral-nutrition properties of Sand-Based Turfgrass Root Zones Amended with Biochar. Agron J 102(6):1627–1631

Brodowski S, John B, Flessa H (2006) Aggregate-occluded black carbon in soil. Eur J Soil Sci 57(4):539–546

Chen B, Liu EK, Tian Q (2014a) Soil nitrogen dynamics and crop residues. A review. Agron Sustain Dev 34(2):429–442

Chen XX, He XS, Zhang W, Geng ZC (2014b) Effects of quantity of biochar on nitrogen leaching in simulated soil columns and soil moisture parameters in field. Agric Res Arid Areas 32(1):110–109

Chen YP, Wang KB, Lin YS, Shi WY, Song Y, He XH (2015) Balancing green and grain trade. Nat Geosci 8:739–741

Dexter AR (2004) Soil physical quality: part I. theory, effects of soil texture, density, and organic matter, and effects on root growth. Geoderma 120(3):201–214

Dias BO, Silva CA, Higashikawa FS, Roig A, Sanchez-Monedero MA (2010) Use of biochar as bulking agent for the compostingof poultry manure: effect on organic matter degradation andhumification. Bioresour Technol 101:1239–1246

Fellet G, Marchiol L, Vedove D (2011) Application of biochar on mine tailings: Effects and perspectives for land reclamation. Chemosphere 83(9):1262–1267

Glaser B, Lehmann J, Zech W (2002) Ameliorating physical and chemical properties of highly weathered soils in the tropics with charcoal - a review. Biol Fertil Soils 35(4):219–230

Gomez J, Denef K, Stewart CE (2014) Biochar addition rate influences soil microbial abundance and activity in temperate soils. Eur J Soil Sci 65(1):28–39

Guo W, Chen H, Zhang Q (2011) Effects of biochar application on total nitrogen and alkali-hydrolyzable nitrogen content in the topsoil of the high-yield cropland in North China plain. Ecol Environ Sci 20(3):425–428

Han GM, Lan JY, Chen WF (2014) Biochar and its influence on soil environment. J Anhui Agric Sci 31:10941–10943

He CX (2015) The situation, characteristics and effect of the gully reclamation project in Yan'an. J Earth Environ 6:255–260

Hossain MK, Vladimir S, Yin CK (2010) Agronomic properties of wastewater sludge biochar and bioavailability of metals in production of cherry tomato (Lycopersicon esculentum). Chemosphere 78(9):1167–1171

Jin Z (2014) The creation of farmland by gully filling on the loess plateau: a double-edged sword. Environ Sci Technol 48:883–884

Jones BEH, Haynes RJ, Phillips IR (2010) Effect of amendment of bauxite processing sand with organic materials on its chemical, physical and microbial properties. J Environ Manag 91(11):2281–2288

Karhu K, Mattila T, Bergström I (2011) Biochar addition to agricultural soil increased CH4 uptake and water holding capacity–results from a short-term pilot field study. Agric Ecosyst Environ 140(1–2):309–313

Kimetu JM, Lehmann J, Krull E (2010) Stability and stabilisation of biochar and green manure in soil with different organic carbon contents. Soil Research 48(7):577–585

Laird D, Fleming P, Wang BQ (2010) Biochar impact on nutrient leaching from a Midwestern agricultural soil. Geoderma 158(3):436–442

Lehmann J, Pereira da Sliva J, Steiner C (2003) Nutrient availability and leaching in an archaeological Anthrosol and a Ferralsol of Central Amazonia: fertilizer, and charcoal amendments. Plant Soil 249(2):343–357

Li JH, Lv GH, Bai WB, Guo JY, Song JQ, Zhang QZ (2010) Effect of modified biochar on soil nitrogen and available phosphorus leaching. Chin J Agrometeorol 33(2):220–225

Li JZ, Zhang QZ, Lou YL (2015) Effects of biochar addition on nutrient leaching loss of typical tobacco-planting soils in Yunnan Province, China. J Agric Resour Environ 32(1):48–53

Liang B, Lehmann J, Sohi SP (2010) Black carbon affects the cycling of non-black carbon in soil. Org Geochem 41(2):206–213

Liu H (2014) Effect of biochar on nitrogen loss and greenhouse gas emission from vegetable soil. A dissertationsubmitted to the Zhejiang A&F University for the degree of Master

Liu XH, Zhang XC (2012) Effect of biochar on ph of alkaline soils in the loess plateau: results from incubation experiments. Int J Agric Biol 14(5):745–750

Liu WJ, Liu Y, Gao XL, Yang W, Wang YH, Dai JY (2012) Effects of biomass charcoals on retention of ammonium nitrogen in soils. J Agro-Environment Sci 32(5):962–968

Liu Q, Wang YQ, Zhang J, Chen YP (2013) Filling gullies to create farmland on the loess plateau. Environ Sci Technol 47:7589–7590

Nguyen BT, Marschner P (2005) Effects of drying and rewetting on phosphorus transformations in red brown soils with different soil organic matter content. Soil Biol Biochem 37:573–1576

Parvage MM, Ulén B, Eriksson J (2013) Phosphorus availability in soils amended with wheat residue char. Biol Fertil Soils 49(2):245–250

Piccolo A, Pietramellara G, Mbagwu JSC (1997) Use of humic substances as soil conditioners to increase aggregate stability. Geoderma 75(3):267–277

Senesi N, Plaza C (2007) Role of humification processes in recyclingorganic wastes of various nature and sources as soil amendments. CLEAN – Soil, Air, Water 35:26–41

Taghizadehtoosi A, Clough TJ, Condron LM (2011) Biochar incorporation into pasture soil suppresses in situ nitrous oxide emissions from ruminant urine patches. J Environ Qual 40(2):468

Van Zwiete L, Kimber S, Morris S, Chan K, Downie RJ, Joseph Sand Cowie A (2010) Effects of biochar from slow pyrolysisof papermill waste on agronomic performance and soil fertility. Plant Soil 327:235–246

Verheijen FGA, Jeffery S, Bastos AC, et al. (2010) Biochar application to soils - a critical scientific review of effects on soil properties, processes and functions. EUR 24099 EN. Office for the Official Publications of the European Communities, Luxembourg, p 149

Wander M, Magdoff F, Ray RW (2004) Soil organic matter fractions and their relevance to soil function. Adv Agroecol 67–102. https://doi.org/10.1201/9780203496374.ch3

Waqas M, Li G, Khan S (2015) Application of sewage sludge and sewage sludge biochar to reduce polycyclic aromatic hydrocarbons (PAH) and potentially toxic elements (PTE) accumulation in tomato. Environ Sci Pollut Res 22(16):12114–12123

Yao Y, Gao B, Zhang M (2012) Effect of biochar amendment on sorption and leaching of nitrate, ammonia and phosphate in a sandy soil. Chemosphere 89(11):1467–1471

Yuan J (2011) Progress of the research on the properties of biochars and their influence on soil environmental functions. Ecol Environ Sci 20(4):779–785

Zhang A, Cui LQ, Pan GX (2010) Effect of biochar amendment on yield and methane and nitrous oxide emissions from a rice paddy from tai Lake plain, China. Agric Ecosyst Environ 139(4):469–475

Zhou ZH, Lee XQ, Xing Y et al (2011) Effect of biochar amendment on nitrogen leaching in soil. Earth Environ 39(2):278–284

Zwieten LV, Kimber S, Morris S (2010) Effects of biochar from slow pyrolysis of papermill waste on agronomic performance and soil fertility. Plant Soil 327(1–2):235–246
Acknowledgments
We appreciate the editors of the journal and the reviewers for their useful comments and suggestions and knowledge.
Funding
National Key Research and Development Project of China (NO:2017YFD0800500).
Additional information
Responsible editor: Philippe Garrigues
About this article
Cite this article
Su, C., Ma, J. & Chen, Y. Biochar can improve the soil quality of new creation farmland on the Loess Plateau. Environ Sci Pollut Res 26, 2662–2670 (2019). https://doi.org/10.1007/s11356-018-3550-5
Received:

Accepted:

Published:

Issue Date:
Keywords
New creation farmland

Biochar

Soil physical-chemical properties

Loess Plateau