Abstract
The effects of long-term soil fertilizations on nutrient and non-essential element concentrations in edible parts of three crops important in human diet were investigated repeating four treatments (biowaste compost, biowaste compost plus mineral nitrogen, mineral NPK, unfertilized control) for seven consecutive years (2007–2014). Fruits of Solanum lycopersicum cv San Marzano collected in 2011 and 2012, bulbs of Allium cepa cv Bianca di Pompei collected in 2012 and 2013, and bulbs of Foeniculum vulgare cv Orbit collected in 2014 were analyzed. Wide variations in element concentrations were observed along time and among species, with Ca, K, Mg, and Na higher in fennel bulbs and Cd, Cr, Mn, Ni, Pb, and Zn higher in tomato fruits, where Cd reached concentrations up to ninefold higher than the permitted values (EU Regulation n. 488/2014). Despite the enrichments in soil total Cu and available Cd, Fe, K, Mn, and Zn concentrations due to long-term fertilization with biowaste compost (alone or with mineral fertilizers), plants showed lower micronutrient and non-essential element concentrations in respect to those on unfertilized soils. Considering the potential toxicity for human beings of these mobile and persistent elements, the obtained findings reassure on the safe use of biowaste compost in agriculture. Overall, this study suggests the use of compost as the most advisable fertilization practice and highlights the need of multiple crops analysis in evaluating the effects of long-term soil fertilization on their chemical composition.
Access options
Buy single article
Instant access to the full article PDF.
US$ 39.95
Tax calculation will be finalised during checkout.
Subscribe to journal
Immediate online access to all issues from 2019. Subscription will auto renew annually.
US$ 79
Tax calculation will be finalised during checkout.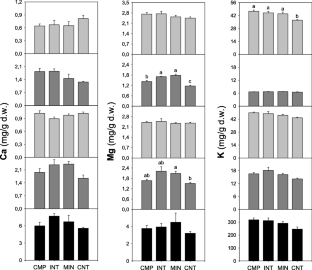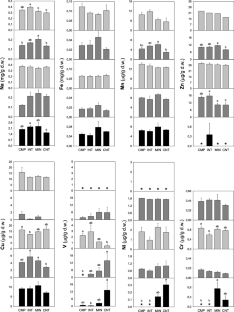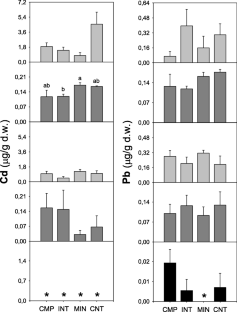 References
Açıkgöz MA, Kara ŞM, Aruç C, Ay E (2017) Morphogenetic, ontogenetic and diurnal variability in antimicrobial activity of bitter fennel (Foeniculum vulgare Miller var. vulgare) essential oil. Indian J Pharm Educ Res 51(3):S190–S194

Adams MA (1991) FDA total diet study: dietary intakes of lead and other chemicals. Chem Spec Bioavailab 3:37–41

Aguilera E, Lassaletta L, Gattinger A, Gimeno BS (2013) Managing soil carbon for climate change mitigation and adaptation in Mediterranean cropping systems: a meta-analysis. Agric Ecosyst Environ 168:25–36

Al-Fraihat AH (2016) Impact of different fertilizer sources on vegetative growth, yield, quality and storability of onion. International invention. J Agric Soil Sci 4(1):1–8

Alipoor F, Alizadeh K, Arshad M (2016) The impact of fertilization on morphological characteristics of fennel (Foeniculum vulgare Mill). Stem Cell 7(2):1–8

Babajide PA, Olabode OS, Akanbi WB, Olatunji OO, Ewetola EA (2008) Influence of composted Tithonia-biomass and N-mineral fertilizer on soil physico-chemical properties and performance of tomato (Lycopersican lycopersicum). Res J Agron 2(4):101–106

Badgujar SB, Patel VV, Bandivdekar AH (2014) Foeniculum vulgare Mill: a review of its botany, phytochemistry, pharmacology, contemporary application, and toxicology. BioMed Res Int article ID 842674. 32 pages

Baldantoni D, Bellino A, Morra L, Alfani A (2015) Compost amendment enhances natural revegetation of a Mediterranean degraded agricultural soil. Environ Manag 56:946–956

Baldantoni D, Bellino A, Alfani A (2016a) Soil compost amendment enhances tomato (Solanum lycopersicum L.) quality. J Sci Food Agric 96:4082–4088

Baldantoni D, Morra L, Saviello G, Alfani A (2016b) Nutrient and toxic element soil concentrations during repeated mineral and compost fertilization treatments in a Mediterranean agricultural soil. Environ Sci Pollut Res 23:25169–25179

Baldantoni D, Morra L, Zaccardelli M, Alfani A (2016c) Cadmium accumulation in leaves of leafy vegetables. Ecotoxicol Environ Saf 123:89–94

Barker AV, Pilbeam DJ (2015) Handbook of plant nutrition, 2nd edn. CRC Press

Bellino A, Baldantoni D, De Nicola F, Iovieno P, Zaccardelli M, Alfani A (2015) Compost amendments in agricultural ecosystems: confirmatory path analysis to clarify the effects on soil chemical and biological properties. J Agric Sci 153:282–295

Bettoni MM, Mogor ÁF, Pauletti V, Goicoechea N, Aranjuelo I, Garmendia I (2016) Nutritional quality and yield of onion as affected by different application methods and doses of humic substances. J Food Compos Anal 51:37–44

Core Team R (2018) R: a language and environment for statistical computing. R Foundation for Statistical Computing, Vienna

Dudka S, Miller WP (1999) Accumulation of potentially toxic elements in plants and their transfer to human food chain. J Environ Sci Health B 34(4):681–708

Elhasan MMAA, Abdalla IF, Ibrahim AAA (2015) Economics of onion production under cooperative and private schemes in Khartoum North, Sudan. NAF International Working Paper Series n. 15/05

Erba D, Casiraghi MC, Ribas A, Cáceres R, Marfà O, Castellari M (2013) Nutritional value of tomatoes (Solanum lycopersicum L.) grown in greenhouse by different agronomic techniques. J Food Compos Anal 31(2):245–251

Friendly M, Fox J (2016) Candisc: visualizing generalized canonical discriminant and canonical correlation analysis. R package version 0.7–2

Gaskell M, Fouche B, Koike S, Lanini T, Mitchell J, Smith R (2000) Organic vegetable production in California - science and practice. HortTechnology 10(4):699–713

Greger M (2004) Metal availability, uptake, transport and accumulation in plants. In: Prasad MNV (ed) Heavy metal stress in plants. From biomolecules to ecosystems, 2nd edn. Springer, Berlin, pp 1–27

Gupta UC, Gupta SC (1998) Trace element toxicity relationships to crop production and livestock and human health: implications for management. Commun Soil Sci Plant Anal 29(11–14):1491–1522

Hernández Suárez M, Rodríguez Rodríguez EM, Díaz Romero C (2007) Mineral and trace element concentrations in cultivars of tomatoes. Food Chem 104:489–499

IARC (2012) Monographs on the evaluation of carcinogenic risk to humans, vol 58, 100C. International Agency for Research on Cancer, Lyon

Jiao W, Chen W, Chang AC, Page AL (2012) Environmental risks of trace elements associated with long-term phosphate fertilizers applications: a review. Environ Pollut 168:44–53

Kapoulas N, Ilić ZS, Milenković L, Mirecki N (2013) Effects of organic and conventional cultivation methods on mineral content and taste parameters in tomato fruit. Agric For 59(3):23–34

Kononova MM (2013) Soil organic matter: its nature, its role in soil formation and in soil fertility. Pergamon Press, Oxford

Legislative Decree 75/2010 Riordino e revisione della disciplina in materia di fertilizzanti, a norma dell'articolo 13 della legge 7 luglio 2009, n. 88. Gazzetta Ufficiale n. 121 del 26 Maggio 2010

Liguori L, Califano R, Albanese D, Raimo F, Crescitelli A, Di Matteo M (2017) Chemical composition and antioxidant properties of five white onion (Allium cepa L.) landraces. J Food Qual article ID 6873651:9 pages

Liñero O, Cidad M, Carrero JA, Nguyen C, de Diego A (2015) Accumulation and translocation of essential and nonessential elements by tomato plants (Solanum lycopersicum) cultivated in open-air plots under organic or conventional farming techniques. J Agric Food Chem 63:9461–9470

Mantovi P, Baldoni G, Toderi G (2005) Reuse of liquid, dewatered, and composted sewage sludge on agricultural land: effects of long-term application on soil and crop. Water Res 39:289–296

McBride MB (1995) Toxic metal accumulation from agricultural use of sludge: are USEPA regulations protective? J Environ Qual 24:5–18

Mench MJ (1998) Cadmium availability to plants in relation to major long-term changes in agronomy systems. Agric Ecosyst Environ 67:175–187

NIST (2004) Certification of NIST Standard Reference Material 1575a pine needles and results of an international laboratory comparison. NIST Special Publication 260–156. NIST, Washington

Opara LU (2003) Onions: post-harvest operation. In: Mejía D (ed). AGST/FAO, Palmerston North, pp 1–16

Ozores-Hampton M, Stansly PA, Obreza TA (2005) Heavy metal accumulation in a sandy soil and in pepper fruit following long-term application of organic amendments. Compost Sci Util 13(1):60–64

Parras-Alcántara L, Lozano-García B (2014) Conventional tillage versus organic farming in relation to soil organic carbon stock in olive groves in Mediterranean rangelands (southern Spain). Solid Earth 5:299–311

Pire R, Ramírez H, Riera J, Gómez N (2001) Removal of N, P, K and Ca by an onion crop (Allium cepa L.) in a silty-clay soil, in a semiarid region of Venezuela. In: Armstrong J (ed.) proc. II IS edible Alliaceae ISHS. Acta Hortic 555:103–109

Prasad MNV (2008) Trace elements as contaminants and nutrients: consequences in ecosystems and human health. John Wiley & Sons, Inc., Hoboken

Regolamento UE n. 488/2014 della Commissione del 12 maggio 2014 che modifica il regolamento (CE) n. 1881/2006 per quanto concerne i tenori massimi di cadmio nei prodotti alimentari. Gazzetta Ufficiale dell'Unione Europea 13.5.2014

Regolamento UE n. 1005/2015 della Commissione del 25 giugno 2015 che modifica il regolamento (CE) n. 1881/2006 per quanto concerne i tenori massimi di piombo in taluni prodotti alimentari. Gazzetta Ufficiale dell'Unione Europea 26.6.2015

Rengel Z, Batten GD, Crowley DE (1999) Agronomic approaches for improving the micronutrient density in edible portions of field crops. Field Crops Res 60:27–40

Salama ZA, El Baz FK, Gaafar AA, Fathy Zaki M (2015) Antioxidant activities of phenolics, flavonoids and vitamin C in two cultivars of fennel (Foeniculum vulgare Mill.) in responses to organic and bio-organic fertilizers. J Saudi Soc Agric Sci 14:91–99

Sekara A, Pokluda R, Del Vacchio L, Somma S, Caruso G (2017) Interactions among genotype, environment and agronomic practices on production and quality of storage onion (Allium cepa L.) - a review. Hortic Sci 44(1):21–42

Seran TH, Srikrishnah S, Ahamed MMZ (2010) Effect of different levels of inorganic fertilizers and compost as basal application on the growth and yield of onion (Allium cepa L.). J Agric Sci 5(2):64–70

Stasinos S, Nasopoulou C, Tsikrika C, Zabetakis I (2014) The bioaccumulation and physiological effects of heavy metals in carrots, onions, and potatoes and dietary implications for Cr and Ni: a review. J Food Sci 79(5):R765–R780

WRB-FAO (2014) World Reference Base for soil resources. International soil classification system for naming soils and creating legends for soil maps. World soil resources reports no. 106. FAO, Rome

Zardak SG, Dehnavi MM, Salehi A, Gholamhoseini M (2017) Responses of field grown fennel (Foeniculum vulgare Mill.) to different mycorrhiza species under varying intensities of drought stress. J Appl Res Med Aromat Plants 5:16–25
Acknowledgments
The authors are obliged to Dr. Luigi Morra and to the entire staff of CREA (Consiglio per la ricerca in agricoltura e l'analisi dell'economia agraria—Unità di ricerca per le Colture Alternative al Tabacco) of Scafati (Italy) for the management of long-term field trials.
Funding
The research was funded by University of Salerno (Italy).
Ethics declarations
The authors declare that they have no conflict of interest. All the authors read and approved the final version of the manuscript.
Additional information
Responsible editor: Zhihong Xu
About this article
Cite this article
Baldantoni, D., Saviello, G. & Alfani, A. Nutrients and non-essential elements in edible crops following long-term mineral and compost fertilization of a Mediterranean agricultural soil. Environ Sci Pollut Res 26, 35353–35364 (2019). https://doi.org/10.1007/s11356-018-3353-8
Received:

Accepted:

Published:

Issue Date:
Keywords
Organic and inorganic fertilizers

Crop quality

Chemical element concentrations

Solanum lycopersicum cv San Marzano
Allium cepa cv Bianca di Pompei
Foeniculum vulgare cv Orbit