Abstract
Microbiological impact is critical in coastal areas where tourism is particularly important for both the local and regional economy. Submarine outfalls are commonly used to enhance the dispersion of treated sewage thus avoiding pollution along the coast. The Venice lagoon (North Italy) has a very sensitive ecosystem, due to the morphological and natural characteristics of the basin and the co-existence of human activities. To preserve the lagoon, the discharge from the treatment plant for urban wastewater collected from the Venezia-Mestre agglomeration, neighbouring areas and local industries (total of 400,000 population equivalent—PE) has been moved from the lagoon to the open Adriatic Sea since November 2013 by means of an approximately 20-km pipeline. Microbiological pollution inside the lagoon can affect shellfish breeding areas instead, along the coast it affects the quality of bathing waters. In this study, and for the first time, a 3D hydrodynamic SHYFEM model (shallow water finite element model) with high spatial resolution coupled with a microbiological module has been applied to the lagoon and to the Adriatic Sea, to evaluate the effectiveness of the location of the submarine outfall. Microbiological data have been produced by the control Authority according to official analytic methods and by the plant operator. The module of survival of free Escherichia coli follows a variable rate in dependence of UV radiation, temperature and salinity in the water. Two scenarios were modelled: final discharge into the lagoon before November 2013 and after into the open sea. In the latter case, two situations have been considered, one with "Bora" and the other with "Scirocco" winds. Our results indicate that the model correctly simulates microbiological decay and dispersion. The transferral of the final discharge point far from the shoreline improves pollution dispersion, thus preserving the lagoon without evidence of impacts on the bathing waters in all meteorological conditions.
This is a preview of subscription content, log in to check access.
Access options
Buy single article
Instant access to the full article PDF.
US$ 39.95
Price includes VAT for USA
Subscribe to journal
Immediate online access to all issues from 2019. Subscription will auto renew annually.
US$ 99
This is the net price. Taxes to be calculated in checkout.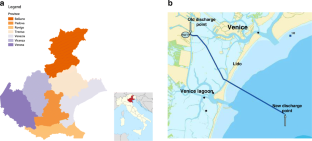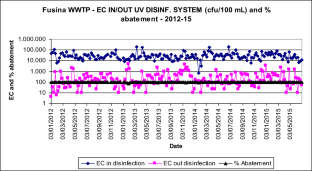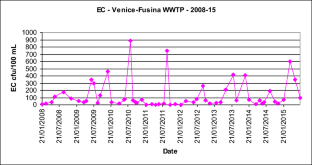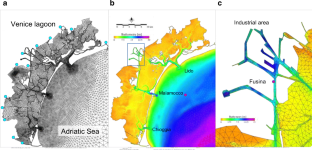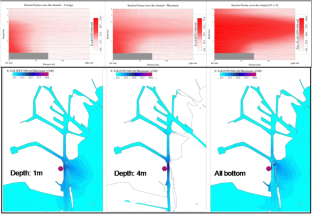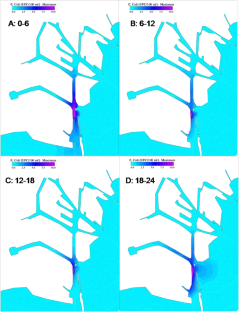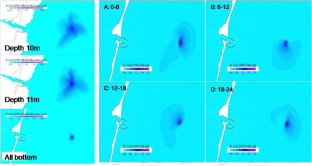 References
APAT-Italian National Environmental Protection Agency (2003) Analytical methods for water, 3, 29/2003, Rome. http://www.apat.gov.it/site/it-IT/APAT/Pubblicazioni/Manuali_e_linee_guida/ September 2016

Bellafiore D, Umgiesser G (2010) Hydrodynamic coastal processes in the North Adriatic investigated with a 3D finite element model. Ocean Dyn 60:255–273. https://doi.org/10.1007/s10236-009-0254-x

Bellucci LG, Frignani M, Paolucci D, Ravanelli M (2002) Distribution of heavy metals in sediments of the Venice Lagoon: the role of the industrial area. Sci Total Environ 295:35–49. https://doi.org/10.1016/S0048-9697(02)00040-2

Bonamano S, Madonia A, Borsellino C, Stefani C, Caruso G, De Pasquale F, Piermattei V, Zappalà G, Marcelli M (2015) Modeling the dispersion of viable and total Escherichia coli cells in the artificial semi-enclosed bathing area of Santa Marinella (Latium, Italy). Mar Pollut Bull 95:141–154. https://doi.org/10.1016/j.marpolbul.2015.04.030

Cabelli VJ, Dufour AP, McCabe LJ, Levin MA (1982) Swimming-associated gastroenteritis and water quality. Am J Epidemiol 115:606–616

Caliceti M, Argese E, Sfriso A, Pavoni B (2002) Heavy metal contamination in the seaweeds of the Venice lagoon. Chemosphere 47:443–454

Chapra SC (1997) Surface water quality modeling. McGraw-Hill, Boston

Cucco A, Umgiesser G (2006) Modeling the Venice lagoon residence time. Ecol Model 193(1–2):34–51

Darakas E, Koumoulidou T, Lazaridou D (2009) Fecal indicator bacteria declines via a dilution of wastewater in seawater. Desalination 248:1008–1015

De Marchis M, Freni G, Napoli E (2013) Modelling E. coli distribution in coastal areas subjected to combined sewer overflow. Water Sci Technol 68(5):1123–1136. https://doi.org/10.2166/wst.2013.353

EEA-European Environmental Agency (1998) Europe's environment. The Second Assessment, Copenhagen

EU Directive 91/271/EEC (1991) Urban waste water treatment, EU OJ n. L 135, 30/05/1991

EU Directive 92/43/EEC (1992) Wild natural habitat conservation, EU OJ n. L 206, 22/07/1992

EU-Directive 2000/60/CE (2000) Water framework directive, EU OJ n. L 327, 22/12/2000

EU-Directive 2006/113/EC (2006) Shellfish waters' quality. EU OJ n. L 376/14 EN, 27/12/2006

EU-Directive 2006/7/EC (2006) Management of bathing water quality and repealing Directive 76/160/EEC. EU OJ n. L 64, 4/03/2006

EU-Directive 2008/56/EC 17/07/2008 (2008) Marine strategy framework directive. EU OJ n. L 164, 25/06/2008

Ferrarin C, Ghezzo M, Umgiesser G, Tagliapietra D, Camatti E, Zaggia L, Sarretta A (2013) Assessing hydrological effects of human interventions on coastal systems: numerical applications to the Venice lagoon. Hydrol Earth Syst Sci 17:1733–1748. https://doi.org/10.5194/hess-17-1733-2013

Fiandrino A, Martin Y, Got P, Bonnefont JL, Troussellier M (2003) Bacterial contamination of Mediterranean coastal seawater as affected by riverine inputs: simulation approach applied to shellfish breeding area (Thau lagoon). Water Res 37:1711–1722. https://doi.org/10.1016/S0043-1354(02)00573-0

Gameson ALH, Gould DJ (1974) Effect of solar radiation on the mortality of some terrestrial bacteria in sea water. Proceeding of the International symposium on the discharge of sewage from sea outfalls. Pergamon Press, New York, pp 209–219

Geldreich E (1975) Microbiological criteria concepts for coastal bathing waters. Ocean Man 2(3):225–248. https://doi.org/10.1016/0302-184X(75)90003-7

Ghezzo M, Guerzoni S, Cucco A, Umgiesser G (2010) Changes in Venice lagoon dynamics due to construction of mobile barriers. Coast Eng 57:694–708. https://doi.org/10.1016/j.coastaleng.2010.02.009

Ghezzo M, Sarretta A, Sigovini M, Guerzoni S, Tagliapietra D, Umgiesser G (2011) Modeling the inter-annual variability of salinity in the lagoon of Venice in relation to the water framework directive typologies. Ocean Coast Manag 54:706–719. https://doi.org/10.1016/j.ocecoaman.2011.06.007

Ghezzo M, De Pascalis F, Umgiesser G, Zemlys P, Sigovini M, Marcos C, Perez Ruzafa A (2015) Connectivity in three European lagoons. Estuar Coasts 38:1764–1781. https://doi.org/10.1007/s12237-014-9908-0

Grimes DJ, Singleton FL, Stemmler J, Palmer LM, Brayton P, Colwell PP (1984) Microbiological effects of wastewater effluent discharge into coastal waters of Puerto Rico. Water Res 18(5):613–619. https://doi.org/10.1016/0043-1354(84)90212-4

Hernández-Terrones L, Null KA, Ortega-Camacho D (2015) Water quality assessment in the Mexican Caribbean: impacts on the coastal ecosystem. Cont Shelf Res 102:62–72. https://doi.org/10.1016/j.csr.2015.04.015

Huang G, Falconer RA, Lin B (2017) Integrated hydro-bacterial modelling for predicting bathing water quality. Estuar Coast Shelf Sci 188:145–155. https://doi.org/10.1016/j.ecss.2017.01.018

Jeng HAC, Englande AJ, Bakeer RM, Bradford HB (2005) Impact of urban stormwater runoff on estuarine environmental quality. Estuarine Coastal and Shelf Management 63:513–526. https://doi.org/10.1016/j.ecss.2004.11.024

Oliver DM, Porter KDH, Pachepsky YA, Muirhead RW, Reaney SM, Coffey R, Kay D, Milledge DG, Hong E, Anthony SG, Page T, Bloodworth JW, Mellander PE, Carbonneau PE, McGrane SJ, Quilliam RS (2016) Predicting microbial water quality with models: over-arching questions for managing risk in agricultural catchments. Sci Total Environ 544:39–47. https://doi.org/10.1016/j.scitotenv.2015.11.086

Ostoich M, Aimo E, Fassina D, Barbaro J, Vazzoler M, Soccorso C, Rossi C (2011) Biologic impact on the coastal belt of the province of Venice (Italy-Northern Adriatic Sea): preliminary analysis for the characterization of the bathing water profile. Environ Sci Pollut Res 18(2):247–259. https://doi.org/10.1007/s11356-010-0368-1

Rees G (1993) Health implications of sewage in coastal waters – the British case. Mar Pollut Bull 26(1):14–19

Riou P, Le Saux JC, Dumas F, Caprais MP, Le Guyader LF, Pommepuy MP (2007) Microbial impact of small tributaries on water and shellfish quality in shallow coastal areas. Water Res 41:2774–2786. https://doi.org/10.1016/j.watres.2007.03.003

Sampaio L, Rodriguez AM, Quintino V (2011) Can biotic indices detect mild organic enrichment of the seafloor? Ecol Indic 11:1235–1244. https://doi.org/10.1016/j.ecolind.2011.01.001

Schernewski G, Schippmann B, Walczykiewicz T (2014) Coastal bathing water quality and climate change - a new information and simulation system for new challenges. Ocean Coast Manag 101:53–60. https://doi.org/10.1016/j.ocecoaman.2014.01.004

Scoullos MJ, Sakellari A, Giannopoulou K, Paraskevopoulou V, Dassenakis M (2007) Dissolved and particulate trace metal levels in the Saronikos Gulf, Greece, in 2004. The impact of the primary Wastewater Treatment Plant of Psittalia. Desalination 210:98–109. https://doi.org/10.1016/j.desal.2006.05.036

Scroccaro I, Ostoich M, Umgiesser G, De Pascalis F, Colugnati L, Mattassi G, Vazzoler M, Cuomo M (2010) Submarine wastewater discharges: dispersion modeling in the Northern Adriatic Sea. Environ Sci Pollut Res 17(4):844–855. https://doi.org/10.1007/s11356-009-0273-7

Thomann RV, Mueller JA (1987) Principles of surface water quality modeling and control. Harper Collins, New York 644 pp

Umgiesser G (2000) Modeling residual currents in the Venice lagoon. In: T Yanagi (Ed) Interactions between Estuaries, Coastal Seas and Shelf Seas Tokio: Terra Scientific Publishing Company (TERRAPUB), JP:107–124

Umgiesser G, Melaku Canu D, Cucco A, Solidoro C (2004) A finite element model for the Venice lagoon. Development, set up, calibration and validation. J Mar Syst 51:123–145

Umgiesser G, Mattassi G, Scroccaro I, Ostoich M, Vazzoler M (2008) The use of numerical modeling in Italian watershed management. In: IE Gönenç et al. (eds) Sustainable Use and Development of Watersheds.© Springer Science + Business Media B.V, pp 243–261

Umgiesser G, Ferrarin C, Cucco A, De Pascalis F, Bellafiore D, Ghezzo M, Bajo M (2014) Comparative hydrodynamics of 10 Mediterranean lagoons by means of numerical modelling. J Geophys Res Oceans 119(4):2212–2226. https://doi.org/10.1002/2013JC009512

Veneto Region (2009) Water protection plan. Approved with deliberation n. 107 of 5/11/2009. Veneto Region OJ n. 100

Violinitzis C, Arditsoglou A, Vouts D (2009) Elemental composition of suspended particulate matter and sediments in the coastal environment of Thermaikos Bay, Greece: delineating the impact of inland waters and wastewaters. J Hazard Mater 16:1250–1260. https://doi.org/10.1016/j.jhazmat.2008.12.046

Wade TJ, Sams E, Brenner KP, Haugland R, Chern E, Beach M, Wymer L, Rankin CC, Love D, Li Q, Noble R, Dufour AP (2010) Rapidly measured indicators of recreational water quality and swimming-associated illness at marine beaches: a prospective cohort study. Environ Health 9:66. https://doi.org/10.1186/1476-069X-9-66

Wang JD, Solo-Gabriele HM, Abdelzaher AM, Fleming LE (2010) Estimation of Enterococci input from bathers and animals on a recreational beach using camera images. Mar Pollut Bull 60:1270–1278. https://doi.org/10.1016/j.marpolbul.2010.03.016

WHO (2003) Guidelines for safe recreational water environments coastal and fresh waters - volume 1. World Health Organization, Geneva
Acknowledgments
The authors wish to thank Veritas SpA for the supply of data on the Fusina plant, CNR-ISMAR for SHYFEM model application, the personnel of the ARPAV laboratory service of Venice and personnel of SIFA Scpa responsible of the tertiary section of wastewater treatment plant of Fusina for data supply.
Additional information
Responsible editor: Marcus Schulz
About this article
Cite this article
Ostoich, M., Ghezzo, M., Umgiesser, G. et al. Modelling as decision support for the localisation of submarine urban wastewater outfall: Venice lagoon (Italy) as a case study. Environ Sci Pollut Res 25, 34306–34318 (2018). https://doi.org/10.1007/s11356-018-3316-0
Received:

Accepted:

Published:

Issue Date:
Keywords
Wastewater treatment plant (WWTP)

Escherichia coli

Microbiological pollution

Health effects

Submarine outfalls

SHYFEM model

Venice lagoon

North Adriatic Sea