Abstract
Eggshell ash was used as an adsorbent to remove phosphorus from wastewater. Adsorbent dose, initial phosphorus concentration, and contact time were investigated to determine the optimum conditions. Results indicate that 5 g of eggshell ash adsorbent with 1.5 mg L−1 of initial phosphorus concentration removed over 90% of the phosphorus. When the temperature was increased, phosphorus removal potential also increased. Specific surface area, morphological features, and structure of the adsorbent were characterized by Brunauer-Emmett-Teller (BET) surface area analysis, scanning electron microscopy with energy dispersive X-ray spectrometer (SEM-EDS), and X-ray diffraction (XRD). Results showed prominent calcium, magnesium, and phosphorus in the eggshell ash surface after adsorption. The elemental composition of eggshell ash surfaces before adsorption did not contain phosphorus, revealing that calcium carbonate-based eggshell ash was co-precipitated with calcium phosphate. The adsorption mechanism was studied by applying Langmuir and Freundlich isotherm models. Experimental data fit well with the Langmuir model, which indicates monolayer adsorption. Eggshell ash was also applied as an adsorbent in wastewater at Srinakharinwirot University dormitories, resulting in 80% phosphorus removal within 2 h. These findings indicated that eggshell ash could be applied as an adsorbent for phosphorus treatment and removal from domestic and industrial wastewater.
Access options
Buy single article
Instant access to the full article PDF.
USD 39.95
Price excludes VAT (USA)
Tax calculation will be finalised during checkout.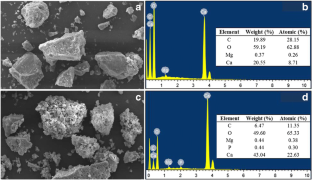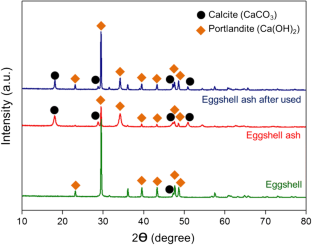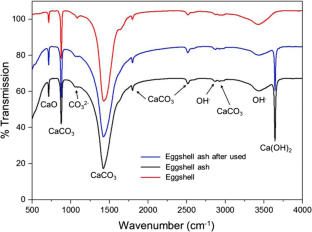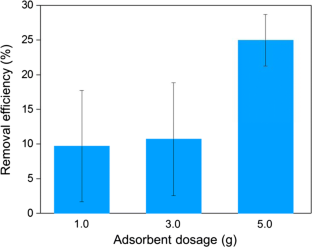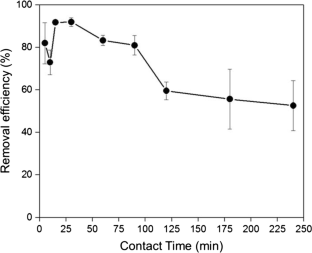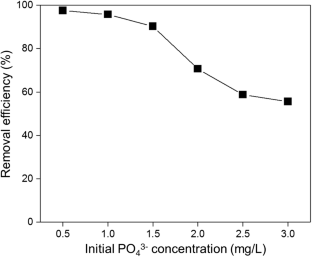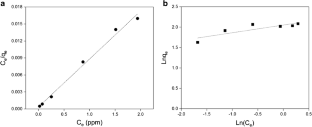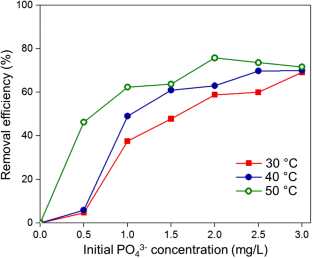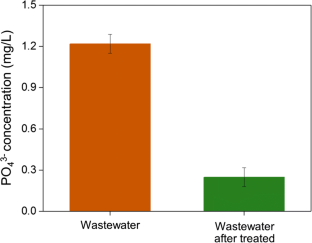 References
Aldrich (1997) The Aldrich library of FT-IR spectra, 2nd edn. Milwaukee, WI, USA

APHA-AWWA-WEF (1998) Ascorbic acid method. In: Standard method for the examination of water and wastewater, 20th edn. American Public Health Association, Washington DC, pp 4-146–4-147

Benavente M, Moreno L, Martinez J (2011) Sorption of heavy metals from gold mining wastewater using chitosan. J Taiwan Inst Chem Eng 42:976–988

Boro J, Konwar LJ, Deka D (2014) Transesterification of non edible feedstock with lithium incorporated eggshell derived CaO for biodiesel production. Fuel Process Technol 122:72-78

Can MY, Yildiz E (2006) Phosphate removal from water by fly ash: factorial experimental design. J Hazard Mater 135:165–170

Chitrakar R, Tezuka S, Sonoda A, Sakane K, Ooi K, Hirotsu T (2006) Phosphate adsorption on synthetic goethite and akageneite. J Colloid Interface Sci 298:602–608

Choi J, Chung J, Lee W, Kim J (2016) Phosphorus adsorption on synthesized magnetic in wastewater. J Ind Eng Chem 34:198–203

Choudhary R, Koppala S, Swamiappan S (2015) Bioactivity studies of calcium magnesium silicate prepared from eggshell waste by sol-gel combustion synthesis. J As Cer S 3:173–177

Das J, Patra BS, Baliarsingh N, Parida KM (2006) Adsorption of phosphate by layered double hydroxides in aqueous solutions. Appl Clay Sci 32:252–260

Farinella NV, Matos GD, Arruda MAZ (2007) Grape bagasse as a potential biosorbent of metals in effluent treatments. Bioresour Technol 98(10):1940–1946

Gergely G, Wéber F, Lukács I, Tóth AL, Horváth ZE, Mihály J, Balázsi C (2010) Preparation and characterization of hydroxyapatite from eggshell. Ceram Int 36(2):803–806

Gray NF (2004) How nature deals with waste. In: Biology of wastewater treatment, 2nd edn. Imperial College Press, London, pp 1–14

Haddad K, Jellali S, Jaouadi S, Benltifa M, Mlayah A, Hamzaoui AH (2015) Raw and treated marble wastes reuse as low cost materials for phosphorus removal from aqueous solutions: efficiencies and mechanisms. CR Chimie 18:75–87

Jellali S, Wahab MA, Anane M, Riahi K, Jedidi N (2011) Biosorption characteristics of ammonium from aqueous solutions onto Posidonia oceanica (L.) fibers. Desalination 270:40–49

Karaca S, Gurses A, Ejder M, Acikyildiz M (2006) Adsorptive removal of phosphate from aqueous solutions using raw and calcinated dolomite. J Hazard Mater 128:273–279

Karimaian KA, Amrane A, Kazemian H, Panahi R, Zarrabi M (2013) Retention of phosphorus ions on natural and engineered waste pumice: characterization, equilibrium, competing ions, regeneration, kinetic, equilibrium and thermodynamic study. Appl Surf Sci 284:419–431

Kirboga S, Oner M (2013) Effect of the experimental parameters on calcium carbonate precipitation. In: Pierucci S, Klemes JJ (ed) Icheap-11: 11th International Conference on Chemical and Process Engineering, Pts 1–4, pp 2119–2124

Krishna KCB, Niaz MR, Sarker DC, Jansen T (2017) Phosphorus removal from aqueous solution can be enhanced through the calcination of lime sludge. J Environ Manag 200:359–365

Krishna KCB, Aryal A, Jansen T (2016) Comparative study of ground water treatment plants sludges to remove phosphorus from wastewater. J Environ Manag 180:17–23

Krogstad T, Sogn TA, Asdal A, Saebo A (2005) Influence of chemically and biologically stabilized sewage sludge on plant-available phosphorus in soil. Ecol Eng 25(1):51–60

Köse TE, Kıvanc B (2011) Adsorption of phosphate from aqueous solutions using calcined waste eggshell. Chem Eng J 178:34–39

Kwon HB, Lee CW, Jun BS, Yun JD, Weon SY, Koopman B (2004) Recycling waste oyster shells for eutrophication control. Resour Conserv Recycl 41(1):75–82

Lee SM, Choi BJ, Kim KH (2002) Removal of phosphate by seafood processing wasted sludge. Water Sci Technol 46:297–302

Li YZ, Liu CJ, Luan ZK, Peng XJ, Zhu CL, Chen ZY, Zhang ZG, Fan JH, Jia ZP (2006) Phosphate removal from aqueous solutions using raw and activated red mud and fly ash. J Hazard Mater 137:374–383

Mezenner NY, Bensmaili A (2009) Kinetics and thermodynamic study of phosphate adsorption on iron hydroxide-eggshell waste. Chem Eng J 147:87–96

Mustafa S, Zaman MI, Khan S (2008) Temperature effect on the mechanism of phosphate anions sorption by β-MnO2. Chem Eng J 141:51–57

Nur T, Loganathan P, Kandasamy J, Vigneswaran S (2016) Phosphate adsorption from membrane bioreactor effluent using Dowex 21K XLT and recovery as struvite and hydroxyapatite. Int J Environ Res Public Health 13(277):1–12

Rohim R, Ahmad R, Ibrahim N, Hamidin N, Zulzikrami C, Abidin A (2014) Characterization of calcium oxide catalyst from eggshell waste. Adv Environ Biol 8(22):35–38

Stadelman WJ (2000) Encyclopedia of food science and technology. In: Francis FJ (ed) 2nd edn. John Wiley & Sons, New York, pp 593–599

Torit J, Siangdung W, Thiravetyan P (2012) Phosphorus removal from domestic wastewater by Echinodorus cordifolius L. J Environ Sci Health Part A 47:794–800

Tsai WT, Yang JM, Hsu HC, Lin CM, Lin KY, Chiu CH (2008) Development and characterization of mesoporosity in eggshell ground by planetary ball milling. Microporous Mesoporous Mater 111:379–386

Vadi M, Abbasi M, Zakeri M, Yazdi BJ (2011) Application of the Freundlich, Langmuir, Temkin and Harkins-Jura adsorption isotherms for some amino acid and amino acids complexation with manganese ion (II) on carbon nanotube. IPCBEE 2

Vujicic D, Comic D, Zarubica A, Micic R, Boskovic G (2010) Kinetics of biodiesel synthesis from sunflower oil over CaO heterogeneous catalyst. Fuel 89:2054–2061

Witoon T (2011) Characterization of calcium oxide derived from waste eggshell and its application as CO2 sorbent. Ceram Int 37:3291–3298

Xie RZ, Chen Y, Cheng T, Lai YG, Jiang WJ, Yang ZS (2016) Study on an effective industrial waste-based adsorbent for the adsorptive removal of phosphorus from wastewater: equilibrium and kinetics studies. Water Sci Technol 73(8):1891–1900

Yan YB, Sun XY, Ma FB, Li JS, Shen JY, Han WQ, Liu XD, Wang LJ (2014) Removal of phosphate from etching wastewater by calcined alkaline residue: batch and column studies. J Taiwan Inst Chem Eng 45:1709–1716

Yang Y, Zhao YQ, Babatunde AO, Wang L, Ren YX, Han Y (2006) Characteristics and mechanisms of phosphate adsorption on dewatered alum sludge. Sep Purif Technol 51:193–200

Ye H, Chen F, Sheng Y, Fu GJ (2006) Adsorption of phosphate from aqueous solution onto modified palygorskites. Sep Purif Technol 50:283–290

Yeddou N, Bensmaili A (2007) Equilibrium and kinetic modelling of iron adsorption by eggshell in a batch system: effect of temperature. Desalination 206:127–134

Zhao Y, Xi B, Li Y, Wang M, Zhu Z, Xia X (2012) Removal of phosphate from wastewater by using open gradient superconducting magnetic separation as pretreatment for high gradient superconducting magnetic separation. Sep Purif Technol 86:255–261

Zhao Y, Yang Y, Yang S, Wang Q, Feng C, Zhang Z (2013) Adsorption of high ammonium nitrogen from wastewater using a novel ceramic adsorbent and the evaluation of the ammonium-adsorbed-ceramic as fertilizer. J Colloid Interf Sci 393:264–270
Funding
This work was financially supported by the Faculty of Physical Education, Srinakharinwirot University, Thailand.
Additional information
Responsible editor: Philippe Garrigues
About this article
Cite this article
Torit, J., Phihusut, D. Phosphorus removal from wastewater using eggshell ash. Environ Sci Pollut Res 26, 34101–34109 (2019). https://doi.org/10.1007/s11356-018-3305-3
Received:

Accepted:

Published:

Issue Date:

DOI: https://doi.org/10.1007/s11356-018-3305-3
Keywords