Abstract
We have previously reported that Ricinus communis is a good candidate for the phytoremediation of Cd- and Zn-contaminated soil and for fuel production. In this study, changes in the activity of antioxidant enzymes (superoxide dismutase, SOD; catalase, CAT; and guaiacol peroxidase, POD) and the contents of chlorophyll and malondialdehyde (MDA) in R. communis leaves under Cu, Zn, and Cd stress were examined. Compounds from the exudate of R. communis roots were collected and analyzed using GC-MS chromatograms. The results of enzyme activity showed that Cd treatment significantly increased the SOD content of R. communis leaves and slightly elevated the CAT content, whereas the POD content increased markedly at low Cd treatment concentrations and decreased as Cd concentrations increased. Zn treatment distinctly elevated SOD and POD content in R. communis leaves but had no great influence on CAT content. Cu treatment slightly increased CAT activity, while Cu did not evidently change SOD and POD activity. We found 17, 29, 18, 18, and 33 different compounds in the R. communis root exudates from the control group and Cd, Cu, Zn, and Cd+Cu+Zn treatment groups, respectively. The root exudates mainly included ester, alcohol, ether, amide, acid, phenol, alkanes, ketone, aromatic hydrocarbon, and nitrile compounds. However, the root exudates of R. communis grown in uncontaminated soils were dominated by esters, alcohols, and ethers. Single Cu or Zn treatment slightly changed the root exudates, which were dominated by esters, alcohols, and amides. In the Cd and Cd+Cu+Zn treatment groups, the compositions of root exudates apparently increased, with alkanes as the major species (> 88%).
Access options
Buy single article
Instant access to the full article PDF.
USD 39.95
Price excludes VAT (USA)
Tax calculation will be finalised during checkout.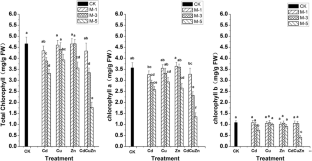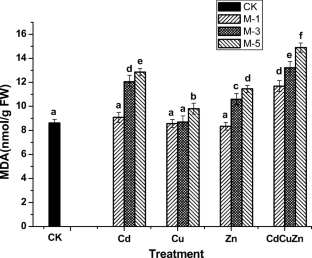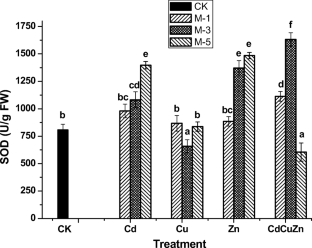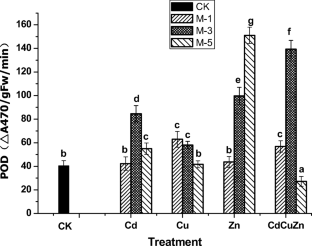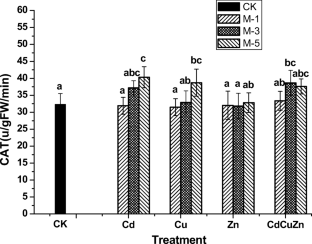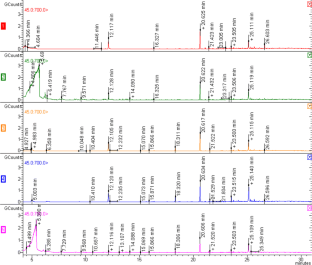 References
Abedi T, Pakniyat H (2010) Antioxidant enzyme changes in response to drought stress in ten cultivars of oilseed rape (Brassica napus L.). Czech J Genet Plant Breed 46(1):27–34

Alscher RG, Erturk N, Heath LS (2002) Role of superoxide dismutases (SODs) in controlling oxidative stress in plants. J Exp Bot 53(372):1331–1341

Apel K, Hirt H (2004) Reactive oxygen species: metabolism, oxidative stress, and signal transduction. Annu Rev Plant Biol 55:373–399

Bauddh K, Singh RP (2012) Cadmium tolerance and its phytoremediation by two oil yielding plants Ricinus communis (L.) and Brassica juncea (L.) from the contaminated soil. Int J Phytoremediation 14(8):772–785

Beauchamp C, Fridovich I (1971) Superoxide dismutase: improved assays and an assay applicable to acrylamide gels. Anal Biochem 44(1):276–287

Bergmeyer H U, Bergmeyer J, Grassl M (1974) Methods of enzymatic analysis. Vol. 2, Samples, reagents, assessment of results[M]. Verlag Chemie

Bertin C, Yang X, Weston LA (2003) The role of root exudates and allelochemicals in the rhizosphere. Plant Soil 256(1):67–83

Chaudhry TM (1998) Phytoremediation-focusing on accumulator plants that remediate metal contaminated soils. Aust J Ecotoxicol 4:37–51

Cheng S (2003) Heavy metals in plants and phytoremediation. Environ Sci Pollut Res 10(5):335–340

Dat J, Vandenabeele S, Vranová E et al (2000) Dual action of the active oxygen species during plant stress responses. Cell Mol Life Sci 57(5):779–795

Degryse F, Verma VK, Smolders E (2008) Mobilization of Cu and Zn by root exudates of dicotyledonous plants in resin-buffered solutions and in soil. Plant Soil 306(1–2):69–84

Ekmekçi Y, Tanyolac D, Ayhan B (2008) Effects of cadmium on antioxidant enzyme and photosynthetic activities in leaves of two maize cultivars. J Plant Physiol 165(6):600–611

He H, Chen X, Lin R et al (2005) Chemical components of root exudates from allelopathic rice accession PI312777 seedlings. Ying yong sheng tai xue bao 16(12):2383–2388

Hou W, Chen X, Song G, Wang Q, Chi Chang C (2007) Effects of copper and cadmium on heavy metal polluted waterbody restoration by duckweed (Lemna minor). Plant Physiol Biochem 45(1):62–69

Khanh TD, Chung IM, Tawata S et al (2007) Allelopathy for weed management in sustainable agriculture. Health 1:2

Kosugi H, Kikugawa K (1985) Thiobarbituric acid reaction of aldehydes and oxidized lipids in glacial acetic acid. Lipids 20(12):915–921

Lan Y, Shen XF, Yan ZY et al (2016) GC-MS comparative analysis in root exudates of Salvia miltiorrhiza from different geographical provenances. Jiangsu Agric Sci 44(1):301–305 (In Chinese)

Luo ZB, He XJ, Chen L et al (2010) Effects of zinc on growth and antioxidant responses in Jatropha curcas seedlings. Int J Agric Biol 12:119–124

Nardi S, Tosoni M, Pizzeghello D, Provenzano MR, Cilenti A, Sturaro A, Rella R, Vianello A (2005) Chemical characteristics and biological activity of organic substances extracted from soils by root exudates. Soil Sci Soc Am J 69(6):2012–2019

Passonneau JV, Lowry OH (1993) Enzymatic analysis: a practical guide. Springer Science & Business Media, Berlin

Qi Y, Zhen W, Li H (2015) Allelopathy of decomposed maize straw products on three soil-born diseases of wheat and the analysis by GC-MS. J Integr Agric 14(1):88–97

Rice EL (1984) Allelopathy, vol 2004. Academicpress, New York

Sartory DP, Grobbelaar JU (1984) Extraction of chlorophyll a from freshwater phytoplankton for spectrophotometric analysis. Hydrobiologia 114(3):177–187

Scandalios JG (2005) Oxidative stress: molecular perception and transduction of signals triggering antioxidant gene defenses. Braz J Med Biol Res 38(7):995–1014

Shi J, Chen Y, Tian G et al (2004) Copper uptake mechanism of Elsholtzia splendens and Commelina communis. Plant Nutr Fert Sci 10(6):642–646 (In Chinese)

Sun RL, Zhou QX, Sun FH, Jin CX (2007) Antioxidative defense and proline/phytochelatin accumulation in a newly discovered Cd-hyperaccumulator, Solanum nigrum L. Environ Exp Bot 60(3):468–476

Wang Z, Zhang Y, Huang Z, Huang L (2008) Antioxidative response of metal-accumulator and non-accumulator plants under cadmium stress. Plant Soil 310(1–2):137–149

Wang C, Zhang SH, Wang PF, Hou J, Zhang WJ, Li W, Lin ZP (2009) The effect of excess Zn on mineral nutrition and antioxidative response in rapeseed seedlings. Chemosphere 75(11):1468–1476

Wang S, Zhao Y, Guo J, Zhou L (2016) Effects of Cd, Cu and Zn on Ricinus communis L. growth in single element or co-contaminated soils: pot experiments. Ecol Eng 90:347–351

Whittaker RH, Feeny PP (1971) Allelochemics: chemical interactions between species. Science 171(3973):757–770

Wu H, Haig T, Pratley J, Lemerle D, An M (2000) Distribution and exudation of allelochemicals in wheat Triticum aestivum. J Chem Ecol 26(9):2141–2154

Xu W (2011) Evaluation and GC: MS analysis of significant allelopathic components of hot pepper. J Changjiang Vege 18:46–49 (In Chinese)

Xu WH, Huang H, Wang AH et al (2006) Advance in studies on activation of heavy metal by root exudates and mechanism. Ecol Environ 15(1):184–189 (In Chinese)

Zhang G, Fukami M, Sekimoto H (2002) Influence of cadmium on mineral concentrations and yield components in wheat genotypes differing in cd tolerance at seedling stage. Field Crop Res 77(2):93–98 (In Chinese)

Zhang FQ, Wang YS, Lou ZP, Dong JD (2007) Effect of heavy metal stress on antioxidative enzymes and lipid peroxidation in leaves and roots of two mangrove plant seedlings (Kandelia candel and Bruguiera gymnorrhiza). Chemosphere 67(1):44–50
Acknowledgements
We thank the International Science Editing for editing this manuscript.
Funding
This research was supported by the Special Research for Public Welfare of Ministry of Land and Resources of China (2015-02-02-05).
Additional information
Responsible editor: Philippe Garrigues
About this article
Cite this article
Wang, S., Zhao, Y., Guo, J. et al. Antioxidative response in leaves and allelochemical changes in root exudates of Ricinus communis under Cu, Zn, and Cd stress. Environ Sci Pollut Res 25, 32747–32755 (2018). https://doi.org/10.1007/s11356-018-3283-5
Received:

Accepted:

Published:

Issue Date:

DOI: https://doi.org/10.1007/s11356-018-3283-5
Keywords
Ricinus communis

Antioxidant enzymes

Root exudate

Cd

Cu

Zn

Chlorophyll

Malondialdehyde

Allelochemical

SOD

POD

CAT