Abstract
This study is based on self-reported information collected from selected farmers of Vehari District, Punjab, Pakistan, to determine their technical knowledge and awareness about pesticide use and associated environmental and health risks. Moreover, soil contamination by routinely used persistent organochlorine pesticide, endosulfan, was also evaluated. Survey data revealed very low literacy rate (on an average 9th grade education) and technical knowledge (almost missing) of the farmers in Vehari District. The farmers are unable to fully read and understand the instructions about the use of pesticide marked on the containers. They are not fully aware of pesticide persistence and toxicity (73%), unable to identify cotton pests and diseases (86%), and do not know which crop to grow in cotton adjacent fields (100%). Data also revealed that the farmers (100%) do not follow safety measure during pesticide application and are unaware of pesticide toxicity symptoms in human as well as the basic first-aid practices (89%).
Poor literacy rate and lack of technical knowledge of farmers in Vehari regarding pesticide use and handling are posing serious environmental and health risks among the local inhabitants, particularly among farmers. Soil analysis results showed that concentration of α- and β-endosulfan ranged from 0–14 to 0–14.64 μg/mg, respectively. Principal component analysis showed that soil organic matter is the key soil parameter controlling the occurrence and fate of endosulfan under sandy loam soil conditions of Vehari District. There is a serious need of improving technical and environmental knowledge of farmer about pesticide risks on human health in the studied area, in particular, and the entire country in general. Findings are of great use for policymaking in Pakistan to minimize pesticide risks in Pakistan.
We're sorry, something doesn't seem to be working properly.
Please try refreshing the page. If that doesn't work, please contact support so we can address the problem.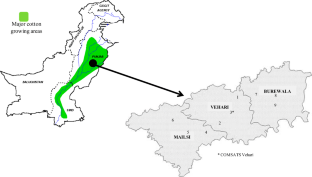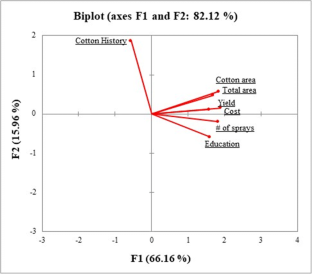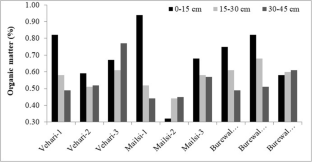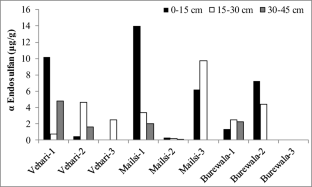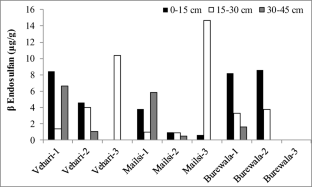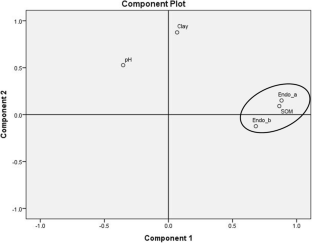 References
Ahmed Sheikh N, Wang Z (2011) Determinants of capital structure: an empirical study of firms in manufacturing industry of Pakistan. Manag Financ 37:117–133

Alam SA, Wolff H (2016) Do pesticide sellers make farmers sick? Health, information, and adoption of technology in Bangladesh. J Agric Resour Econ

Ali U, Syed JH, Malik RN, Katsoyiannis A, Li J, Zhang G, Jones KC (2014) Organochlorine pesticides (OCPs) in South Asian region: a review. Sci Total Environ 476–477:705–717

Atasoy AD, Mermut AR, Kumbur H, Ince F, Arslan H, Avci ED (2009) Sorption of alpha and beta hydrophobic endosulfan in a vertisol from southeast region of Turkey. Chemosphere 74:1450–1456

Awasthi N, Ahuja R, Kumar A (2000) Factors influencing the degradation of soil-applied endosulfan isomers. Soil Biol Biochem 32:1697–1705

Bahadar H, Mostafalou S, Abdollahi M (2014) Growing burden of diabetes in Pakistan and the possible role of arsenic and pesticides. J Diabetes Metab Disord 13:117

Bakhsh K, Ahmad N, Kamran MA, Hassan S, Abbas Q, Saeed R, Hashmi MS (2016) Occupational hazards and health cost of women cotton pickers in Pakistani Punjab. BMC Public Health 16:961

Baqar M, Sadef Y, Ahmad SR, Mahmood A, Li J, Zhang G (2018) Organochlorine pesticides across the tributaries of river Ravi, Pakistan: human health risk assessment through dermal exposure, ecological risks, source fingerprints and spatio-temporal distribution. Sci Total Environ 618:291–305

Damalas CA, Khan M (2016) Farmers' attitudes towards pesticide labels: implications for personal and environmental safety. Int J Pest Manag 62:319–325

De Gerónimo E, Aparicio VC, Bárbaro S, Portocarrero R, Jaime S, Costa JL (2014) Presence of pesticides in surface water from four sub-basins in Argentina. Chemosphere 107:423–431

De Munari A, Semiao AJC, Antizar-Ladislao B (2013) Retention of pesticide endosulfan by nanofiltration: influence of organic matter-pesticide complexation and solute-membrane interactions. Water Res 47:3484–3496

Debenest T, Silvestre J, Coste M, Pinelli E (2010) Effects of Pesticides on Freshwater Diatoms. In: Whitacre DM (Editor), Reviews of Environmental Contamination and Toxicology. Reviews of Environmental Contamination and Toxicology. Springer New York, pp. 87–103

Dilna C, Prasanth GK, Kanade SR (2018) Molecular interaction studies of endosulfan with the cholinergic pathway targets–an insilico approach. Computational Toxicology 5:1–7

ESP (2017) Economic survey of Pakistan 2016–17. http://www.finance.gov.pk/survey/chapters_17/02-Agriculture.pdf

Farenhorst A, McQueen DAR, Saiyed I, Hilderbrand C, Li S, Lobb DA, Messing P, Schumacher TE, Papiernik SK, Lindstrom MJ (2009) Variations in soil properties and herbicide sorption coefficients with depth in relation to PRZM (pesticide root zone model) calculations. Geoderma 150:267–277

Fenoll J, Ruiz E, Flores P, Hellín P, Navarro S (2011) Reduction of the movement and persistence of pesticides in soil through common agronomic practices. Chemosphere 85:1375–1382

Giri Y, Thapa R, Shrestha S, Pradhan S, Maharjan R, Sporleder M, Kroschel J (2014) Pesticide use pattern and awareness of pesticides users with special reference to potato growers in Nepal

Gonzalez M, Miglioranza KSB, Aizpún JE, Isla FI, Peña A (2010) Assessing pesticide leaching and desorption in soils with different agricultural activities from Argentina (Pampa and Patagonia). Chemosphere 81:351–358

Grondona SI, Gonzalez M, Martínez DE, Massone HE, Miglioranza KS (2014) Endosulfan leaching from Typic Argiudolls in soybean tillage areas and groundwater pollution implications. Sci Total Environ 484:146–153

Hurtig AK, Sebastián MS, Soto A, Shingre A, Zambrano D, Guerrero W (2003) Pesticide use among farmers in the Amazon basin of Ecuador. Arch Environ Health: An Int J 58:223–228

Jacobsen-Pereira CH, dos Santos CR, Maraslis FT, Pimentel L, Feijó AJL, Silva CI, de Medeiros GdS, Zeferino RC, Pedrosa RC, Maluf SW (2018) Markers of genotoxicity and oxidative stress in farmers exposed to pesticides Ecotoxicol Environ Saf 148:177–183

Jacson M (1965) Soil chemical analysis. Constable, Ltd. Co., London 498

Kabir MH, Rainis R (2012) Farmers' perception on the adverse effects of pesticides on environment: the case of Bangladesh. Int J Sustain Agric 4:25–32

Kalia A, Gosal S (2011) Effect of pesticide application on soil microorganisms. Arch Agron Soil Sci 57:569–596

Kataoka R, Takagi K, Sakakibara F (2011) Biodegradation of endosulfan by Mortieralla sp. strain W8 in soil: influence of different substrates on biodegradation. Chemosphere 85:548–552

Khalid S, Shahid M, Dumat C, Niazi NK, Bibi I, Gul Bakhat HFS, Abbas G, Murtaza B, Javeed HMR (2017) Influence of groundwater and wastewater irrigation on lead accumulation in soil and vegetables: implications for health risk assessment and phytoremediation. Int J Phytoremediation 19:1037–1046

Khalid S, Shahid M, Natasha BI, Sarwar T, Shah AH, Niazi NK (2018) A review of environmental contamination and health risk assessment of wastewater use for crop irrigation with a focus on low and high-income countries. Int J Environ Res Public Health 15:895

Khan M, Akram N, ul Husnain MI, Qureshi SA (2011) Poverty-environment nexus: use of pesticide in cotton zone of Punjab, Pakistan. J Sustain Dev 4:163

Khan M, Damalas CA (2015) Factors preventing the adoption of alternatives to chemical pest control among Pakistani cotton farmers. Int J Pest Manag 61:9–16

Khan M, Mahmood HZ, Damalas CA (2015) Pesticide use and risk perceptions among farmers in the cotton belt of Punjab, Pakistan. Crop Prot 67:184–190

Khan MA, Iqbal M, Ahmad I, Soomro MH, Chaudhary MA (2002) Economic evaluation of pesticide use externalities in the cotton zones of Punjab, Pakistan [with comments]. Pak Dev Rev 41:683–698

Liu R, Printz RL, Jenkins EC, O'Brien TP, Te JA, Shiota M, Wallqvist A (2018) Genome-wide gene expression changes associated with exposure of rat liver, heart, and kidney cells to endosulfan. Toxicol in Vitro 48:244–254

Maqbool Z, Hussain S, Imran M, Mahmood F, Shahzad T, Ahmed Z, Azeem F, Muzammil S (2016) Perspectives of using fungi as bioresource for bioremediation of pesticides in the environment: a critical review. Environ Sci Pollut Res 23:16904–16925

Master N (2016) Pesticide use: Countries Compared

Menezes RG, Qadir TF, Moin A, Fatima H, Hussain SA, Madadin M, Pasha SB, Al Rubaish FA, Senthilkumaran S (2017) Endosulfan poisoning: an overview. J Forensic Legal Med 51:27–33

Mitra J, Raghu K (1998) Pesticides-non target plants interactions: an overview. Arch Agron Soil Sci 43:445–500

Mombo S, Dumat C, Shahid M, Schreck E (2017) A socio-scientific analysis of the environmental and health benefits as well as potential risks of cassava production and consumption. Environ Sci Pollut Res 24:5207–5221

Natasha SM, Niazi NK, Khalid S, Murtaza B, Bibi I, Rashid MI (2018) A critical review of selenium biogeochemical behavior in soil-plant system with an inference to human health. Environ Pollut 234:915–934

Papiernik SK, Lindstrom MJ, Schumacher TE, Schumacher JA, Malo DD, Lobb DA (2007) Characterization of soil profiles in a landscape affected by long-term tillage. Soil Tillage Res 93:335–345

PDS (2016) Punjab Development Statistics. Bureau of Statistics, Government of Punjab, Pakistan http://www.bos.gop.pk/developmentstat

Rafiq M, Shahid M, Abbas G, Shamshad S, Khalid S, Niazi NK, Dumat C (2017) Comparative effect of calcium and EDTA on arsenic uptake and physiological attributes of Pisum sativum. Int J Phytoremediation 19:662–669

Rehman A, Jingdong L, Chandio AA, Hussain I, Wagan SA, Memon QUA (2016) Economic perspectives of cotton crop in Pakistan: a time series analysis (1970–2015)(part 1). J Saudi Soc Agric Sci

Rojas R, Vanderlinden E, Morillo J, Usero J, El Bakouri H (2014) Characterization of sorption processes for the development of low-cost pesticide decontamination techniques. Sci Total Environ 488-489:124–135

Saeed MF, Shaheen M, Ahmad I, Zakir A, Nadeem M, Chishti AA, Shahid M, Bakhsh K, Damalas CA (2017) Pesticide exposure in the local community of Vehari District in Pakistan: an assessment of knowledge and residues in human blood. Sci Total Environ 587:137–144

Schreck E, Geret F, Gontier L, Treilhou M (2008) Development and validation of a rapid multiresidue method for pesticide determination using gas chromatography–mass spectrometry: a realistic case in vineyard soils. Talanta 77:298–303

Shahid M, Ahmad A, Khalid S, Siddique HF, Saeed MF, Ashraf MR, Sabir M, Niazi NK, Bilal M, Naqvi STA (2016) Pesticides pollution in agricultural soils of Pakistan, soil science: agricultural and environmental prospectives. Springer, pp. 199–229

Shahid M, Khalid M, Dumat C, Khalid S, Niazi NK, Imran M, Bibi I, Ahmad I, Hammad HM, Tabassum RA (2017) Arsenic level and risk assessment of groundwater in Vehari, Punjab Province, Pakistan. Expo Health:1–11

Shahid M, Niazi NK, Dumat C, Naidu R, Khalid S, Rahman MM, Bibi I (2018a) A meta-analysis of the distribution, sources and health risks of arsenic-contaminated groundwater in Pakistan. Environ Pollut 242:307–319

Shahid M, Pinelli E, Dumat C (2018b) Tracing trends in plant physiology and biochemistry: need of databases from genetic to kingdom level. Plant Physiol Biochem 127:630–635

Shakoor MB, Bibi I, Niazi NK, Shahid M, Nawaz MF, Farooqi A, Naidu R, Rahman MM, Murtaza G, Lüttge A (2018) The evaluation of arsenic contamination potential, speciation and hydrogeochemical behaviour in aquifers of Punjab, Pakistan. Chemosphere 199:737–746

Shamshad S, Shahid M, Rafiq M, Khalid S, Dumat C, Sabir M, Murtaza B, Farooq ABU, Shah NS (2018) Effect of organic amendments on cadmium stress to pea: a multivariate comparison of germinating vs young seedlings and younger vs older leaves. Ecotoxicol Environ Saf 151:91–97

Sohail M, Eqani SAMAS, Podgorski J, Bhowmik AK, Mahmood A, Ali N, Sabo-Attwood T, Bokhari H, Shen H (2018) Persistent organic pollutant emission via dust deposition throughout Pakistan: spatial patterns, regional cycling and their implication for human health risks. Sci Total Environ 618:829–837

Syed JH, Malik RN (2011) Occurrence and source identification of organochlorine pesticides in the surrounding surface soils of the Ittehad Chemical Industries Kalashah Kaku, Pakistan. Environ Earth Sci 62:1311–1321

Tabassum RA, Shahid M, Dumat C, Niazi NK, Khalid S, Shah NS, Imran M, Khalid S (2018a) Health risk assessment of drinking arsenic-containing groundwater in Hasilpur, Pakistan: effect of sampling area, depth, and source. Environ Sci Pollut Res:1–12

Tabassum RA, Shahid M, Dumat C, Niazi NK, Khalid S, Shah NS, Imran M, Khalid S (2018b) Health risk assessment of drinking arsenic-containing groundwater in Hasilpur, Pakistan: effect of sampling area, depth, and source. Environ Sci Pollut Res. https://doi.org/10.1007/s11356-018-1276-z

Tariq MI, Afzal S, Hussain I, Sultana N (2007) Pesticides exposure in Pakistan: a review. Environ Int 33:1107–1122

Tiyagi SA, Ajaz S, Azam M (2004) Effect of some pesticides on plant growth, root nodulation and chlorophyll content of chickpea. Arch Agron Soil Sci 50:529–533

Trinh HT, Duong HT, Ta TT, Van Cao H, Strobel BW, Le GT (2017) Simultaneous effect of dissolved organic carbon, surfactant, and organic acid on the desorption of pesticides investigated by response surface methodology. Environ Sci Pollut Res 24:19338–19346

UNEP/AMAP (2011) (United Nations Environmental Program/Arctic Monitoring and Assessment Program). Climate change and POPs: predicting the impacts. Report of the UNEP/AMAP Expert Group, Secretariat of the Stockholm Convention, Geneva, Switzerland.62

Waheed S, Halsall C, Sweetman AJ, Jones KC, Malik RN (2017) Pesticides contaminated dust exposure, risk diagnosis and exposure markers in occupational and residential settings of Lahore, Pakistan. Environ Toxicol Pharmacol 56:375–382

Weber J, Halsall CJ, Muir D, Teixeira C, Small J, Solomon K, Hermanson M, Hung H, Bidleman T (2010) Endosulfan, a global pesticide: a review of its fate in the environment and occurrence in the Arctic. Sci Total Environ 408:2966–2984

World-Bank (2016) Cause of death, by non-communicable diseases - World Bank Data. In: World Bank

Xiong T, Dumat C, Dappe V, Vezin H, Schreck E, Shahid M, Pierart A, Sobanska S (2017) Copper oxide nanoparticle foliar uptake, phytotoxicity, and consequences for sustainable urban agriculture. Environ Sci Technol 51:5242–5251

Zhang Y, Zhu L, Wang J, Wang J, Su B, Zhang C, Shao Y, Li C (2016) Biodegradation of endosulfan by bacterial strain Alcaligenes faecalis JBW4 in Argi-Udic Ferrosols and Hapli-Udic Isohumosols. Water Air Soil Pollut 227:425
Acknowledgments
The authors are also thankful for experimental analysis to the personals at Laboratory of Department of Environmental Science, COMSATS Institute of Information Technology, Abbottabad campus, and Laboratory of Soil Science and Soil Microbial Ecology, Department of Soil Science, Faculty of Agriculture Sciences and Technology, Bahauddin Zakariya University, Multan.
Funding
This work has been funded by the Higher Education Commission of Pakistan (www.hec.gov.pk) under the project "Analysis of pesticide percolation with time in soil of cotton growing area in Vehari district."
Ethics declarations
Conflict of interest
The authors declare that they have no conflict of interest.
Additional information
Responsible editor: Philippe Garrigues
Electronic supplementary material
About this article
Cite this article
Ahmad, A., Shahid, M., Khalid, S. et al. Residues of endosulfan in cotton growing area of Vehari, Pakistan: an assessment of knowledge and awareness of pesticide use and health risks. Environ Sci Pollut Res 26, 20079–20091 (2019). https://doi.org/10.1007/s11356-018-3169-6
Received:

Accepted:

Published:

Issue Date:

DOI: https://doi.org/10.1007/s11356-018-3169-6
Keywords
Pesticide risks

Awareness of farmer

Endosulfan

Environmental contamination