Abstract
Approximately 19% of agricultural soils in China are contaminated by heavy metals. However, the effects of agricultural management practices on soil contamination are not well understood. Taking advantage of six long-term (23–34 years) field sites across China, this study examined the effects of different agricultural fertilization treatments, including control (no fertilization), inorganic nitrogen, phosphorus and potassium fertilization (NPK), manure fertilization (M), and NPK plus manure fertilization (NPKM), on the total and available metal concentrations in soils. The results showed that after 23–34 years of fertilization, the M and NPKM treatments significantly increased the total concentration of cadmium (Cd), copper (Cu), and zinc (Zn) in soils compared with the concentrations measured for the control and NPK treatments. In contrast, the fertilization treatments had almost no influence on soil lead (Pb) and nickel (Ni) concentrations. The results of analysis via diffusive gradients in thin films demonstrated that long-term sheep or cattle manure fertilization increased the available metals, especially Cd, Cu, and Zn, but long-term swine manure application decreased the available metals, except for Cu and Zn, in soils. Further analysis revealed that the manure source, soil pH level, and biogeochemical properties of metals affected the availability of Cd, Cu, Pb, Zn, and Ni in soils. Collectively, organic fertilizers had the potential to reduce metal uptake by crops, but caution should be taken to reduce metal concentrations in manure.
Access options
Buy single article
Instant access to the full article PDF.
US$ 39.95
Tax calculation will be finalised during checkout.
Subscribe to journal
Immediate online access to all issues from 2019. Subscription will auto renew annually.
US$ 79
Tax calculation will be finalised during checkout.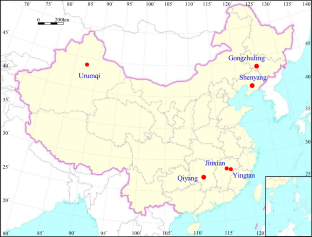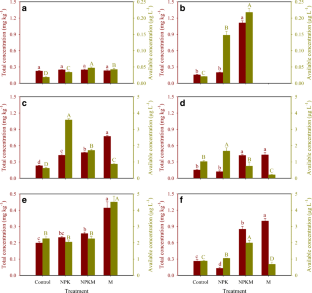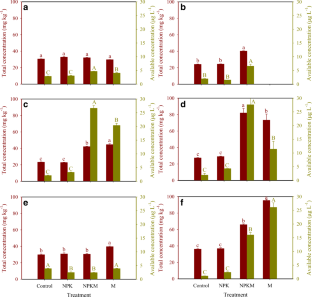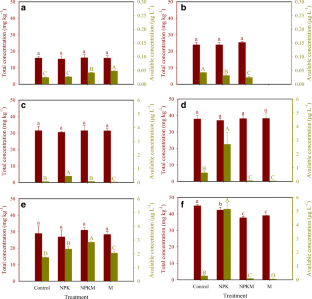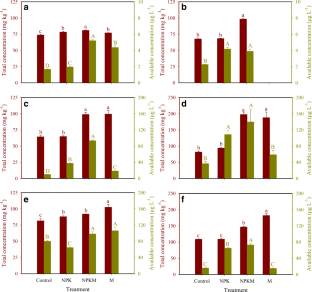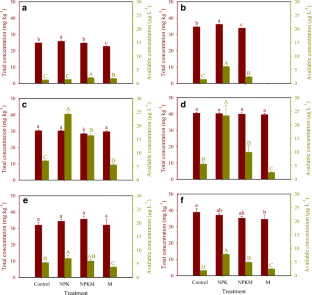 References
Ahumada I, Sepulveda K, Fernandez P, Ascar L, Pedraza C, Richter P, Brown S (2014) Effect of biosolid application to Mollisol Chilean soils on the bioavailability of heavy metals (Cu, Cr, Ni, and Zn) as assessed by bioassays with sunflower (Helianthus annuus) and DGT measurements. J Soils Sediments 14(5):886–896

Al Mamun S, Chanson G, Muliadi, Benyas E, Aktar M, Lehto N, McDowell R, Cavanagh J, Kellermann L, Clucas L, Robinson B (2016) Municipal composts reduce the transfer of Cd from soil to vegetables. Environ Pollut 213:8–15

Asada K, Yabushita Y, Saito H, Nishimura T (2012) Effect of long-term swine-manure application on soil hydraulic properties and heavy metal behaviour. Eur J Soil Sci 63(3):368–376

Atafar Z, Mesdaghinia A, Nouri J, Homaee M, Yunesian M, Ahmadimoghaddam M, Mahvi AH (2010) Effect of fertilizer application on soil heavy metal concentration. Environ Monit Assess 160(1–4):83–89

Azeez JO, Adekunle IO, Atiku OO, Akande KB, Jamiu-Azeez SO (2009) Effect of nine years of animal waste deposition on profile distribution of heavy metals in Abeokuta, south-western Nigeria and its implication for environmental quality. Waste Manag 29(9):2582–2586

Bartl B, Hartl W, Horak O (2002) Long-term application of biowaste compost versus mineral fertilization: effects on the nutrient and heavy metal contents of soil and plants. J Plant Nutr Soil Sci 165(2):161–165

Bell AAW, Bailey JS, Smith RV (2005) An evaluation of the Olsen test as a measure of plant-available phosphorus in grassland soils derived from basalt parent material. Soil Use Manag 21(3):322–329

Chapman EEV, Dave G, Murimboh JD (2012) Bioavailability as a factor in risk assessment of metal-contaminated soil. Water Air Soil Pollut 223(6):2907–2922

Chu Q, Sha Z, Osaki M, Watanabe T (2017) Contrasting effects of cattle manure applications and root-induced changes on heavy metal dynamics in the rhizosphere of soybean in an acidic haplic Fluvisol: a chronological pot experiment. J Agric Food Chem 65(15):3085–3095

Dai Y, Nasir M, Zhang Y, Gao J, Lv Y, Lv J (2018) Comparison of DGT with traditional extraction methods for assessing arsenic bioavailability to Brassica chinensis in different soils. Chemosphere 191:183–189

Degryse F, Smolders E (2012) Cadmium and nickel uptake by tomato and spinach seedlings: plant or transport control? Environ Chem 9(1):48–54

Degryse F, Shahbazi A, Verheyen L, Smolders E (2012) Diffusion limitations in root uptake of cadmium and zinc, but not nickel, and resulting bias in the Michaelis constant. Plant Physiol 160(2):1097–1109

Di J, Feng W, Zhang W, Cai A, Xu M (2017) Soil organic carbon saturation deficit under primary agricultural managements across major croplands in China. Ecosyst Health Sustain 3(7):1364047

Guan DX, Williams PN, Luo J, Zheng JL, Xu HC, Cai C, Ma LQ (2015) Novel precipitated zirconia-based DGT technique for high-resolution imaging of oxyanions in waters and sediments. Environ Sci Technol 49(6):3653–3661

Guan DX, Williams PN, Xu HC, Li G, Luo J, Ma LQ (2016) High-resolution measurement and mapping of tungstate in waters, soils and sediments using the low-disturbance DGT sampling technique. J Hazard Mater 316:69–76

Guan DX, Zheng JL, Luo J, Zhang H, Davison W, Ma LQ (2017) A diffusive gradients in thin-films technique for the assessment of bisphenols desorption from soils. J Hazard Mater 331:321–328

Guan DX, Li YQ, Yu NY, Yu GH, Wei S, Zhang H, Davison W, Cui XY, Ma LQ, Luo J (2018) In situ measurement of perfluoroalkyl substances in aquatic systems using diffusive gradients in thin-films technique. Water Res 144:162–171

Hanc A, Tlustos P, Szakova J, Habart J (2009) Changes in cadmium mobility during composting and after soil application. Waste Manag 29(8):2282–2288

He YT, Zhang WJ, Xu MG, Tong XG, Sun FX, Wang JZ, Huang SM, Zhu P, He XH (2015) Long-term combined chemical and manure fertilizations increase soil organic carbon and total nitrogen in aggregate fractions at three typical cropland soils in China. Sci Total Environ 532:635–644

Houlden A, Timms-Wilson TM, Day MJ, Bailey MJ (2008) Influence of plant developmental stage on microbial community structure and activity in the rhizosphere of three field crops. FEMS Microbiol Ecol 65(2):193–201

Ju XT, Kou CL, Christie P, Dou ZX, Zhang FS (2007) Changes in the soil environment from excessive application of fertilizers and manures to two contrasting intensive cropping systems on the North China Plain. Environ Pollut 145(2):497–506

Kumar RR, Park BJ, Cho JY (2013) Application and environmental risks of livestock manure. J Korean Soc Appl Biol Chem 56(5):497–503

Li B, Wei M, Shen A, Xu J, Zhang H, Hao F (2009) Changes of yields, soil properties and micronutrients as affected by 17-yr fertilization treatments. J Food Agric Environ 7(3–4):408–413

Li W, Li Z, Liu M, Jiang C, Wu M (2016) Activities of extracellular enzymes and nutrients in red paddy soil response to long term fertilizations. Soils 48:686–691

Li YX, Xiong X, Lin CY, Zhang FS, Wei L, Wei H (2010) Cadmium in animal production and its potential hazard on Beijing and Fuxin farmlands. J Hazard Mater 177(1–3):475–480

Liang S, Guan DX, Ren JH, Zhang M, Luo J, Ma LQ (2014) Effect of aging on arsenic and lead fractionation and availability in soils: coupling sequential extractions with diffusive gradients in thin-films technique. J Hazard Mater 273:272–279

Liang F, Li J, Yang X, Huang S, Cai Z, Gao H, Ma J, Cui X, Xu M (2016) Three-decade long fertilization-induced soil organic carbon sequestration depends on edaphic characteristics in six typical croplands. Sci Rep 6:30350

Liu Q, Sun X, Hu A, Zhang Y, Cao Z (2014) Characteristics of toxic metal accumulation in farmland in relation to long-term chicken manure application: a case study in the Yangtze River Delta Region, China. Bull Environ Contam Toxicol 92(3):279–284

Luo J, Cheng H, Ren J, Davison W, Zhang H (2014) Mechanistic insights from DGT and soil solution measurements on the uptake of Ni and Cd by radish. Environ Sci Technol 48(13):7305–7313

Luo P, Han X, Wang Y, Han M, Shi H, Liu N, Bai H (2015) Influence of long-term fertilization on soil microbial biomass, dehydrogenase activity, and bacterial and fungal community structure in a brown soil of northeast China. Ann Microbiol 65(1):533–542

Martínez CE, Motto HL (2000) Solubility of lead, zinc and copper added to mineral soils. Environ Pollut 107(1):153–158

Menzies NW, Donn MJ, Kopittke PM (2007) Evaluation of extractants for estimation of the phytoavailable trace metals in soils. Environ Pollut 145(1):121–130

Priha O, Smolander A (1999) Nitrogen transformations in soil under Pinus sylvestris, Picea abies and Betula pendula at two forest sites. Soil Biol Biochem 31(7):965–977

Sarwar N, Imran M, Shaheen MR, Ishaque W, Kamran MA, Matloob A, Rehim A, Hussain S (2017) Phytoremediation strategies for soils contaminated with heavy metals: modifications and future perspectives. Chemosphere 171:710–721

Soriano-Disla JM, Speir TW, Gómez I, Clucas LM, McLaren RG, Navarro-Pedreño J (2010) Evaluation of different extraction methods for the assessment of heavy metal bioavailability in various soils. Water Air Soil Pollut 213(1):471–483

Sun F, Li Y, Wang X, Chi Z, Yu G (2017a) Using new hetero-spectral two-dimensional correlation analyses and synchrotron-radiation-based spectromicroscopy to characterize binding of Cu to soil dissolved organic matter. Environ Pollut 223:457–465

Sun F, Polizzotto ML, Guan D, Wu J, Shen Q, Ran W, Wang B, Yu G (2017b) Exploring the interactions and binding sites between Cd and functional groups in soil using two-dimensional correlation spectroscopy and synchrotron radiation based spectromicroscopies. J Hazard Mater 326:18–25

Tandy S, Mundus S, Yngvesson J, de Bang TC, Lombi E, Schjørring JK, Husted S (2011) The use of DGT for prediction of plant available copper, zinc and phosphorus in agricultural soils. Plant Soil 346(1):167–180

Tang Z, Yu G, Liu D, Xu D, Shen Q (2011) Different analysis techniques for fluorescence excitation–emission matrix spectroscopy to assess compost maturity. Chemosphere 82(8):1202–1208

Tian W, Zhang Z, Hu X, Tian R, Zhang J, Xiao X, Xi Y (2015) Short-term changes in total heavy metal concentration and bacterial community composition after replicated and heavy application of pig manure-based compost in an organic vegetable production system. Biol Fertil Soils 51(5):593–603

Wang H, Dong Y, Yang Y, Toor GS, Zhang X (2013) Changes in heavy metal contents in animal feeds and manures in an intensive animal production region of China. J Environ Sci 25(12):2435–2442

Wang H, Dong Y, Wang H (2014) Hazardous metals in animal manure and their changes from 1990 to 2010 in China. Toxicol Environ Chem 96(9):1346–1355

Wang P, Ma Y, Wang X, Jiang H, Liu H, Ran W, Shen Q (2016) Spectral exploration of calcium accumulation in organic matter in fray desert soil from northwest China. PLoS One 11(1):e0145054

Weber J, Karczewska A, Drozd J, Licznar M, Licznar S, Jamroz E, Kocowicz A (2007) Agricultural and ecological aspects of a sandy soil as affected by the application of municipal solid waste composts. Soil Biol Biochem 39(6):1294–1302

Xu H, Guo L (2017) Molecular size-dependent abundance and composition of dissolved organic matter in river, lake and sea waters. Water Res 117:115–126

Xu H, Yu G, Yang L, Jiang H (2013) Combination of two-dimensional correlation spectroscopy and parallel factor analysis to characterize the binding of heavy metals with DOM in lake sediments. J Hazard Mater 263:412–421

Yang X, Li Q, Tang Z, Zhang W, Yu G, Shen Q, Zhao FJ (2017) Heavy metal concentrations and arsenic speciation in animal manure composts in China. Waste Manag 64:333–339

Yu G, Xiao J, Hu S, Polizzotto ML, Zhao F, McGrath SP, Li H, Ran W, Shen Q (2017) Mineral availability as a key regulator of soil carbon storage. Environ Sci Technol 51(9):4960–4969

Zhang H, Davison W (1995) Performance characteristics of diffusion gradients in thin films for the in situ measurement of trace metals in aqueous solution. Anal Chem 67(19):3391–3400

Zhang H, Davison W (2015) Use of diffusive gradients in thin-films for studies of chemical speciation and bioavailability. Environ Chem 12(2):85–101

Zhang H, Zhao FJ, Sun B, Davison W, McGrath SP (2001) A new method to measure effective soil solution concentration predicts copper availability to plants. Environ Sci Technol 35(12):2602–2607

Zhang H, Lombi E, Smolders E, Mcgrath S (2004) Kinetics of Zn release in soils and prediction of Zn concentration in plants using diffusive gradients in thin films. Environ Sci Technol 38(13):3608–3613

Zhao Y, Yan Z, Qin J, Xiao Z (2014) Effects of long-term cattle manure application on soil properties and soil heavy metals in corn seed production in Northwest China. Environ Sci Pollut Res 21(12):7586–7595

Zhao FJ, Ma Y, Zhu YG, Tang Z, McGrath SP (2015) Soil contamination in China: current status and mitigation strategies. Environ Sci Technol 49(2):750–759

Zhou JM, Dang Z, Cai MF, Liu CQ (2007) Soil heavy metal pollution around the Dabaoshan Mine, Guangdong Province, China. Pedosphere 17(5):588–594

Zhou S, Liu J, Xu M, Lv J, Sun N (2015) Accumulation, availability, and uptake of heavy metals in a red soil after 22-year fertilization and cropping. Environ Sci Pollut Res 22(19):15154–15163
Funding
This work was funded by the National Key Research and Development Program of China (2017YFD0800803) and the China Postdoctoral Science Foundation (2016M601770 and 2017T100350).
Additional information
Responsible editor: Zhihong Xu
About this article
Cite this article
Guan, DX., Sun, FS., Yu, GH. et al. Total and available metal concentrations in soils from six long-term fertilization sites across China. Environ Sci Pollut Res 25, 31666–31678 (2018). https://doi.org/10.1007/s11356-018-3143-3
Received:

Accepted:

Published:

Issue Date:
Keywords
Bioavailability

Diffusive gradients in thin films (DGT)

Heavy metals

Long-term fertilization experiment

Organic manures