Abstract
Allogenic organic matter (AOM) composed of extracellular and intracellular organic matter (EOM and IOM) is a major precursor of halogenated carbonaceous and nitrogenous disinfection by-products (C-DBPs and N-DBPs) upon chlorination. The EOM and IOM extracted from Microcystis aeruginosa were analyzed based on bulk parameters and organic fractions with different molecular weight by liquid chromatography with organic carbon detection (LC-OCD). It investigated the efficiency of a conventional gravity system (CGS) and dissolved air flotation (DAF) in the removal of organic precursors, together with measurement of the formation of four major trihalomethanes (THMs) and haloacetonitriles (HANs) in treated water upon chlorination. The results showed that EOM accounted for 59% of building blocks and humic substances, whereas for IOM, 54% were low molecular weight (LMW) neutrals. Both CGS and DAF showed 57–59% removal of dissolved organic carbon (DOC) from EOM and IOM. Regarding DON removal, DAF was found to be more effective, i.e., 8% higher than CGS for EOM. Moreover, the removal of LMW acids and neutrals (not easy to remove and are major precursors of DBPs) from EOM and IOM by DAF was higher than from CGS. The amounts of DBPs measured in all the samples treated for interchlorination were much lower than in the samples for prechlorination. Although the precursors of EOM had a higher concentration than in IOM, THMs and HANs were detected for IOM at a higher concentration, which might be attributed to higher amounts of aromatic, aliphatic moisture and protein compounds in the IOM. Comparatively, DAF showed lower THM and HAN values than CGS water, particularly for IOM. Also, DAF showed a sharp decrease in THMs and an insignificant increase in HANs according to time.
Access options
Buy single article
Instant access to the full article PDF.
USD 39.95
Price excludes VAT (USA)
Tax calculation will be finalised during checkout.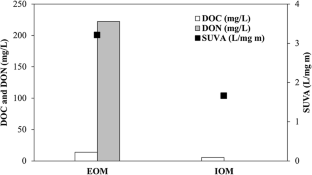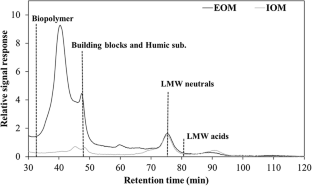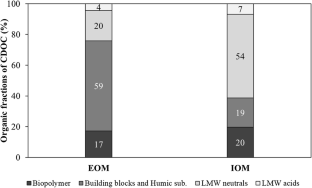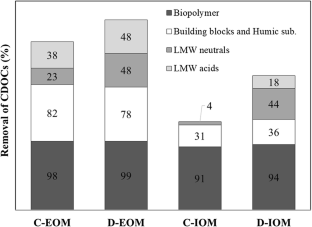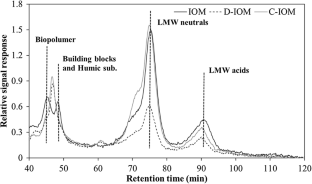 References
Adamovsky O, Moosova Z, Pekarova M, Basu A, Babica P, Sindlerova LS, Kubala L, Blaha L (2015) Immunomodulatory potency of microcystin, an important water-polluting cyanobacterial toxin. Environ Sci Technol 49:12457–12464

Andersen RA, Berges JA, Harrison PJ, Watanabe MM (2005) Recipes for freshwater and seawater media. In: Andersen RA (ed) Algal culturing techniques. Elsevier Academic Press, Boston, p 578

Bougeard CMM, Goslan EM, Jefferson B, Parsons SA (2010) Comparison of the disinfection by-product formation potential of treated waters exposed to chlorine and monochloramine. Water Res 44:727–740

Chu WH, Gao NY, Deng Y, Krasner SW (2010) Precursors of Dichloraacetamide, an emerging nitrogenous DBP formed during chlorination or Chloramination. Enviro Sci Technol 44:3908–3912

Coral LA, Zamyadi A, Barbeau B, Bassetti FJ, Lapolli FR, Prevost M (2013) Oxidation of Microcystics aeruginosa and Anabaena flos-aquae by ozone: impacts on cell integrity and chlorination by-product formation. Water Res 47:2983–2994

Deng Y, Wu M, Zhang H, Zheng L, Ascosta Y, Hsu TD (2017) Addressing harmful algal blooms (HABs) impacts with ferrate(VI):simultaneous removal of algal cells and toxins for drinking water treatment. Chemosphere 186:757–761

Edzwald JK (2010) Dissolved air flotation and me. Water Res 44:2077–2106

Gonzalez-Torres A, Rich AM, Henderson RK (2017) Evaluation of biochemical algal floc properties using reflectance Fourier-transform infrared imaging. Algal Res 27:345–355

Goslan EH, Seigle C, Purcell D, Henderson R, Parsons SA, Jefferson B, Judd SJ (2017) Carbonaceous and nitrogenous disinfection by-product formation from algal organic matter. Chemosphere 170:1–9

Graham NJ, Wardlaw VE, Perry R, Jiang JQ (1998) The significance of algae as trihalomethane precursors. Water Sci Technol 37(2):83–89

Guo T, Yang Y, Liu R, Li X (2017) Enhanced removal of intracellular organic matters (IOM) from microcystic aeruginosa by aluminum coagulation. Sep Purif Technol 189:279–287

Henderson RK, Parsons SA, Jefferson B (2008) The impact of algal properties and pre-oxidation on solid-liquid separation of algae. Water Res 42:1827–1845

Hong HC, Huang FQ, Wang FY, Ding LX, Lin HJ, Liang Y (2013) Properties of sediment NOM collected from drinking water reservoir in South China, and its association with THMs and HAAs formation. J Hydrol 476:274–279

Hua G, Kim J, Reckhow DA (2014) Disinfection byproduct formation from lignin precursors. Water Res 63:285–295

Hua LC, Lin JL, Syue MY, Huang C, Chen P-C (2017a) Optical properties of algogenic organic matter within the growth period of Chlorella sp. and predicting their disinfection by-product formation. Sci Total Environ 621:1467–1474

Hua LC, Lin JL, Chen PC, Huang C (2017b) Chemical structures of extra- and intra-cellular algogenic organic matters as precursors to the formation of carbonaceous disinfection byproducts. Chem Eng J 328:1022–1030

Huang J, Graham N, Templeton MR, Zhang Y, Collins C, Mieuwenhuijsen M (2009) A comparison of the role of two blue-green algae in THM and HAA formation. Water Res 43:3009–3018

Huber SA, Balz A, Abert M, Pronk W (2011) Characterisation of aquatic humic and non-humic matter with size-exclusion chromatography – organic carbon detection – organic nitrogen detection (LC-OCD-OND). Water Res 45:879–885

Jeong IG, Yi MJ, Zhao H, Dockko S (2015) Characteristics of DBPs reduction of AOM by dissolved air flotation. Desalin Water Treat 54:1436–1444

Kristiana I, Liew D, Henderson RK, Joll CA, Linge KL (2017) Formation and control of nitrogenous DBPs from western Australian source waters: investigating the impacts of high nitrogen and bromide concentrations. J Environ Sci 58:102–115

Lee KC, Gegal BC, Choi IH, Lee WT (2015) Formation characteristics and control of disinfection by products in a drinking water treatment plant using lake water. J Korea Society of Environ Eng 37:269–276

Li L, Gao N, Deng Y, Yao J, Zhang K (2012) Characterization of intracellular & extracellular algae organic matters (AOM) of Microcystis aeuginosa, and formation of AOM-associated disinfection byproducts and odor & teste compounds. Water Res 46:1233–1240

Ma C, Pei H, Hu W, Wang Y, Xu H, Jin Y (2017) The enhanced reduction of C- and N-DBP formation in treatment of source water containing Microcystis aeruginosa using a novel CTSAC composite coagulant. Sci Total Environ 579:1170–1178

Park JW, Kim HC, Meyer AS, Kim S, Maeng SK (2016) Influences of NOM composition and bacteriological characteristics on biological stability in a full-scale drinking water treatment plant. Chemosphere 160:189–198

Pei H-Y, Ma C-X, Hu W-R, Sun F (2014) The behaviors of Microcystis aeruginosa cells and extracellular microcystins during chitosan flocculation and flocs storage processes. Bioresour Technol 151:314–322

Pivokonsky M, Kloucek O, Lenka P (2006) Evaluation of the production, composition and aluminum and iron complexation of algogenic organic matter. Water Res 40:3045–3052

Pivokonsky M, Naceradska J, Kopecka I, Baresova M, Jefferson B, Li X, Henderson RK (2016) The impact of algogenic organic matter on water treatment plant operation and water quality: a review. Crit Rev Environ Sci Technol 46:291–335

Plummer JD, Edzwald JK (2001) Effect of ozone on algae as precursors for trihalomethane and haloacetic acid production. Environ Sci Technol 35:3661–3668

Shi K, Zhang Y, Xu H, Zhu G, Qin B, Huang C, Liu X, Zhou Y, Lv H (2015) Long-term satellite observations of microcystin concentrations in Lake Taihu during cyanobacterial bloom periods. Environ Sci Technol 49:6448–6456

So SH, Choi IH, Kim HC, Maeng SK (2017) Seasonally related effects on natural organic matter characteristics from source to tap in Korea. Sci Total Environ 592:584–592

Teixeira MR, Rosa MJ (2006) Comparing dissolved air flotation and conventional sedimentation to remove cyanobacterial cells of Microcystis aeruginosa: part 1: the key operating conditions. Sep Purif Technol 52:84–94

Teixeira MR, Rosa MJ (2007) Comparing dissolved air flotation and conventional sedimentation to remove cyanobacterial cells of Microcystis aeruginosa: part 2: the effect of water background organics. Sep Purif Technol 53:126–134

Tomlinson A, Drikas M, Brooles JD (2016) The role of phytoplankton as pre-cursors for disinfection by-product formation upon chlorination. Water Res 102:229–240

Xie P, Ma J, Fang J, Guan Y, Yue S, Li X, Chen L (2013) Comparison of permanganate peroxidation and preozonation on algae containing water: cell integrity, characteristics, and chlorinated disinfection byproduct formation. Environ Sci Technol 47:14051–11406

Zhang N, Liu C, Qi F, Xu B (2017) The formation of haloacetamides, as an emerging class of N-DBPs, from chlor(am)ination of algal organic matters extracted from Microcystis aeruginosa, Scenedesmus quadricauda and Nitzschia palea. RSC Adv 7:7679–7687

Zhu Y, Pei H, Hu W, Jin Yan XH, Ren Y, Xue D (2016) Effect of chitosan quaternary ammonium salt on the growth and Microcystis aeruginosa. RSC Adv 6:81028–81036
Acknowledgements
This present research was conducted by the research fund of Dankook University in 2016.
Additional information
Responsible editor: Bingcai Pan
About this article
Cite this article
Maeng, M., Shahi, N.K., Shin, G. et al. Formation characteristics of carbonaceous and nitrogenous disinfection by-products depending on residual organic compounds by CGS and DAF. Environ Sci Pollut Res 26, 34008–34017 (2019). https://doi.org/10.1007/s11356-018-2919-9
Received:

Accepted:

Published:

Issue Date:

DOI: https://doi.org/10.1007/s11356-018-2919-9
Keywords
Allogenic organic matter (AOM)

Extracellular organic matter (EOM)

Intracellular organic matter (IOM)

Carbonaceous and nitrogenous disinfection by-product (C-DBPs and N-DBPs)

Liquid chromatography with organic carbon detection (LC-OCD)