Abstract
Optimizing the mono-cultivation and mixed cultivation of Chlamydomonas reinhardtii, Chlorella vulgaris, and an Ettlia sp. was evaluated for treating nitrate-contaminated groundwater and biomass production. Ettlia sp. showed the highest nutrient assimilation and growth rate among the three microalgae during bioremediation. Light-dark cycle was the effective condition for nutrient removal and COD mitigation by microalgae. Mixed microalgae with a larger presence of the Ettlia sp. exhibited the highest biomass productivity, nitrate-nitrogen, and phosphate-phosphorus removal rates of 0.21 g/L/d, 16.6, and 3.06 mg/L/d, respectively. An N:P mass ratio of 5 was necessary to increase the mixed-microalgal performance. The settling efficiency of the mixed microalgae increased up to 0.55 when using pH modulation during 30 min. Therefore, applying an Ettlia sp.-dominant consortium was the optimum strategy for the bioremediation of nitrate-contaminated groundwater in 3 days.
Access options
Buy single article
Instant access to the full article PDF.
US$ 39.95
Tax calculation will be finalised during checkout.
Subscribe to journal
Immediate online access to all issues from 2019. Subscription will auto renew annually.
US$ 79
Tax calculation will be finalised during checkout.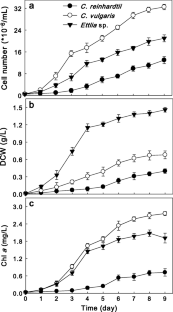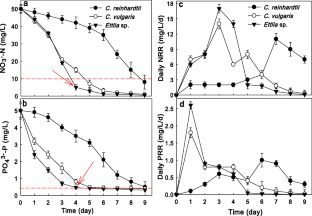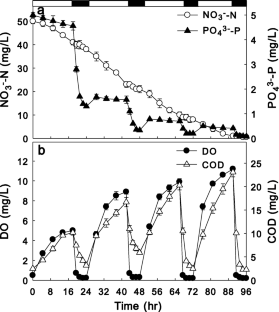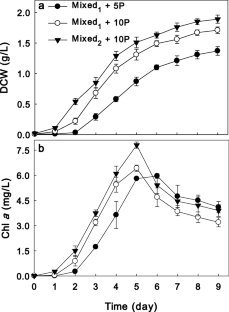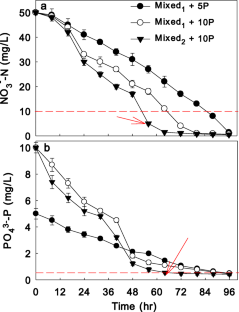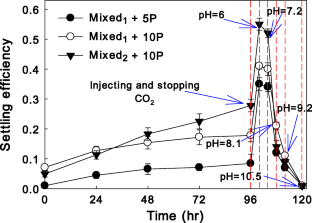 References
Agusti S, Kalff J (1989) The influence of growth conditions on the size dependence of maximal algal density and biomass. Limnol Oceanogr 34:1104–l108. https://doi.org/10.4319/lo.1989.34.6.1104

Ahn CY, Chung AS, Oh HM (2002) Diel rhythm of algal phosphate uptake rates in P-limited cyclostats and simulation of its effect on growth and competition. J Phycol 36:695–704. https://doi.org/10.1046/j.1529-8817.2002.01232.x

APHA (1998) Standard methods for the examination of water and wastewater, 20th edn. American Public Health Association/American Water Work Association/Water Environment Federation, Washington, DC

Babaei A, Mehrnia MR, Shayegan J, Sarrafzadeh MH (2016) Comparison of different trophiccultivations in microalgal membrane bioreactor containing N-riched wastewater for simultaneous nutrient removal and biomass production. Process Biochem 51:1568–1575. https://doi.org/10.1016/j.procbio.2016.06.011

Becker EW (1994) Microalgae: biotechnology and microbiology. Cambridge Univ Press, Cambridge

Beuckels A, Smolders E, Muylaert K (2015) Nitrogen availability influences phosphorus removal in microalgae-based wastewater treatment. Water Res 77:98–106. https://doi.org/10.1016/j.watres.2015.03.018

Brown N, Shilton A (2014) Luxury uptake of phosphorus by microalgae in waste stabilisation ponds: current understanding and future direction. Rev Environ Sci Biotechnol 13:321–328. https://doi.org/10.1007/s11157-014-9337-3.

Cheirsilp B, Torpee S (2012) Enhanced growth and lipid production of microalgae under mixotrophic culture condition: effect of light intensity, glucose concentration and fed-batch cultivation. Bioresour Technol 110:510–516. https://doi.org/10.1016/j.biortech.2012.01.125

Cho DH, Choi JW, Kang Z, Kim BH, Oh HM, Kim HS, Ramanan R (2017) Microalgal diversity fosters stable biomass productivity in open ponds treating wastewater. Sci Rep 7:1979. https://doi.org/10.1038/s41598-017-02139-8

Fried S, Mackie B, Nothwehr E (2003) Nitrate and phosphate levels positively affect the growth of algae species found in Perry pond. Tillers 4:21–24

Griffiths M, Harrison S (2009) Lipid productivity as a key characteristic for choosing algal species for biodiesel production. J Appl Phycol 21:493–507. https://doi.org/10.1007/s10811-008-9392-7

Guisasola A, Pijuan M, Baeza JA, Carrera J, Casas C, Lafuente J (2003) Aerobic phosphorus release linked to acetate uptake in bio-P sludge: process modeling using oxygen uptake rate. Biotechnol Bioeng 85:722–733. https://doi.org/10.1002/bit.10868

Hein M, Pedersen MF, Sand-Jensen K (1995) Size dependent nitrogen uptake in micro- and macroalgae. Mar Ecol Prog Ser 118:247–253. https://doi.org/10.3354/meps118247

Hellebust JA, Ahmad I (1989) Regulation of nitrogen assimilation in green microalgae. Biol Oceanogr 6:241–255. https://doi.org/10.1080/01965581.1988.10749529

Hillebrand H, Dürselen CD, Kirschtel D, Pollingher U, Zohary T (1991) Biovolume calculation for pelagic and benthic microalgae. J Phycol 35:403–421. https://doi.org/10.1046/j.1529-8817.1999.3520403.x

Hu Q, Westerhoff P, Vermaas W (2000) Removal of nitrate from groundwater by cyanobacteria: quantitative assessment of factors influencing nitrate uptake. Appl Environ Microbiol 66:133–139. https://doi.org/10.1128/AEM.66.1.133-139.2000

Hyka P, Lickova S, Přibyl P, Melzoch K, Kovar K (2013) Flow cytometry for the development of biotechnological processes with microalgae. Biotechnol Adv 31:2–16. https://doi.org/10.1016/j.biotechadv.2012.04.007

Jia H, Yuan Q (2016) Removal of nitrogen from wastewater using microalgae and microalgae–bacteria consortia. Cogent Environ Sci 2:1275089. https://doi.org/10.1080/23311843.2016.1275089

Johnson KR, Admassu W (2013) Mixed algae cultures for low cost environmental compensation in cultures grown for lipid production and wastewater remediation. J Chem Technol Biotechnol 88:992–998. https://doi.org/10.1002/jctb.3943

Kamalanathan M, Pierangelini M, Shearman LA, Gleadow R, Beardall J (2016) Impacts of nitrogen and phosphorus starvation on the physiology of Chlamydomonas reinhardtii. J Appl Phycol 28:1509–1520. https://doi.org/10.1007/s10811-015-0726-y

Kandimalla P, Desi S, Vurimindi H (2015) Mixotrophic cultivation of microalgae using industrial flue gases for biodiesel production. Environ Sci Pollut Res 23:9345–9354. https://doi.org/10.1007/s11356-015-5264-2

Kim CJ, Jung YH, Ko SR, Kim HI, Park YH, Oh HM (2007) Raceway cultivation of Spirulina platensis using underground water. J Microbiol Biotechnol 17:853–857

Lee K, Lee CG (2001) Effect of light/dark cycles on wastewater treatment by microalgae. Biotechnol Bioprocess Eng 6:194–199. https://doi.org/10.1007/BF02932550

Lee CS, Lee SA, Ko SR, Oh HM, Ahn CY (2015) Effects of photoperiod on nutrient removal, biomass production, and algal-bacterial population dynamics in lab-scale photobioreactors treating municipal wastewater. Water Res 68:680–691. https://doi.org/10.1016/j.watres.2014.10.029

Manheim D, Nelson Y (2013) Settling and bioflocculation of two species of algae used in wastewater treatment and algae biomass production. Environ Prog Sustain Energy 32:946–954. https://doi.org/10.1002/ep.11861

Martínez ME, Sánchez S, Jiménez JM, Yousfi FE, Muñoz L (2000) Nitrogen and phosphorus removal from urban wastewater by the microalga Scenedesmus obliquus. Bioresour Technol 73:263–272. https://doi.org/10.1016/S0960-8524(99)00121-2

Mueller B, den Haan J, Visser MP, Vermeij MJA, van Duyl FC (2016) Effect of light and nutrient availability on the release of dissolved organic carbon (DOC) by Caribbean turf algae. Sci Rep. https://doi.org/10.1038/srep23248

Patel A, Barrington S, Lefsrud M (2012) Microalgae for phosphorus removal and biomass production: a six species screen for dual-purpose organisms. Bioenergy 4:485–495. https://doi.org/10.1111/j.1757-1707.2012.01159.x

Pérez L, Salgueiro JL, Maceiras R, Cancela A, Sanchez A (2017) An effective method for harvesting of marine microalgae: pH induced flocculation. Biomass Bioenergy 97:20–26. https://doi.org/10.1016/j.biombioe.2016.12.010

Petrovic A, Simonic M (2015) Effect of Chlorella sorokiniana on the biological denitrification of drinking water. Environ Sci Pollut Res 22:5171–5183. https://doi.org/10.1007/s11356-014-3745-3

Powell N, Shilton AN, Pratt S, Chisti Y (2008) Factors influencing luxury uptake of phosphorus by microalgae in waste stabilization ponds. Environ Sci Technol 42:5958–5962. https://doi.org/10.1021/es703118s

Raven JA, Beardall J (2016) Dark respiration and organic carbon loss. In: The Physiology of Microalgae. Borowitzka MA, Beardall J, Raven JA (eds) Springer International Publishing, pp 129–136.

Rezvani F, Sarrafzadeh MH, Ebrahimi S, Oh HM (2017a) Nitrate removal from drinking water with a focus on biological methods: a review. Environ Sci Pollut Res. https://doi.org/10.1007/s11356-017-9185-0

Rezvani F, Sarrafzadeh MH, Seo SH, Oh HM (2017b) Phosphorus optimization for simultaneous nitrate-contaminated groundwater treatment and algae biomass production using Ettlia sp. Bioresour Technol 244:785–792. https://doi.org/10.1016/j.biortech.2017.08.053

Rhee G (1978) Effects of N:P atomic ratios and nitrate limitation on algal growth, cell composition, and nitrate uptake. Limnol Oceanogr 23:10–25. https://doi.org/10.4319/lo.1978.23.1.0010

Salim S, Shi Z, Vermue MH, Wijffels RH (2013) Effect of growth phase on harvesting characteristics, autoflocculation and lipid content of Ettlia texensis for microalgal biodiesel production. Bioresour Technol 138:214–221. https://doi.org/10.1016/j.biortech.2013.03.173

Salim S, Kosterink NR, Tchetkoua Wacka ND, Vermuë MH, Wijffels RH (2014) Mechanism behind autoflocculation of unicellular green microalgae Ettlia texensis. J Biotechnol 174:34–38. https://doi.org/10.1016/j.jbiotec.2014.01.026

Sarrafzadeh MH, Schorr-Galindo S, La HJ, Oh HM (2014) Aeration effects on metabolic events during sporulation of bacillus thuringiensis. J Microbiol 52:597–603. https://doi.org/10.1007/s12275-014-3547-9

Sarrafzadeh MH, La HJ, Seo SH, Asgharnejad H, Oh HM (2015) Evaluation of various techniques for microalgal biomass quantification. J Biotechnol 216:90–97. https://doi.org/10.1016/j.jbiotec.2015.10.010

Strickland JDH, Parsons TR (1968) A practical handbook of seawater analysis, 2th edn. Fisheries Research Board of Canada, Ottawa, pp 108–110

Su Y, Mennerich A, Urban B (2012) Comparison of nutrient removal capacity and biomass settleability of four high-potential microalgal species. Bioresour Technol 124:157–162. https://doi.org/10.1016/j.biortech.2012.08.037

Tarayre C, Nguyen HT, Brognaux A, Delepierre A, De Clercq L, Charlier R, Michels E, Meers E, Delvigne F (2016) Characterisation of phosphate accumulating organisms and techniques for polyphosphate detection: a review. Sensors (Basel) 16:797. https://doi.org/10.3390/s16060797

Ummalyma SB, Gnansounou E, Sukumaran RK, Sindhu R, Pandey A, Sahoo D (2017) Bioflocculation: an alternative strategy for harvesting of microalgae – an overview. Bioresour Technol 242:227–235. https://doi.org/10.1016/j.biortech.2017.02.097

USEPA Standard (2002) National primary drinking water standard. EPA 816-F-02-013

Whitton R, Le Mevel A, Pidou M, Ometto F, Villa R, Jefferson B (2016) Influence of microalgal N and P composition on wastewater nutrient remediation. Water Res 91:371–378. https://doi.org/10.1016/j.watres.2015.12.054

Wongsanit J, Teartisup P, Kerdsueb P, Tharnpoophasiam P, Worakhunpiset S (2015) Contamination of nitrate in groundwater and its potential human health: a case study of lower Mae Klong river basin, Thailand. Environ Sci Pollut Res 22:11504–11512. https://doi.org/10.1007/s11356-015-4347-4

Yoo C, La HJ, Kim SC, Oh HM (2015) Simple processes for optimized growth and harvest of Ettlia sp. by pH control using CO2 and light irradiation. Biotechnol Bioeng 112:288–296. https://doi.org/10.1002/bit.25362
Funding
The authors would like to acknowledge the financial support from the University of Tehran under grant number 8104956/1/03, KRIBB Research Initiative Program, and Advanced Biomass R&D Center (ABC) of the Global Frontier Program funded by the Korean Ministry of Science and ICT (2010-0029723).
Additional information
Responsible editor: Philippe Garrigues
Electronic supplementary material
About this article
Cite this article
Rezvani, F., Sarrafzadeh, MH., Seo, SH. et al. Optimal strategies for bioremediation of nitrate-contaminated groundwater and microalgae biomass production. Environ Sci Pollut Res 25, 27471–27482 (2018). https://doi.org/10.1007/s11356-018-2777-5
Received:

Accepted:

Published:

Issue Date:
Keywords
Microalgal size

Nitrate-contaminated groundwater

Light-dark cycle

Biomass production

Mono-cultivation

Mixed cultivation