Abstract
The present study assessed the long-term daily administration of benzoic acid (BA), potassium sorbate (PS), chlorophyll (CPL), tartrazine (TAZ), and butylated hydroxyanisole (BHA) on hepato-renal changes and DNA damage in rats. Animals were orally administered with the 10 times of the acceptable daily intake (ADI) from each tested substance daily for 60 consecutive days. Blood, liver, and kidney samples were collected to evaluate hematological, biochemical, histopathological, and genotoxic alterations. The extent of liver and kidney damage was evaluated by comet assay and histopathologically. Significant reduction of leukocyte numbers and lymphocytes % in CPL- and TAZ-treated rats. However, significant increases in platelet count in all treated groups after 60 days were detected. The levels of serum transaminases enzymes (ALT, AST), alkaline phosphatase (ALP), and creatinine were significantly increased in all treatments except with BHA group, but no substantial differences were found in urea after 60 days. Aside from BHA, results of DNA damage revealed significant increases in tailed nuclei, tail moment, DNA% in the tail, and tail length in liver and kidney at different degrees. Moreover, the histopathological figures of liver and kidneys affirmed destructive and degenerative changes. The study indicates that most of the tested food additives may provoke genotoxicity and hepato-nephropathy, which could be serious for human health. Therefore, it is necessary to be informed about the hazardous effects of food additives and more attention should be focused towards using natural substitutes.
Access options
Buy single article
Instant access to the full article PDF.
USD 39.95
Price excludes VAT (USA)
Tax calculation will be finalised during checkout.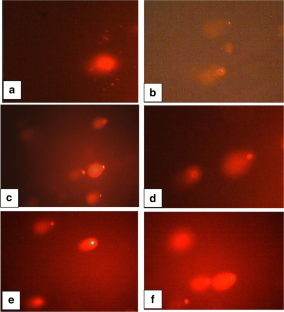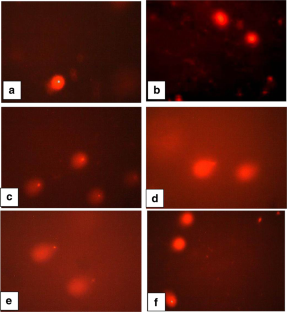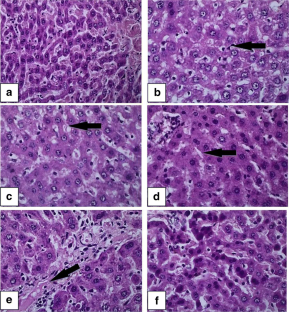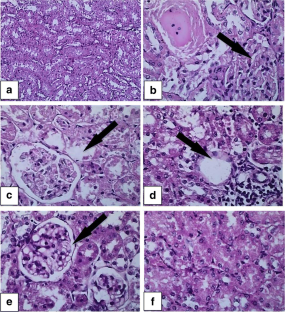 References
Aboel-Zahab H, El-Khyat Z, Sidhom G, Awadallah R, Abdel-Al W, Mahdy K (1997) Physiological effects of some synthetic food colouring additives on rats. Boll Chim Farm 136:615–627

Abd-Elhakim YM, Hashem MM, Anwar A, El-Metwally AE, Abo-El-Sooud K, Moustafa GG, Mouneir SM, Ali HA (2018) Effects of the food additives sodium acid pyrophosphate, sodium acetate, and citric acid on hemato-immunological pathological biomarkers in rats: relation to PPAR-α, PPAR-γ and TNFα signaling pathway Environmental Toxicology and Pharmacology https://doi.org/10.1016/j.etap.2018.07.002

Al-Seeni MN, El Rabey HA, Al-Hamed AM, Zamazami MA, (2018) Nigella sativa oil protects against tartrazine toxicity in male rats. Toxicol Rep 5:146–155

Alsuhaibani AM, ALkehayez NM, Alshawi Amal H, Al-Faris NA (2017) Effects of chlorophyll on body functioning and blood glucose levels. Asian J Clin Nutr 9:64–70

Amin K, Hameid HA II, Elsttar AA (2010) Effect of food azo dyes tartrazine and carmoisine on biochemical parameters related to renal, hepatic function and oxidative stress biomarkers in young male rats. Food Chem Toxicol 48:2994–2999

Ashour AA, Abdelaziz I (2009) Role of fast green on the blood of rats and the therapeutic action of vitamins C or E. Int J Integr Biol 6:6–11

Bain B, Bates I, Laffan MA, Lewis SM (2012) Dacie and Lewis practical haematology, 11th edn. Churchill Livingstone, Elsevier, Philadelphia

Bautista ARPL, Moreira E, Batista MS, Miranda M, Gomes I (2004) Subacute toxicity assessment of annatto in rat. Food Chem Toxicol 42:625–629

Bloom AS, Russell LJ, Weisskopf B, Blackerby JL (1988) Methylphenidate-induced delusional disorder in a child with attention deficit disorder with hyperactivity. J Am Acad Child Adolesc Psychiatry 27:88–89

Boindogurong J, Higaki T, Egashira Y, Sanada H (2005) Protective effect of butylated hydroxyanisole and butylated hydroxytoluene against acetaminophen-induced hepatotoxicity in rats. J Oleo Sci 54:153–159

Borzelleca J, Hallagan J (1988) Chronic toxicity/carcinogenicity studies of FD & C Yellow No. 5 (tartrazine) in rats. Food Chem Toxicol 26:179–187

Branen A, Davidson PM, Salminen S, Thorngate J (2001) Food additives. Taylor & Francis, New York

De Boeck M, Touil N, De Visscher G, Vande PA, Kirsch-Volders M (2000) Validation and implementation of an internal standard in comet assay analysis. Mutat Res Genet Toxicol Environ Mutagen 469:181–197

Devlin J, David T (1992) Tartrazine in atopic eczema. Arch Dis Child 67:709–711

Duez P, Dehon G, Kumps A, Dubois J (2003) Statistics of the comet assay: a key to discriminate between genotoxic effects. Mutagenesis 18:159–166

El-Wahab HMFA, Moram GSE-D (2013) Toxic effects of some synthetic food colorants and/or flavor additives on male rats. Toxicol Ind Health 29:224–232

Frankel EN (1998) Free radical oxidation. In: Frankel EN (ed) Lipid oxidation. The Oily Press, Scotland, pp 13–22

Hashem MM, Atta AH, Arbid MS, Nada SA, Asaad GF (2010) Immunological studies on amaranth, sunset yellow and curcumin as food colouring agents in albino rats. Food Chem Toxicol 48:1581–1586

Hassan RI, Raheem GSA (2016) Effect of feeding benzoic acid on performance of broiler chickens journal of advanced. Vet Res 6:118–122

Himri I et al (2011) A 90-day oral toxicity study of tartrazine, a synthetic food dye, in wistar rats. Group 300:00

Hood W (2012) A–Z of clinical chemistry: a guide for the trainee. Springer Science & Business Media

Kahl R, Kappus H (1993) Toxicology of the synthetic antioxidants BHA and BHT in comparison with the natural antioxidant vitamin E. Z Lebensm Unters Forsch 196:329–338

King CM, Land SJ, Jones RF, Debiec-Rychter M, Lee M-S, Wang CY (1997) Role of acetyltransferases in the metabolism and carcinogenicity of aromatic amines. Mutat Res Fundam Mol Mech Mutagen 376:123–128

Kitamura Y, Nishikawa A, Furukawa F, Nakamura H, Okazaki K, Umemura T, Imazawa T, Hirose M (2003) A subchronic toxicity study of shea nut color in Wistar rats. Food Chem Toxicol 41:1537–1542

Maki T, Suzuki Y (1985) Benzoic acid and derivatives. In: Ullmann's encyclopedia of industrial chemistry. Vol. A3. Weinheim, Published by VCH Verlagsgesell schaft, Germany, pp 555–568

Mamur S, Yüzbaşıoğlu D, Ünal F, Yılmaz S (2010) Does potassium sorbate induce genotoxic or mutagenic effects in lymphocytes? Toxicol in Vitro 24:790–794

Mpountoukas P, Pantazaki A, Kostareli E, Christodoulou P, Kareli D, Poliliou S, Mourelatos C, Lambropoulou V, Lialiaris T (2010) Cytogenetic evaluation and DNA interaction studies of the food colorants amaranth, erythrosine and tartrazine. Food Chem Toxicol 48:2934–2944

Myllyperkiö M, Koski T, Vilpo L, Vilpo J (1999) Gama-irradiation-induced DNA single-and double-strand breaks and their repair in chronic lymphocytic leukemia cells of variable radiosensitivity. Hematol Cell Ther 41:95–103

Okubo T, Yokoyama Y, Kano K, Kano I (2004) Molecular mechanism of cell death induced by the antioxidant tert-butylhydroxyanisole in human monocytic leukemia U937 cells. Biol Pharm Bull 27:295–302

Østergaard G, Knudsen I (1998) The applicability of the ADI (acceptable daily intake) for food additives to infants and children. Food Addit Contam 15:63–74

Paget GE, Barnes GM (1964) Evaluation of drug activities, vol 1. Academic Press, London

Pandey H, Kumar V, Roy B (2014) Assessment of genotoxicity of some common food preservatives using Allium cepa L. as a test plant. Toxicol Rep 1:300–308

Pressinger R (1997) Environmental circumstances that can damage the developing brain, graduate student research project conducted at the University of South Florida. J Pediatr 92:64–67

Richard RT, N.J Totowa (1995) The history of food preservation. Technology in Food Production, 152

Rus V, Gherman C, Miclăuş V, Mihalca A, Nadăş G (2010) Comparative toxicity of food dyes on liver and kidney in guinea pigs: a histopathological study. Ann RSCB 15:161–165

Sasaki YF, Kawaguchi S, Kamaya A, Ohshita M, Kabasawa K, Iwama K, Taniguchi K, Tsuda S (2002) The comet assay with 8 mouse organs: results with 39 currently used food additives. Mutat Res Genet Toxicol Environ Mutagen 519:103–119

Singh NP, McCoy MT, Tice RR, Schneider EL (1988) A simple technique for quantitation of low levels of DNA damage in individual cells. Exp Cell Res 175:184–191

Sugihara N, Tsuruta Y, Furuno K (1998) Effect of potassium sorbate on cellular GSH level and lipid peroxidation in cultured rat hepatocytes. Biol Pharm Bull 21:524–526

Sulai NH, Tefferi A (2012) Why does my patient have thrombocytosis? Hematol Oncol Clin 26:285–301

Timbrell JA, Marrs TC (2009) Biotransformation of xenobiotics. General, Applied and Systems Toxicology

Yang X, Schnackenberg LK, Shi Q, Salminen WF (2014) Chapter 13 – Hepatic toxicity biomarkers. In: Gupta RC (ed) Biomarkers in Toxicology. Academic Press, Boston, pp 241–259 https://doi.org/10.1016/B978-0-12-404630-6.00013-0

Yılmaz S, Unal F, Aksoy H, Yuzbasıoglu D, Celik M (2008) Cytogenetic effects of citric acid and benzoic acid on allium chromosomes. Fresen Environ Bull 17:1029–1037
Acknowledgments
This work was funded by Cairo University, Project entitled "Assessment of Residual patterns and Genotoxicity of some food additives using LMRS (laser molecular Raman spectroscopy)."
Additional information
Responsible editor: Philippe Garrigues
About this article
Cite this article
Abo-EL-Sooud, K., Hashem, M.M., Badr, Y.A. et al. Assessment of hepato-renal damage and genotoxicity induced by long-term exposure to five permitted food additives in rats. Environ Sci Pollut Res 25, 26341–26350 (2018). https://doi.org/10.1007/s11356-018-2665-z
Received:

Accepted:

Published:

Issue Date:

DOI: https://doi.org/10.1007/s11356-018-2665-z
Keywords
Food additives

Benzoic acid

Potassium sorbate

Chlorophyll

Tartrazine

Butylated hydroxyanisole