Abstract
In this research, the optimum growth conditions for two zinc solubilizing bacteria (ZSB) have been studied for their potential application as bioinoculants to overcome Zn unavailability in soils. For this purpose, a laboratory-scale experiment was carried out to evaluate the zinc solubilizing ability of 80 plant growth promoting bacteria (PGPB) strains isolated from the rhizosphere of barley and tomato plants. To select effective ZSB, isolates were evaluated on Tris-mineral medium supplemented separately with zinc oxide, zinc carbonate, and zinc phosphate at a concentration of 0.1%. Two strains (Agrobacterium tumefaciens and Rhizobium sp.) were selected, based on a clear halo zone around their colonies in the solid medium supplemented with zinc oxide after 10 days of incubation at 29 °C. Results of solubilization at different pH values showed that these strains had solubilization activity in the range of pH 8–10 while no solubilization was observed at pH 6 and 7. The maximum Zn solubilization values were noted at pH 9: 51.4 mg L−1 (Agrobacterium tumefaciens) and 72.1 mg L−1 (Rhizobium sp). According to findings, bacterial growth was affected by different NaCl concentrations under in vitro condition. The salt concentration required for 50% inhibition of absorbance was 2.11 and 2.27% NaCl for Agrobacterium tumefaciens and Rhizobium sp., respectively. The maximum bacterial growth was observed at about 0.8% NaCl concentration.
Access options
Buy single article
Instant access to the full article PDF.
USD 39.95
Price excludes VAT (USA)
Tax calculation will be finalised during checkout.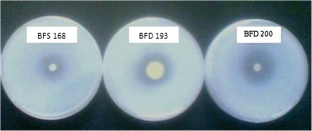 References
Ahemad M, Kibret M (2014) Mechanisms and applications of plant growth promoting rhizobacteria: current perspective. J King Saud Univ Sci 26:1–20

Aketi R, Sharma SK, Sharma MP, Namrata Y, Joshi OP (2014) Inoculation of zinc solubilizing Bacillus aryabhattai strains for improved growth, mobilization and biofortification of zinc in soybean and wheat cultivated in vertisols of central India. Appl Soil Ecol 73:87–96

Andronov EE, Petrova SN, Pinaev AG, Pershina EV, Rakhimgalieva SZ, Akhmedenov KM, Sergaliev NK (2012) Analysis of the structure of microbial community in soils with different degrees of salinization using T-RFLP and real- time PCR techniques. Eurasian Soil Sci 45:147–156

Bakhshandeh E, Rahimian H, Pirdashti H, Nematzadeh GA (2014) Phosphate solubilization potential and modeling of stress tolerance of rhizobacteria from rice paddy soil in northern Iran. World J Microbiol Biotechnol 30:2437–2447

Bakhshandeh E, Pirdashti H, Shahsavarpour Lendeh K (2017a) Phosphate and potassium-solubilizing bacteria effect on the growth of rice. Ecol Eng 103:164–169

Bakhshandeh E, Pirdashti H, Gilani Z (2017b) Application of mathematical models to describe rice growth and nutrients uptake in the presence of plant growth promoting microorganisms. Appl Soil Ecol 124:171–184. https://doi.org/10.1016/j.apsoil.2017.10.040

Balasubramanian V, Buresh RJ, Bell M. Zinc (2015) International Rice Research Institute. Available online at: http://www.knowledgebank.irri.org

Camacho C, Coulouris G, Avagyan V, Ma N, Papadopoulos J, Bealer K, Madden TL (2009) BLASTþ: architecture and applications. BMC Bioinformatics 10(1):421

Dastager S, Deepa C, Puneet S, Nautiyal C, Pandey A (2009) Isolation and characterization of plant growth-promoting strain Pantoea NII-186. From Western Ghat Forest soil, India. Lett Appl Microbiol 49:20–25

Deshwal VK, Chaubey A (2014) Isolation and characterization of Rhizobium leguminosarum from root nodule of pisum sativum L. JAIR 2(8):464–467

Dotaniya ML, Meena VD (2015) Rhizosphere effect on nutrient availability in soil and its uptake by plants: a review. Proc Natl Acad Sci  India Sect B Biol Sci 85:1–12

Elia A, Santamaria P (2013) Biodiversity in vegetable crops, a heritage to save: the case of Puglia region. Ital J Agron 8(1):e4. https://doi.org/10.4081/ija.2013.e4

Fairhurst TH, Witt C, Buresh R, Dobermann A (2007) Rice: a practical guide to nutrient management. International Rice Research Institute

Gandhi A, Muralidharan G (2016) Assessment of zinc solubilizing potentiality of Acinetobacter sp. isolated from rice rhizosphere. Eur J Soil Biol 76:1–8

Glick BR (2012) Plant growth-promoting bacteria: mechanisms and applications, vol 2012. Hindawi Publishing Corporation, pp 1–15 Article ID 963401

Goteti PK, Emmanuel LAE, Desai S, Shaik MHA (2013) Prospective zinc solubilising bacteria for enhanced nutrient uptake and growth promotion in maize (Zea mays L.). Int J Microbiol. https://doi.org/10.1155/2013/869697

Hussain A, Arshad M, Zahir ZA, Asghar M (2015) Prospects of zinc solubilizing bacteria for enhancing growth of maize. Pak J Agric Sci 52(4):915–922

Iratkar AG, Giri JD, Kadam MM, Giri JN, Dabhade MB (2014) Distribution of DTPA extractable micronutrients and their relationship with soil properties in soil of Parsori watershed of Nagpur district of Maharashtra. AJSS 9:297–299

Mishra DJ, Singh R, Mishra UK, Shahi SK (2013) Role of bio-fertilizer in organic agriculture: a review. Res J Recent Sci 2:39–41

Mishra IG, Sapre S, Tiwari S (2017) Zinc solubilizing bacteria from the rhizosphere of rice as prospective modulator of zinc biofortification in rice. Rhizosphere 3(1):185–190

Nahas E (1996) Factors determining rock phosphate solubilization by microorganisms isolated from soil. World J Microbiol Biotechnol 12:567–572

Nautiyal CS, Bhaduriya S, Kumar P, Lal HC, Mondal R, Verma D (2000) Stress induced phosphate solubilization in bacteria isolated in alkaline soils. FEMS Microbiol Lett 182:291–296

Pawar A, Ismail S, Mundhe S, Patil VD (2015) Solubilization of insoluble compounds by different microbial isolates in vitro condition. IJTA 33(2):865–869

Rengel Z (2015) Availability of Mn, Zn and Fe in the rhizosphere. J Soil Sci Plant Nutr 15(2):397–409

Russo F (1954) La foliocellosi degli agrumi dovuta a carenza di zinco. Tecnica Agricola 6:17–24 (in Italian)

Sarathambal C, Ilamurugu K, Balachandar D, Chinnadurai C, Yogita G (2015) Characterization and crop production efficiency of diazotrophic isolates from the rhizosphere of semi-arid tropical grasses of India. Appl Soil Ecol 87:1–10

Saravanan VS, Subramoniam SR, Raj SA (2003) Assessing in vitro solubilization potential of different zinc solubilizing bacteria (ZSB) isolates. Braz J Microbiol 34:121–125

Scagliola M, Pii Y, Mimmo T, Cesco S, Ricciuti P, Crecchio C (2016) Characterization of plant growth promoting traits of bacterial isolates from the rhizosphere of barley (Hordeum vulgare L.) and tomato (Solanum lycopersicon L.) grown under Fe sufficiency and deficiency. Plant Physiol Biochem 107:187–196

Shahab S, Ahmed N (2008) Effect of various parameters on the efficiency of zinc phosphate solubilization by indigenous bacterial isolates. Afr J Biotechnol 7(10):1543–1549

Sharma P, Kunawat KC, Kaur S, Kaur N (2014) Assessment of zinc solubilization by endophytic bacteria in legume rhizosphere. Indian J Appl Res 4(6):439–441

Shuman LM (1998) Micronutrient fertilizers. In: Rengel Z (ed) Nutrient use in crop production. The Haworth Press, New York, pp 165–195

Son HJ, Park GT, Cha MS, Heo MS (2006) Solubilization of insoluble inorganic phosphates by a novel salt-and pH-tolerant Pantoea agglomerans R-42 isolated from soybean rhizosphere. Bioresour Technol 97:204–210

Sunithakumari K, Padma Devi SN, Vasandha S (2016) Zinc solubilizing bacterial isolates from the agricultural fields of Coimbatore, Tamil Nadu, India. Curr Sci 110(2):196–205

Vitosh ML, Warncke DD, Lucas RE (1994) Zinc determine of crop and soil. Michigan State University Extension

Yaghoubi Khanghahi M, Pirdashti H, Rahimian H, Nematzadeh G, Ghajar Sepanlou M (2017) Potassium solubilising bacteria (KSB) isolated from rice paddy soil: from isolation, identification to K use efficiency. Symbiosis. https://doi.org/10.1007/s13199-017-0533-0

Yan N, Marschner P, Cao W, Zuo C, Qin W (2015) Influence of salinity and water content on soil microorganisms. ISWCR 3(4):316–323

Yu Z, Morrison M (2004) Comparisons of different hypervariable regions of rrs genes for use in fingerprinting of microbial communities by PCR-denaturing gradient gel electrophoresis. Appl Environ Microbiol 70(8):4800–4806
Acknowledgments
The authors thank Dr. Marina Scagliola and Mrs. Pasqua Murgese for the technical assistance. TXRF analysis was led at the "Micro X-ray Lab" of the University of Bari (Italy).
Additional information
Responsible editor: Robert Duran
About this article
Cite this article
Khanghahi, M.Y., Ricciuti, P., Allegretta, I. et al. Solubilization of insoluble zinc compounds by zinc solubilizing bacteria (ZSB) and optimization of their growth conditions. Environ Sci Pollut Res 25, 25862–25868 (2018). https://doi.org/10.1007/s11356-018-2638-2
Received:

Accepted:

Published:

Issue Date:

DOI: https://doi.org/10.1007/s11356-018-2638-2
Keywords
Agrobacterium tumefaciens
Rhizobium sp.

Zinc carbonate

Zinc phosphate

Zinc oxide

Zinc solubilizing bacteria