Abstract
Endosulfan is a persistent insecticide that is still used in some countries even though it is life-threatening and banned in the agricultural struggle. The solubility of pesticides in water is negligible. It is known that pesticides with better solubility in organic solvents have different solubility when the dielectric constants of these solvents are taken into account. The polymeric structure of arginine was modified with methacrylate to be a functional monomer, and it was immobilized on a solid support, poly(HEMA), and finally, poly(2-hydroxyethyl methacrylate-arginine methacrylate) was obtained and used as an effective adsorbent. The effect of organic solvents on endosulfan adsorption was investigated for the first time in the literature. Endosulfan was removed from alcohol media by using this polymeric structure synthesized by exploiting alcoho-phobic interaction in this work. Nuclear magnetic resonance (NMR), elemental analysis, and Fourier transform infrared spectroscopy (FTIR) methods were used for the structural characterization and therefore to prove successful synthesis of cryogels. Morphological characteristics were also investigated by scanning electron microscopy (SEM), an N2 adsorption method, and swelling test. Adsorption experiments were carried out against varying interaction time and concentration parameters in the batch system. Since the alcohol used as a solvent has a pH value close to the ionic strength of drinking water, no change was made in the pH of the solution. Endosulfan molecules dissolved in solvents such as toluene, dichloromethane, acetone, and chloroform were removed using poly(HEMA-ArMA) cryogels to determine the solvent effect on the adsorption of endosulfan. As expected, the removal of endosulfan from the solvent toluene provided the best result. Although the adsorption in toluene is almost 9.5 times higher than that in ethanol, the use of toluene in the adsorption process due to its chemical structure is not feasible. Thus, experiments were carried out in ethanol.
Access options
Buy single article
Instant access to the full article PDF.
USD 39.95
Price excludes VAT (USA)
Tax calculation will be finalised during checkout.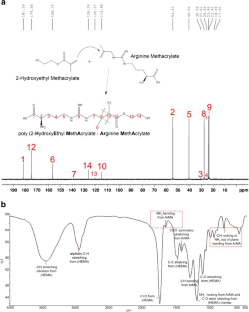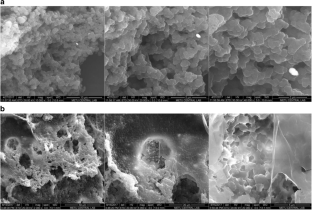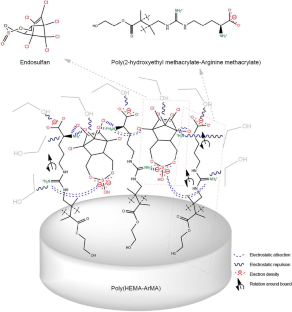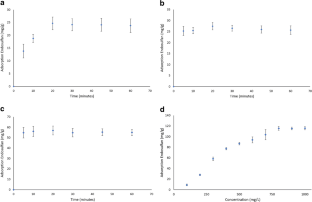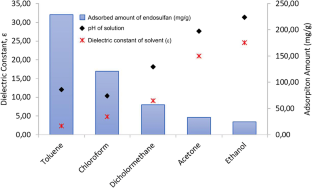 References
Baghapour MA, Nasseri S, Derakhshan Z (2013) Atrazine removal from aqueous solutions using submerged biological aerated filter. J Environ Health Sci Eng 11:6. https://doi.org/10.1186/2052-336x-11-6

Busquets R, Ivanov AE, Mbundi L, Hörberg S, Kozynchenko OP, Cragg PJ, Savina IN, Whitby RLD, Mikhalovsky SV, Tennison SR, Jungvid H, Cundy AB (2016) Carbon-cryogel hierarchical composites as effective and scalable filters for removal of trace organic pollutants from water. J Environ Manag 182:141–148. https://doi.org/10.1016/j.jenvman.2016.07.061

Camacho-Morales RL, Sánchez JE (2016) Biotechnological use of Fungi for the degradation of recalcitrant agro-pesticides. In: Mushroom biotechnology. Elsevier, p 203–214

Çetin K, Denizli A (2015) 5-fluorouracil delivery from metal-ion mediated molecularly imprinted cryogel discs. Colloids Surf B: Biointerfaces 126:401–406. https://doi.org/10.1016/j.colsurfb.2014.12.038

Coleman P, Dolinger P (1982) Endosulfan monograph number four: Environmental health evaluations of California restricted pesticides Prepared by Peter M Dolinger Associates, Menlo Park, CA. State of Department of Pesticide Regulation, Sacramento

Coutselinis A, Kentarchou P, Boukis D (1976) Separation and identification of the insecticide "endosulfan" from biological materials. Forensic Sci 8:251–254. https://doi.org/10.1016/0300-9432(76)90139-4

Doğan A, Özkara S, Sarı MM, Uzun L, Denizli A (2012) Evaluation of human interferon adsorption performance of Cibacron blue F3GA attached cryogels and interferon purification by using FPLC system. J Chromatogr B 893-894:69–76. https://doi.org/10.1016/j.jchromb.2012.02.036

Erol K, Köse K, Uzun L, Say R, Denizli A (2016) Polyethyleneimine assisted-two-step polymerization to develop surface imprinted cryogels for lysozyme purification. Colloids Surf B: Biointerfaces 146:567–576. https://doi.org/10.1016/j.colsurfb.2016.06.060

Gruchlik Y, Linge K, Joll C (2018) Removal of organic micropollutants in waste stabilisation ponds: a review. J Environ Manag 206:202–214. https://doi.org/10.1016/j.jenvman.2017.10.020

HSDB Hazardous Substances Data Bank: A database of the US National Library of Medicine's TOXNET system (2010) Dibromoacetic Acid, CASRN: 631-64-1. https://toxnet.nlm.nih.gov/cgibin/sis/search2/f?./temp/~GhqaRR:18. 2018

Hur D, Ekti SF, Say R (2007) N-Acylbenzotriazole mediated synthesis of some methacrylamido amino acids. Lett Org Chem 4:585–587

Jindal A, Sankhyan N (2012) Endosulfan poisoning resulting from skin exposure. Indian J Pediatr 79:1104–1104. https://doi.org/10.1007/s12098-011-0623-6

Kidd H, James DR, Royal Society of Chemistry (Great Britain). Information Services (1991) The Agrochemicals handbook 3rd edn. Royal Society of Chemistry, Information Services, Cambridge

Köse K, Köse DA (2017) Removal of DDE by exploiting the alcoho-phobic interactions. Environ Sci Pollut Res 24:9187–9193. https://doi.org/10.1007/s11356-017-8576-6

Kose K, Uzun L (2016) PolyGuanine methacrylate cryogels for ribonucleic acid purification. J Sep Sci 39:1998–2005. https://doi.org/10.1002/jssc.201600199

Kose K, Erol K, Ozgur E, Uzun L, Denizli A (2016) PolyAdenine cryogels for fast and effective RNA purification. Colloids Surf B Biointerfaces 146:678–686. https://doi.org/10.1016/j.colsurfb.2016.07.003

Kumar S, Rai SB (2010) Spectroscopic studies of L-arginine molecule. Indian J Pure Appl Phys 48:251–255

Lacassie E, Marquet P, Gaulier J-M, Dreyfuss M-F, Lachâtre G (2001) Sensitive and specific multiresidue methods for the determination of pesticides of various classes in clinical and forensic toxicology. Forensic Sci Int 121:116–125. https://doi.org/10.1016/S0379-0738(01)00461-3

Levet A, Bordes C, Clément Y, Mignon P, Chermette H, Marote P, Cren-Olivé C, Lantéri P (2013) Quantitative structure–activity relationship to predict acute fish toxicity of organic solvents. Chemosphere 93:1094–1103. https://doi.org/10.1016/j.chemosphere.2013.06.002

Lucero PA, Ferrari MM, Orden AA, Cañas I, Nassetta M, Kurina-Sanz M (2016) Treatment of endosulfan contaminated water with in vitro plant cell cultures. J Hazard Mater 305:149–155. https://doi.org/10.1016/j.jhazmat.2015.11.027

Maryott AA, Smith ER (1951) Table of dielectric constants of pure liquids. National Bureau of Standards, Gaithersburg

McKay G (1995) Use of adsorbents for the removal of pollutants from wastewater. Taylor & Francis

Memon S, Memon N, Memon S, Latif Y (2011) An efficient calix[4]arene based silica sorbent for the removal of endosulfan from water. J Hazard Mater 186:1696–1703. https://doi.org/10.1016/j.jhazmat.2010.12.048

Menezes RG, Qadir TF, Moin A, Fatima H, Hussain SA, Madadin M, Pasha SB, al Rubaish FA, Senthilkumaran S (2017) Endosulfan poisoning: an overview. J Forensic Legal Med 51:27–33. https://doi.org/10.1016/j.jflm.2017.07.008

Mishra PC, Patel RK (2008) Removal of endosulfan by sal wood charcoal. J Hazard Mater 152:730–736. https://doi.org/10.1016/j.jhazmat.2007.07.091

Nelson DL, Lehninger AL, Cox MM (2008) Lehninger principles of biochemistry. W. H. Freeman

Pohanish RP (2014) Sittig's handbook of pesticides and agricultural chemicals. Elsevier Science

Ramya K, Raja CR (2016) Studies on the growth and characterization of L-arginine maleate dihydrate crystal grown from liquid diffusion technique. J Miner Mater Charact Eng 4:143–153

Schoeters G, Den Hond E, Dhooge W, Van Larebeke N, Leijs M (2008) Endocrine disruptors and abnormalities of pubertal development. Basic Clin Pharmacol Toxicol 102:168–175

Shah NS, He X, Khan HM, Khan JA, O'Shea KE, Boccelli DL, Dionysiou DD (2013) Efficient removal of endosulfan from aqueous solution by UV-C/peroxides: a comparative study. J Hazard Mater 263:584–592. https://doi.org/10.1016/j.jhazmat.2013.10.019

Shah NS, He X, Khan JA, Khan HM, Boccelli DL, Dionysiou DD (2015) Comparative studies of various iron-mediated oxidative systems for the photochemical degradation of endosulfan in aqueous solution. J Photochem Photobiol A Chem 306:80–86. https://doi.org/10.1016/j.jphotochem.2015.03.014

Shen L, Wania F (2005) Compilation, evaluation, and selection of physical−chemical property data for organochlorine pesticides. J Chem Eng Data 50:742–768. https://doi.org/10.1021/je049693f

Silva M, Beauvais S (2010) Risk assessment for acute, subchronic, and chronic exposure to pesticides: endosulfan11The interpretations expressed are the authors' and do not necessarily reflect policies of the Department of Pesticide Regulation of the California Environmental Protection Agency. In: Hayes' handbook of pesticide toxicology (third edition). Elsevier, pp 499–522

Tamahkar E, Bakhshpour M, Andaç M, Denizli A (2017) Ion imprinted cryogels for selective removal of Ni(II) ions from aqueous solutions. Sep Purif Technol 179:36–44. https://doi.org/10.1016/j.seppur.2016.12.048

Weber J, Halsall CJ, Muir D, Teixeira C, Small J, Solomon K, Hermanson M, Hung H, Bidleman T (2010) Endosulfan, a global pesticide: a review of its fate in the environment and occurrence in the Arctic. Sci Total Environ 408:2966–2984. https://doi.org/10.1016/j.scitotenv.2009.10.077

Wink O (1985) UV-VIS-spectrum (alpha endosulfan) unpublished report(B) 108:85

Yadla M, Yanala S, Parvithina S, Chennu K, Annapindi N, Vishnubhotla S (2013) Acute kidney injury in Endosulfan poisoning. Saudi J Kidney Dis Transpl 24:592–593

Yilmaz F, Kose K, Sari MM, Demirel G, Uzun L, Denizli A (2013) Bioinspired surface modification of poly(2-hydroxyethyl methacrylate) based microbeads via oxidative polymerization of dopamine. Colloids Surf B Biointerfaces 109:176–182. https://doi.org/10.1016/j.colsurfb.2013.03.041

Zearley TL, Summers RS (2012) Removal of trace organic micropollutants by drinking water biological filters. Environ Sci Technol 46:9412–9419. https://doi.org/10.1021/es301428e
Acknowledgements
The authors of this research were hugely indebted to the Hitit University, Alaca Avni Çelik Vocational School, for the laboratory facilities. The authors of this research, which was supported by the Hittite University Scientific Research Projects Coordination Unit with a grant number as ALACA19002.17.001, were hugely indebted to the Hittite University.
Ethics declarations
Conflict of interest
The authors declare that they have no conflict of interest.
Additional information
Responsible editor: Philippe Garrigues
About this article
Cite this article
A. Akveran, G., Köse, K. & Köse, D. Solvent effect on endosulfan adsorption onto polymeric arginine-methacrylate cryogels. Environ Sci Pollut Res 25, 25458–25467 (2018). https://doi.org/10.1007/s11356-018-2531-z
Received:

Accepted:

Published:

Issue Date:

DOI: https://doi.org/10.1007/s11356-018-2531-z
Keywords