Abstract
Phytocapping is increasingly regarded as an economical and environmentally sustainable post-closure landfill management strategy. During 2013, a phytocap comprised of koala habitat trees was established on a historic landfill site in Lismore as part of an Australian trial program (A-ACAP). This case study was conducted to determine trace element contamination of the Lismore phytocap soil and foliage, and identify risks to grazing koalas. Foliage of Eucalyptus tereticornis, a key koala food tree, and Acacia melanoxylon, a reference native species, were assessed at the phytocap and an uncontaminated reference site. Concentrations of Ag, As, Hg and Pb were significantly higher in foliage from the phytocap compared to that from the reference site (p < 0.0001df 7, 52). Mean trace element concentrations in phytocap E. tereticornis foliage were compliant with state and international standards for contaminants in food and animal feed (NSW State Government, 2010; WHO and FAO, 2015) and soil was compliant with national health-based investigation levels for contaminated sites (NEPC, 2011). However, contaminant distribution was not homogenous, and As and Pb concentrations exceeded guidelines in some soil and foliage samples. Based on available guidelines and weekly dietary intake calculations, risks to koala health posed by trace element contamination of phytocap foliage are currently low, though should be managed by continued monitoring as the vegetation matures.
Access options
Buy single article
Instant access to the full article PDF.
USD 39.95
Price excludes VAT (USA)
Tax calculation will be finalised during checkout.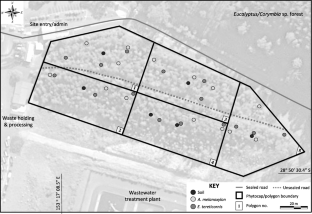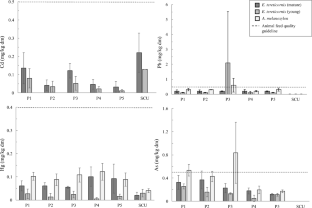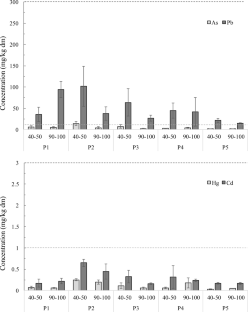 Notes
Also known as evapotranspiration (ET) caps
References
ABS (Australian Bureau of Statistics) (2010) Measures of Australia's progress, 2010: waste [Online]. Available: www.abs.gov.au/ausstats/abs@.nsf/Lookup/by Subject/1370.0~2010~Chapter~ Waste%20(6.6). Accessed April 2018

Albright WH, Benson CH, Gee GW, Abichou T, Tyler SW, Rock SA (2006) Field performance of three compacted clay landfill covers. Vadose Zone J 5(4):1157–1171. https://doi.org/10.2136/vzj2005.0134

Ali H, Khan E, Sajad MA (2013) Phytoremediation of heavy metals: concepts and applications. Chemosphere 91(7):869–881. https://doi.org/10.1016/j.chemosphere.2013.01.075

ANZECC & NHMRC (Australian and New Zealand Environment and Conservation Council & National Health and Medical Research Council) 1992 Australian and New Zealand guidelines for the assessment and management of contaminated sites. Sydney: ANZECC, p 66. Available: https://www.nhmrc.gov.au/guidelines-publications/eh17. Accessed April 2018

Archer MJG, Caldwell RA (2004) Response of six Australian plant species to heavy metal contamination at an abandoned mine site. Water Air Soil Pollut 157(1–4):257–267. https://doi.org/10.1023/B:WATE.0000038900.66771.bf

Ashraf MA, Maah MJ, Yusoff I (2011) Heavy metals accumulation in plants growing in ex tin mining catchment. Int J Environ Sci Technol 8(2):401–416

Bale CL (1992) Eucalypts and angophoras of the North Coast New South Wales: a key to the indigenous species. Botany Dept, University of New England, Armidale, p 39

Brady NC, Weil RR (2016) The nature and properties of soils, 15th edn. Pearson Education Inc, New Jersey, p 912

El-Fadel M, Findikakis AN, Leckie JO (1997) Environmental impacts of solid waste landfilling. J Environ Manag 50(1):1–25. https://doi.org/10.1006/jema.1995.0131

Ellis WAH, Melzer A, Carrick FN, Hasegawa M (2002) Tree use, diet and home range of the koala (Phascolarctos cinereus) at Blair Athol, central Queensland. Wildl Res 29(3):303–311. https://doi.org/10.1071/WR00111

Emery A, Davies A, Griffiths A, Williams K (2007) Environmental and economic modelling: a case study of municipal solid waste management scenarios in Wales. Resour Conserv Recyl 49(3):244–263. https://doi.org/10.1016/j.resconrec.2006.03.016

Evangelou MWH, Robinson BH, Günthardt-Goerg MS, Schulin R (2012) Metal uptake and allocation in trees grown on contaminated land: implications for biomass production. Int J Phytoremediation 15(1):77–90. https://doi.org/10.1080/15226514.2012.670317

Floyd AG (1990) Australian rainforests in New South Wales. Surrey Beatty and Sons, Sydney

FSANZ (Food Standards Australia New Zealand) (2003) The 20th Australian total diet survey: a total diet survey of pesticide residues and contaminants. FSANZ, Canberra, p 47

Gall JE, Boyd RS, Rajakaruna N (2015) Transfer of heavy metals through terrestrial food webs: a review. Environ Monit Assess 187(4):201. https://doi.org/10.1007/s10661-015-4436-3

Gallagher L, Ferreira S, Convery F (2008) Host community attitudes towards solid waste landfill infrastructure: comprehension before compensation. J Environ Plan Manag 51(2):233–257. https://doi.org/10.1080/09640560701864878

Goldhaber SB (2003) Trace element risk assessment: essentiality vs toxicity. Regul Toxicol Pharmacol 38(2):232–242. https://doi.org/10.1016/S0273-2300(02)00020-X

Hazelton P, Murphy B (2016) Interpreting soil test results: what do all the numbers mean? vol 186. CSIRO Publishing, Collingwood

Hindell MA, Lee AK (1987) Habitat use and tree preferences of koalas in a mixed eucalypt forest. Wildl Res 14(4):349–360. https://doi.org/10.1071/WR9870349

Hingston JA, Collins CD, Murphy RJ, Lester JN (2001) Leaching of chromated copper arsenate wood preservatives: a review. Environ Pollut 111(1):53–66. https://doi.org/10.1016/S0269-7491(00)00030-0

Hoornweg D, Bhada-Tata P (2012) What a waste: a global review of solid waste management. Urban Development Series Knowledge Paper no. 15. World Bank, Urban Development and Local Government Unit, Washington DC, p 98

Khapre A, Kumar S, Rajasekaran C (2017) Phytocapping: an alternate cover option for municipal solid waste landfills. Environ Technol 19:1–8. https://doi.org/10.1080/09593330.2017.1414314

Kjeldsen P, Barlaz MA, Rooker AP, Baun A, Ledin A, Christensen TH (2002) Present and long-term composition of MSW landfill leachate: a review. Crit Rev Environ Sci Technol 32(4):297–336. https://doi.org/10.1080/10643380290813462

Lamb DT, Venkatraman K, Bolan N, Ashwath N, Choppala G, Naidu R (2014) Phytocapping: an alternative technology for the sustainable management of landfill sites. Crit Rev Environ Sci Technol 44(6):561–637. https://doi.org/10.1080/10643389.2012.728823

Lancaster G (2006) Assessment of total soil manganese and chromium in basaltic soils of the North Coast, NSW: an assessment of manganese and chromium possible soil contamination as required for State Environmental Planning Policy 55. Southern Cross University, School of Environment, Science and Engineering, Lismore, p 15

LCC (Lismore City Council) (2013) Comprehensive koala plan of management for south-east Lismore. LCC, Lismore, p 83

LCC (Lismore City Council) (2017). Phytocapping [Online]. Available: www.northernriverswaste.com.au/cp_themes/default/page.asp?p=DOC-BOU-18-03-74. Accessed April 2018

MacFarlane GR, Koller CE, Blomberg SP (2007) Accumulation and partitioning of heavy metals in mangroves: a synthesis of field-based studies. Chemosphere 69(9):1454–1464. https://doi.org/10.1016/j.chemosphere.2007.04.059

Maillard A, Diquélou S, Billard V, Laîné P, Garnica M, Prudent M, Garcia-Mina JM, Yvin JC, Ourry A (2015) Leaf mineral nutrient remobilization during leaf senescence and modulation by nutrient deficiency. Front Plant Sci 6:1–15. https://doi.org/10.3389/fpls.2015.00317

Malik M, Chaney RL, Brewer EP, Li YM, Angle JS (2000) Phytoextraction of soil cobalt using hyperaccumulator plants. Int J Phytoremediation 2(4):319–329

Marchiol L, Fellet G, Boscutti F, Montella C, Mozzi R, Guarino C (2013) Gentle remediation at the former "Pertusola Sud" zinc smelter: evaluation of native species for phytoremediation purposes. Ecol Eng 53:343–353. https://doi.org/10.1016/j.ecoleng.2012.12.072

Melzer A, Carrick F, Menkhorst P, Lunney D, St. John B (2000) Overview, critical assessment, and conservation implications of koala distribution and abundance. Conserv Biol 14(3):619–628. https://doi.org/10.1046/j.1523-1739.2000.99383.x

Moore BD, Foley WJ (2000) A review of feeding and diet selection in koalas (Phascolarctos cinereus). Aust J Zool 48(3):317–333. https://doi.org/10.1071/ZO99034

Nagajyoti PC, Lee KD, Sreekanth TVM (2010) Heavy metals, occurrence and toxicity for plants: a review. Environ Chem Lett 8(3):199–216. https://doi.org/10.1007/s10311-010-0297-8

NEPC (National Environment Protection Council) (2011) National Environment Protection Measure (assessment of site contamination)- Schedule B1: guideline on investigation levels for soil and groundwater, Canberra, NEPC, p 61

NRCMA (Northern Rivers Catchment Management Authority) (2012) State of the Environment, 2012: Lismore City Council supplement. NRCMA, Lismore, p 6

NSW DPI (NSW Department of Primary Industries) 2004. Soil testing: result interpretation [Online]. Available: http://www.dpi.nsw.gov.au/about-us/services/laboratory-services/soil-testing/interpret [Accessed April, 2018]

NSW EPA (NSW Environment Protection Authority) (2016) Environmental guidelines: solid waste landfills, 2nd edn. NSW EPA, Sydney, p 91

NSW OEH (NSW Office of Environment and Heritage) 2017. Koala habitat and feed trees [Online]. Available: http://www.environment.nsw.gov.au/topics/animals-and-plants/native-animals/native-animal-facts/koala/koala-habitat [Accessed April, 2018]

NSW State Government 2010. Stock food regulation, 2010. [Online]. Available: www.legislation.nsw.gov.au - /view/regulation/2010/451/sch1 [Accessed April, 2018]

Peterson LR, Trivett V, Baker AJM, Aguiar C, Pollard AJ (2003) Spread of metals through an invertebrate food chain as influenced by a plant that hyperaccumulates nickel. Chemoecology 13(2):103–108

Phillips B (1990) Koalas: the little Australians we'd all hate to lose. AGPS Press, Canberra, p 104

Phillips IR, Greenway M, Robertson S (2004) Use of phytocaps in remediation of closed landfills: correct selection of soil materials. Land Contam Reclam 12(4):339–348

Pickin J (2009) Australian landfill capacities into the future. Final report prepared for DEWHA, Melbourne, Hyder Consulting Pty Ltd, p 48

Pilon-Smits E (2005) Phytoremediation. Annu Rev Plant Biol 56:15–39. https://doi.org/10.1146/annurev.arplant.56.032604.144214

Randell P, Pickin J, Grant B (2014) Waste generation and resource recovery in Australia: reporting period 2010/11. Final report prepared for DSEWPC. Blue Environment Pty Ltd, Docklands, p 128

Reed P, Lunney D, Walker P (1990) Habitat loss: the key problem for the long-term survival of koalas in New South Wales. In: Lee A et al (eds) Biology of the koala. Surrey Beatty & Sons, Sydney, p 55–74

Reuter D, Robinson, JB (1997) Plant analysis: an interpretation manual. Collingwood VIC, CSIRO Publishing, p 450.

Salt M, Lightbody P, Stuart R, Albright W, Yeates R (2011) Guidelines for the assessment, design, construction and maintenance of phytocaps as final covers for landfills. Report no. 20100260RA3F prepared for WMAA, Australian Alternative Covers Assessment Program (A-ACAP), p 90

Schwitzguébel JP, van der Lelie D, Baker A, Glass DJ, Vangronsveld J (2002) Phytoremediation: European and American trends: successes, obstacles and needs. J Soils Sediments 2(2):91–99

Shukla OP, Juwarkar AA, Singh SK, Khan S, Rai UN (2011) Growth responses and metal accumulation capabilities of woody plants during the phytoremediation of tannery sludge. Waste Manag 31(1):115–123. https://doi.org/10.1016/j.wasman.2010.08.022

Strahan R (1991) The Australian Museum complete book of Australian mammals. Cornstalk Publishing, North Ryde, p 530

Themelis NJ, Ulloa PA (2007) Methane generation in landfills. Renew Energy 32(7):1243–1257. https://doi.org/10.1016/j.renene.2006.04.020

Vamerali T, Bandiera M, Mosca G (2010) Field crops for phytoremediation of metal-contaminated land: a review. Environ Chem Lett 8(1):1–17. https://doi.org/10.1007/s10311-009-0268-0

Venkatraman K, Ashwath N (2007) Phytocapping: an alternative technique to reduce leachate and methane generation from municipal landfills. Environmentalist 27(1):155–164. https://doi.org/10.1007/s10669-007-9014-y

Venkatraman K, Ashwath N (2010) Field performance of a phytocap at Lakes Creek landfill, Rockhampton, Australia. Manage Environ Qual Int J 21(2):237–252. https://doi.org/10.1108/14777831011025571

WCS (Wright Corporate Strategy) (2010) Review of the application of landfill standards: landfill performance study. Prepared for DEWHA, Canberra, pp 103

WHO & FAO (World Health Organization & Food and Agriculture Organization of the United Nations) (2015) Codex Alimentarius international food standards: general standard for contaminants and toxins in food and feed. Codex Stan 193–1995, pp 93

Wilson SC, Leech CD, Butler L, Lisle L, Ashley PM, Lockwood PV (2013) Effects of nutrient and lime additions in mine site rehabilitation strategies on the accumulation of antimony and arsenic by native Australian plants. J Hazard Mater 261:801–807. https://doi.org/10.1016/j.jhazmat.2013.01.033

WMAA (Waste Management Association of Australia) (2004) Australian Alternative Covers Assessment Program (A-ACAP): project proposal. WMAA, Landfill Division, Melbourne, pp 9
Acknowledgements
The authors acknowledge and thank the staff at Northern Rivers Waste, Dr. John Grant, Peter Bligh-Jones and Christian Jaehnichen for their assistance with field work and data handling.
Funding
Financial support was provided by Lismore City Council and the SCU Environmental Analysis Laboratory.
Additional information
Responsible editor: Philippe Garrigues
About this article
Cite this article
Summer, K., Reichelt-Brushett, A. Trace element contaminant uptake in phytocap vegetation and implications for koala habitat, Lismore, Australia. Environ Sci Pollut Res 25, 24281–24292 (2018). https://doi.org/10.1007/s11356-018-2441-0
Received:

Accepted:

Published:

Issue Date:

DOI: https://doi.org/10.1007/s11356-018-2441-0
Keywords